We're looking for effective communicators with working knowledge of woodworking furniture building to join our Estimating team just north of Waterloo.
---
About The Job
In response to tremendous growth in our company, we are seeking a Furniture Estimator to join our team in St. Clements, ON (just a few minutes north of Waterloo). Our Estimators (working for our sister company, Artco International) are integral members of the Chervin family, and facilitate a key step in the journey of bringing our hotel clients' dream cabinetry and furniture to life.
Artco's Estimators are known for their accuracy, diligence, communication skills, and enthusiasm, and enjoy the opportunity to unpack the creativity of our clients and help ensure the development and manufacturing process lives up to the Golden Means of Perfection.
This opportunity is full-time (49 hours/week). Wage commensurate with experience. Benefits are included after a 3-month probationary period.
What You'll Do
Request pricing from vendors and follow up, as required, to ensure prime value and quality for our clients.
Maintain material pricing and specifications in system, updating as needed.
Source new products for unique designs and for general product improvement and innovation.
Prepare quotes using BOM and detailed labour take-offs.
Revise and update quotes for clients throughout contract approval process.
Collaborate with other sales, production, and administrative team members to ensure the most fluid communication structure and most enjoyable customer experience.
Next Steps
If you are interested in this position, please respond with your resume by filling out the form below.
What You'll Bring
A working knowledge of wood, metal, stone, and glass as used in typical woodworking.
A working knowledge of furniture machining and assembly.
Fluency and effective communication in oral and written English.
Computer literacy (intermediate knowledge of the Microsoft & Google suites, as well as willingness to learn new programs and online platforms, as needed).
A completed high school diploma.
Robust organizational and interpersonal skills.
A keen attention to detail with the ability to recognize discrepancies.
The ability to work under pressure with critical timelines.
A self-motivated desire to produce valuable work.
A passion for the core values that are foundational to our Chervin family.
BONUS: Furniture machining/assembly and/or factory experience (not required).
---
ap·pre·ci·a·tion / əˌprēSHēˈāSH(ə)n / noun Recognition and enjoyment of the good qualities of someone or something.
---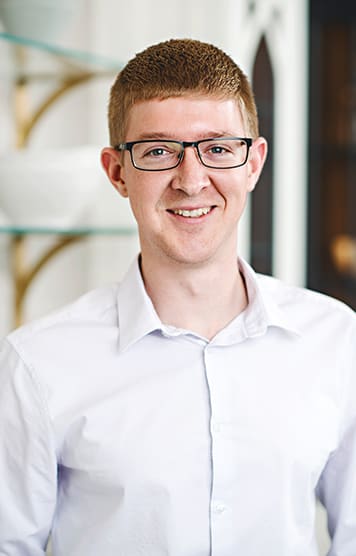 Meet The Author
Trevor Bauman is Human Resources Manager at the Chervin head office in Hawkesville.
Trevor loves seeing the growth and development of employees that are passionate about their career.
Location: Hawkesville | Full-Time | Department: Engineering