We're looking for strong, self-motivated, and experienced drivers to join our cabinetry delivery team based in Hawkesville, ON.
About The Job
Due to growth within our company, we are seeking delivery drivers to join our delivery team in Hawkesville (just outside of Waterloo). Our delivery drivers are integral members of the Chervin family and facilitate a key step in the journey of bringing our client's dreams to life. Chervin's delivery drivers bring attention to detail to every Chervin product. 
Chervin's Delivery Team is known for their strength, attention to detail, cooperation, and customer-oriented mindset; they thrive on delivering cabinetry with care, professionalism, and enthusiasm, ensuring that not only the client's product but also their experience with Chervin, live up to "The Golden Means of Perfection".
This opportunity is full-time (44 hours/week). Wage commensurate with experience. Benefits are included after a 3-month probationary period.
What You'll Do
Deliver high-end, custom cabinetry to clients' homes in the KW, GTA, and Muskoka areas in a safe, timely, and professional manner
Ensure company vehicles are kept clean and regularly maintained
Operate effectively and responsibly under the direction of the dispatcher
Load cabinetry (packaged onto skids or carts) from our manufacturing facility into a straight truck and/or cube van
Unload cabinetry at the job site by hand and carry it into the appropriate space – this may involve carrying the various items up and down stairs or small hills
Assist in the manufacturing facility with general labour on days when the delivery schedule is slower
Help maintain an organized and tidy workspace to ensure smooth processes and enable your team to produce the best quality products
Collaborate with other team members to ensure production requirements are met safely and efficiently 
Next Steps
If you are interested in this position, please respond with your resume, and official driver's abstract by filling out the form below.
What You'll Bring
A valid G or DZ license and current clean driving abstract
Experience driving larger vehicles such as a cube van
Knowledge of effective blanket-wrapping of products for safe and secure transportation
Physical ability to carry 50-75lbs of various sizes of cabinetry – possibly up and down stairs or small hills
Flexibility, willingness, and availability to make delivery areas to all service areas, and on any day Monday – Friday, as required
A professional and courteous communication style
Fluent in written and oral English
A keen attention to detail
A self-motivated desire to produce valuable work
An enthusiastic personality
A collaborative and creative nature
An attitude that is hardworking and eager to learn
A passion for the core values that are the foundation to our company
A commitment to punctuality and dependability
BONUS: 2+ years of general woodworking experience (not required) 
---
ap·pre·ci·a·tion / əˌprēSHēˈāSH(ə)n / noun Recognition and enjoyment of the good qualities of someone or something.
---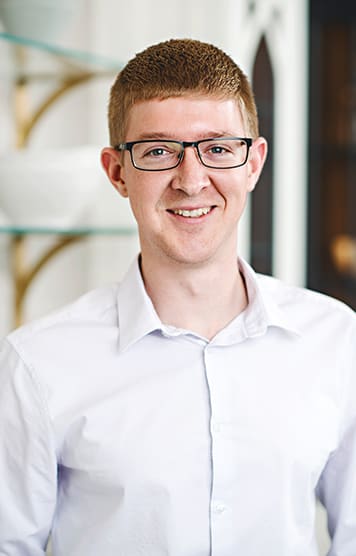 Meet The Author
Trevor Bauman is Human Resources Manager at the Chervin head office in Hawkesville.
Trevor loves seeing the growth and development of employees that are passionate about their career.
Location: Oakville | Full-Time | Department: Preliminary Design
Location: Hawkesville | Full-Time | Department: Kitchen Assembly