We're looking for detail-oriented people with woodworking experience and technical know-how to join our Hotel Furniture Drafting team just north of Waterloo.
---
About The Job
In response to tremendous growth in our company, we are seeking a Hotel Furniture Draftsperson to join our team in St. Clements, ON (just a few minutes north of Waterloo). Our Draftspeople are integral members of the Artco family, and facilitate a key step in the journey of bringing our clients' dream homes to life.
An Artco Draftsperson is known for their attention to detail, cooperation, ingenuity, and eagerness to learn; they thrive on helping turn creative ideas into effective implementation plans that ensure every product lives up to "The Golden Means of Perfection".
This opportunity is full-time (49 hours/week). Wage commensurate with experience. Benefits are included after a 3-month probationary period.
What You'll Do
Design custom furniture to meet supplied specifications using the Autodesk Inventor program.
Design complex surfaces for upholstered products (such as chairs, loveseats, bench seating, headboards, and stools).
Produce final drawings, assembly sheets, cut lists, materials lists, door/drawer order lists, and Bills of Materials for the various departments involved in manufacturing the furniture, in order to ensure a smooth and efficient process that can be executed by our skilled craftsmen without confusion.
Stay in regular and open communication with individuals in various manufacturing departments, as well as with the sales team, to ensure that our clients' needs and desires are prioritized and brought to fruition with excellence.
Work alongside several other Draftspeople, both independently and collaboratively, to develop practical plans for the creation of custom cabinetry and furniture.
Provide constructive feedback to colleagues on their plans, and accept feedback and peer reviews with grace and enthusiasm.
Stay alert and responsive to the requests and needs of the Draftsperson Supervisor.
Next Steps
If you are interested in this position, please respond with your resume by filling out the form below.
What You'll Bring
A diploma from a 3-year Woodworking Technology program (or equivalent woodworking experience and training).
The ability to read and discern complex blueprints.
Competency with computers and various forms of software.
A keen attention to detail.
A self-motivated desire to produce valuable work.
An enthusiastic personality.
An aptitude for efficient problem solving.
An attitude that is hardworking & eager to learn.
A passion for the core values that are foundational to our Chervin family.
A commitment to punctuality & dependability.
---
ap·pre·ci·a·tion / əˌprēSHēˈāSH(ə)n / noun Recognition and enjoyment of the good qualities of someone or something.
---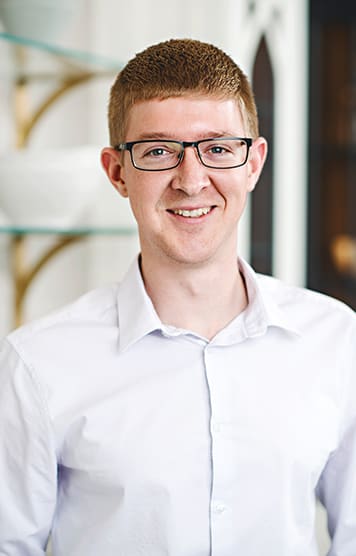 Meet The Author
Trevor Bauman is Human Resources Manager at the Chervin head office in Hawkesville.
Trevor loves seeing the growth and development of employees that are passionate about their career.
Location: Oakville | Full-Time | Department: First Impressions