We're looking for an engaging, organized, and creative cabinetry designer with industry experience to join our showroom team in Muskoka.
---
About The Job
In response to new opportunities in the Muskoka market, we are seeking a Cabinetry Designer to join our team in Port Carling, ON. Our Sales  & Design team is integral to the Chervin family, and is the primary point of contact for our clients throughout their journey with Chervin (including design, manufacturing, and installation).
Chervin's Designers are known for their creativity, commitment to excellence, attentive communication style, and ability to oversee projects and teams, They thrive on the opportunity to connect with others and guide the craftsmanship required to bring our clients' dreams to life.
This opportunity is full-time (44 hours/week). Wage commensurate with experience. Benefits are included after a 3-month probationary period.
What You'll Do
Assist customers to create their dream kitchen, bathroom, or family/great room.
Assist with project management, where needed.
Combine your creativity and sales experience with the endless opportunities of creativity, function, storage, and workspace within the home or cottage.
Professionally represent Chervin and our quality products.
Provide superior service to ensure the customer's dream kitchen, bathroom, or family/great room comes to reality.
Dress professionally and present a positive and welcoming attitude to clients, business partners, and team members alike.
Next Steps
If you are interested in this position, please respond with your resume by filling out the form below.
What You'll Bring
Experience with creative kitchen and cabinet design.
Sales and marketing experience with a knowledge of the key players in home building, design, and renovations in the Georgian Bay/Muskoka areas.
Proper understanding of blueprints.
Knowledge of the woodworking process.
Working knowledge of Cabinet Vision software is an asset, but are willing to train.
Working knowledge of computers and software.
Self-motivated, enthusiastic personality.
Excellent written and oral communication skills (English).
Strong interpersonal skills with the ability to adapt to communicate effectively with a diverse group of people.
The ability to multitask and prioritize.
A keen attention to detail paired with a healthy dose of creativity.
A passion for the values that are foundational to us at Chervin.
No post-secondary education required.
---
ap·pre·ci·a·tion / əˌprēSHēˈāSH(ə)n / noun Recognition and enjoyment of the good qualities of someone or something.
---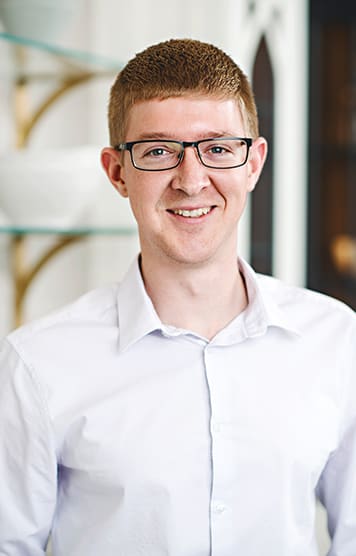 Meet The Author
Trevor Bauman is Human Resources Manager at the Chervin head office in Hawkesville.
Trevor loves seeing the growth and development of employees that are passionate about their career.
Location: Oakville | Full-Time | Department: First Impressions