Luxury Kitchen Cabinets Designed for Cooking & Entertaining

High-End Kitchen Design Inspiration.
The kitchen wears so many hats, it's where you prepare and cook your family's meals, banter with friends, pay your bills, entertain your guests, and of course, the spot where you enjoy your meals. No matter how your kitchen is used, it's important that you have luxury kitchen cabinets that function as well as they look. Although these designer kitchens come in a variety of styles, they generally feature the highest-quality materials, leading-edge technologies, and top-of-the-line appliances to create an awe-inspiring kitchen.
Let's explore our top 5 high-end kitchen design inspirations to help you build your own dream kitchen.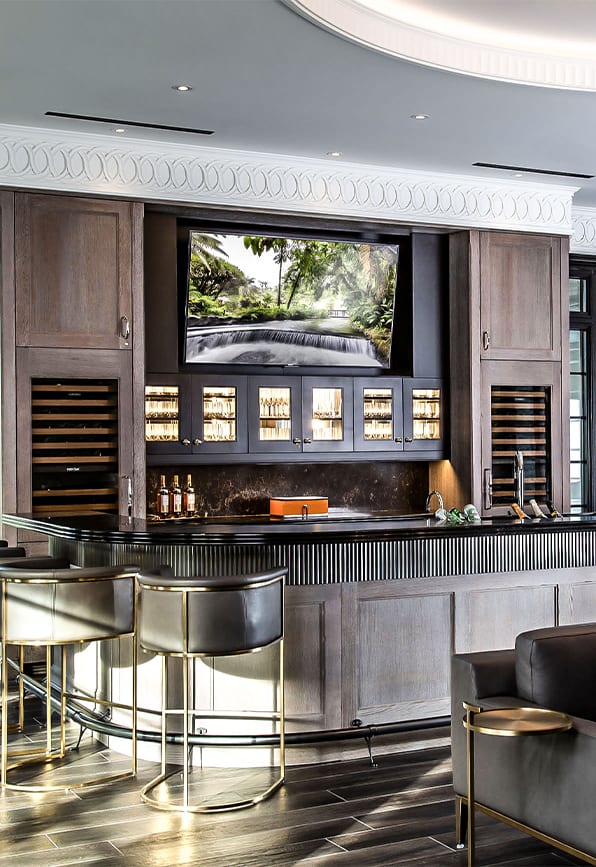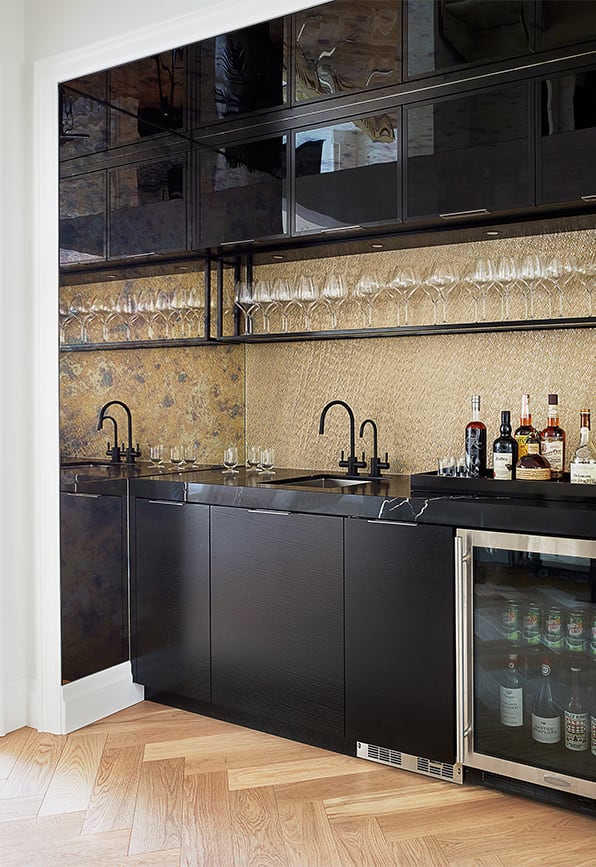 01 | Classic White Kitchen with Brass Range Hood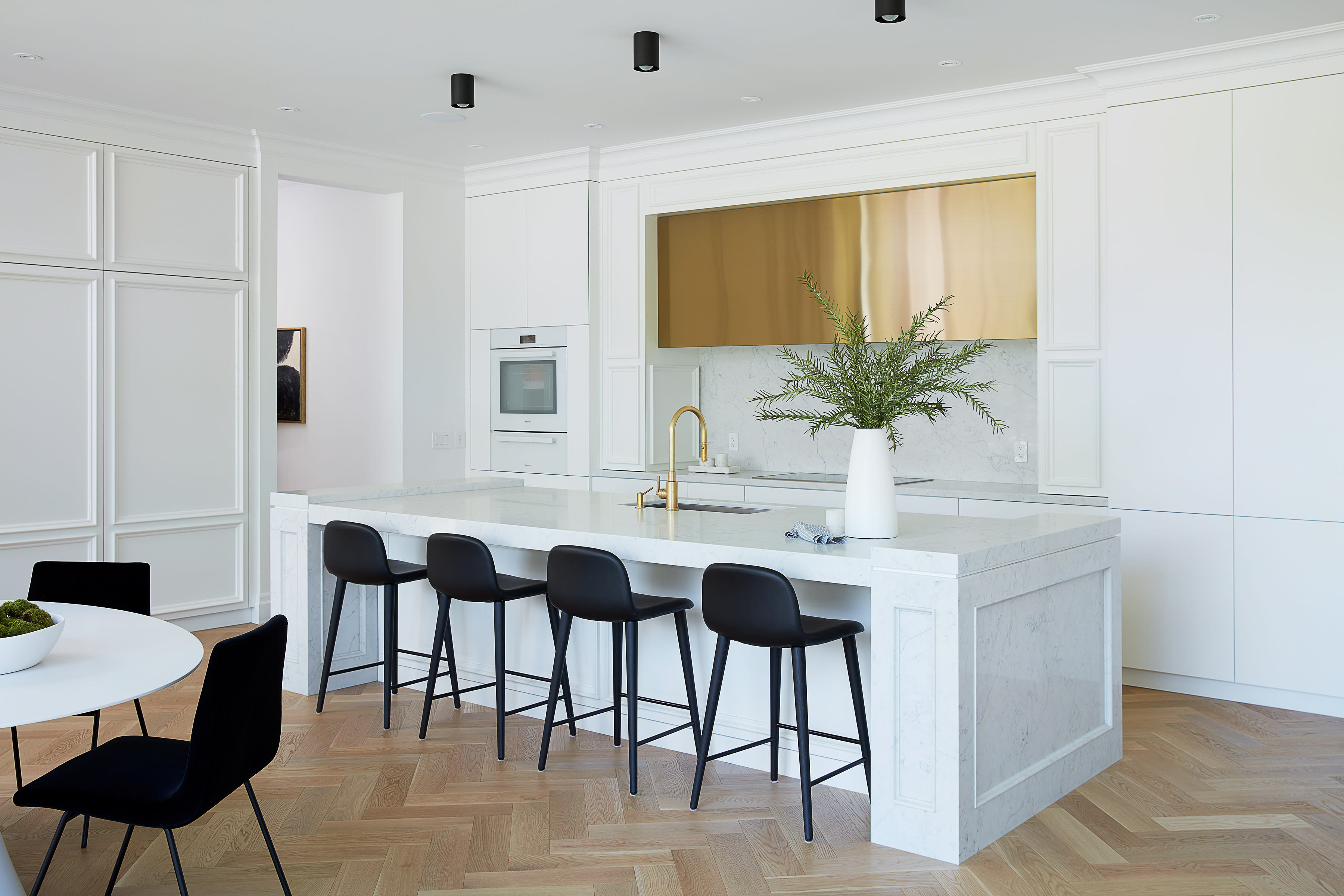 An elevated version of the classic kitchen. This luxurious kitchen is set apart by its extra-large brass range hood, beautiful, quartz island end panels, and streamlined cabinetry that blends the high-end appliances in perfectly.
02 | Modern, Luxurious Kitchen with Island that Moves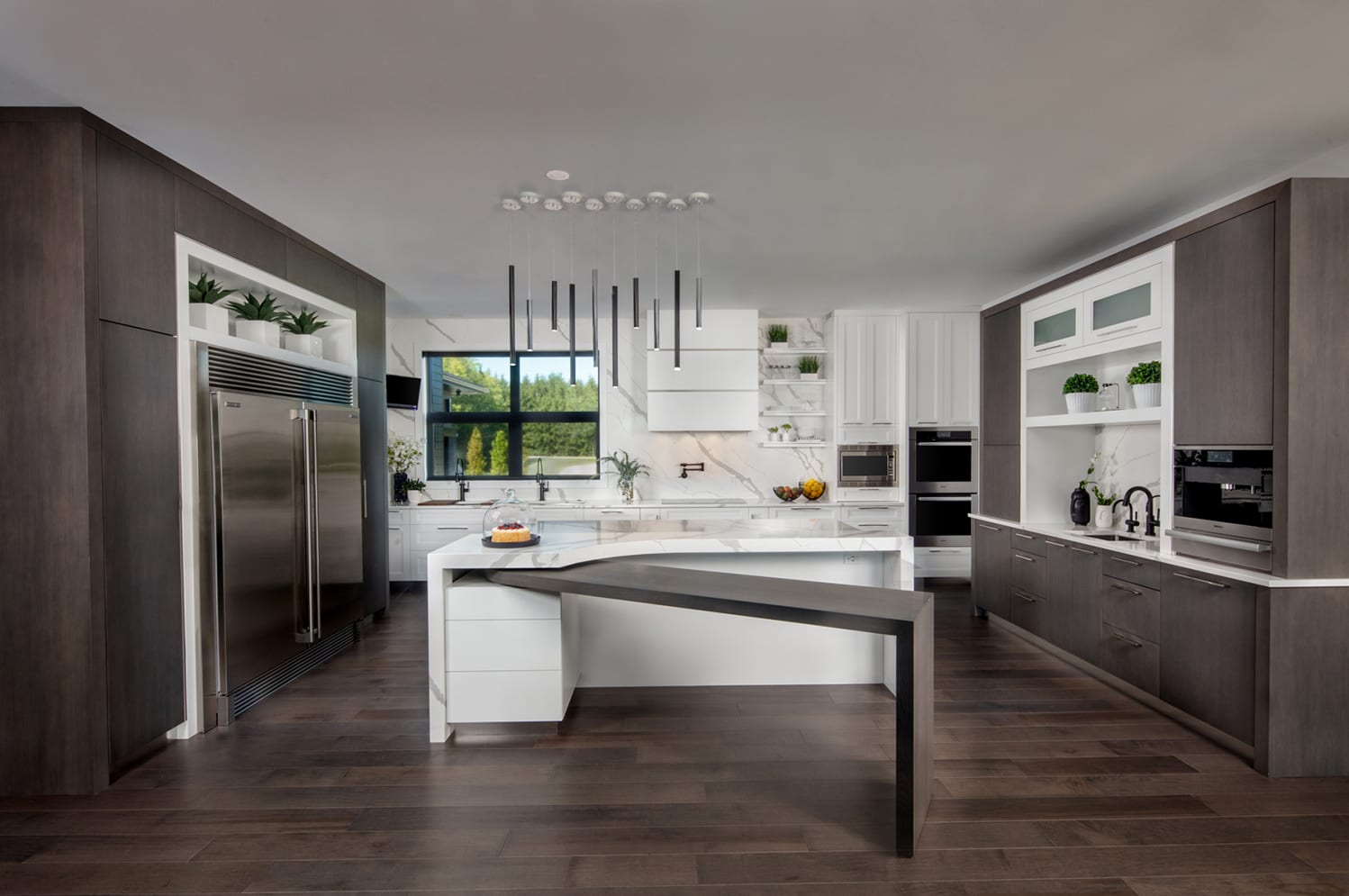 A kitchen that works for you. With beautiful, deep grey stain accented with bright white cabinets, quartz countertops and backsplash, and a breakfast bar that can be pulled out to create more seating or working space. Functional and beautiful, the true testament of a luxurious kitchen cabinet design.
03 | Traditional Elegance with Two Islands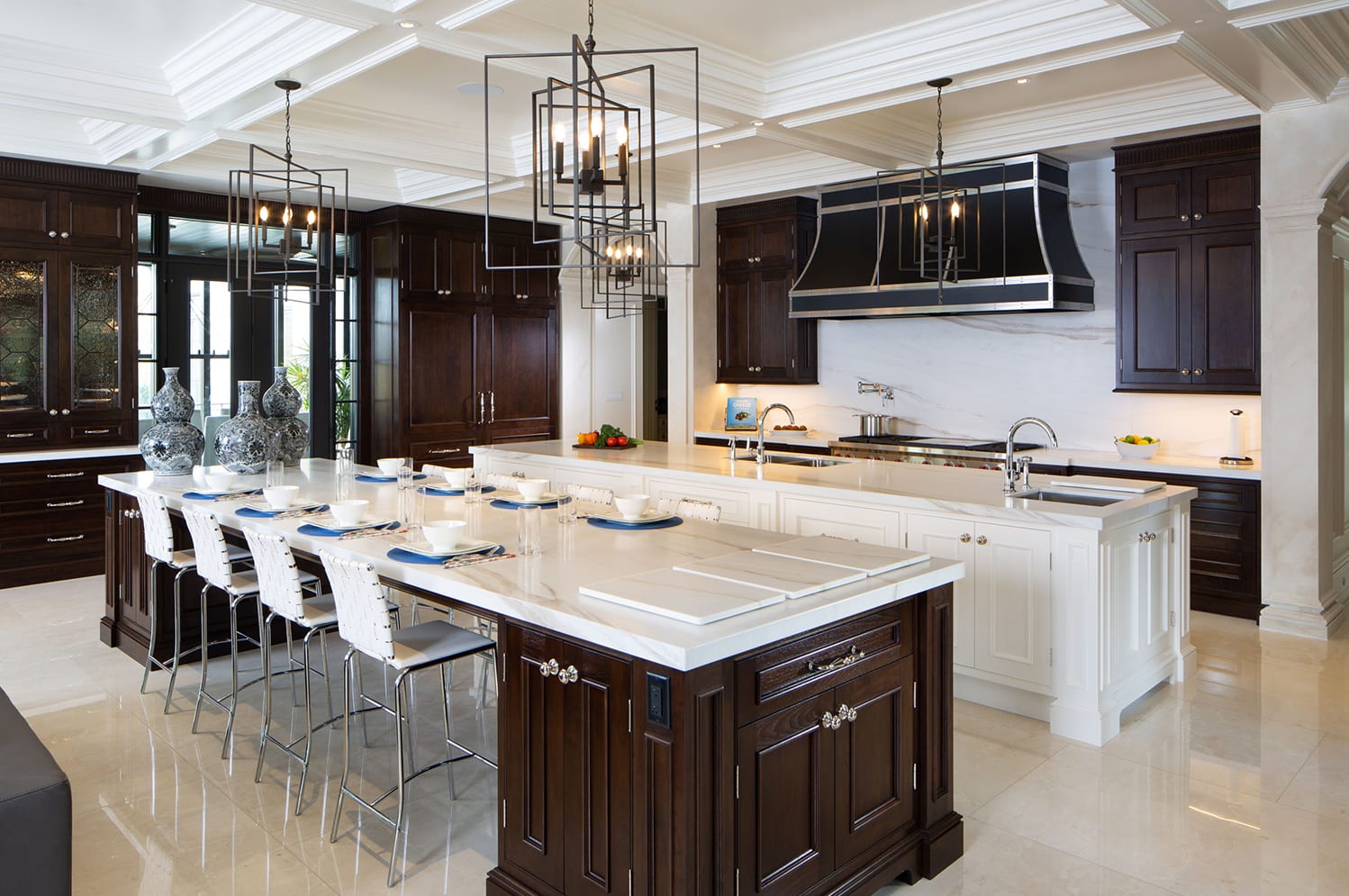 There is still a place for the traditional elegance of rich mahogany finishes and intricate moulding. In a space of this size, dramatic contrast and ornate features create an engaging, inviting, and truly awe-inspiring environment.
04 | Minimalist Moody Modern Elegance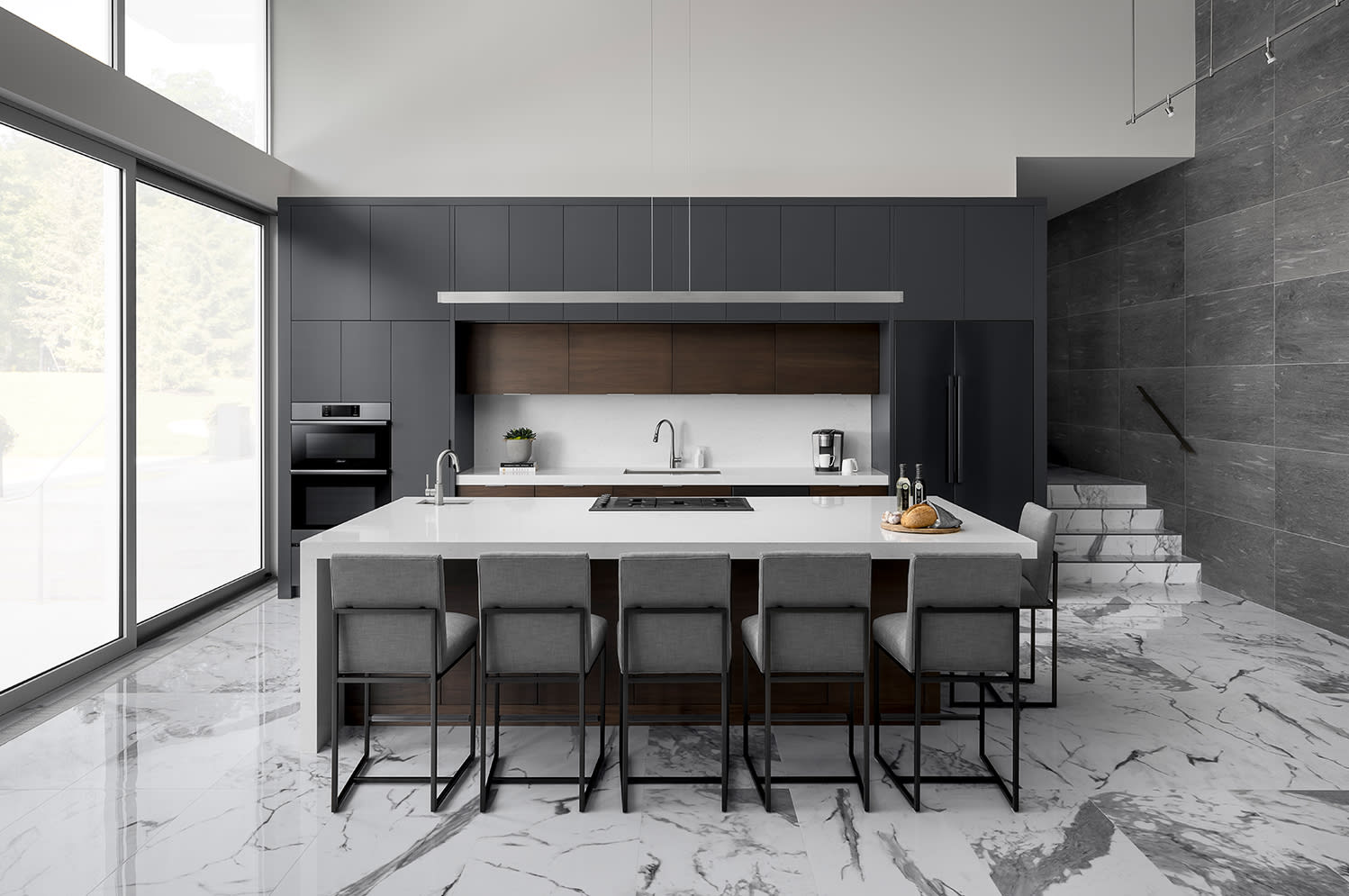 This elegant, high-end kitchen marries sophistication with function and brings to life the potential of modern monochromatic design. Featuring a 3" Cambria quartz waterfall island countertop and matching backsplash offer the perfect contrast to the matte black painted cabinets and walnut cabinets. A richly veined marble floor holds the space together with bold character and a beautiful melding of dark and light.
05 | Modern, Streamlined, and Stylish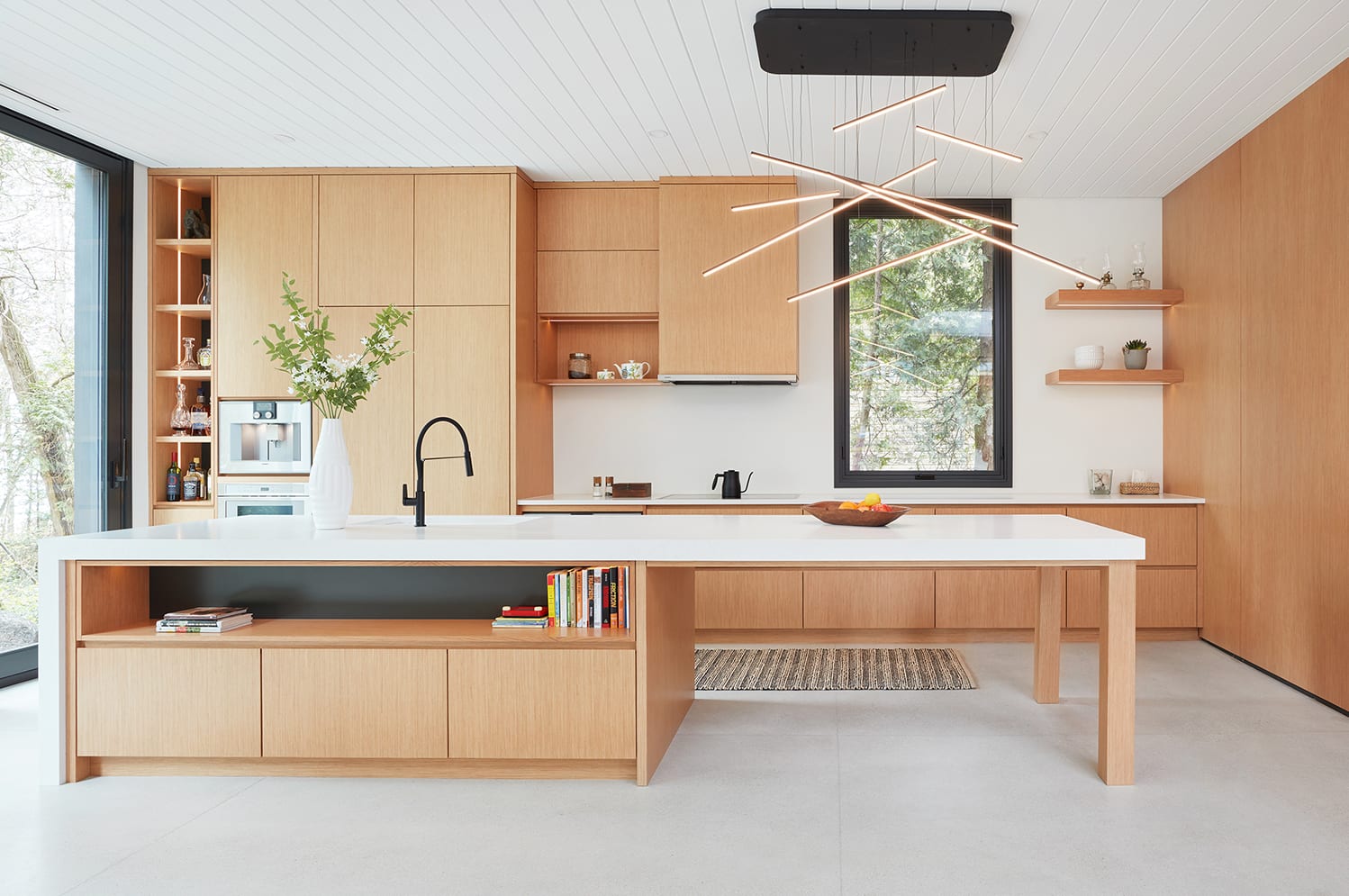 Slab cabinet doors, natural rift white oak cabinets, a waterfall island countertop, and streamlined storage throughout are some of the latest trends in modern design - classy and clean, functional, and fashionable. Opt for one-touch or finger pull cabinets for the ultra-streamlined look.
Three Showrooms to Serve You Best | Waterloo, Muskoka, & Oakville
When you've finished daydreaming (we do understand that it may take a while), contact one of our three showrooms (kitchen and bath showrooms in Waterloo, Muskoka, and Oakville) to speak with a kitchen designer to start brainstorming your dream kitchen needs.