Now trending: Natural wood with clean, white accents.
---
One of the recent trends developing in home decor and design is the blend and contrast of white with a wood frame or accent. Typically, a light to medium-coloured wood, like maple, pine, or walnut, is used in contrast with a bright white, or a light cream and tan combination. While you could experiment with mixing darker woods with whites, the key element to keep in mind is what "feel" you would like your room to have - choosing a light wood to complement the white will give your room the airy, open aura that is currently trending (think of a streamlined, Scandinavian style). If you have been following the
Hygge trend
, wood & white is likely a familiar concept to you, as it fits perfectly with the sustainable, relaxed and enlightened environment the Danish lifestyle endorses. Here are some ways you may want to consider incorporating wood & white into your home design and decor...
Kitchens & Countertops
Refresh your kitchen with all-white cabinetry, accented by well-coordinated, contrasting hardware and a finished wood countertop. Or, if you prefer, choose a natural wood tone for your cabinets and island, and off-set the wood tones with a white, textured countertop, such as a white quartz or marble. Consider selecting a waterfall countertop or a backsplash that matches your counters to craft a fluid, continuous look throughout your kitchen - just look below to see how spacious and coordinated the whole room can look thanks to these extended elements!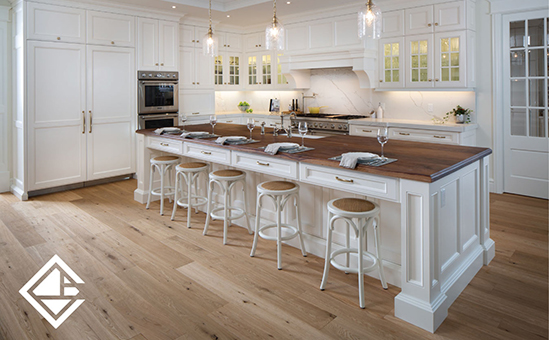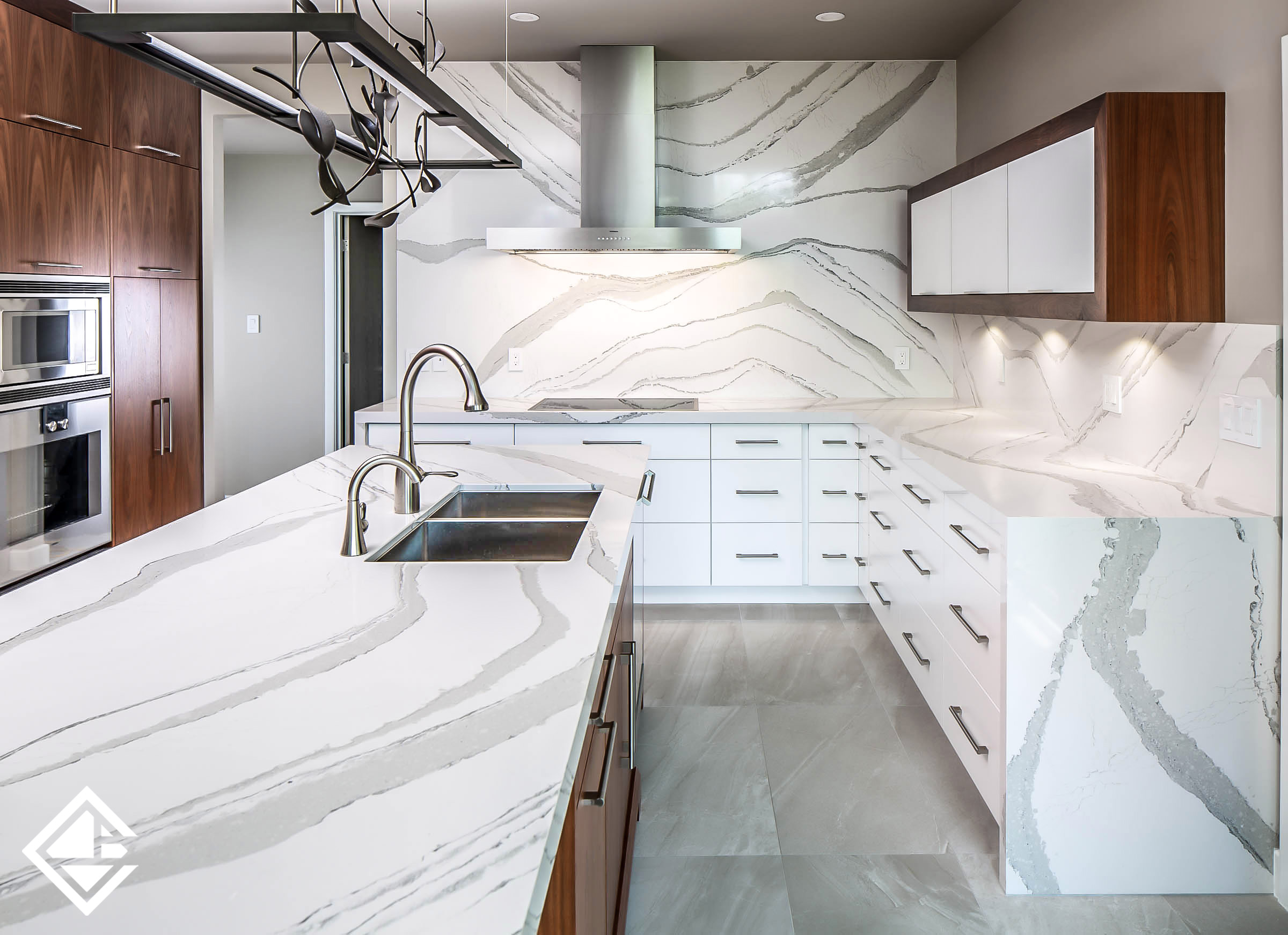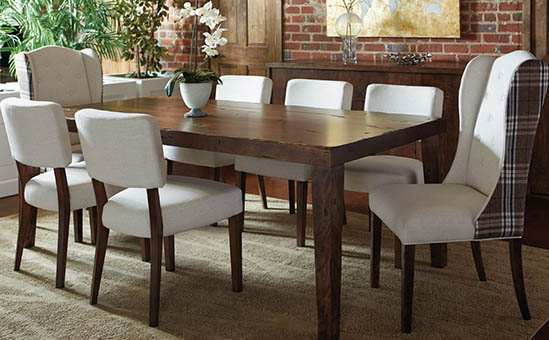 Dinner Tables & Chairs
Add a modern touch to your dining area by complementing a medium or light classic wood table with white painted or upholstered chairs. Be intentional to contrast the upholstery and frame - if your chair frame is going to match the wood of the table, pick a white or cream upholstery; if you want to choose a tan upholstery to match the tone of the table, pick a frame that is stained white or off-white. Similarly, some tables will allow you to customize the legs to be a different finish than the tabletop - this will give you an entirely different look, so choose carefully, but remember your options!
Tables & Other Furniture
Outside the kitchen space, there are numerous furniture options to carry over this wood & white style choice. End tables, cocktail tables, and stools are easy additions that are budget-friendly and conserve space, often opening up even more options for hosting and daily life. In the bedroom, consider opting for a sleigh bed or other bed frame with a headboard  - customize the wood to match your personal decor style, and contrast it with tufted white cushioning and light-coloured bedding. There are all sorts of furniture available, both accent pieces and focal points, that have wood & white options now available - and many that are customizable!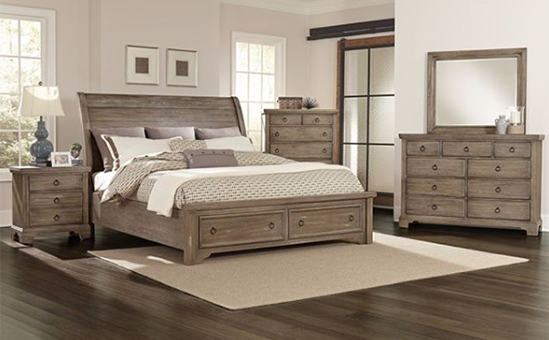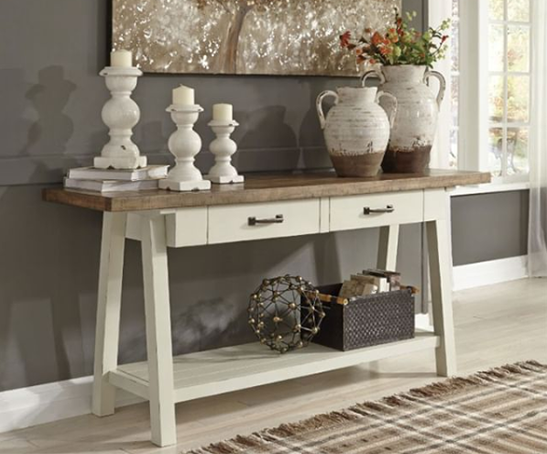 Decor & Accent Pieces
Lastly, never forget the impact a few tastefully placed accent pieces can have in shaping the tone of the room. When it comes to wood & white, there are countless options for decor - it can be hard to choose! From soy candles, to textured white pottery, to cream-coloured lamps and white-wired bird cages, there are lots of delicate touches you can place around your room (on top of wood furniture) to achieve this clean, airy look. Consider also decorating your walls and mantle with hand-scripted canvas or wood art - choose a quote that represents your values and priorities...or one that just makes you smile! With a wood base or thin wood frame around a canvas, the white space or text will be quick to catch eyes and calm minds. Throw a cozy, white blanket over the couch, or put a white rug on the floor to complete the light, cozy feel all around your room!
Eager to get started but need some help redefining your space?
Drop by our showroom and we'll be happy to help you redesign your kitchen or bathroom, or book a free design consultation with Chervin Furniture & Design to maximize the impact of this wood & white colour scheme!