Whether you're building a new home and debating layout, or looking to renovate, Dan's advice in today's post will offer you some valuable insights as you plan your ultimate mudroom.
---
The mudroom is perhaps one of the areas of the home most overlooked when it comes to cabinetry and design, despite its incredible value in keeping your home and family organized and in good shape. But not by us! We see your mudroom as a fabulous way to keep the rest of your home tidy and clean, but also a great space for teaching structure and responsibility to the younger members of your family. Here are a few design tips on developing an ideal layout for your new mudroom, from our Sales team member, Daniel:
What is the primary purpose of a mudroom?
It's about organization – today's families are busy with lots of extracurriculars, whether they be sports, family outings, music lessons, church events, or anything else; families need a place to sort out and keep handy all the extra layers, tools, and toys that are associated with each.
Mudrooms often play host to boots, shoes, hats, mittens, backpacks, towels, sports equipment, and pet paraphernalia, among other things that may be accompanied by mud, snow, sand, or dirt.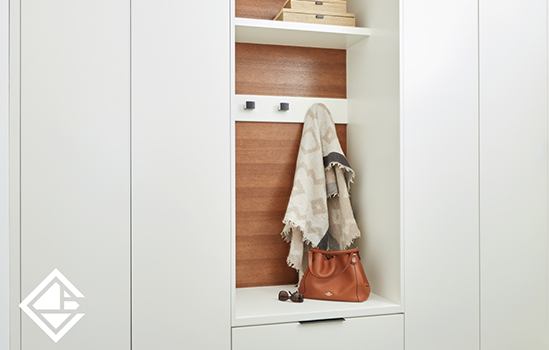 Where is the best place for the mudroom in my home?
Your mudroom should be positioned right by the most regular family entrance (ideally a different entrance from the one guests use, like the garage door or side entrance).
Make sure the space is highly utilitarian and easily accessible; try to keep it as close to the door to the outside as possible, so you don't wind up traipsing mud, snow, or grass down a hallway before reaching the actual mudroom.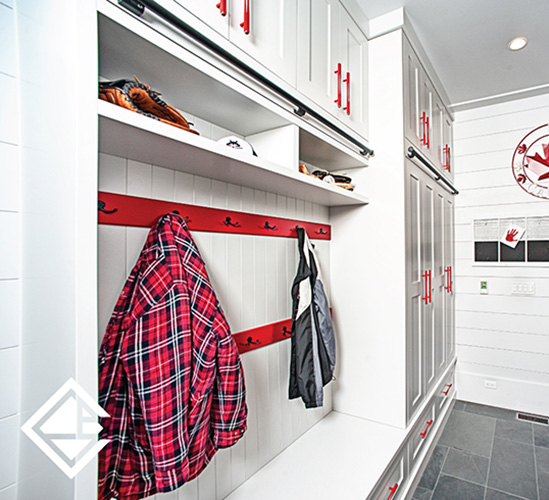 How big of a space do I need to do a mudroom justice?
It all depends on the size of the family (both due to required storage space, and because of how much traffic is likely to be making use of the room at the same time). For a family of 4, I would suggest a space about 6 feet long, while for a family of 6, a length of 8 feet is probably best.
No matter the size of your family, I would always recommend every home to have a mudroom.
What is your favourite layout for a mudroom?
Most mudrooms are not particularly spacious, so a single wall of cabinetry tends to be the most effective - it keeps things spread out for easier access, where L-shaped and galley-style mudrooms can become congested unless there is a substantial amount of floor space between cabinets.
---
Let's Connect!
Dan is one of our Sales & Design team members and he would love to sit down with you and discuss your own unique space. Contact us to connect with one of our designers and design a mudroom that perfectly meets the needs of your household!