Whether you're building a new home and debating layout, or looking to renovate, Dan's advice in today's post will offer you some valuable insights as you plan your ultimate mudroom.
---
The mudroom is perhaps one of the areas of the home most overlooked when it comes to cabinetry and design, despite its incredible value in keeping your home and family organized and in good shape. But not by us! We see your mudroom as a fabulous way to keep the rest of your home tidy and clean, but also a great space for teaching structure and responsibility to the younger members of your family. Here are a few design tips on how to decorate your new mudroom in a way that fits your family:
What style of cabinetry would be valuable in a mudroom?
Keep it fairly basic in layout and look - this adds more flexibility, both in terms of function and decor. In terms of style, transitional or rustic tends to be most popular. Using tongue and groove at the back of an open cabinet can add a lovely, but informal, level of detail to the room.
I recommend having an open space on the bottom (right to the floor, so the damp shoes don't damage wood, but instead sit on a more forgiving floor) for shoes and boots, with a benchtop above it (for ease of taking shoes on and off).
Above the benchtop, I recommend large, open cabinet boxes with hooks for hanging backpacks and coats, topped by closed-in storage space for seasonal or bulky items.
Some people may use open storage compartments at the top instead of closed, and insert storage baskets for versatility and ease of access - either is fine, it is just a matter of personal preference and whether you want to prioritize accessibility or a lack of visibility for those items.
The same goes for whether you want an open cabinet for boots and shoes on the bottom level, or drawers for additional seasonal storage.
To access higher cabinets, another option is to install a rolling ladder along the mudroom wall.
Are there any particular materials you would recommend using?
Mudrooms tend to get a lot of hard use, so you need to think about durability. Hardwood is always best for the cabinets (stained holds up better than painted - buffs and chips from daily use will amount to character, not damage).
If you love the look of painted, though, I often design spaces with painted cabinetry but a stained benchtop - this allows for a bright, pretty space, but with durability in the areas that are used the roughest.
I would always recommend laying a tile floor in your mudroom - it is the easiest surface to maintain through all seasons, and will serve you well.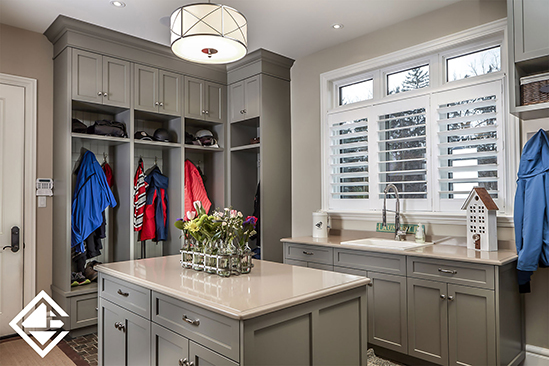 What elements or styles have you really appreciated in past mudroom projects?
Last year I worked on a home with a large, L-shaped mudroom; although I said before single wall mudrooms are best, if you do have a very large space to work with, L-shaped can be excellent and very welcoming. This room featured reclaimed wood bench tops, painted cabinetry, and a small island in the centre of the space (a great landing space for purses and grocery bags, as well as offering additional drawers for concealed storage).
Another client had a large window in their mudroom that faced the front of the property; we installed a window seat in that space and it created a really welcoming environment in a practical way.
Some pet owners will incorporate a pet crate into their cabinetry (or central island, if there is space).
Whether your mudroom is by your garage or a separate entrance, if space allows (approx. 3 feet in width), installing a single cabinet just inside your garage door is a worthwhile investment - a base cabinet (closed-in) with a small countertop and upper cabinets above that is a really useful space for storing keys, small items, and tools that you need handy.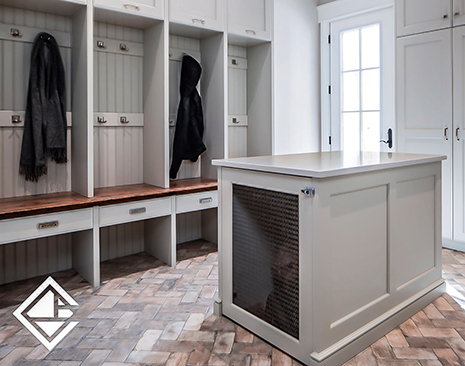 What tips do you have for making a mudroom accessible to kids?
Hooks (for backpacks, coats, hats, etc) are easy for kids to use – 2 rows is best because it offers different heights for different ages.
Baskets can be labeled and are usually easier for kids to look through and find what they need, without making much of a mess.
Handles (as opposed to knobs or pulls), also tend to be easiest for all ages, and since mudroom cabinets don't usually need to lock or seal, a standard handle is a simple, practical choice.
Some people like to divide the space above the benchtop into cubbies that they will then install hooks in; this allows for each member of the family to have their own dedicated space, meaning things can stay organized, and each member can maintain their own space.
BONUS: What kind of cabinetry would you put in the main (guest) entryway of your home?
I'm actually currently working on a condo where we have decided that instead of having a standard closet built into the entryway, we are designing 2 large cabinets with doors to stand in its place. Each cabinet has a clothes rod and shelving inside, meaning the cabinets have the same versatility as a closet, but bring more character and a personal touch to the space.
I definitely recommend always using cabinets with doors (as opposed to open storage), because this is a more formal part of the home, where keeping things streamlined and organized is likely of a higher priority.
If you have room, a storage bench is also a great addition to any entryway - it can serve many functions at once, including being a spot for guests to sit as they put on boots and shoes, a place to store seasonal but frequently used items, and a place for guests to leave purses or extra coats, if the cabinets fill up.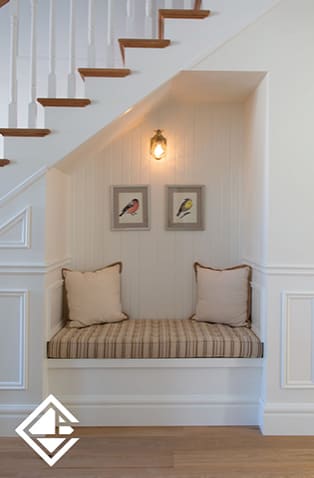 ---
Let's Connect!
Dan is one of our Sales & Design team members and he would love to sit down with you and discuss your own unique space. Contact us to connect with one of our designers and design a mudroom that perfectly meets the needs of your household!  

Contact us to set-up a design consultation