Thanksgiving is just around the corner, so it's time to share some fresh recipes with this year's hosts...
---
Whether you're feeling a little lost when it comes to hosting this holiday, or just looking for something fresh to mix up the menu this weekend, we have several recipe suggestions for you, courtesy of our showroom receptionists (aka your best friend when you need to know anything about your kitchen, our showroom, your designer's birthday, where to get lunch...and apparently what to cook for Thanksgiving, too!).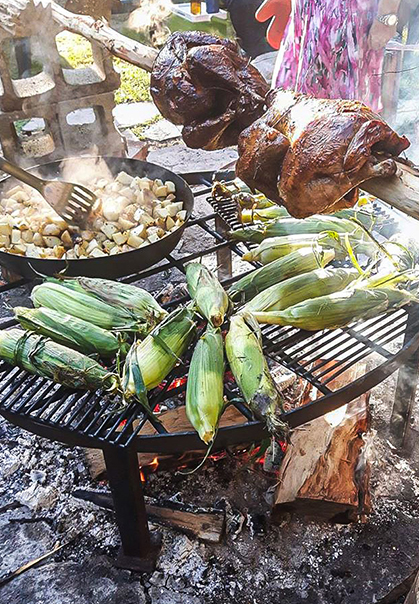 A Twist on the Turkey Tradition
If you're like Won, one of our preliminary designers, turkey and mashed potatoes are a staple at your Thanksgiving dinner - he's enjoyed that classic holiday meal every year since he immigrated to Canada and he doesn't plan to pause that tradition any time soon. If you're unwilling to relent on that tradition, but open to a little variety in how you prepare it, consider this suggestion from our Muskoka Receptionist, April:

"Our Thanksgiving tradition is not actually a new recipe but a medieval one I guess. Everything thanksgiving that isn't raining we cook turkey's outside on an open flame rotisserie style. We put the turkeys on a birch branch and place either side of the branch onto cement blocks, it then gets turned manually as needed, this takes several hours, because we have to build up coals with special cooking wood, like cherry mixed with birch. Once the turkeys are just about ready we start cooking our side dishes on a special fire cooking wrack. It is by far our favorite tradition - food always tastes better on an open flame and you can taste the smoked flavor right through the turkey - mmm delicious! Looking forward to another beautiful year outdoors with family, friends and a cooking fire."
A Farmhouse Favourite
To go alongside that succulent turkey and those buttery mashed, it's always good to prepare one or two vegetable dishes. But getting the right combination of vegetables, and a fun mix of spices, to keep the dish interesting and special, can sometimes feel tedious. Thankfully, one of our Waterloo showroom receptionists, Cherlyn, is here to save the day with her own favourite recipe for roasted veggies:
Roasted Harvest Vegetables
Ingredients:
2 cups butternut squash, peeled and cubed
2 cups sweet potatoes, peeled and cubed
2 cups red potatoes, cubed
1 cup carrots, thinly sliced
3 Tbsp. olive oil
1 tsp. salt
½ tsp. pepper
½ tsp. seasoning salt
½ tsp. garlic powder
Directions:
Preheat the oven to 400 degrees F.
Toss the vegetables in the olive oil, salt, pepper, seasoning salt and garlic powder.
Line a baking sheet with parchment paper and place the vegetables on the sheet in a single layer.
Bake for 25 – 35 minutes or until the vegetables are tender.
Sprinkle with fresh parsley and enjoy!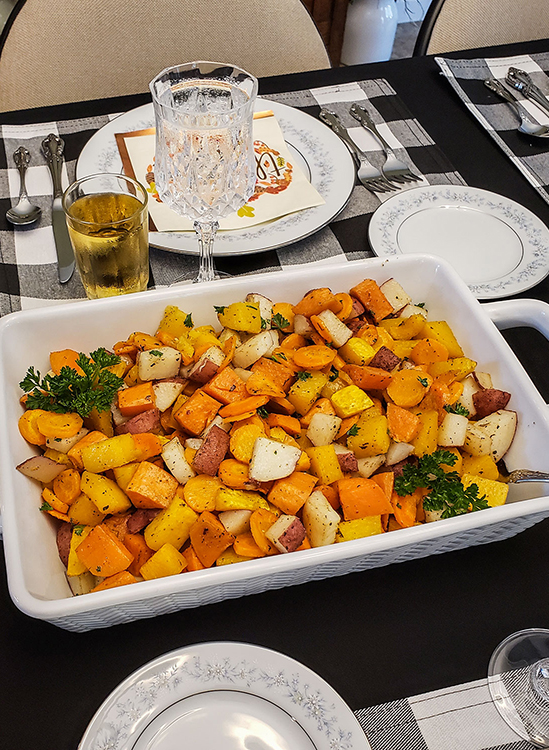 Pumpkin All Day
If you're looking for a versatile recipe that can be enjoyed for breakfast, dessert, or any snack throughout the day, give this recipe from one of our Hawkesville receptionists, Andrea (who got it from her sister-in-law - let's all be thankful for family!):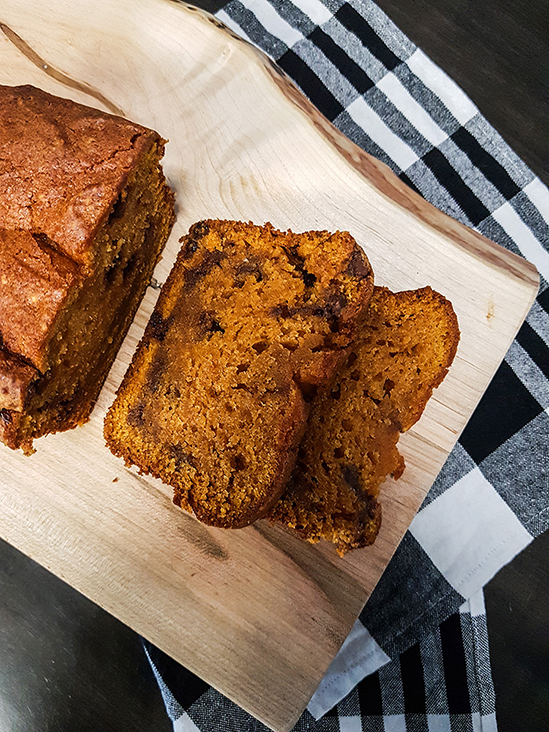 Directions:
Preheat oven to 375 degrees.
Spray two 9" loaf pans with non-stick cooking spray. Set aside.
In a medium bowl whisk together flour, baking soda, cinnamon, & salt. Set aside.
In a large bowl, using electric mixer, mix together eggs, oil and pumpkin. Add sugar and dry pudding mix until combined.
Slowly add flour mixture to pumpkin mixture.
Fold in chocolate chips.
Pour batter into prepared loaf pans.
Back at 375 for 15 minutes. Reduce heat to 350 and bake for another 40-45 minutes. Or until a toothpick inserted into centre comes out clean.
Let cool completely before removing from loaf pans.
ENJOY!
Another decadent pumpkin delight you don't want to miss is this pumpkin torte recipe from our other Hawkesville receptionist, Lynette. She would like to point out that this tried-and-true Thanksgiving recipe is especially delicious when eaten in the fall, curled up on a couch with lots of cozy blankets and a few sweet smelling candles lit around you...
Pumpkin Torte
Crust:
24 graham crackers
½ cup sugar
½ cup butter, melted
Mix ingredients together thoroughly in a medium mixing bowl.
Press mixture into a greased 9" x 13" pan.
Filling:

2 eggs
¾ cup sugar
8 oz. pkg. cream cheese
Blend together the ingredients in a medium mixing bowl.
Once smooth, pour over crust and bake at 350 degrees for 20 minutes.
Pumpkin Layer:
2 cups pumpkin
3 egg yolks
½ cup sugar
½ cup milk
½ tsp. salt
1 tsp. cinnamon
Stir ingredients together and cook in a large saucepan on medium heat until thickened.
Remove from heat and add 1 envelope gelatin soaked in ¼ cup water.
Let mixture cool.
Beat together 3 egg whites till stiff and add ¼ cup sugar.
Fold into pumpkin mixture.
Pour over baked crust.
Chill.
Serve with whipped cream. Enjoy!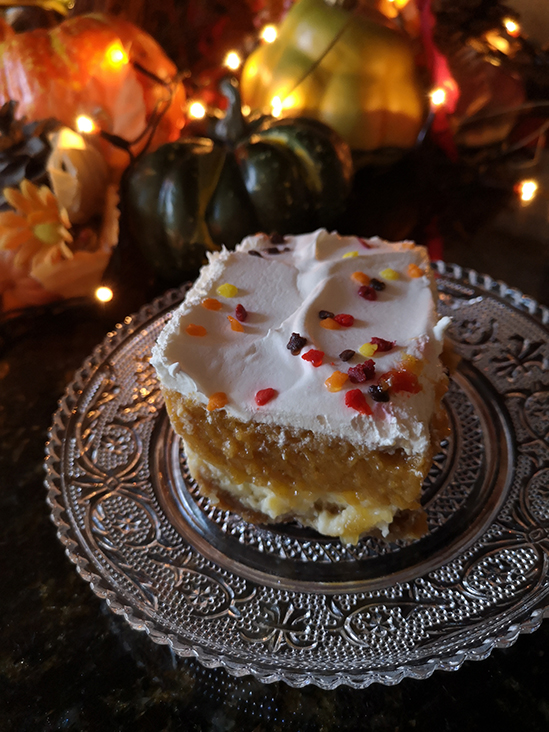 Our final Thanksgiving pumpkin recipe (for this year, anyway), comes from the grandma of our other Waterloo showroom receptionist, Heidi. This recipe is a really creative take on pumpkin - neither a vegetable dish, nor a dessert - and a delicious one at that. Give this one a try!
Pumpkin Dinner Rolls
Ingredients:
1 Tbsp. yeast
¼ c. water
½ c. butter
½ tsp. salt
1 c. pumpkin
½ c. milk
2 eggs, beaten
½ c. sugar
4-5 c. flour


Directions:
Dissolve yeast in water.
Melt butter and add milk and pumpkin, heat until warm.
Add salt, beaten eggs and sugar to this mixture.
Add flour and yeast.
Knead until smooth.
Let rise until it doubles in size.
Shape into rolls and let rise until it doubles again.
Bake at 350 degrees for 20 minutes or until done.
Much to be thankful for...
Whatever recipes you choose to go with this Thanksgiving weekend, we hope it's a time of refreshing, reconnecting, and reminiscing with family and friends as you take time to acknowledge and give thanks for the blessings, opportunities, and hope in your life - we hope no matter what season of life you are in, you will be encouraged and uplifted by a weekend of peace, gratitude, and community. Happy Thanksgiving from all of us at Chervin!