Cabinetry hardware is like the jewelry of your home, it can make or break your design. Our advice in today's post will offer you some valuable insights as you design your next project.
---
While it is by no means the first decision to be made when designing your cabinets, the hardware you choose can make a significant difference in the look, feel, and overall functionality of your freshly renovated space. Today, we look at all the hardware options you can choose from to complete your kitchen design.
What brands of hardware does Chervin offer?
All our brands are thoroughly researched and vetted to ensure they live up to our Chervin quality standard. We carry at least 10 exception brands of hardware, including Hafele, Schaub, Pomelli, Emtek, and Berenson, to name a few.
You're also welcome to bring your own hardware if you have found something you really love elsewhere and were saving it for this dream kitchen or vanity!
What are the different materials hardware can be made out of?
Polished chrome, brushed nickel, glass, brass, wood, leather...
Mixed metals have been very popular recently.
You typically want to choose hardware that will contrast your cabinetry and make a dramatic statement (unless you opt for slab doors with finger pulls - then minimalism is the name of the game).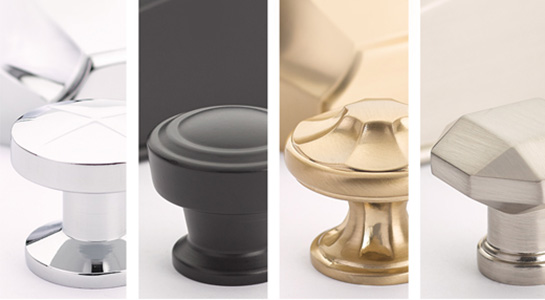 What is the price range for different types of hardware?
On average, you can expect to spend approximately $12 per knob or handle (which equates to around $500 for an average kitchen, not including the cost of slides and hinges).
Soft-close, Bluemotion hardware is standard in all of our Chervin cabinets
You can spend as much as you want on your decorative hardware, though - up to $250 for a high-end pantry or appliance handle.
The size of the kitchen matters less when it comes to hardware cots than does the composition of the kitchen - the materials you choose, the size of the doors/drawers, and the uniqueness of their function (for example, lift-up doors), can all contribute to increasing the value of your hardware.
---
Want to learn more?
Visit one of our showrooms in Waterloo, Muskoka or Oakville and our showroom consultants will be happy to answer your questions and show you our options!