Well-designed cabinetry should combine both function and style.
Article and Images Courtesy of
Dockside Magazine
---
Superb kitchen design is always a blend of performance and aesthetics. But which should come first?
Chervin Kitchen and Bath designer Lisa Weber says function always comes before design. But the real trick comes in marrying them together.
Design, she says, shouldn't cater to industry trends; it should be customized to the owners of the property. She consults with her clients about usage before discussing appearances.
"I like to get to know my clients so we can best customize their kitchen cabinetry," says Lisa. "Who does the cooking? Do you entertain frequently? The answers help get the ball rolling so we can build the design into the function."
Is the person who does most of the cooking left-handed? If so, having a hidden spice rack on the left side of the oven is a good idea. If the main cook is confident in their culinary abilities and an extrovert by nature, building the cabinetry and oven facing the dining area allows them to shine.
Should they be a little less comfortable flaunting their skills with a skillet, then a more suitable spot would be facing away from where guests congregate.
Lisa says they also acknowledge age, height and mobility when designing and installing cabinetry: homeowners want access to all the drawers and cabinets without having to get on a ladder or get down on their knees.
"Knowing who will be spending the most time in the kitchen allows us to cater to their wants and needs," says Lisa. "Nobody wants to feel awkward when in their kitchen. They want ease and comfortable settings."
Finding out how long the individual, couple or family is planning to live on the property also helps determine their needs.
Designing for a forever home or a family cottage which will be passed down is much different than one which will be sold within five to ten years. If it is a forever home, it gives a basis for what the occupants are going to need moving forward.
"We need extra drawers in the lower cabinetry and a lot of easy access items," she says. "As individuals age, we eventually stop using upper storage areas."
When planning for succession, ensure the cabinetry is built with longevity front of mind. It may cost a little more up front, but the savings can be seen in long term durability.
"Let's not look at particle board cores, let's look at plywood cores – let's look at strong, durable materials for the project," says Lisa.
"Good solid cabinets. We're giving you confidence in what you're gifting to your children and grandchildren down the road."
On the flip side, if the idea is to live in the place for only a few years before selling, the owners may not want to go all out on the kitchen cabinetry. After all, the new owners could just end up tearing it out and building their own dream kitchen.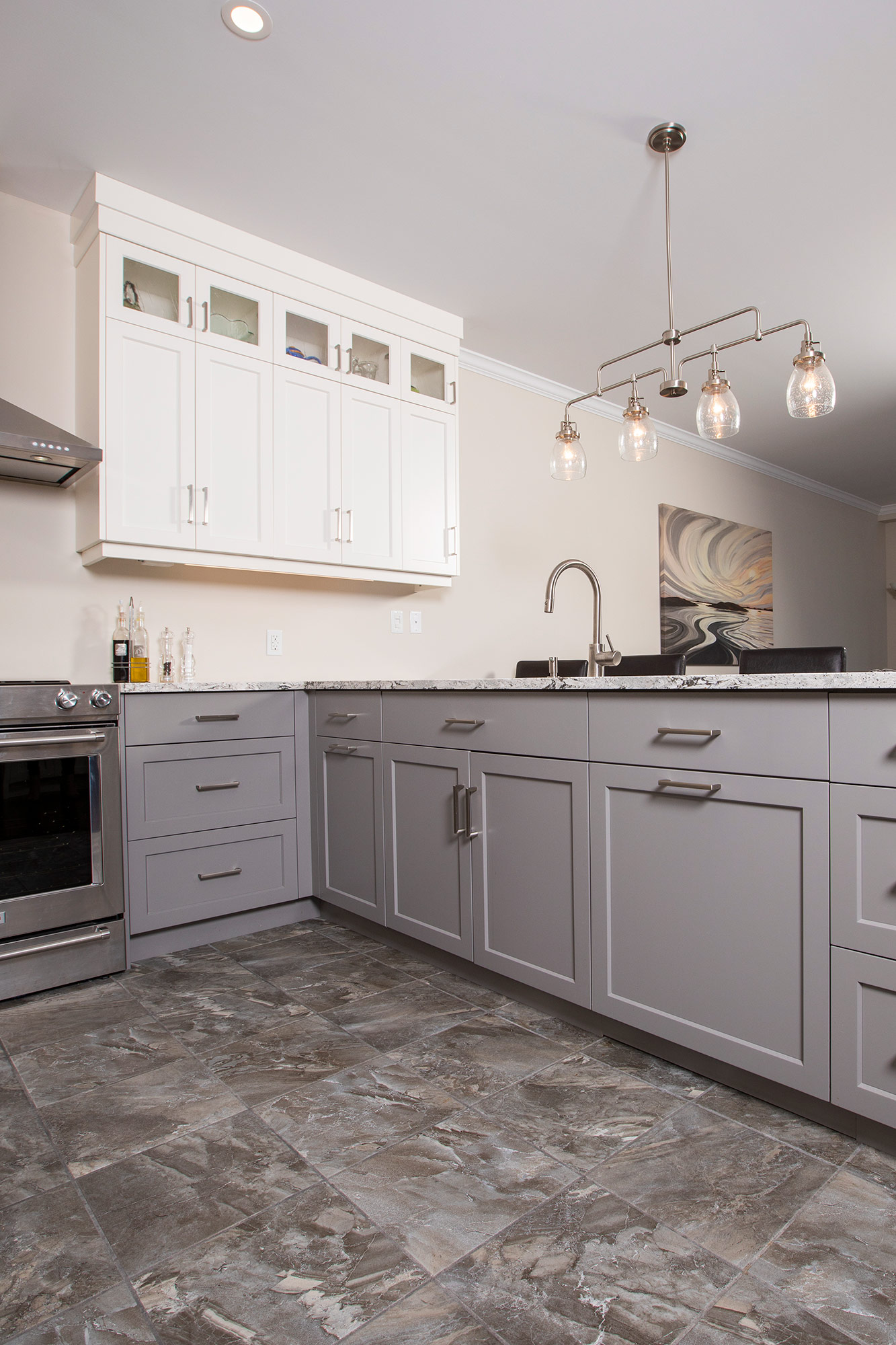 "In this situation, we'll work with our clients and their budget to find the best solution," says Lisa. "Quality cabinetry which will last, but maybe is more geared towards current trends to be more real estate market-friendly."
Condo Living
Chervin clients Cassandra and Wayne recently purchased a condo to be closer to their children and grandchildren. Knowing this would be their retirement home, they enlisted Lisa and the Chervin team to create a space they could enjoy for a long time.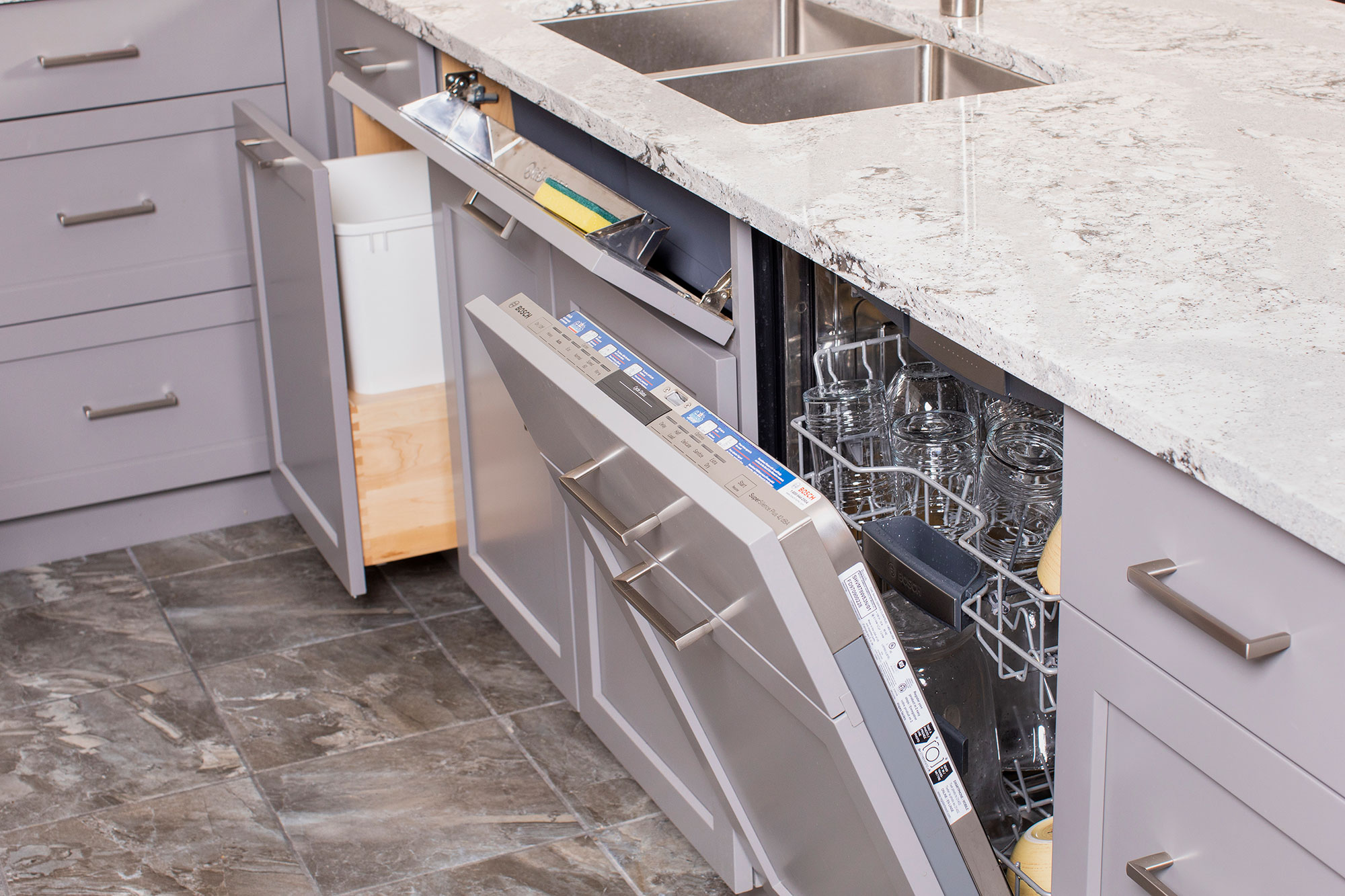 Wayne enjoys a rugged aesthetic, while Cassandra prefers a softer tone. Their retirement condo is a mix of the two and so is the two-tone kitchen. They both love the platinum on the lower cabinetry, while a strong white nicely accents the upper cupboards.
It is a spacious kitchen with a U-shape layout featuring a peninsula with space for kitchen-side eating and drinking. Spice drawers and areas for cooking needs – pots, pans and utensils – are located at waist height beside the stove, while the garbage bin, dishwasher, sink and hidden nooks for cleaning supplies are built into the peninsula. A built-in, waist high microwave is also easily accessible.
"They love their kitchen and we were able to make the cabinetry meet all their desires," says Lisa.
Relationships Matter
Lisa points to Wayne and Cassandra as to why it's important to build relationships with clients. Getting to know their lifestyle provided insight into customizing their cabinetry. Communication in these situations is vital to doing the job right.
"I always suggest that partners visit me together," says Lisa. "Because she might want something, and he might want something completely different. But, by working together we can create something everyone is happy with."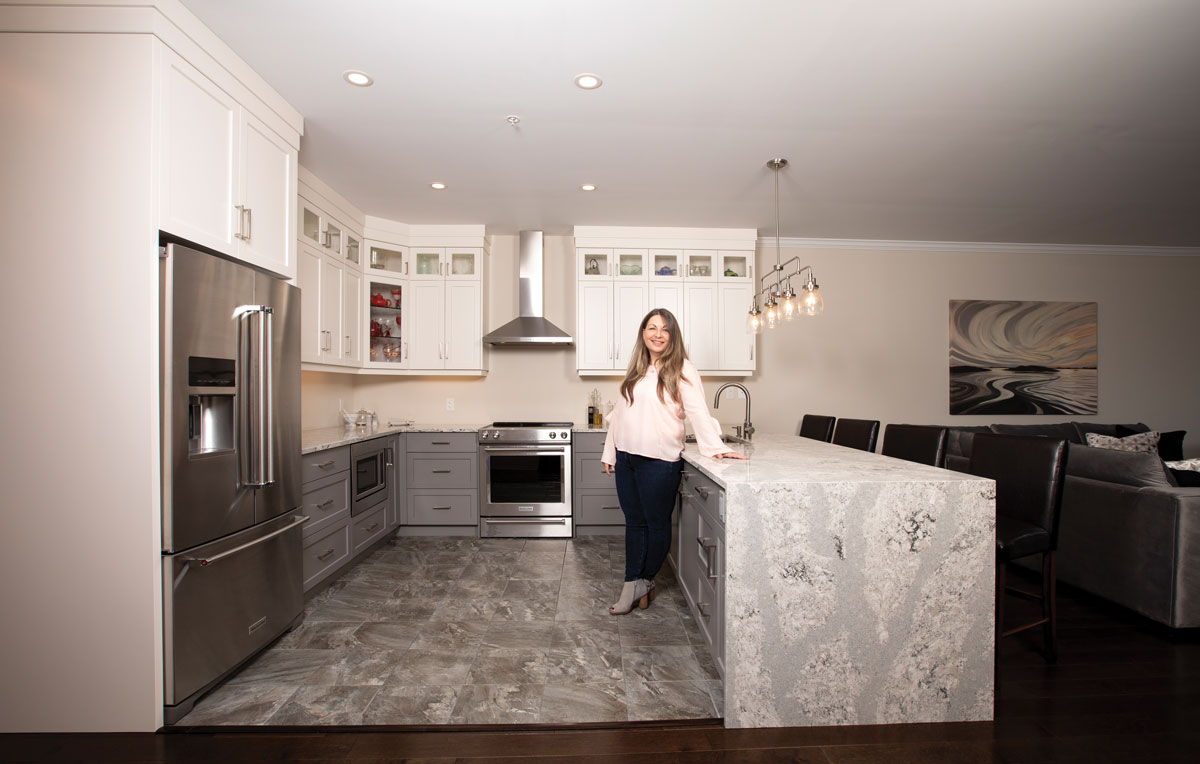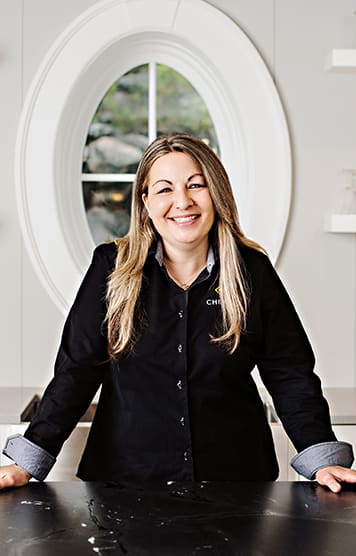 Meet The Author
Lisa Weber works as a Sales & Design Associate at the Chervin showroom in Muskoka.
Lisa is happy to work with a company that focuses on communication.
Countertop edges add a lot of character & finishing touches to a space. Choose from Straight Edge, Mitered, Chiseled, Ogee, Beveled, Bullnose, or a custom edge.