Whether your kitchen tone is timeless white, warm wood, or soothing grey, a few pops of colour can bring it to life in a style all your own. Here's 5 places we love to see colour in a kitchen...
---
There is something refreshing and reassuring about a streamlined, refined kitchen. Neutral tones like white, brown, grey, and black are crisp and versatile and, in many cases, timeless. But colour can be the secret ingredient to taking a space from simply beautiful and tasteful, to completely "you". Colour can be incorporated into the design of your kitchen in however bold or subtle a way as you like - make it the focal point or use it as a tasteful accent, whichever best facilitates the feeling you want to have in your kitchen. While there are many ways of introducing colour into your design, these are five excellent places to kick-off your brainstorming (and four out of five can be additional touches to complete your new kitchen or spruce up your current space until a complete reno is possible). Which of these five is the best fit for you right now?
1. Bring it out in the backsplash
No matter what style or colour tone your cabinetry sports, there is a backsplash perfect for making your space even more fresh and vibrant. While the bulk of our clients choose to work with neutrals like white, grey, and black (which, by the way, can be subtle or bold depending on how they coordinate with or contrast your cabinetry), some want to play it a little more "fun" and throw in a pop of colour using tile.
Tile comes in a wide range of shapes, textures, and sizes...and of course, colours! Tile can range from less than $5 per square foot to well over $50, so do your research and explore the various factors (material, style, size, etc) to determine what's most valuable for you.
Some stone slabs (quartz, granite, etc) do also incorporate colour and can be dramatic as backsplash alone, or as a fluid combined countertop and backsplash. Here are a few fun options to explore: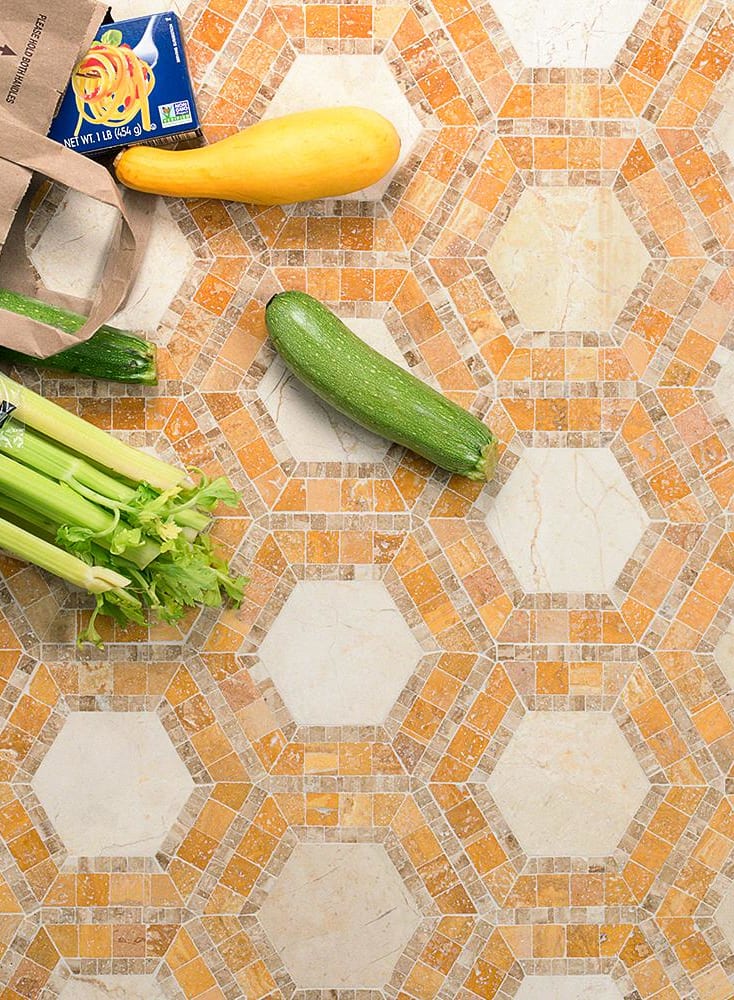 2. Choose an eye-catching island
A well-placed island in a contrasting colour can be a fabulous focal point and the perfect way to be bold, but tempered with your use of colour. We've had many clients choose rich hues of blue and navy (Hale Navy and Raccoon Fur being two of our favourites), while some others have opted for pastel tones like seafoam green.  Of course, a contrasting neutral like a darker grey or a natural walnut are also fantastic choices for accent islands, but don't be scared off by the idea of adding a little extra personality to your design with a vibrant colour (so long as you like it - the trends will come and go with time so choose a colour you will love to live with, not just what seems popular in the industry). For the record though, the deep greens that have gained popularity in the last couple years are beautiful and classy options to consider.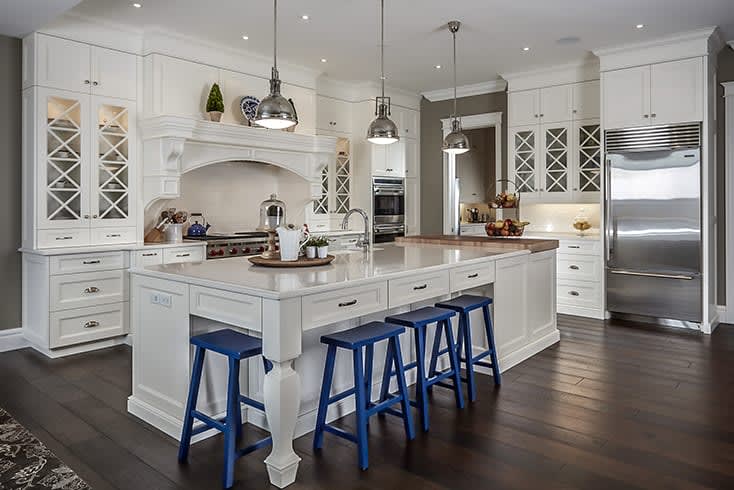 3. Spice up your seating
If you like the idea of a contrasting island but want your colour to be a little less permanent, investigate colourful seating options. While stools could last you a decade or more, they are typically a smaller investment and are easier to swap out for the season or after a few years of good use. Whether you opt for a classic painted wooden stool or a more luxurious upholstered one, you'll be amazed at the difference a bright set of counter stools can make on the feel of your whole kitchen!  
4. Coordinate your cookware
Cookware and bakeware are perhaps the simplest way to add controlled but powerful pops of colour throughout your kitchen (especially if you're just starting out or are able to replace your full set - though rebuilding it one piece at a time can certainly spread out the fun!). Most cooking utensils are now available in a range of vibrant colours, particularly if you opt for silicone options. Dishware, especially ceramics, are available in almost any colour or design, and, if you want to go all out, we highly recommend Le Creuset's cookware. It's sturdy, reliable, and beautiful, and comes in a great assortment of lively shades including Flame, Sage, Teal, and Cerise.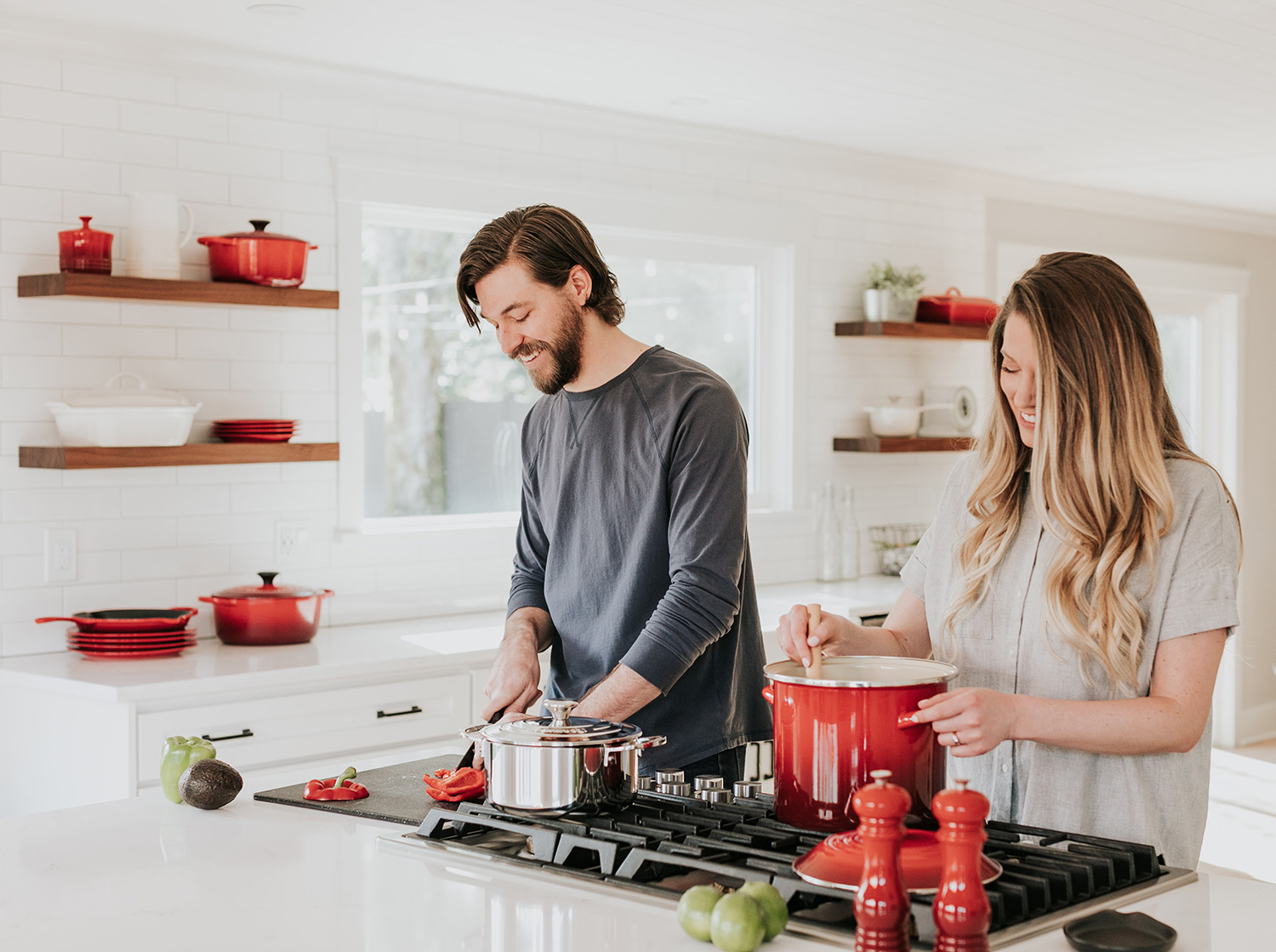 5. Light it up
It always seems to come back to lighting - lighting in your kitchen should never be an after-thought; strategically placed lights can make all the difference in not only creating practical work areas, but in showcasing the rest of your design choices (including those listed above). And lighting is no longer limited to choosing between cool white and warm white - your under-cabinet, in-cabinet, and task lighting can be tuned to any hue on the full colour spectrum. Match the other coloured elements of your kitchen or simply suit the mood of the day - there are plenty of options out there these days for both bulbs and strip lighting that can be customized to fit your colour scheme (and operated with voice command).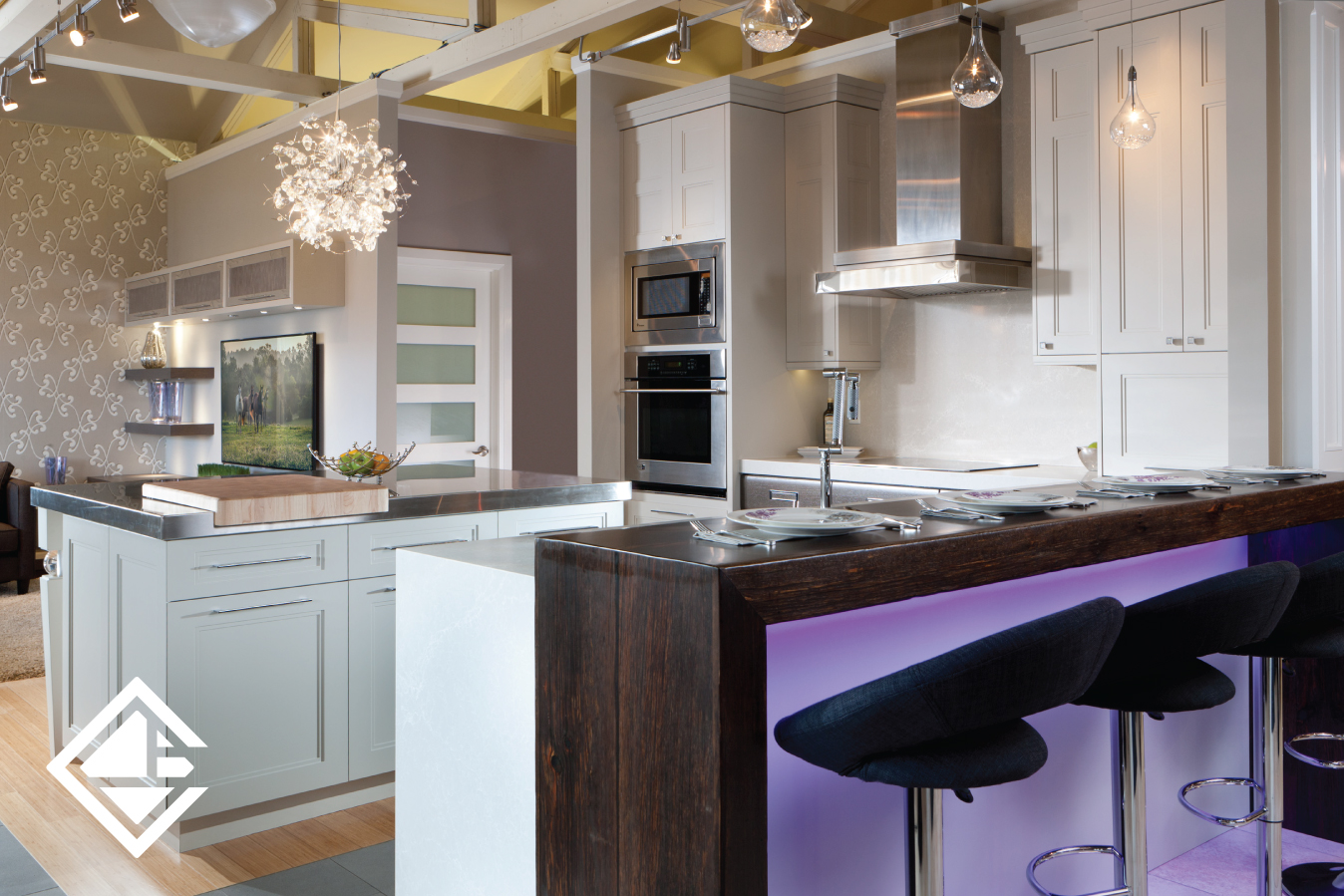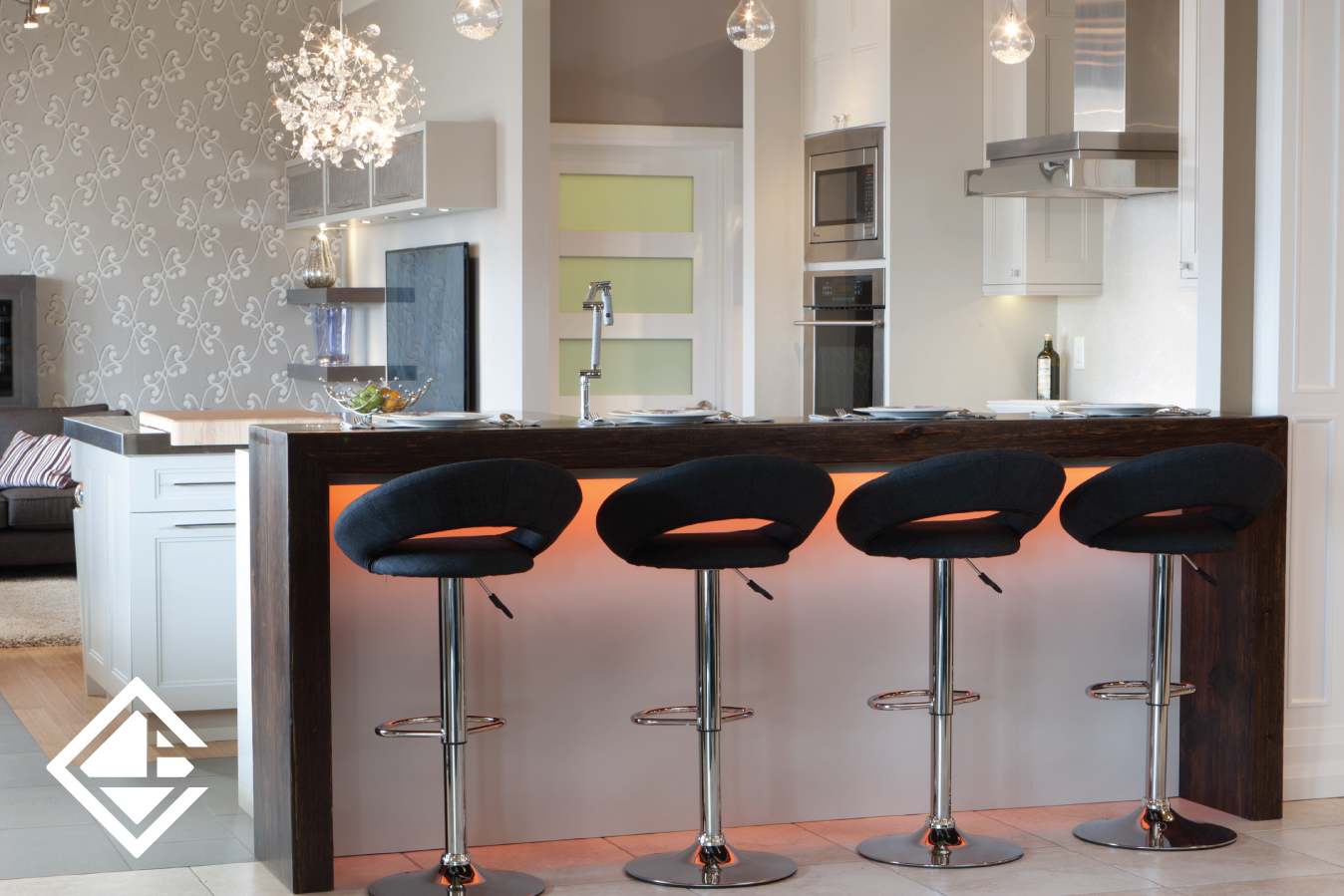 Of course, if you really love colour, you can always choose any colour for your main cabinets and really make a dramatic statement. But if you like a more streamlined, neutral, or calming palette with just a few pops of personality throughout, we hope at least one of these options hits home with you today and gives you a boost of inspiration. There are plenty of other ways you can incorporate colour into  your space, too, and our designers would love to help you pick just the right accent and focal elements for your home.
We look forward to bringing your dreams to life!