Work-from-home is the new norm for many. As you work hard and establish new rhythms, here are a few ways to make sure your custom home office setup will truly work for you...
---
If you work in a non-service/manufacturing industry, chances are you've spent a lot of time working from home this year. And if you're like most, your "home office" has been either the couch or the kitchen table, possibly with a TV tray as a stand-in desk and a spare monitor from work. But what if working from home (as cozy as it is) could regain its structure - an ergonomic setup, a dedicated workspace, and "a place for everything and everything in its place"? Whether you expect to work-from-home permanently from now on, or just love the idea of a dedicated place for any planning, homework, or after-hours work duties, custom cabinetry could be just what you need to establish an inviting, and ultimately practical, home office. Here are a few key steps to designing your dream desk: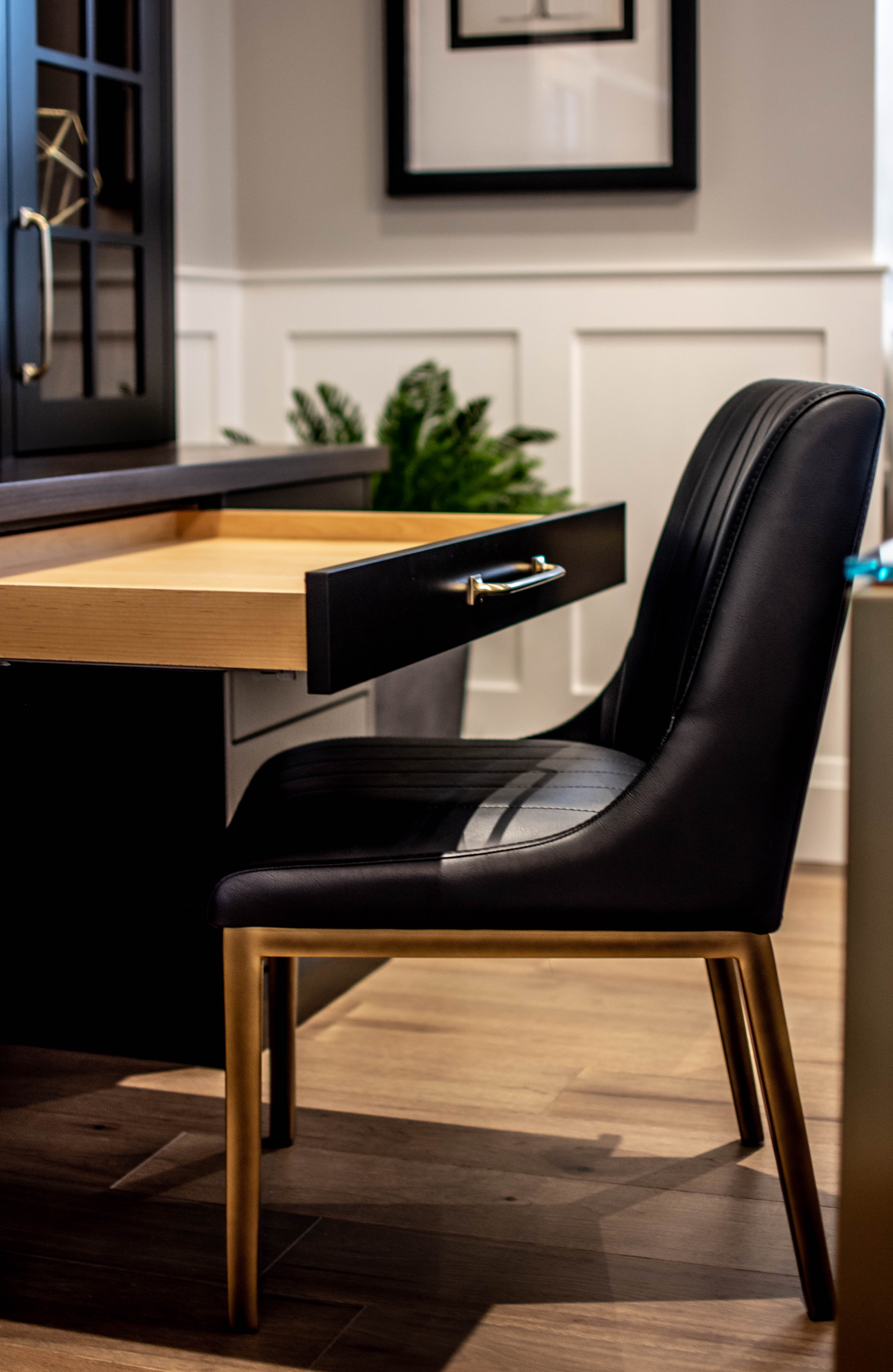 1. Define Your Space
One of the biggest complaints about WFH scenarios is that its hard to "turn off" - the laptop is still whirring next to you, your work phone is still in your pocket, and hey, what's an extra 15...30...60 minutes...you're not commuting anymore, anyway, right? While all this may be true, for your own wellbeing and that of your household (not to mention your employer - quality breaks actually improve productivity), it's integral that you are able to disconnect from work temporarily and recharge.
One of the most practical ways of doing this is ensuring your home office is dedicated and well defined. If you have a spare bedroom, maybe it can double as your office for the majority of the time when you're not hosting. Or maybe you're planning on finishing the basement this year and there is a corner you can carve out and stylize to be inviting.
No extra room? No problem - consider building out a desk and cabinets in a lesser-used corner of your kitchen or family room. It takes a little more self-control to not "head back to the office" in your off-time, but with custom cabinetry, everything work-related can stay looking attractive and tidy, even in the main space of your home.
Office pictured to the left (and at bottom of post) from Klondike Homes model home in Kitchener, ON.
2. Establish Your Tech Setup
Are you content with a laptop and a notepad? Or do you need multiple monitors and professional recording equipment? Whether you're navigating spreadsheets or producing a podcast, you likely have an ideal tech setup - whether by necessity or preference. Your tech setup is important to know so you can customize your desk and cabinetry to maximize productivity.
Make sure you ask yourself questions like:

Do I need support with effective cable management?
How many monitors will I be using and how much space will they take up?
Do I want to use a separate keyboard or the one on my laptop?
Is a standing/movable desk important to me?
What kind of storage options do I need (for documents, office supplies, devices, etc)?
Do I want concealed or open storage options?
Will my internet modem and router need a place in the office or are they kept elsewhere?
Are other family members using this desk/office space, as well? What are their unique needs?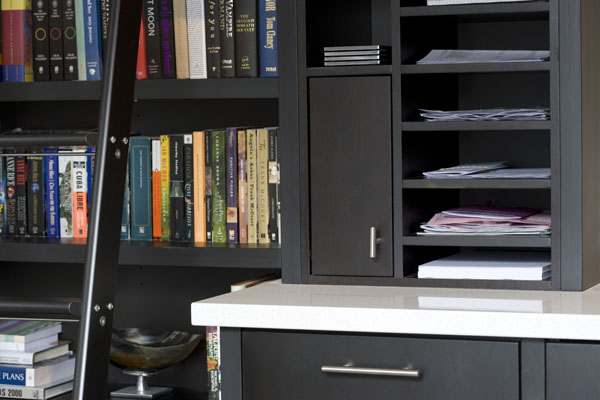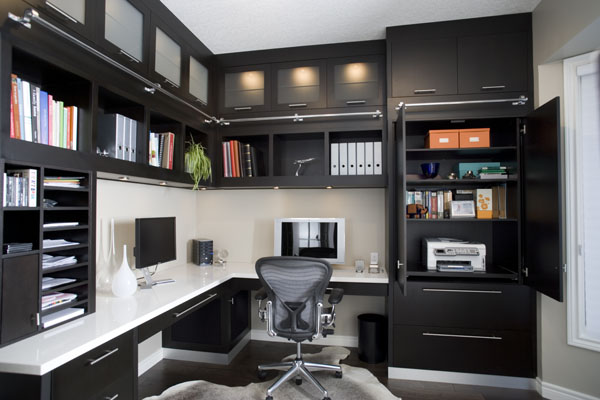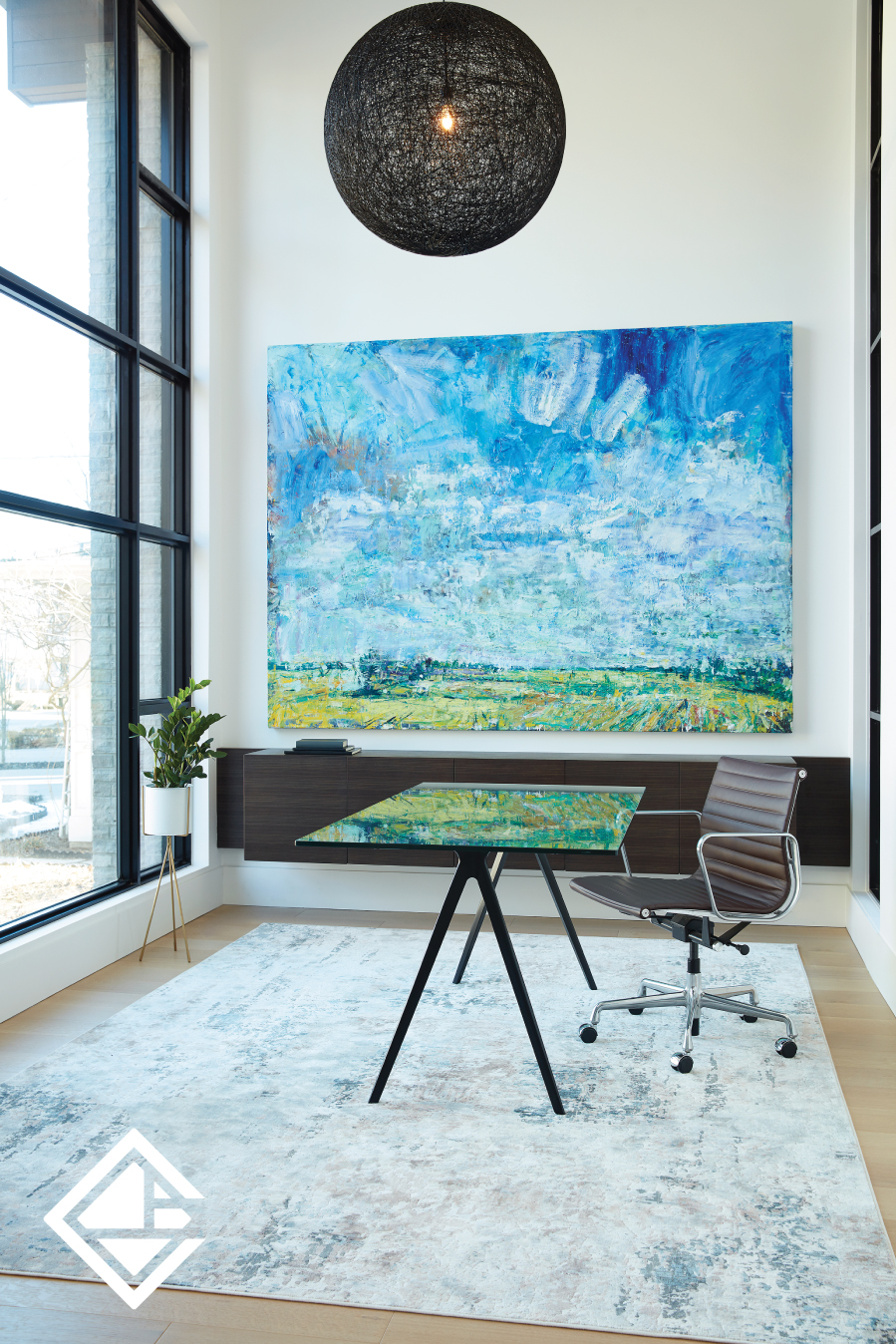 3. Consider Your Style
Your home office should be a place of inspiration, productivity, and comfort. You want to create a space that will empower you to accomplish as much as you can with limited stress and discomfort. In terms of cabinetry choices, your style could factor into:

Wood finishes - do you want the rich character of rustic distressing or the calming simplicity of paint?
Hardware - are you more into sophisticated mixed metals or more dramatic crystal/glass? Or do you want to stay down-to-earth and natural with wood or leather pulls?
Door styles - glass or wood? Louvered or solid? Ornate raised panel or minimalist slab (or something in between!)?
Desk surface - would you prefer the clean look of consistent materials and finishes throughout your home office, or would you rather choose a contrasting wood for your tabletop?
Shelves vs drawers - how important to you are accessibility and ergonomics? How often do you expect to need access to the items stored in your cabinets? Are you storing large, bulky items or stacks of records and paperwork?

In addition to your decisions regarding the cabinetry itself, enjoy the opportunity to customize the look of your space with artwork, decor, coordinated office supplies, fresh tech, and, of course, your favourite office chair!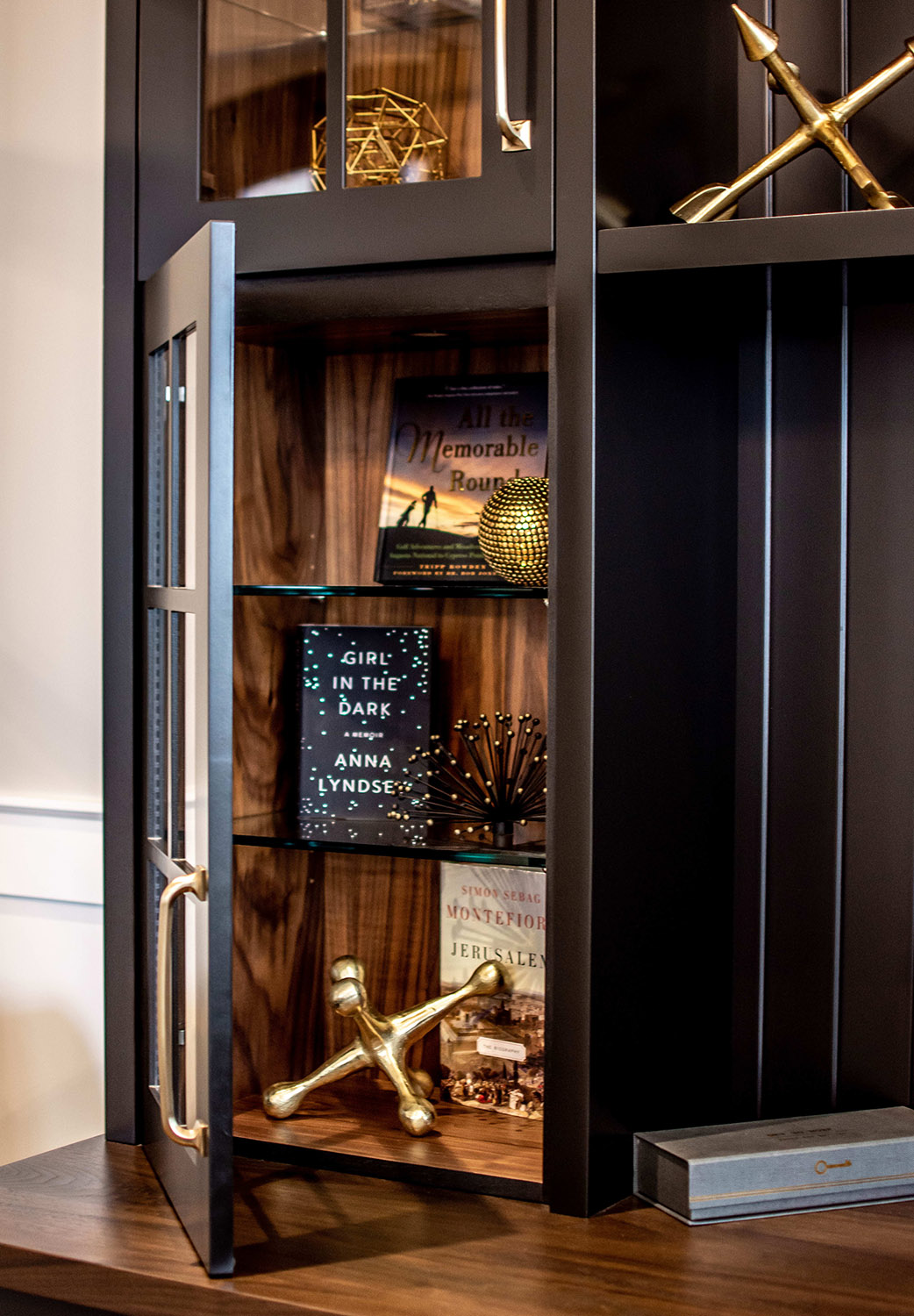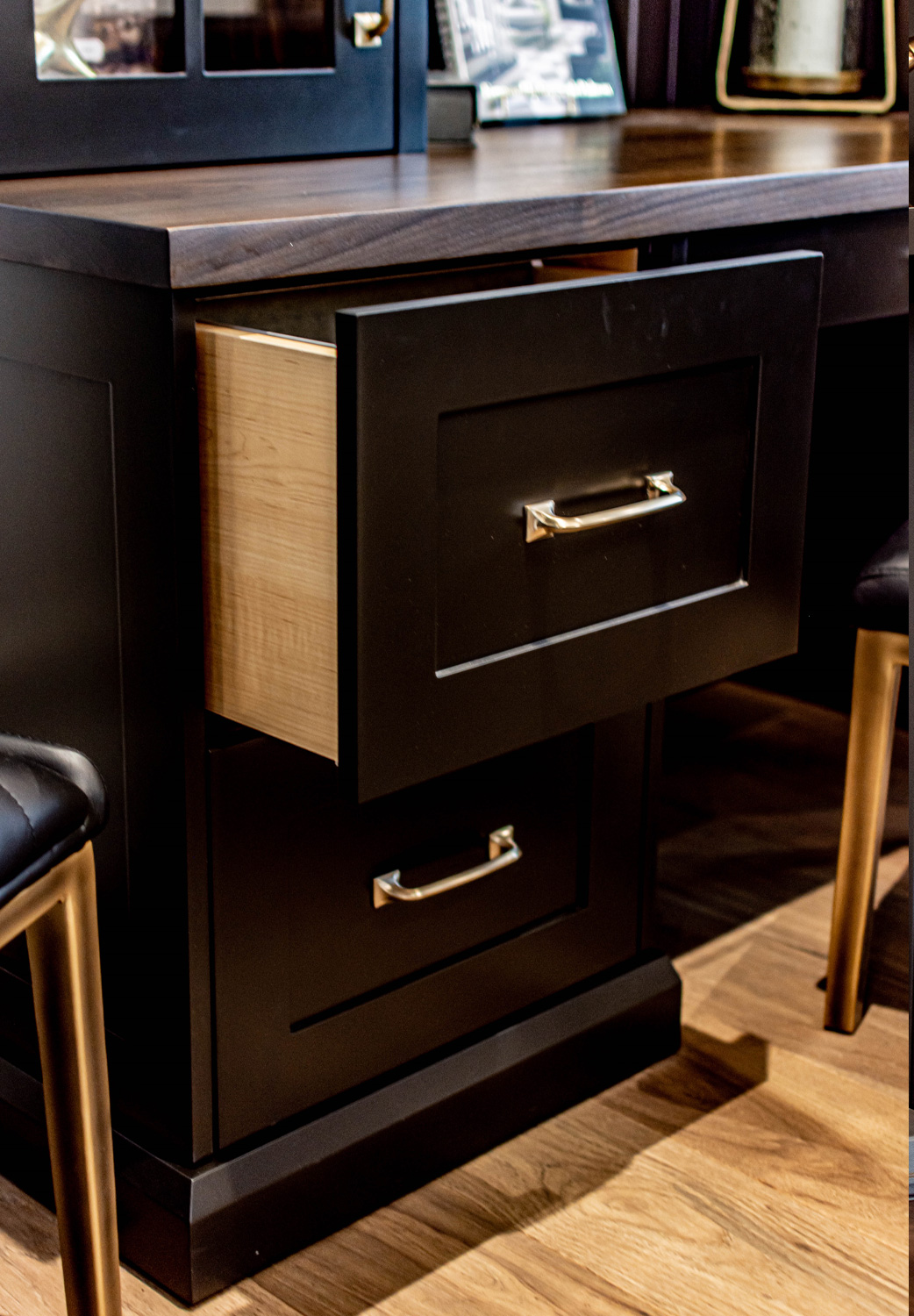 ---
Let's Connect!
Whether you've worked from home for years and are finally ready to invest in your dream space, or just getting used to the idea of WFH, we'd love to help you make the decisions that will lead to your most productive and uplifting work environment ever...in the comfort of your own home. Contact us to connect with one of our designers and get started!  

Book a design consultation