There's nothing like custom kitchen storage to take your space to the next level of fashion and function...

---
Designing a new kitchen means choosing finishes, door profiles, hardware, appliances, and more, but perhaps the most rewarding decisions have to do with what storage options are most valuable to you and your household. Both fun and practical, these storage options feel like "bonus features" - like an extra compartment in your laptop case you didn't know about or the pockets in your dress that make all your friends jealous. But adding in storage solutions after the fact is risky - units are likely to be made of different materials (meaning they won't blend in or match), but also with different dimensions (meaning you'll always have wasted space). Opting for custom storage solutions that can be built right into your cabinetry will provide satisfaction, efficiency, and a cohesive look for many years to come - not to mention, you can tailor them to the utensils, appliances, and ingredients you use the most. 
We've customized coffee bars, pantries, cleaning zones, and more over the years, but here are the top 10 custom kitchen storage solutions we think you need to consider for your future kitchen:
1. Spice Storage
Whether you opt for a pull-out storage rack beside your oven or a spice drawer like the one pictured to the right, having a way to keep your spices and herbs organized, easy to access (and read), and off the counter makes the whole cooking process much more peaceful (and gives you more surface area available for meal prep).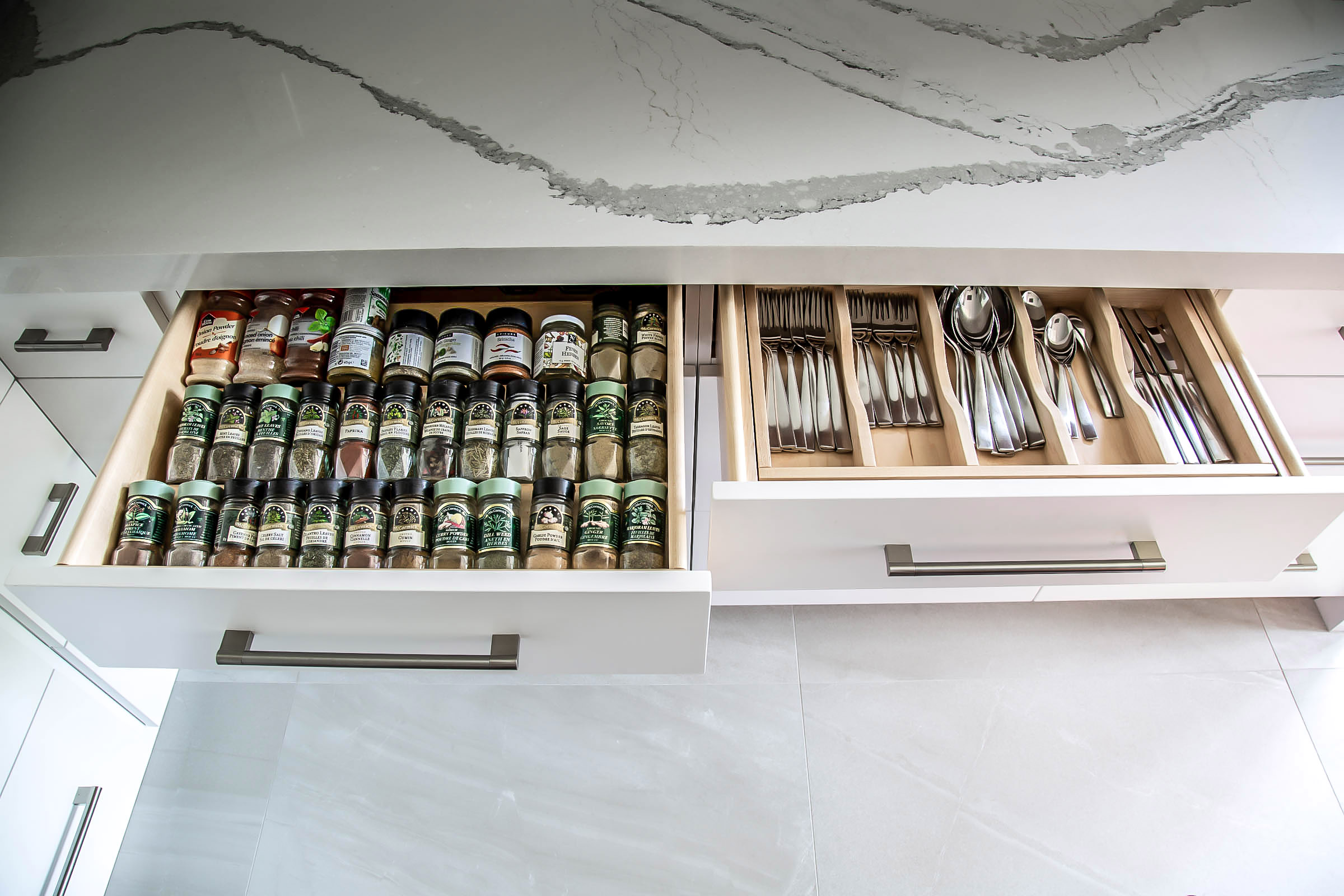 2. Cookie Sheet & Cutting Board Storage
The majority of cutting boards, charcuterie boards, and baking sheets and pans simply don't fit in a standard drawer or pantry. The great thing about custom cabinetry is that we can give you a space that perfectly accommodates your most-used items so they're tidy, convenient, and not scratched or bent from being squished where they don't belong. And these cabinets can be built with adjustable dividers, so you can adapt your storage to your sheets and pans as your collection grows.
3. Cutlery & Utensil Storage
In a custom kitchen, there's no such thing as wasted space. A slightly deeper drawer, cleverly designed, can accommodate twice as many utensils without the busyness of extra hardware. Plus, these drawers mean your dividers and cutlery organizers will be of the same excellent quality as the rest of your kitchen, able to withstand use and hold their position even after decades of family meals.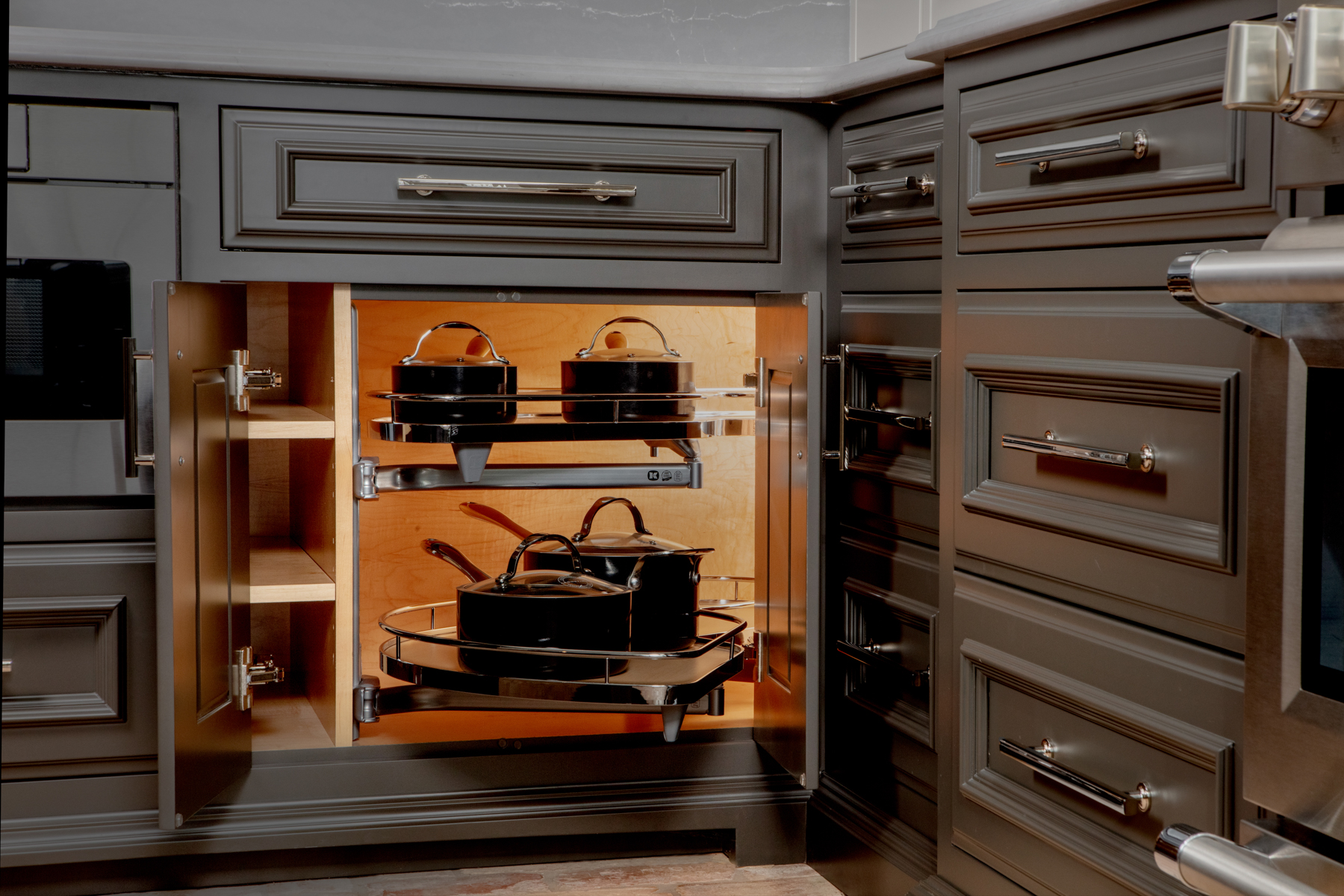 4. A Corner Cabinet Solution
Gone are the days of getting on your hands and knees, with your head inside the cabinet to try to find that pot lid or Tupperware or bundt pan you only use at the holidays. There are so many ways to ensure your corner cabinet is actually ergonomic and accessible, and that real estate doesn't go to waste - angled corner drawers, Le Mans systems (see left), and lazy susans are just a few of our clients' favourite ways of ensuring their kitchen accessories and equipment are always at hand - whether they're used once a year or once a day. 
5. A Recycling Centre
Keep your garbage, recycling, and compost sorted out right from the beginning with a 2 or 4-bin pull-out recycling centre. These units can be positioned by the sink or in your prep zone to ensure they are always close-at-hand when you'll need them most. Keep the garbage and recycling tucked away but still easy to use and streamlined to deal with on garbage pick-up day.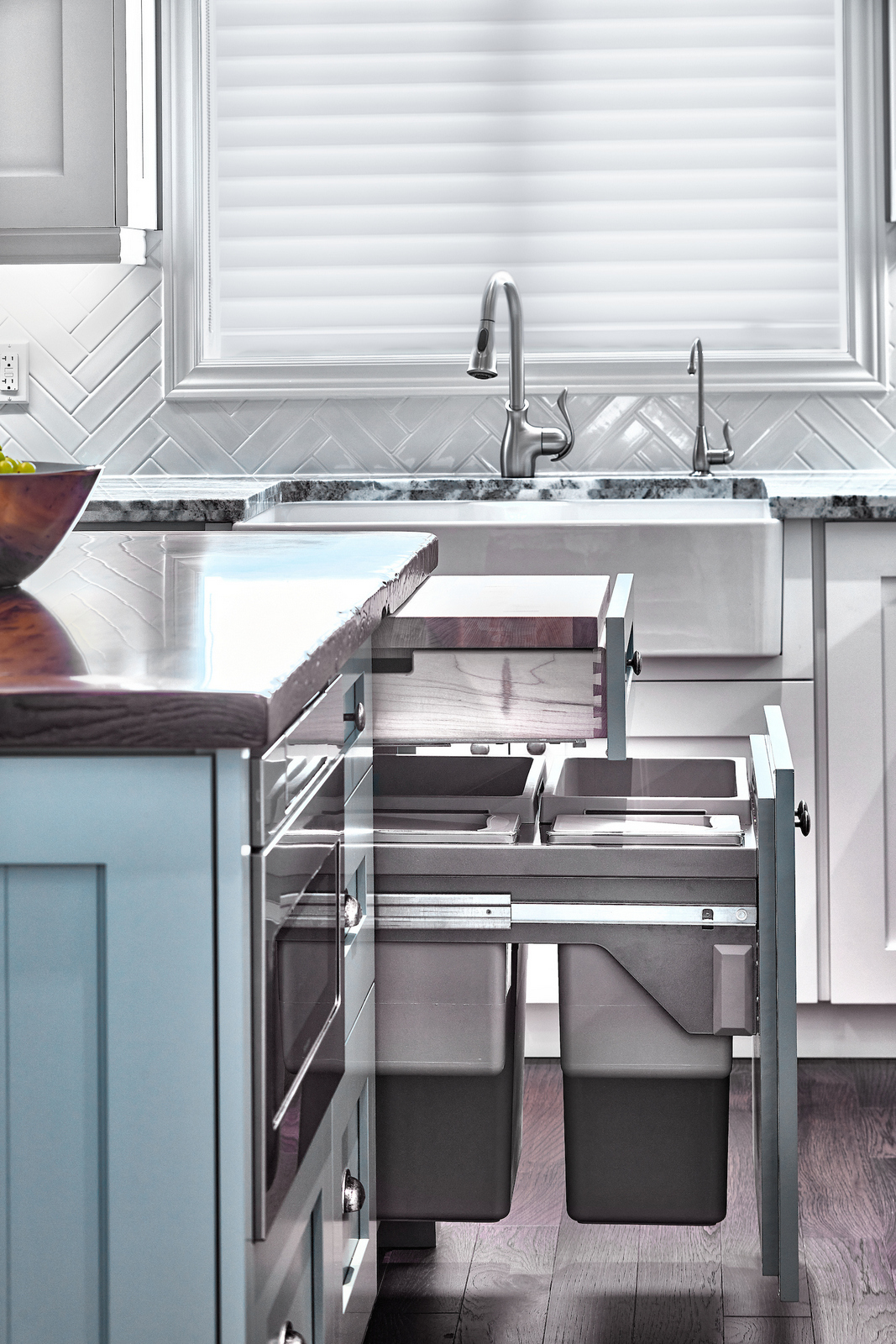 6. Bottle Storage
If you have a little extra space to work with in your kitchen, consider adding a custom storage solution for your favourite bottled beverages, vinegars, and oils. This type of storage, whether square cubbies (see right) or a diamond rack, helps keep bottles of awkward heights and proportions from winding up on your counter or cluttering valuable appliance storage space.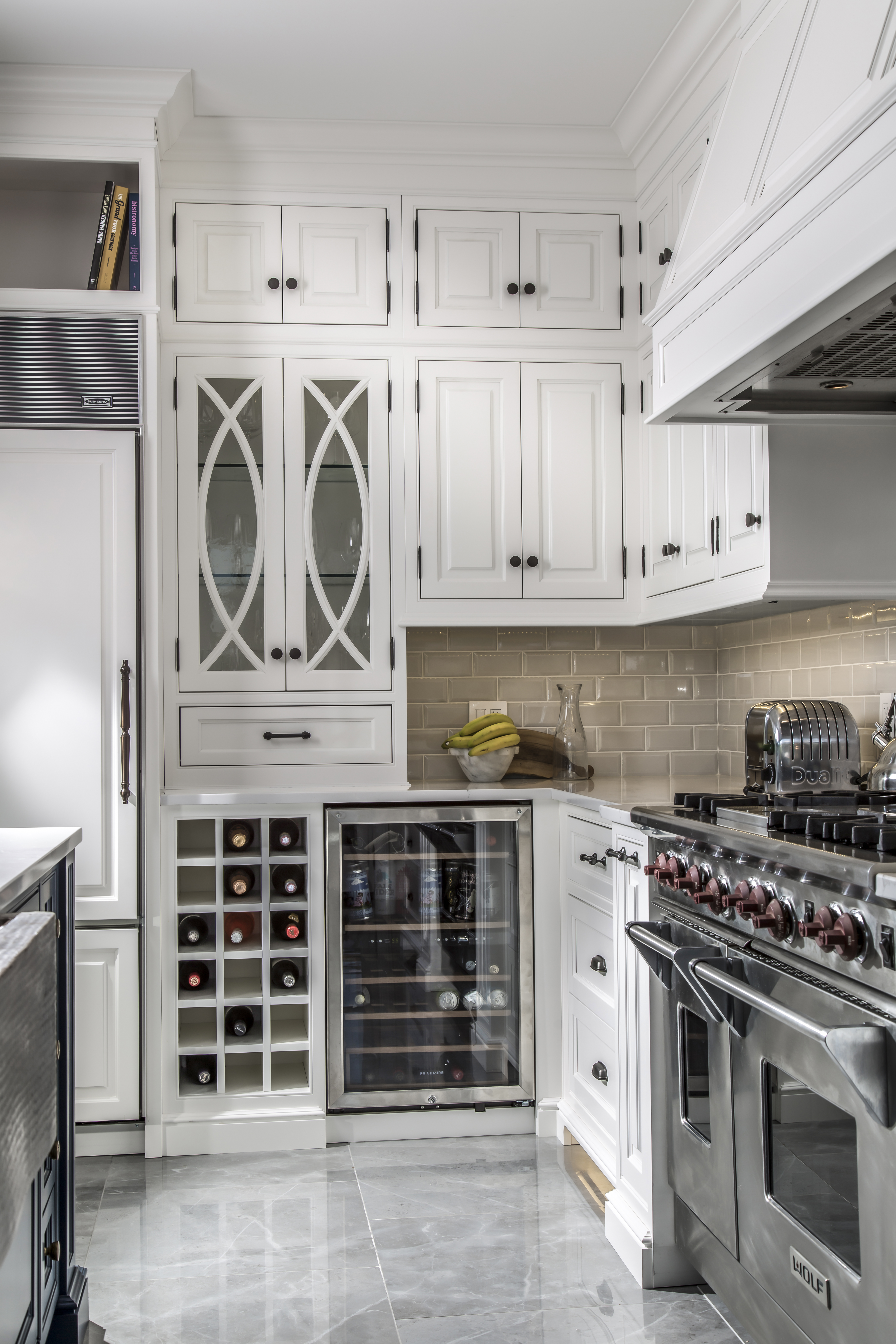 7. Refrigerated Storage
If you live alone or have limited kitchen space, this type of storage may actually be enough to replace your need for a fridge or freezer, but even if you do already have a full-sized fridge-freezer, having an extra refrigerated drawer or two can be a huge bonus, especially when it comes time for hosting or holiday baking. These drawers come panel-ready, so they can blend right in with the rest of your cabinetry...but you'll know they're always there when you need them.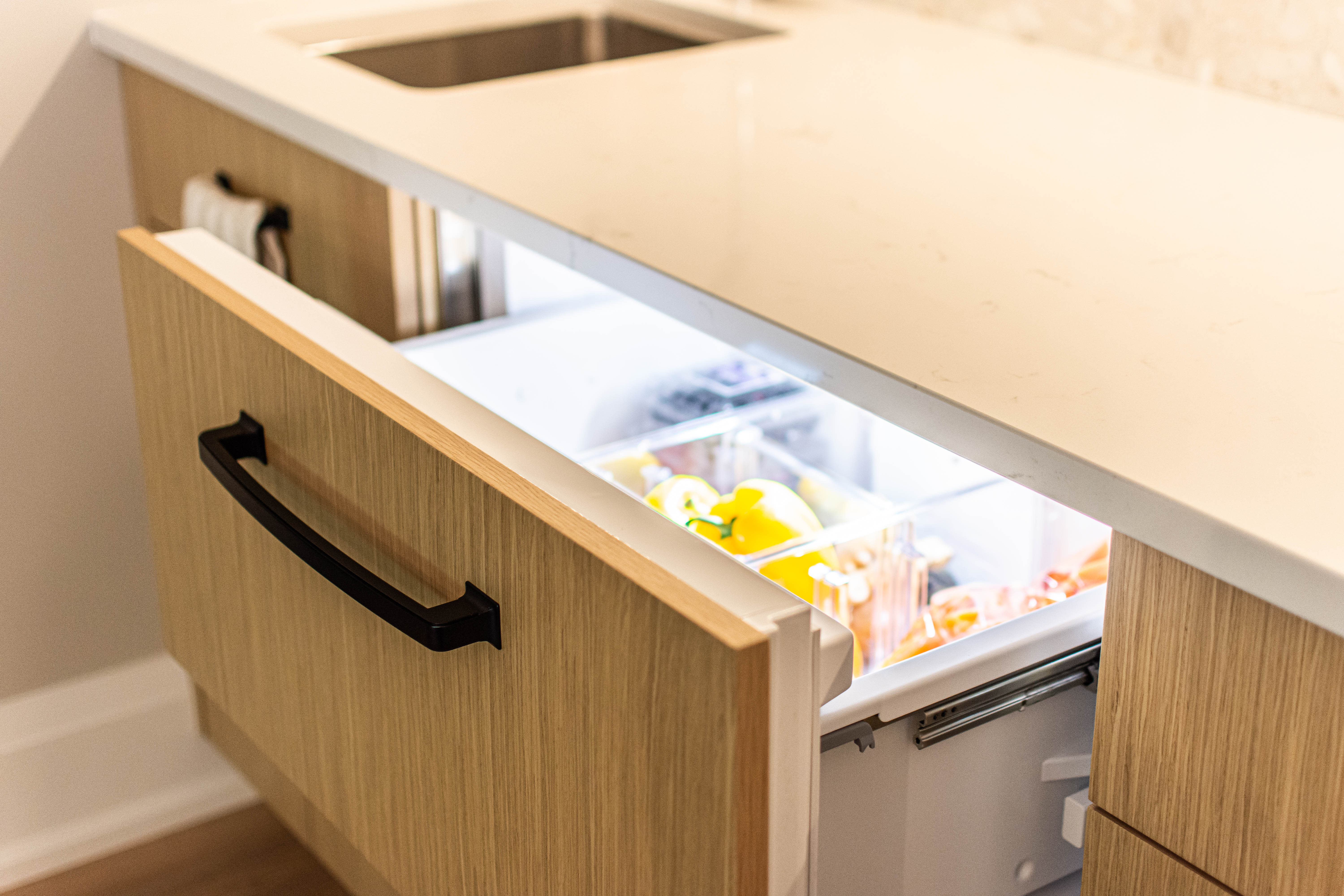 8. Knife Storage
A built-in knife rack is the perfect way to keep your most valuable and effective cutting utensils handy and secure. Keep kids and pets safe from the risk of countertop knife racks, and give yourself more counter space for meal prep with one of these built-in drawer units! And if you opt for a double-width drawer (see right), the extra space can be customized for storing any of your other over-size cooking utensils for a one-stop food prep shop.
9. Countertop Appliance Storage
There is still a place for the classic appliance garage - a wonderful way to keep the overall impression of your kitchen sleek and cohesive, while keeping your most-used countertop appliances close-at-hand. And thanks to clever engineering, appliance garages are now more accessible than ever with doors that hydraulically lift right up and out of the way.
10. Concealed Storage
Last but not least, don't forget to enjoy the clever ways storage can be incorporated in seamless and streamlined ways. Island are one of the most rewarding places to do this - touch-and-release doors on the back of the island can reveal additional shelving (another solution for corner cabinets!), or finger-pull decorative panels on the end of the island can house bottle storage or spice storage in camouflage. Keep your kitchen feeling clean and refreshing by removing obvious hardware and opting for some storage options that blend right in.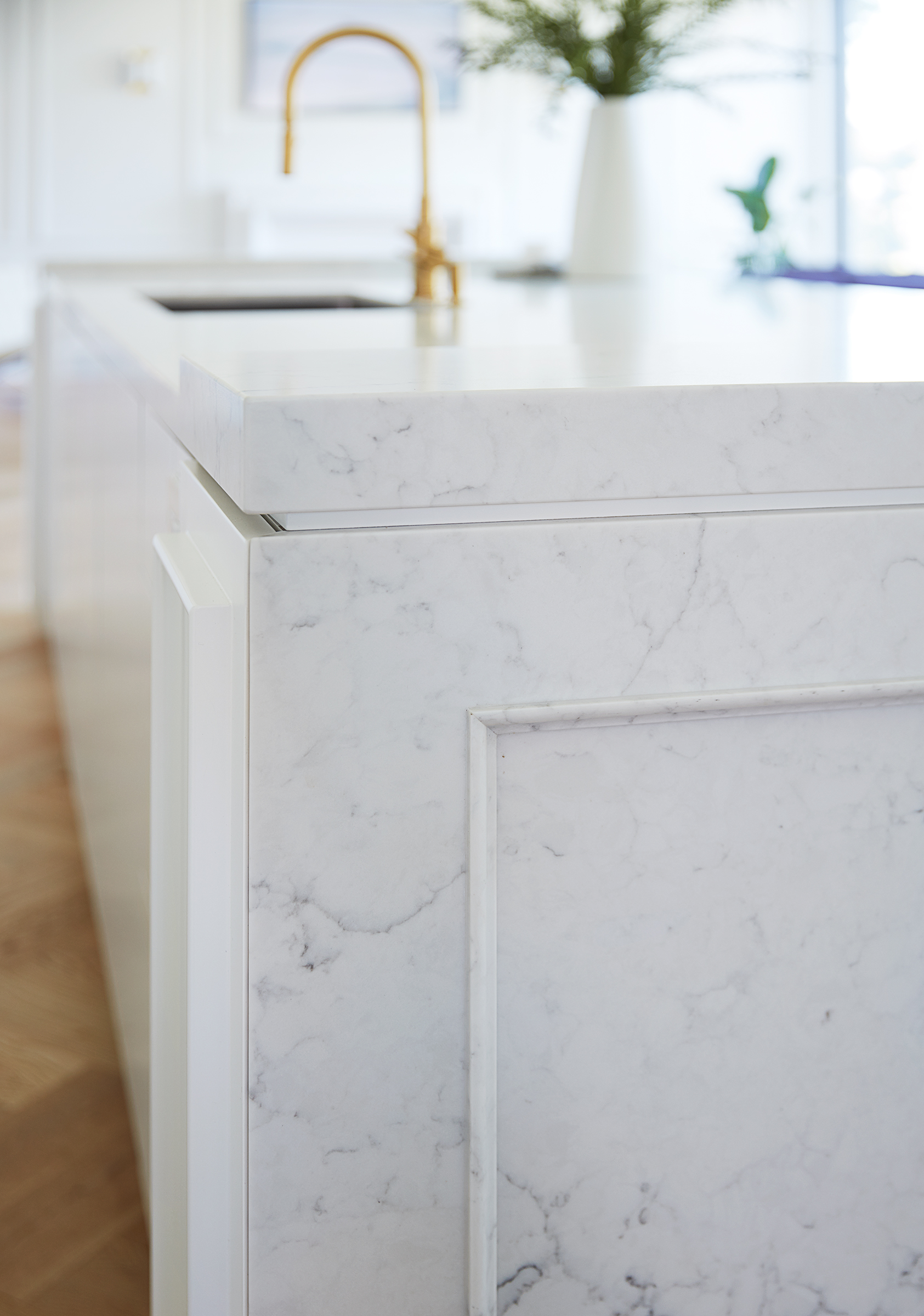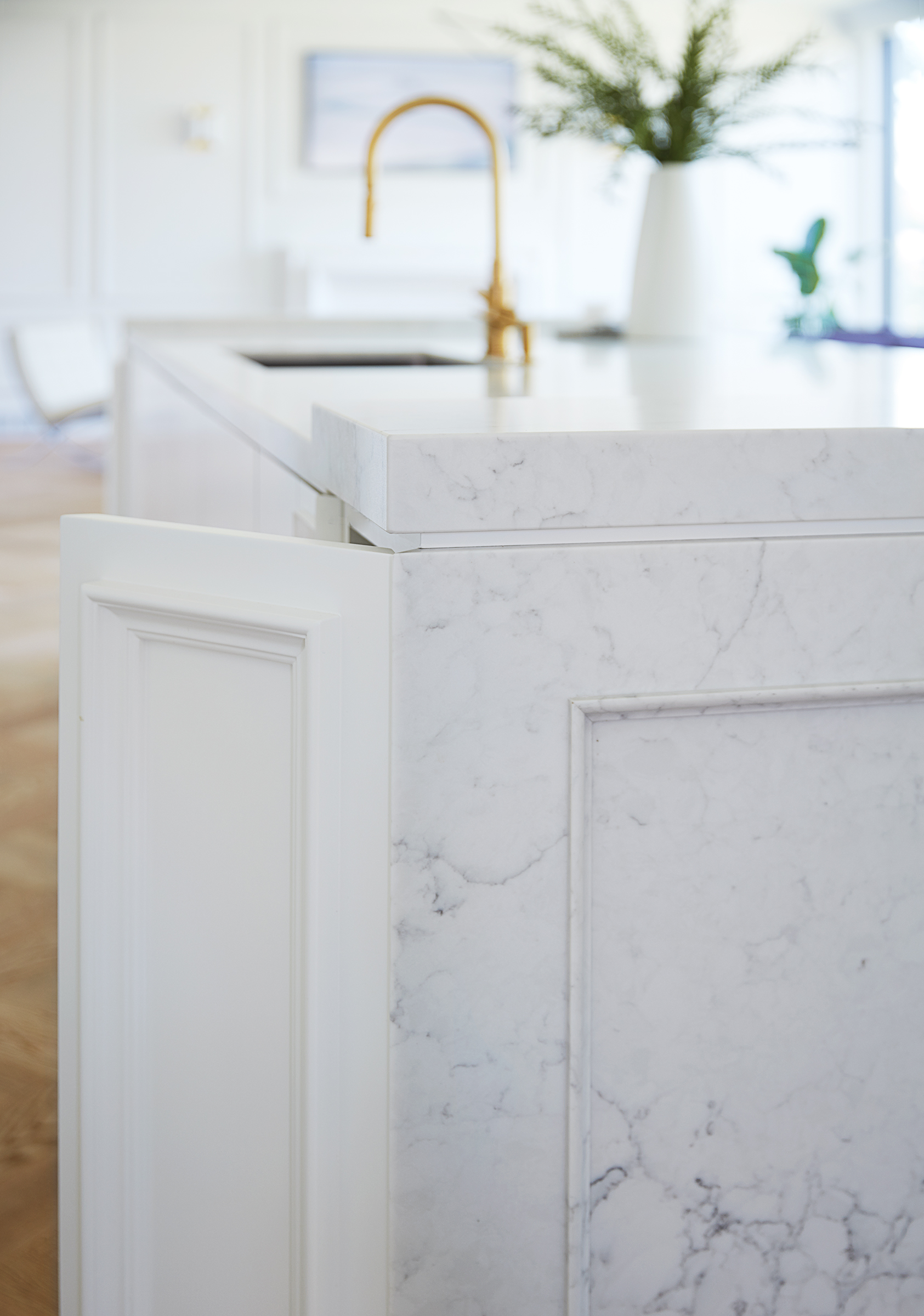 Get Started On Your Own Space
Step one in preparing for your own custom kitchen is to begin evaluating your current space - what frustrates you? What could you not function without? Which appliances or tools do you wish you used more often? Which aspects of cooking and cleaning are currently impractical? What would you love to have showcased better or hidden away? Start a note that you can keep handy while you're in the kitchen and begin adding your raw thoughts to it so you're ready to tell your cabinet designer just how you feel and empower them to help you find the best solutions for your space. Looking for a few more ideas to get the wheels turning? Visit our Inspirations page to see samples of more past projects we've completed and the unique layouts, styles, and storage options those clients are now enjoying. Contact us when you're ready to get started - we can't wait to help you sort through your ideas, then design, handcraft, and install your dream kitchen!