Incorporating open shelving into your kitchen doesn't need to be frightening... Let's take a look together at 7 items you can display on your open shelves!

---
For years, our cabinets have been a place of hiding for all the things we did not want our guests to see. Those days are over! With the proper styling, contents, and colours, open shelving can not only be a statement maker in your most used space, but it can even be functional!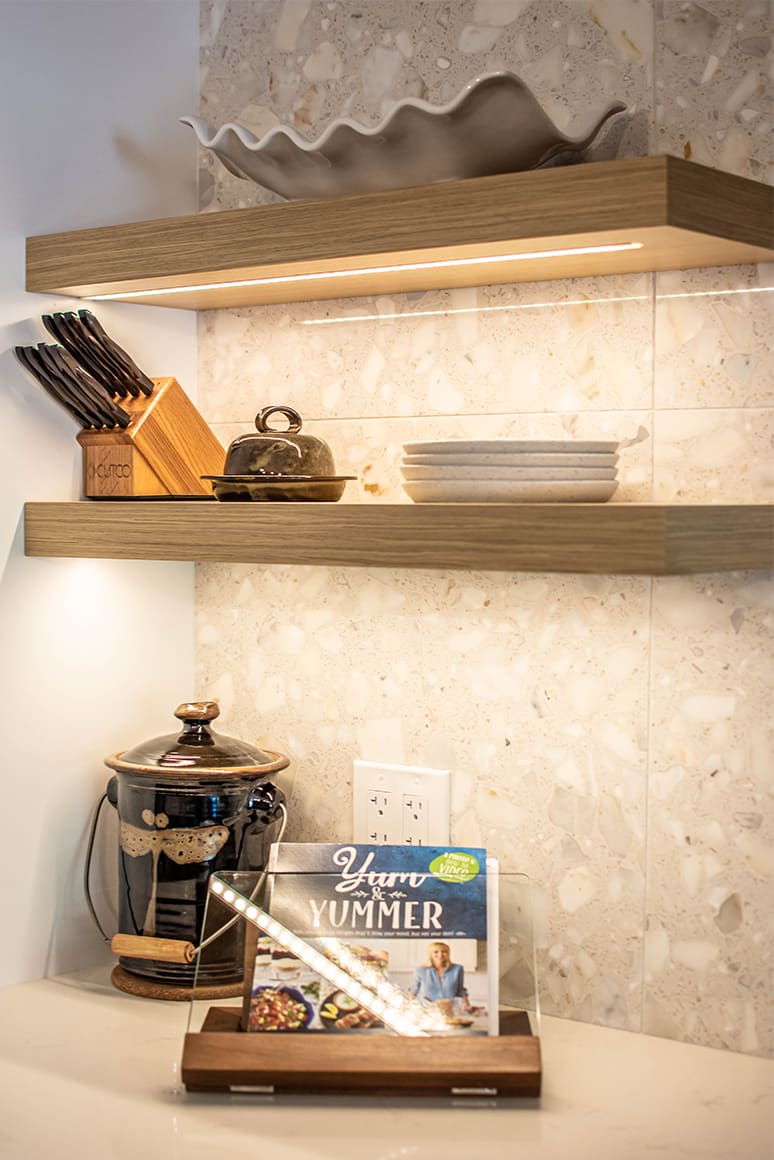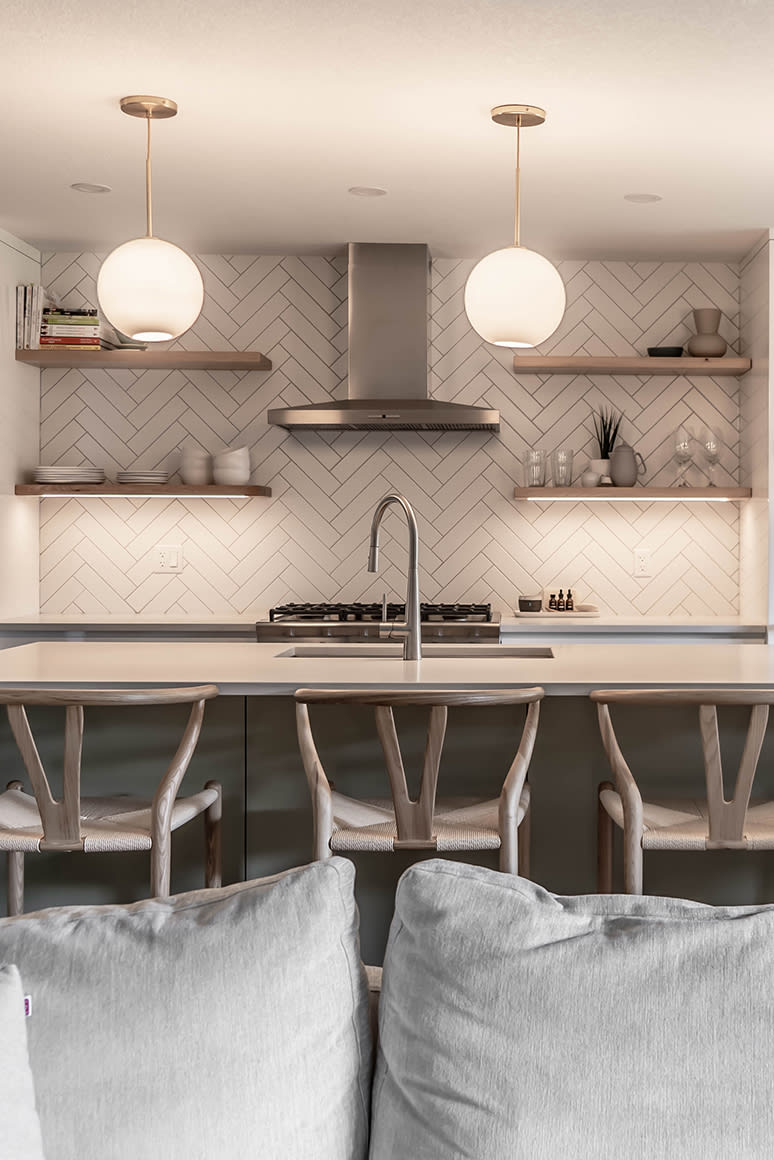 1. Décor Pieces
Find your favourite art piece, vase, plants, etc. and put them on display for all to see! Your kitchen does not have to be a place of all work and no fun. Spice it up a little so you can enjoy spending time there.
2. Everyday Items
Make it functional. As much as we want our open shelving to be pretty, kitchen storage is often a hot commodity. It is okay to store some everyday items on your open shelving! Plates, bowls, cups or mugs are great items to place on your open shelves as you use them so frequently. Just make sure they compliment your design style and the colours featured in your space.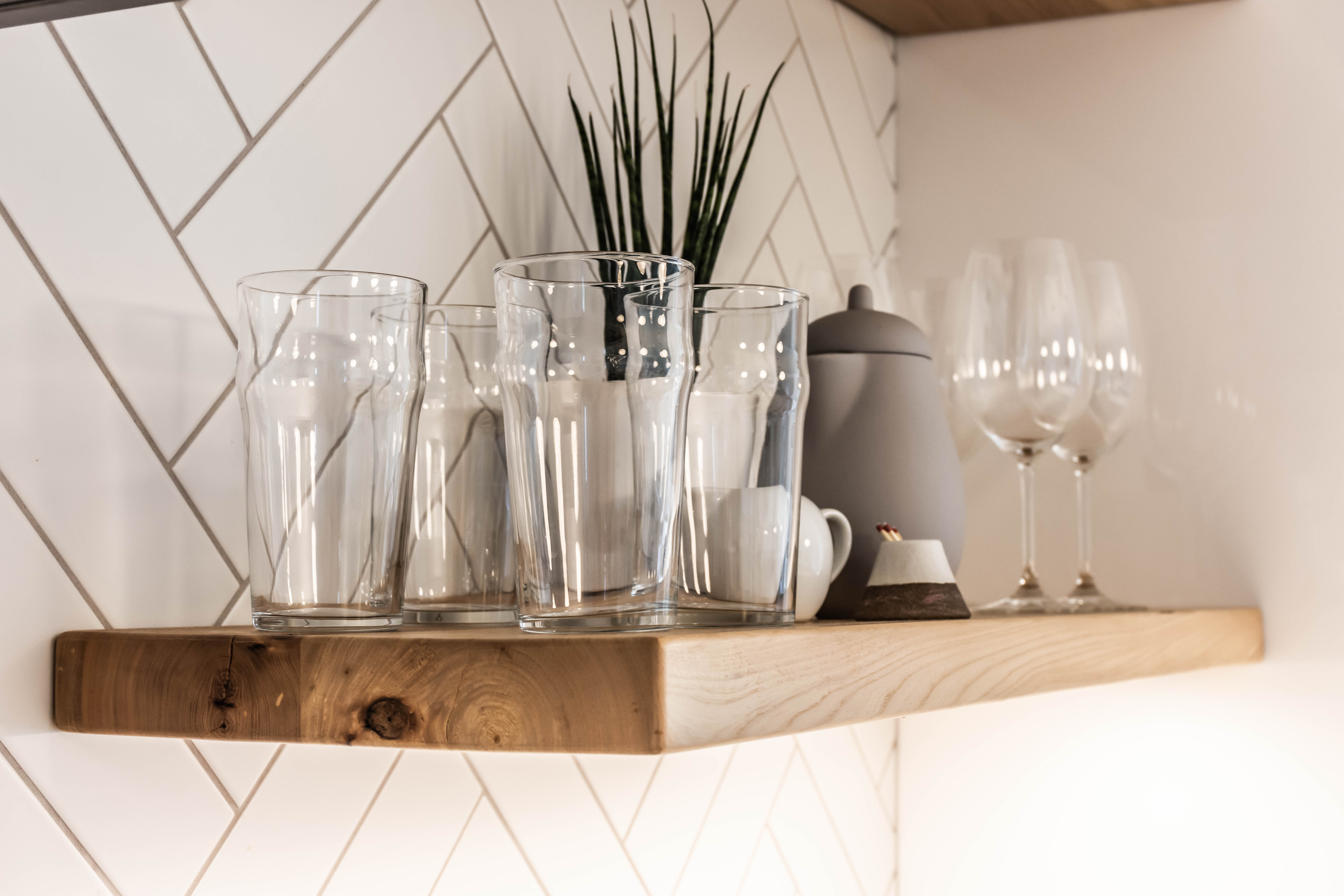 3. Cutting Boards and Charcuterie Boards
Wood tones have been increasingly popular when it comes to accent displays in kitchens. Do not feel like you need to hide your wood cutting boards or favourite charcuterie boards.  Place them on your shelves for all to see and enjoy.
4.  Cookbooks
Why put your cook boards in a cupboard where nobody can see them? Pick a couple of your prettiest cookbooks and stack them or stand them up on your open shelves. After all, this is a kitchen we are styling…
5. Canisters
Are you running out of space in your pantry for your baking necessities, pasta, etc? Find some cute canisters and fill them with your most used cooking/baking supplies. Stick a pretty label on it and voila!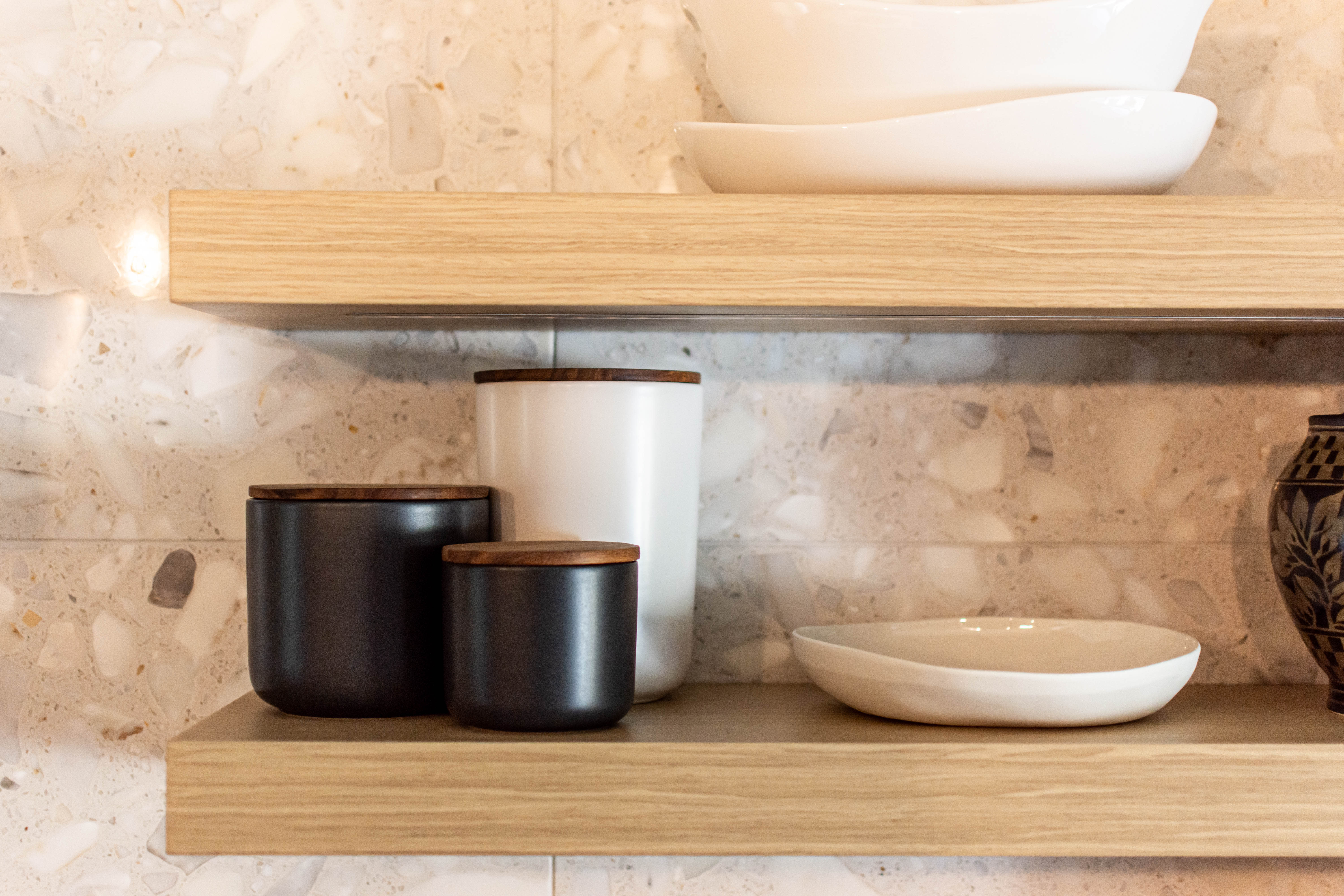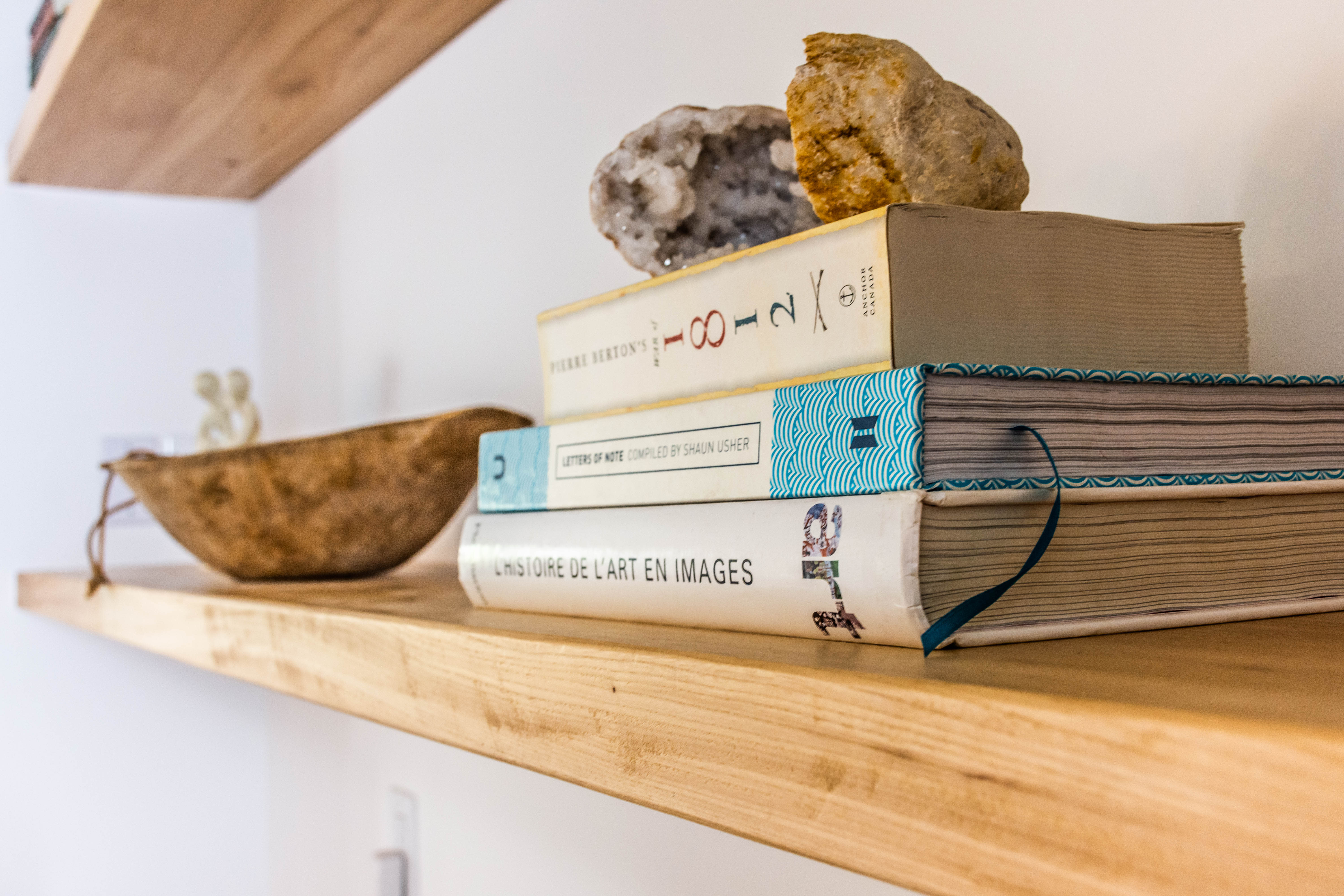 6. Serving Ware
Gather your prettiest serving platters, trays, and pitchers. If you are only going to use them once in a while, you may as well display them so you can enjoy their beauty more often.
7. Unique Kitchen Items
Whether it is gorgeous pottery, a honey pot, or salt and pepper mills, find your most aesthetically pleasing and unique kitchen items and display them on your shelves.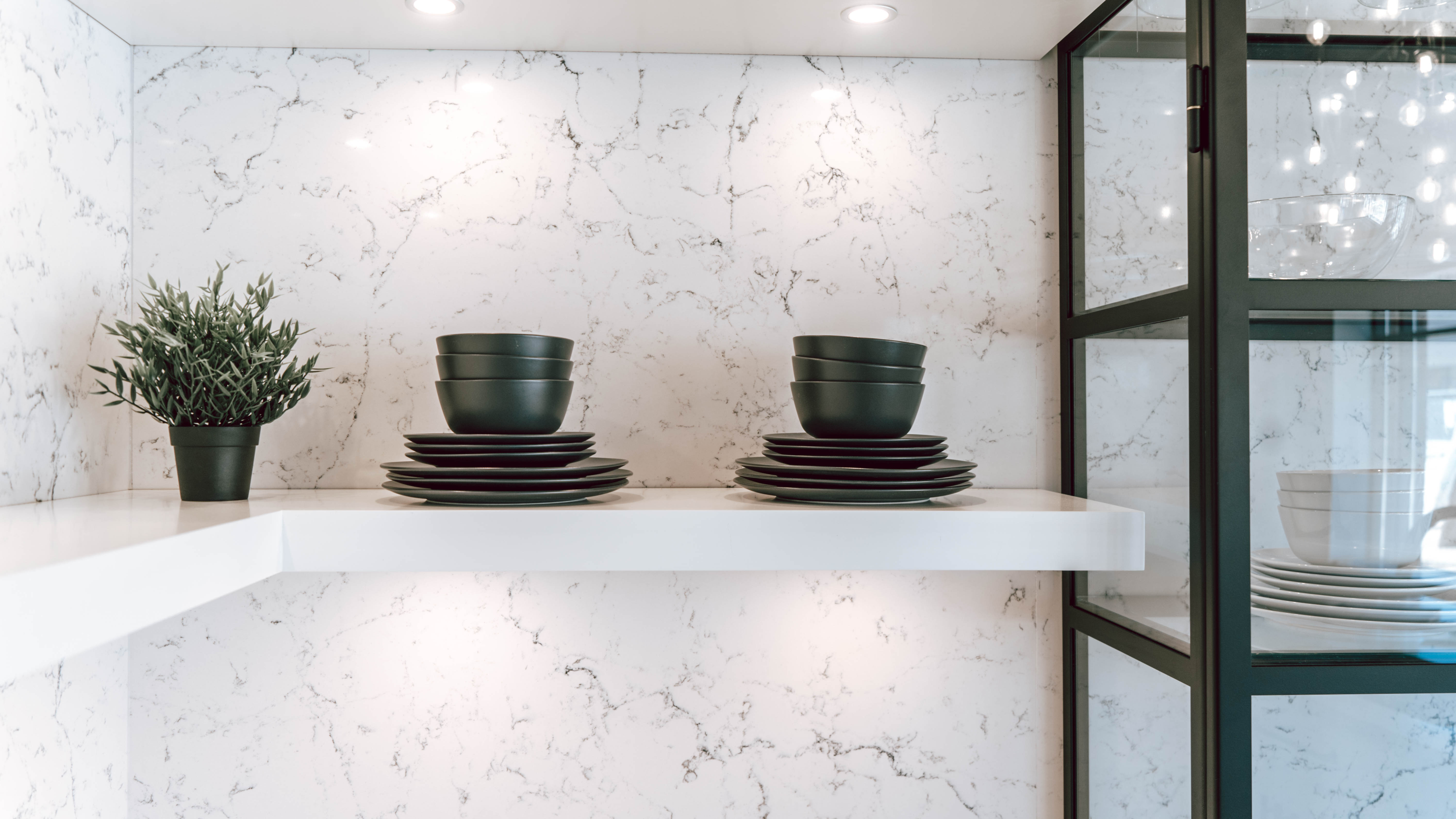 Now that you have some ideas of items to display, try to pick the ones that complement each other most. Stick to certain tones or colours to create a cohesive look. Think practically about where you place each item. Your most used items should be easily accessible. When styling your shelves, leave some space between each type of item you display, so it appears organized rather than cluttered. Remember, the goal is to have your eye move up and down as you look across your shelves. Try to add different depths and heights to your display in order to achieve this. Most importantly, do not try to fit everything mentioned above onto your shelves. The last thing you want is for these shelves to give you feelings of overwhelm rather than peace. Pick what makes sense for you and your lifestyle. Happy Styling!


Looking for More Inspiration?
Looking for more kitchen ideas to kickstart your kitchen planning? Take a look at our kitchen inspirations page and add what you love to your wishlist!