Custom Kitchen Renovation, Oakville
Explore this symmetrically balanced and clean modern farmhouse kitchen featuring white painted shaker and white quartz countertops accented with natural alder wood. 
---
This young family lives a busy lifestyle - working full-time and balancing family life with two young kids. They invested in a full interior and exterior home renovation with Ledgerock Homes. Their goal was to update the home, make it more modern, and satisfy their preferred design tastes and functionality needs. For the cabinetry, the clients wanted to keep it simple, clean and organized. Our goal was to create a light and spacious kitchen that perfectly aligns with the flow of finishes and style of the rest of the home.
| | |
| --- | --- |
|  PROJECT DETAILS | |
| City: | Oakville |
| Kitchen Size: | 250 sq. ft. |
| Layout: | Open Concept with Island |
| Services Provided: | Custom Kitchen Cabinetry (Design, build, install) |
The Design Approach
Our clients chose a unique wood for their island, aside from the classic maple, walnut, and white oak. They wanted to incorporate a warm rustic wood that would create more character. Alongside the designer, they selected Alder, a knotty and rich natural wood. The Alder on the island has a casual, warm, and homey feel that compliments the white shaker cabinets and black accents. While the island creates a rustic farmhouse feel, the white and black contrast creates a modern transitional feel, creating a perfect balance between the two.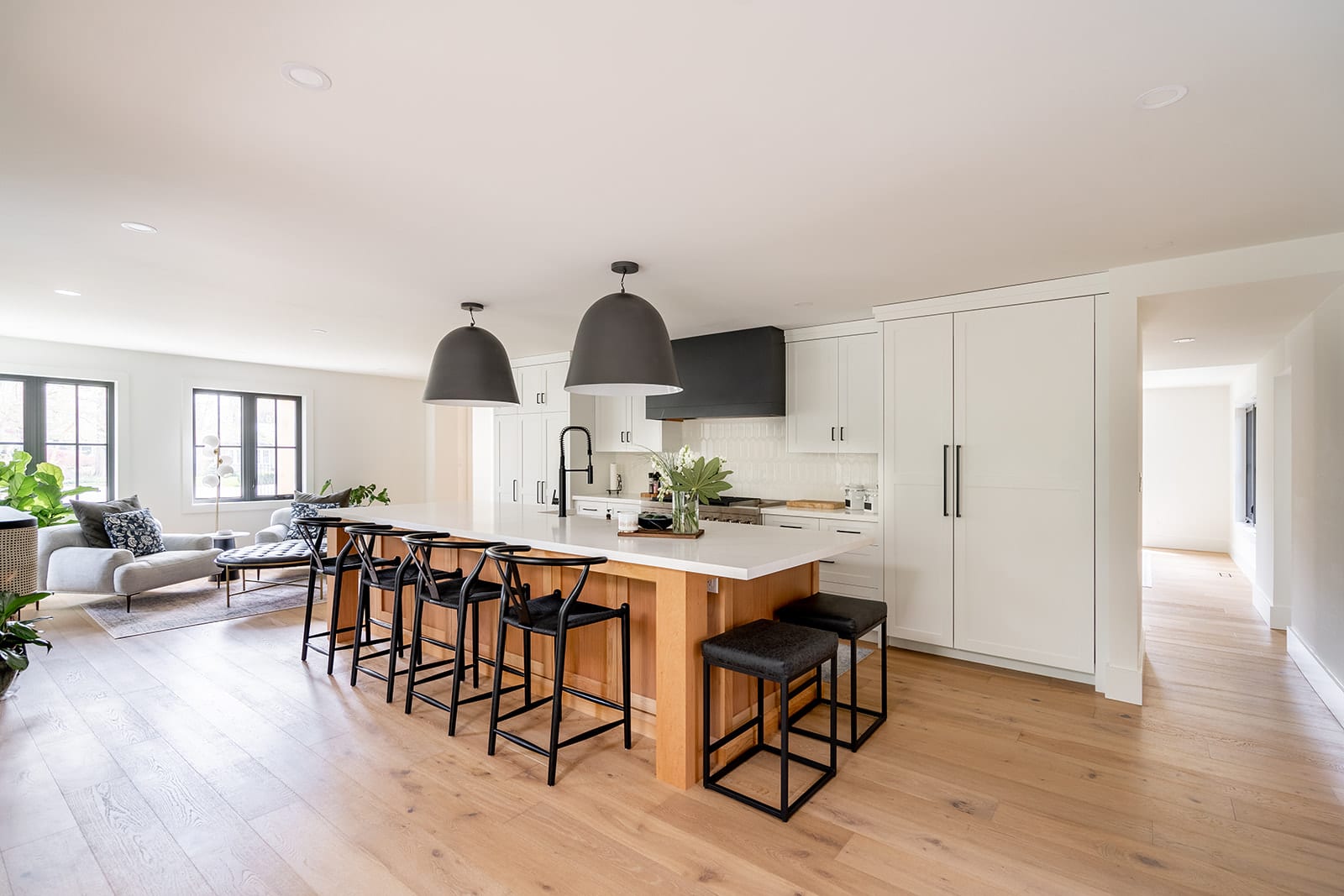 The Concept
The inspiration for this design was white shaker cabinets, a wood island, and black detail accents. The foundational elements of this kitchen design are symmetry and balance. The main wall has a centred range and hood with tall cabinets on each end, centred to the island. This open-concept layout is perfect for having plenty of people in the kitchen; there is clearance space for multiple people at once, easy entry and exit, and a clear flow of traffic. This layout offers a big island with seating and an eating area, additional storage, and a working counter space. The layout perfectly fits the client's functional need for an abundance of storage to create a clean and clutter-free space. 
The Purpose
This client loves to have her space clean and clutter-free - she wanted to have a place for everything. The full-height pantry cabinet on the main wall offers ample storage with four rollouts and vertical tray dividers. The secondary pantry serves as functional storage for small appliances and overstocked food items; and offers extra counter space to keep the kitchen clear and organized.

The main wall was designed around how the client functions/works in the kitchen by herself, and alongside her family. The range features two large lower drawers on each side for pots and lids, saucepans, food storage containers and more. Within arm's reach from the range, there is a sliding 2-tier cutlery drawer, spice drawer, and a long utensil divider. This wall also features a sleek panelled fridge and freezer, and a hidden broom closet.

The island functions as a preparation and cleaning zone, featuring an undermount apron-front sink, pull-out garbage and recycle bins with a drawer overtop for bags, and a vertical tray divider cabinet. The minimal island back is full of additional storage with touch and release hardware for a seamless look.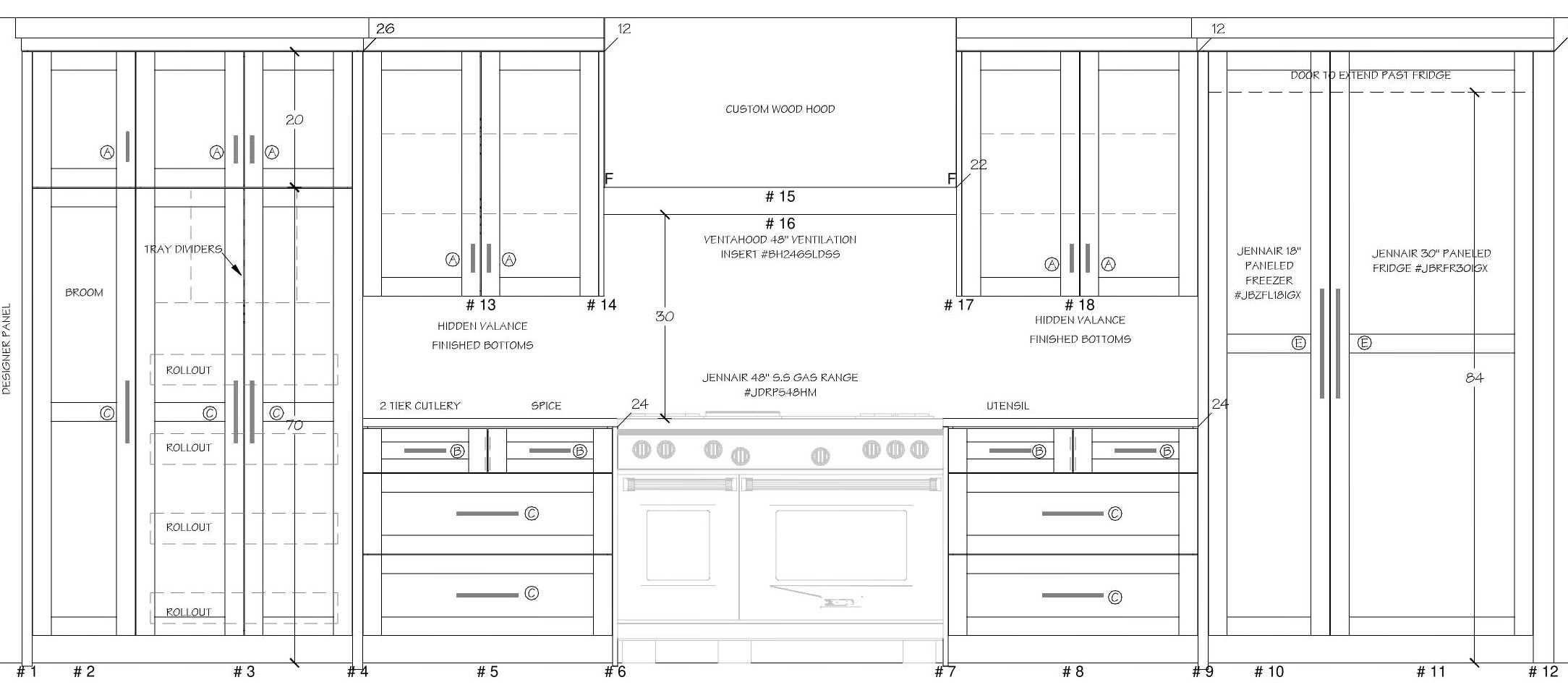 Design Tip:
Do an audit of your space and observe your day-to-day activities. Ask yourself questions: Are there multiple people cooking at one time? How much counter space do you need? What do you want on your counters? How much preparation space do you need? By determining your wants and needs, we can ensure your space is tailored to you.
The Process
For our client, over four samples were made to help conceptualize what the wood could look like. These samples showed both the natural patterning of the wood and the stain depth. With this project, the island stain had variance - some pieces took darker, and some took lighter. Variation is normal, wood is an organic material, and those variances enhance its natural beauty. Ultimately, this contributed to the overall look of the farmhouse style that the client enjoyed.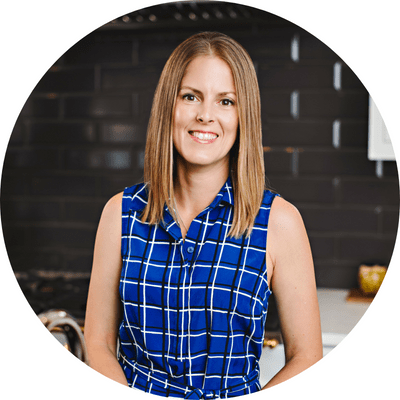 Paula suggests when choosing a natural wood for your cabinetry, request the center panel to be real wood - that way there is less chance of large stain variance.
When selecting natural wood, get a few samples to ensure you are familiar with the characteristics. Your designer will educate you on the material to ensure you understand its characteristics and determine if it is the right fit for your project and application.
Solid wood stains lighter, wood veneer stains darker. Center door panels are usually veneer, which could appear darker against natural wood. Stick to choosing either all solid wood or all wood veneer. 
The Details 

The island cabinets are crafted out of Natural Alder Wood.
The Alder adds a beautiful pattern of rustic texture with a soft finish. By using the Alder, the space feels less formal and enhances the vibe of a modern farmhouse.

During the consultation process, the client brought inspirational images that showed natural wood with knotting. This led our Designer, Paula, to recommend a natural wood. Both Alder and Pine were considered, but ultimately, Alder was chosen because of the subtle character it offered.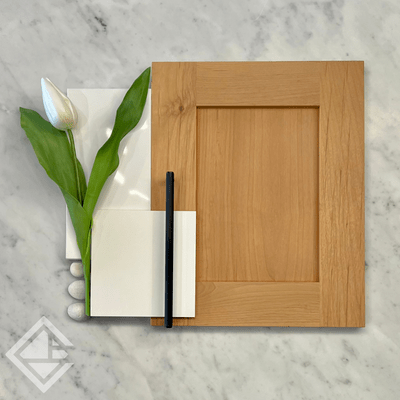 The Challenges
Originally, the range hood was designed with a painted white finish and wooden detail band. After the range hood was installed, the client realized the space needed a more contrasting colour. The hood was taken back to our Hawkesville plant to be repainted in a matte black finish. The matte black hood created a focal point that tied into the lighting, island chairs, and hardware - making everything feel continuous.
---
At Chervin, passion is one of our core values - we promise to always go above and beyond to satisfy our clients every time.
---
Design Insight: 
A black powder-coated metal hood was considered, but the price of that material was not within the budget.  A matte black painted hood gives the same visual aesthetic as a metal range hood, but for a more economical price. 
---
The Final Results
This space is warm, inviting, and functional. The natural alder wood creates emphasis against the white and black finishes to create a charming farmhouse kitchen.
Contact us to Get Started

Ready to start your kitchen renovation? Give us a call or visit our showroom today!