Custom Kitchen Renovation, Oakville
Take a closer look at the elements inside this rich stained maple kitchen with white-painted upper cabinetry and a dark-painted island. 
---
 
This household has three growing children and needed modernization to suit their needs and routines. Our clients worked alongside Baudit Interior Design and Prasada Homes to renovate their home interiors. Our clients love to entertain and host their friends and family- that was the main purpose for opening the floorplan- because they have a larger sized family, they saw great value in this renovation. Prior to the renovation, the floorplan of the main floor was very divided – there were separate rooms for the dining, living, and kitchen space that were not very open and lacked flow. By investing in the main floor renovation, a more modernized layout currently satisfies their needs.
| | |
| --- | --- |
|  PROJECT DETAILS | |
| City: | Oakville |
| Kitchen Size: | 250 sq. ft. |
| Layout: | L Shape with Island |
| Services Provided: | Custom Kitchen Cabinetry (Design, build, install) |
The Design Approach
Our goal aimed to create a kitchen space with a layout perfect for everyday family life and entertaining. For the cabinetry, the clients were not focused on a spectacular design that no one else had. They wanted a casual but tailored space that would be ideal for their day-to-day life and for hosting family events for many years to come.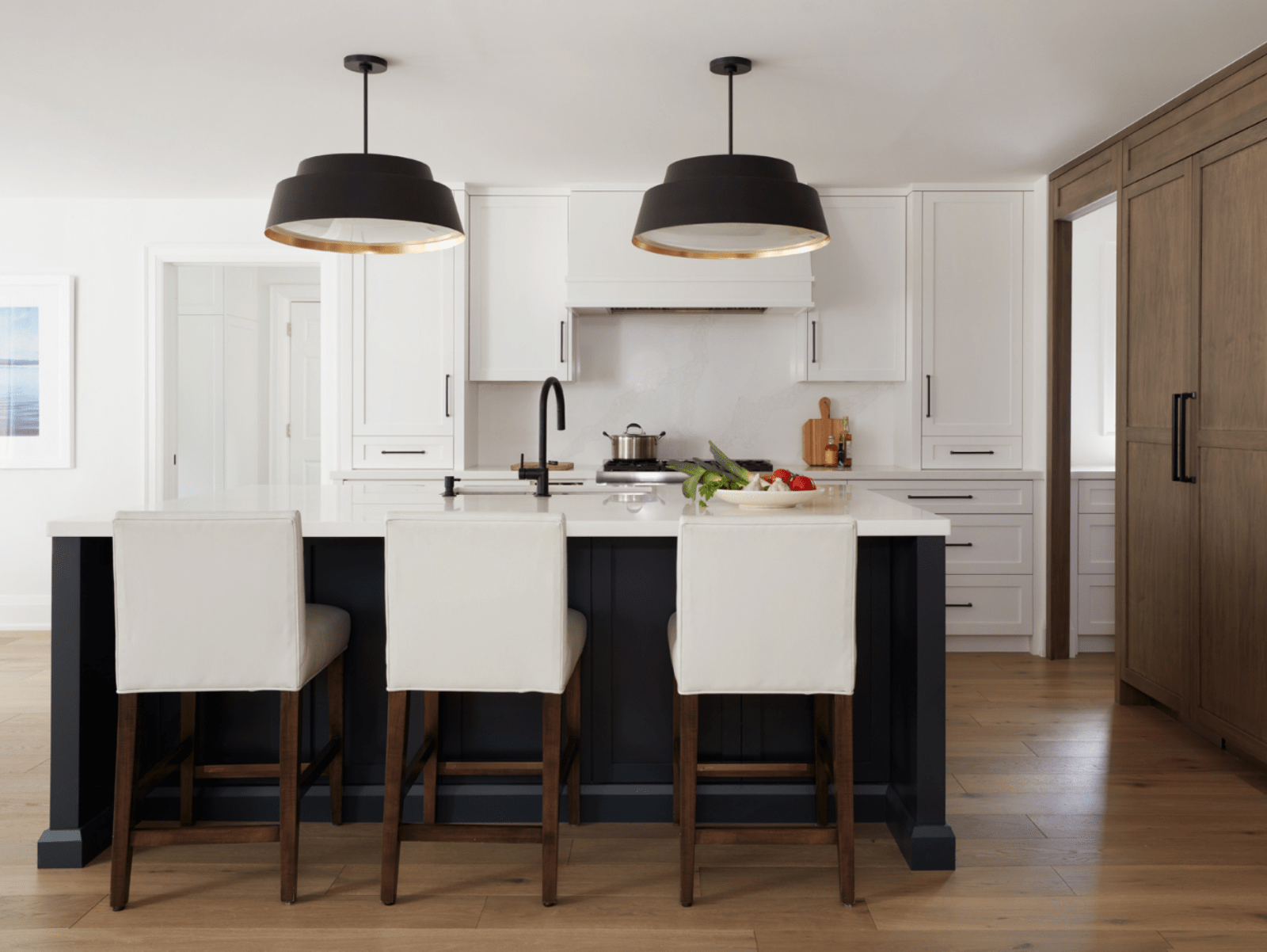 The Concept
The inspiration for this design was centred around the butler's pantry. The L-shape island layout that opens to dining and living space makes the space feel cohesive and comfortable. An open-concept layout offers plenty of space for multiple chefs or guests to be in and around the kitchen without feeling crowded. The island provides seating, extra storage, and ample work surface space for preparing meals and cleaning up.  The design has a three-tone palette of black, white, and stained wood to create an interesting and inviting kitchen and dining space.  
The Challenges
Both designers and our clients played around with colour combinations before landing on a final decision. The island was stained, and the main cabinetry was white in the early stages of design– there was back and forth on which combination worked best. The dark-painted island came into play at the last minute – Paula believes it made a huge difference to ground the space and tie in the hardware and fixtures together. This is a part of the design process, playing around with ideas and options to find the perfect one for you.  
Early Stage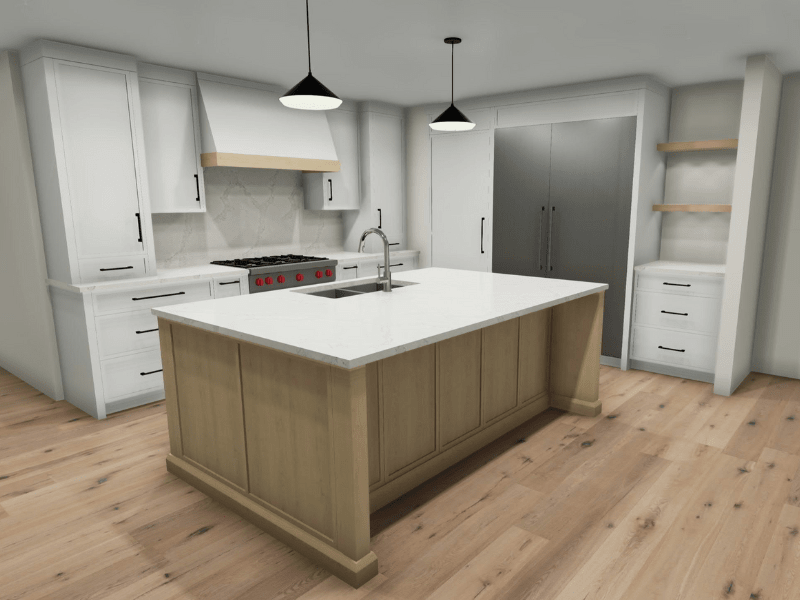 Final Stage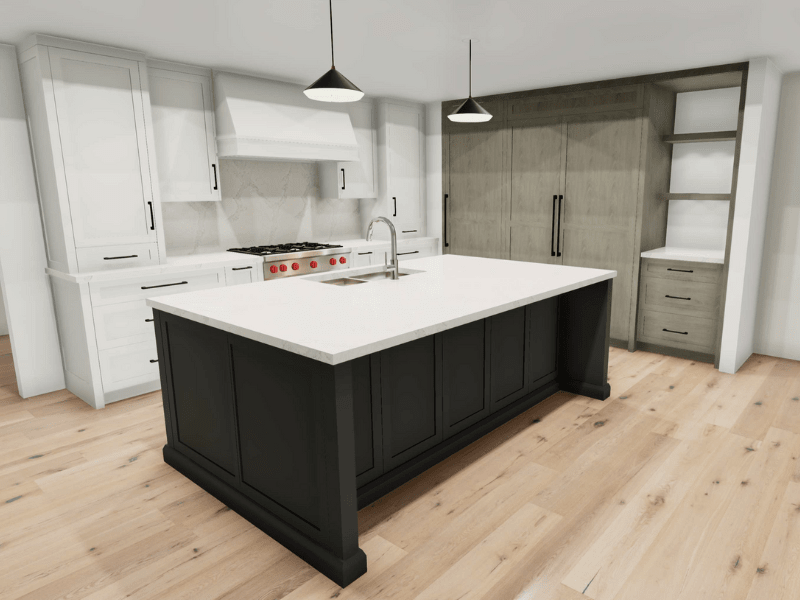 The evolution of this design and colour palette from early to final stages showcases the importance of having a visual representation through quality renderings.
---
At Chervin, Communication is one of our core values – we share with all what is needed to foster trust. 
---
Design Tip: 
Paula suggests that if you are choosing a stain and questioning it, ask your designer for a door sample of your finish.  Take that door sample home with you and ensure you are confident in your selection.  Small stain chips can give you a great idea of how the stain would look, but sometimes you need a bigger size to help envision it for your finished cabinetry. Your space will have different natural light levels and colour temperatures than our showrooms. 
The Purpose 
This client had their heart set on a butler's pantry, it was the main point they designed the kitchen around. The butler's pantry serves as an area to keep things on the countertop, like their toaster, blender and whatever else is needed day-to-day. When the door is open, everything is easy to access. A butler's pantry is an easy and convenient way to keep your kitchen neat and tidy – with the option to close the door to hide the daily items or keep it open as a display. This butler's pantry features open face-frame shelving to keep everything organized in style - food, small appliances, beverages, and more. Below there is a beverage fridge and two-large drawer banks to create extra storage space for these everyday items. This butler's pantry has a main window overlooking the front driveway which brings in lots of natural light to illuminate this space. The butler's pantry blends in alongside the panelled fridge and freezer to create a seamless view of the entire length of the wall.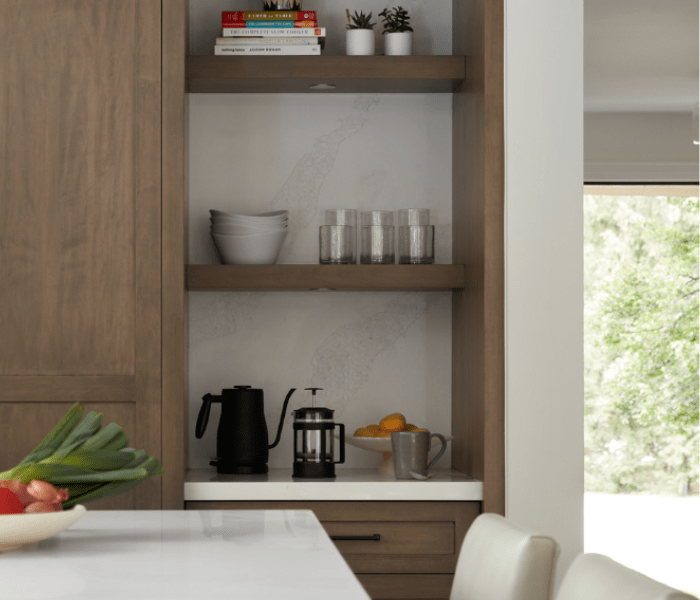 On the end of the butler's pantry wall is a transitional space from the kitchen to the living space. Originally serving as a coffee station, this area has open shelving for decorative items, counter space for coffee accessories, and three drawers below for other miscellaneous items.  
The island is designed with simplicity and functionality – housing a 4-bin garbage pull-out with a drawer overtop for bags and a storage cabinet below the sink for cleaning supplies. The back of the island has full-depth cabinets with touch-and-release doors offering plenty of extra storage below the seating area.  
The main wall is designed with symmetry, with the range hood being at the center and upper cabinets on each side. On each end, there are countertop hutches to store dishware.  To the left of the range, there is a spice pullout drawer and a three-drawer bank with a sliding two-tier cutlery tray. To the right of the range, there is a vertical tray divider cabinet, a three-drawer bank with a knife block, and maple cutlery dividers. These large drawer banks offer versatility to store pots, pans, and larger cookware.  
The Details
The three-toned finish selection creates a big impact in this kitchen. The main kitchen cabinets shine bright with a fresh and crisp white painted finish. The dark navy-gray painted island cabinetry grounds the space with timeless elegance.  The neutral stained-maple hidden pantry is something that everyone mentions when coming over, the window inside reflects natural light off the white shelving to create an inviting view while serving the function of food and small appliance storage. Polished white quartz with grey veining on the countertops and backsplash illuminates the entire kitchen. The space is focused on square and simple lines- chunkier posts were chosen over standard panels on the fridge and pantry to create more of a custom look.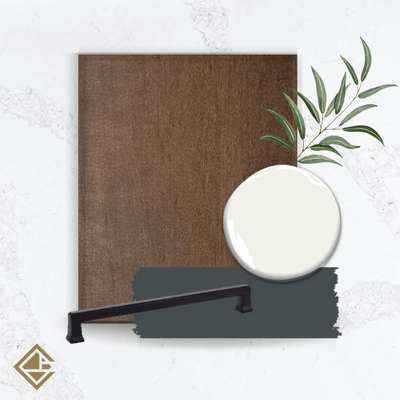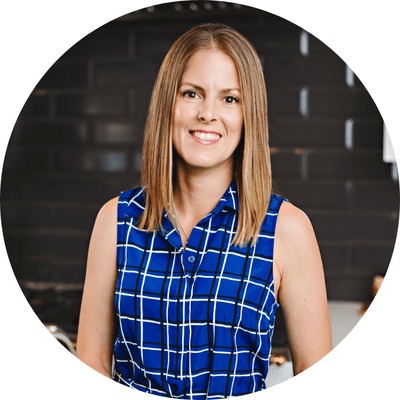 The reality is that when your kitchen starts to get installed it's a very exciting time, but your space may not look amazing on day one or day five. We can promise it will look outstanding once all the finishes are done – not just cabinets – but countertops, backsplash, island seats, light fixtures, etc.  
Trust in the decisions that you made in your planning phase with your designer and wait to see the finished results. There is always a method to creative madness. If it is possible, stay away from your in-progress kitchen until it is final and ready for you to use and enjoy!
---
The Final Results
The medium-toned maple wood with painted white shaker doors and a dark island creates a fresh, tailored, and timeless space for this family to enjoy for many years ahead.  
Contact us to Get Started

Ready to create the kitchen of your dreams? Give us a call or visit our showroom today!