---
A custom kitchen island is the stage of your kitchen – the center point of the kitchen that brings people together. They are where food prep takes place, offer a place for kitchen storage, and are a desirable dining or seating area to gather in your kitchen for homework or hosting.  
Based on popular client requests, a kitchen island with seating and a functional kitchen island that provides organization to help with food prep and hosting are must-have qualities of a kitchen island.  
Hey, I know what you're thinking—how do I create an island in my kitchen? How do I make my kitchen island functional and attractive? Well, check out these 10 creative kitchen islands we've created over the years for inspiration.
#1: HURON – Kitchen Island with Seating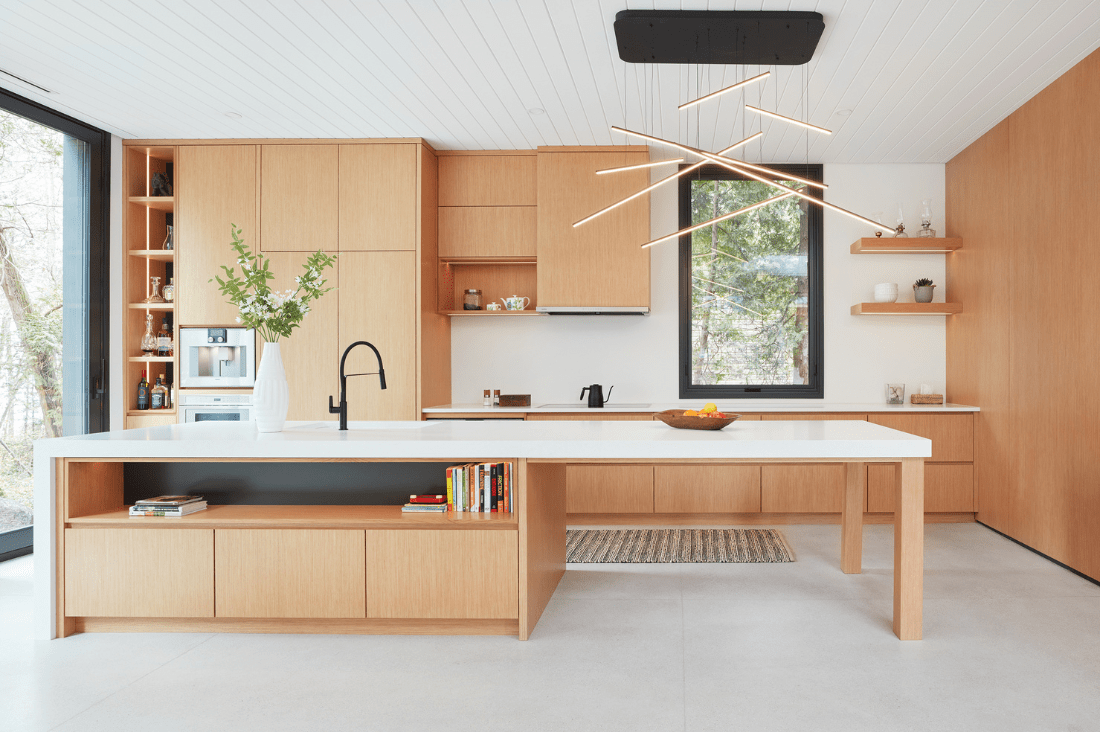 Project Huron is a lively and bright, modern cottage kitchen. The white rift oak island provides character and functionality with its open shelving book nook, ideal for cookbooks and décor while still providing hidden storage underneath. We love how this kitchen island seating is open concept which provides plenty of legroom while opening the kitchen's space. 
#2: GREENEAGLE – Double Island Kitchen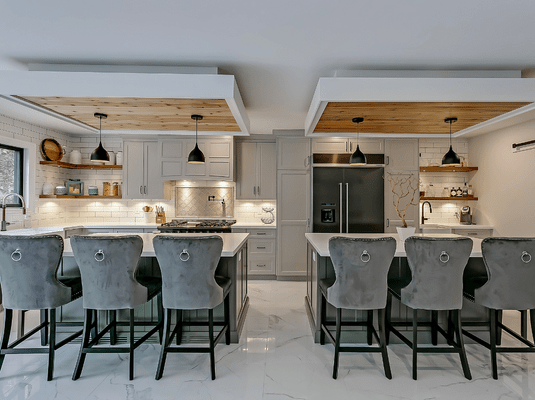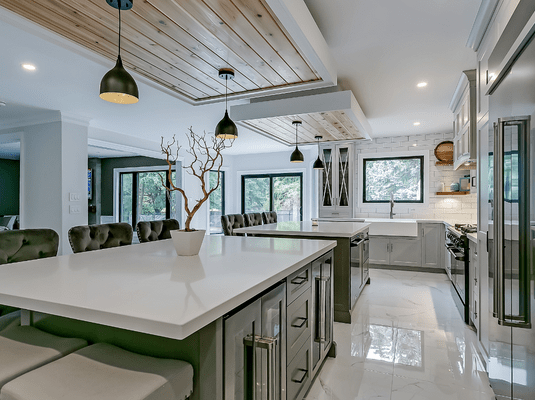 Project Greeneagle is not your average kitchen. This kitchen breaks the bias by offering two kitchen islands rather than the traditional single island. The double-island feature makes navigating your kitchen quick and easy, as you can walk through rather than all the way around. The islands in this farmhouse kitchen are standout pieces and tie the space together with their green island base matching the green fridge.
#3: AMARANTH – Custom Swivel Kitchen Island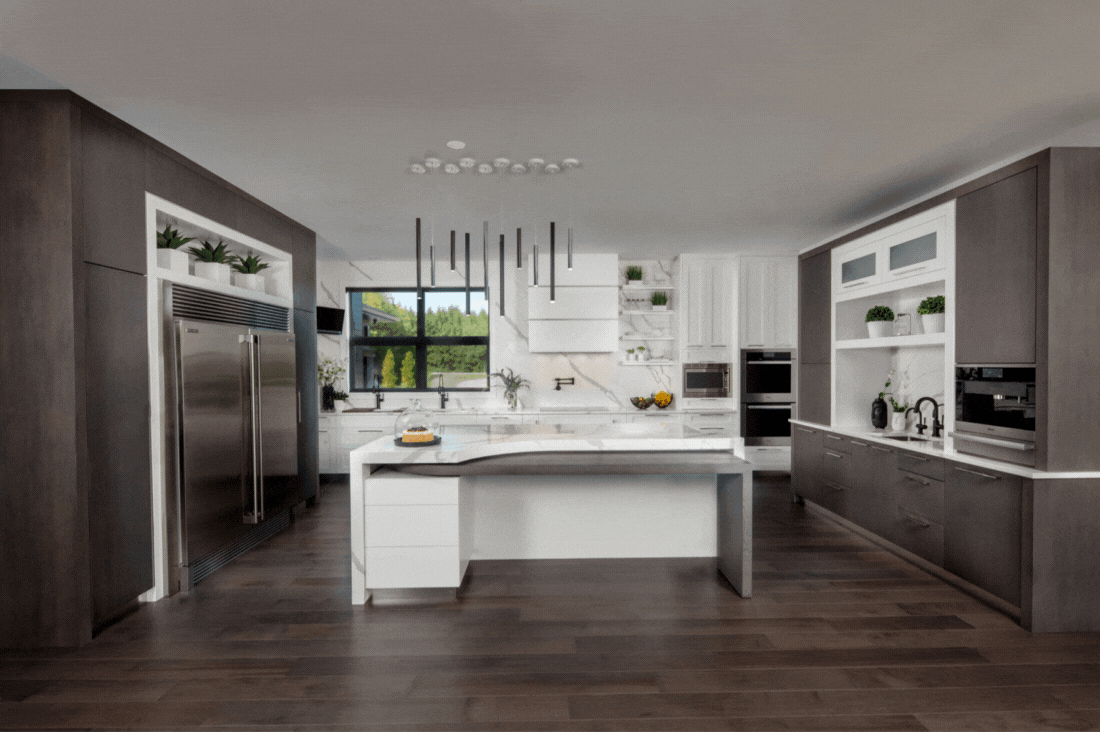 If you're looking for the perfect kitchen island for party hosting, project Amaranth's swivel kitchen island is just what you need. The swivel island feature is an exemplary table extension for extra seating or a table for snacks or buffet-style meals. Maybe you'll even find yourself using the swivel island's extendable table as a drink bar for party hosting or a table for arts and crafts. The possibilities for a swivel island's use are endless. 
#4: BALA – Green Kitchen Island with Posts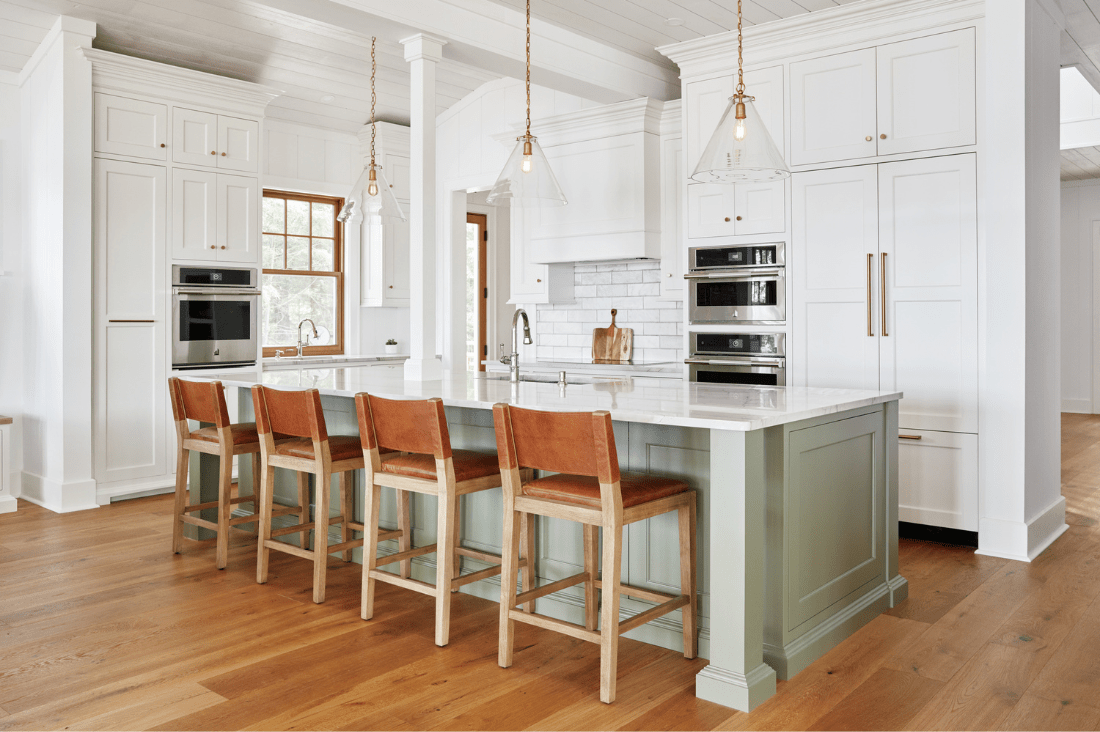 Project Bala's green kitchen island is a statement in this crisp white kitchen. We love how the green island brings colour into the all-white kitchen. The kitchen island has a unique aspect, with island posts on both sides of its island. These details bring character into your kitchen and differentiate it from the rest. 
#5: BRIDLE PATH – Modern Kitchen Island with a Waterfall Countertop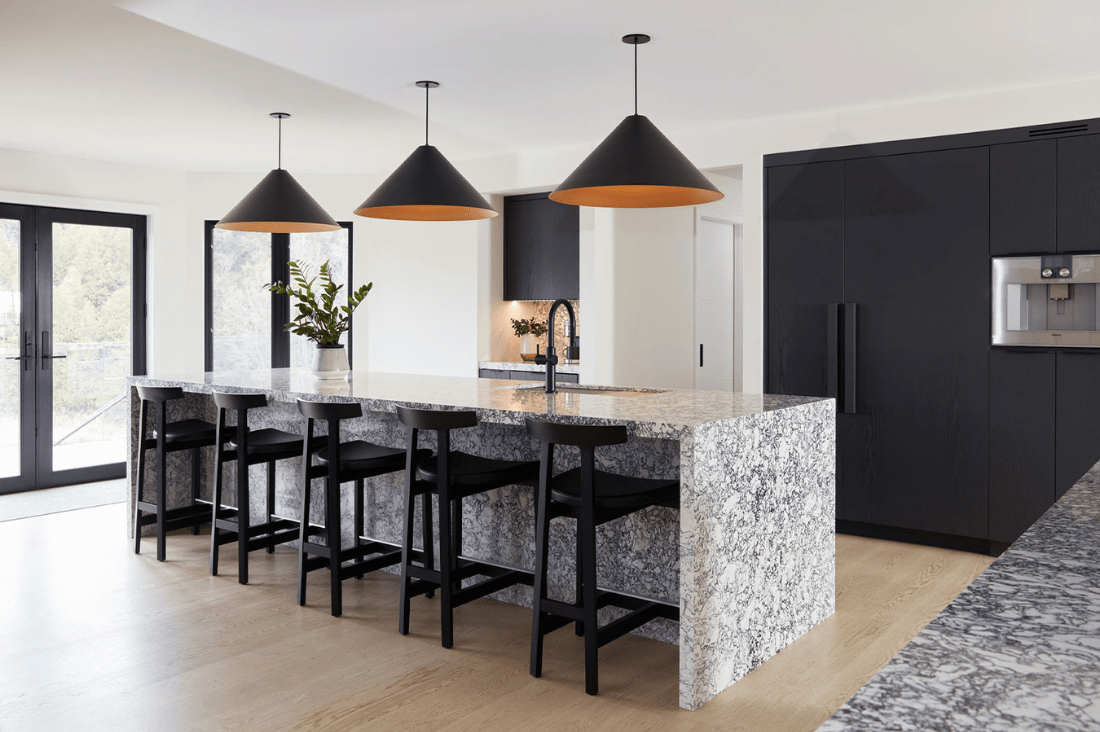 Project Bridle Path's kitchen is the perfect balance of light and dark, and the kitchen's island plays a leading role in creating harmony! The black and white quartz kitchen island brings dark and light elements to tie the space together. We think the kitchen island with a waterfall on both ends is the foundation of this kitchen coming together.
#6: COWPER – Rustic Custom Cottage Kitchen Island with X End Panel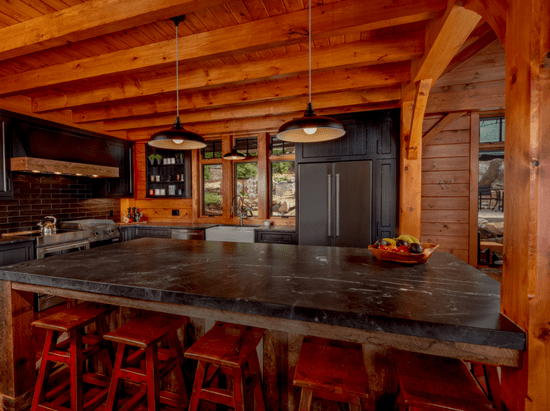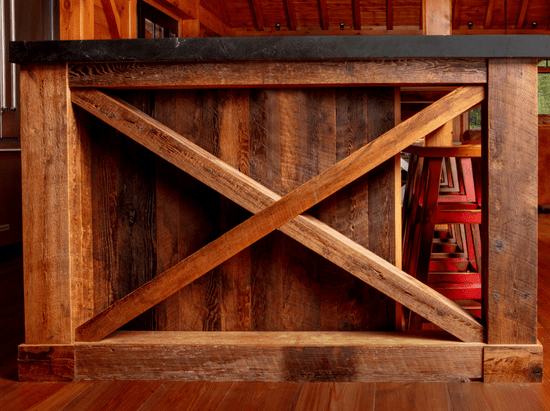 Project Cowper is your dream rustic cottage kitchen. Its reclaimed hemlock wood island with a distressed finish seamlessly incorporates the beam of the structure in this L-shaped kitchen. Our favourite aspect is the end panels on the kitchen island with the X design. It is a creative way to present its reclaimed wood.
#7: MELANSON – Small Kitchen with a Custom Island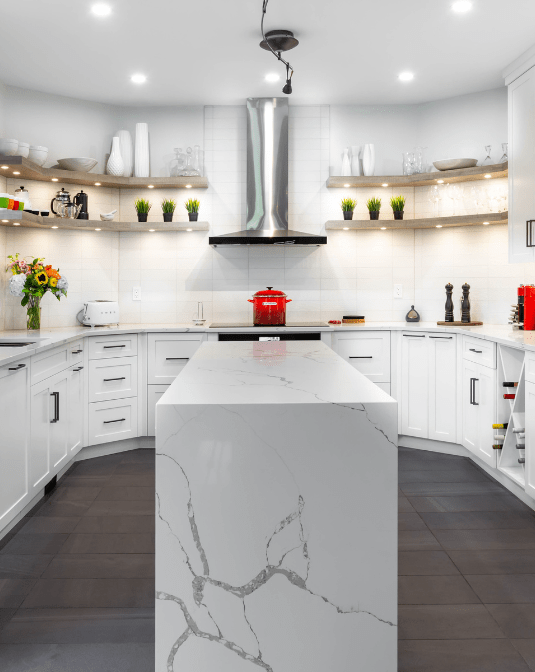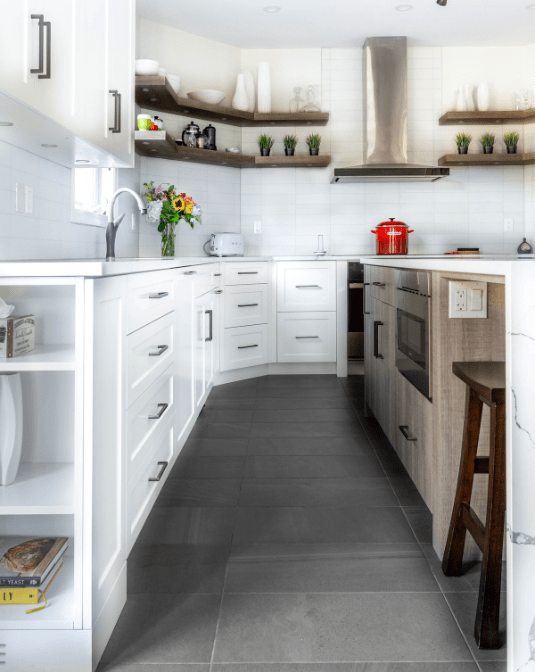 Project Melanson is a simpler U-shaped kitchen but provides maximum storage and functionality for its space. Given its smaller space, we incorporated a thin island to maximize the kitchen counter surface to provide a convenient prep area. The kitchen island also features integrated appliances and a double-sided island seating area to boost this kitchen space to the best ability.
#8 WILLOW – Modern Kitchen Island with Seamless Integration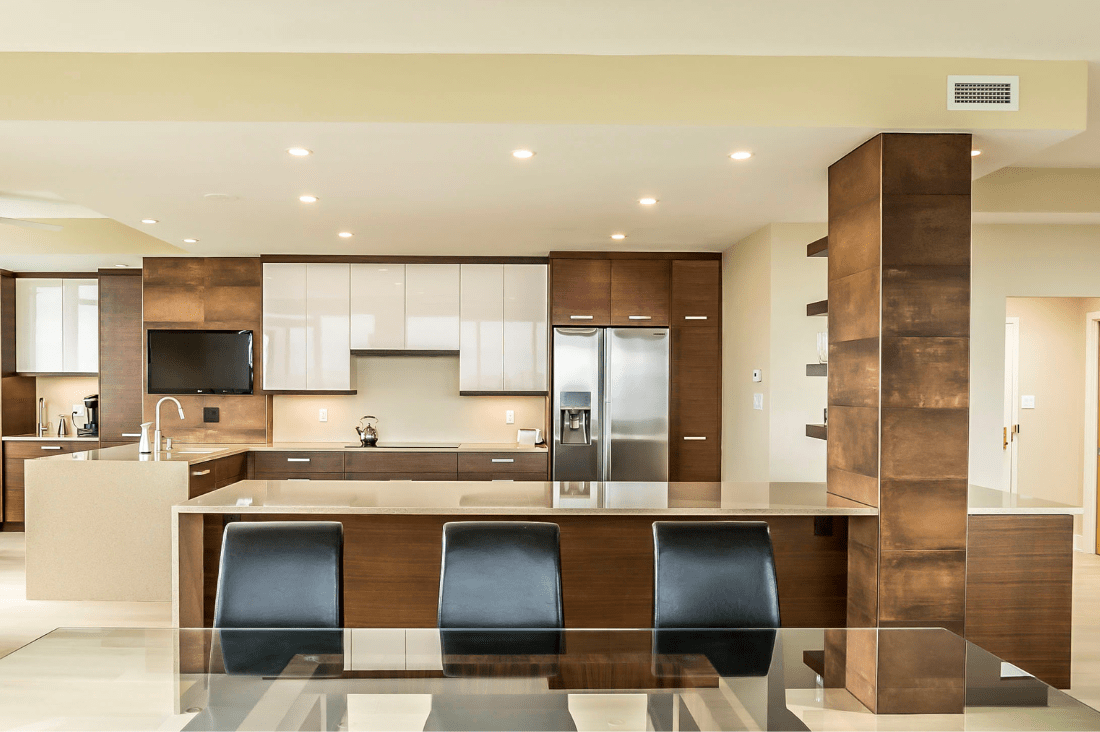 With Project Willow, we had an exciting challenge of figuring out how to work around the structural beam in its kitchen. Ultimately, we decided to incorporate its structural beam into the island. We clad the structural beam with the same material seen in the kitchen for seamless incorporation. Looking at this finished modern condo kitchen now, you would never guess there was once a structural beam that interfered with the space!
#9 SILVER OAKS – Curved Cottage Kitchen Island with Storage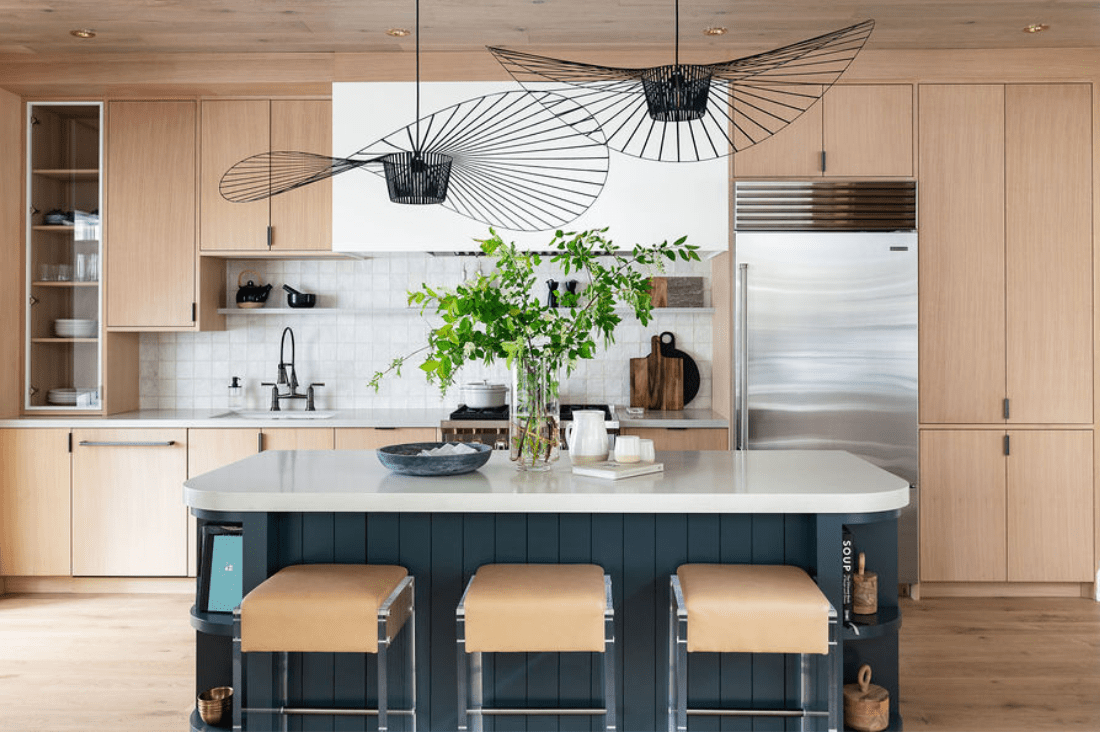 Similar to Project Bala, Project Sliver Oaks' kitchen brings colour into the kitchen to break up the space with its navy-blue panelled island. What could have been standard kitchen island corners was taken to the next level by bringing in curves and open shelving! The rounded kitchen island corners and countertop brings softness to the kitchen space and maximizes functionality. The kitchen island's 'corner' open shelving allows for a personal touch by being able to display décor, cookbooks, or even a family picture!
#10 SCOTTSFARM – Custom Kitchen Island with Bar-Height Seating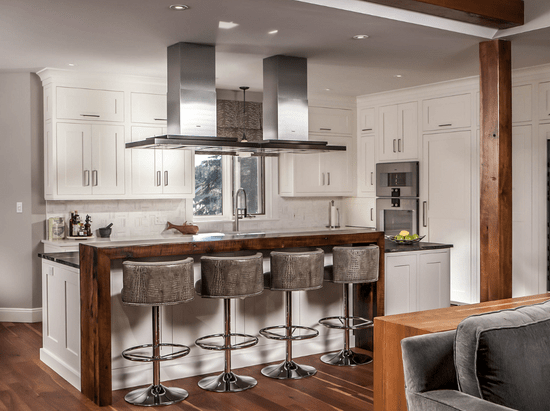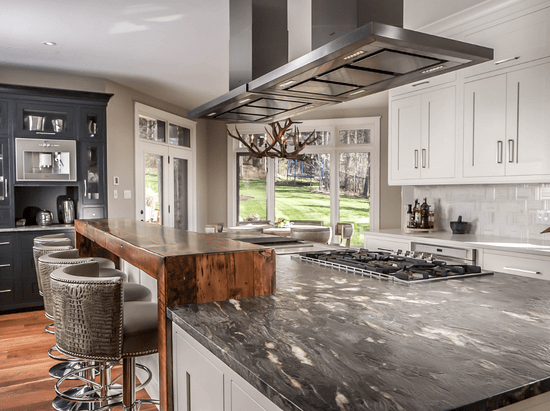 Project Scottsfarm is the definition of a functional kitchen island! The 2-tier island is a two-for-one deal with its granite counter height island for food prep and the reclaimed hemlock wood breakfast bar for seating and eating. The kitchen island's gas range stove and overhead metal range hood create the perfect hub for interactive cooking with your guests seated at the incorporated island bar seating.
All these kitchen islands were designed with our clients' lifestyles in mind to bring ease to their lives in the kitchen.
Feeling Inspired? Let's Design your Custom Kitchen!
Let's start designing a kitchen island that fits your needs! Set up an appointment with one of our design experts about turning your ideas into reality by giving us a call or visiting one of our showrooms.