---
When renovating your home, there are many decisions to make, and one of the most important is choosing the right cabinetry. Custom cabinets may seem like an expensive investment at first, but they are well worth it in the long run. Not convinced? Let us break it down for you and go over what custom cabinetry is and why it is worth the investment. 
What is Custom Cabinetry? 
Custom cabinetry refers to cabinets that are built specifically for a particular space and are designed and constructed to meet the unique requirements and preferences of the homeowner. Custom cabinetry offers a high level of customization and allows homeowners to have cabinets that are tailor-made to their exact specifications in terms of design, size, materials, finishes, and features. 
 
When it comes to options for cabinetry, there are generally three main categories: stock, semi-custom, and custom.  
Stock Cabinetry: 
Stock cabinets are pre-made and mass-produced in standard sizes and designs. They are readily available for purchase off the shelf or online, and they tend to be the most affordable option. However, stock cabinets may have limited design options and may not fit perfectly in every space, as they are not built to order.  
Semi-Custom Cabinetry:  
Semi-custom cabinets are a blend of stock and custom cabinetry. They are also pre-made but offer more customization options compared to stock cabinets. Semi-custom cabinets typically come in standard sizes, but homeowners have the flexibility to make some modifications to the design, such as selecting from a wider range of finishes, door styles, hardware, and storage options.  
Custom Cabinetry:  
Custom cabinets are built from scratch, typically made by skilled craftsmen, to meet the specific requirements of the homeowner. They offer the highest level of customization, allowing homeowners to have complete control over the design, materials, finishes, hardware, and features. When it comes to custom cabinets, there are no limits.  
Are Custom Cabinets worth it? 
After learning about the three different options for cabinetry, you may be asking yourself, "Are custom cabinets worth it?" Let us run you through 5 reasons why custom cabinets are worth your investment.  
1. Maximize your Space with Custom Cabinetry 
Custom cabinetry allows you to maximize the space in your kitchen allowing you to store everything you need without wasting any valuable real estate. There are no limits to cabinet sizes, which means you can utilize every inch of your kitchen and minimize wasted space or large fillers with custom kitchen cabinets. This not only makes your kitchen more functional but also makes it look more polished and organized. From tray dividers to a corner bank of drawers, to two-tier cutlery drawers, the customization opportunities to maximize your space and functionality are endless.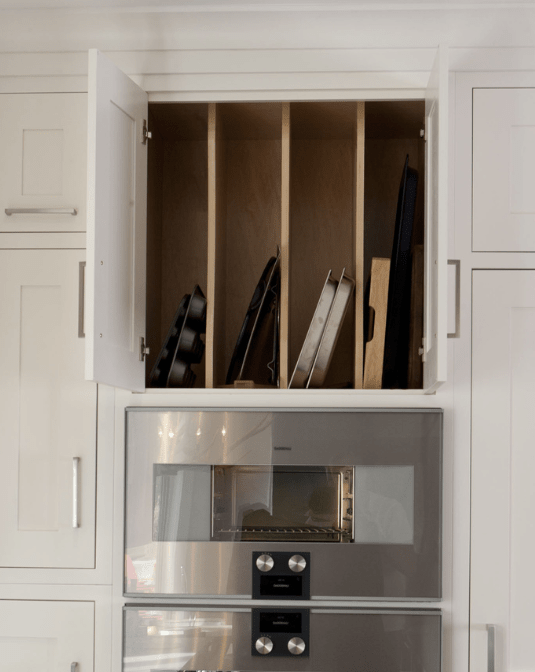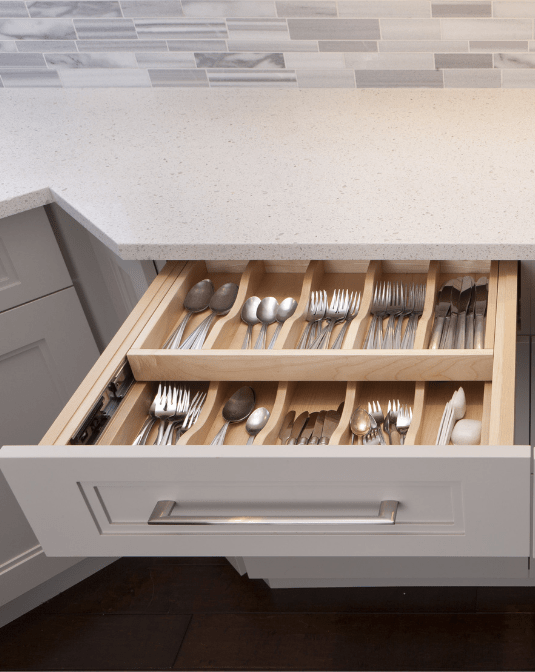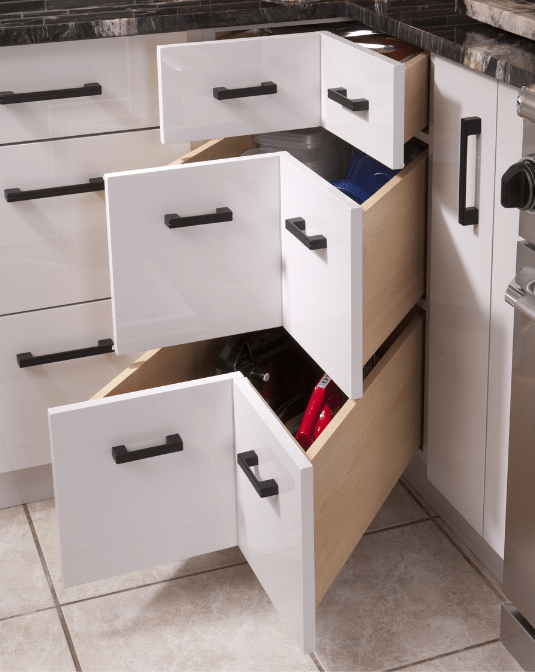 2. Get Exactly What YOU Want
With custom cabinets, the sky's the limit when you get to choose every aspect of your cabinets, from the wood species and finish to the hardware and layout. You can choose the exact colour, finish, and style that matches your vision, and you can add features like pull-out trays, spice racks, or even custom-fitted designer panels for appliances for that perfect-fitted look. This allows you to create a space that truly that matches your unique style and needs. 
 
At Chervin, we believe in taking the time to truly understand our clients, so that we can create cabinetry that seamlessly fits their unique lifestyles. Our approach prioritizes function over form, ensuring that your cabinetry is not only visually stunning but also highly functional and optimized for practical use. Once we have perfected the utilization aspect, we then focus on incorporating the perfect colour, style, and exquisite details to bring your notion to life. Whether you love to bake or cook, have kids or pets, or love to host, we will work with you to get the perfect layout for your lifestyle needs.  
3. Quality is like No Other 
Chervin cabinetry means there are "craftsmen" working on your kitchen. From the shop to the installation, the Chervin team working on your kitchen are experienced and trained to install custom for that perfectly clean and seamless look. When you invest in Chervin Canadian custom cabinets, you are getting a product that is built to withstand years made by our skilled craftsmen using the best materials available.  
 
Our Canadian-made cabinetry is made at our facility in Hawkesville, ON – Canadian quality you can trust! At Chervin, we have a wide variety of materials and veneers with a superior finishing process that facilitates effortless wiping for a seamless clean-up experience. We will work with any wood species and also work with materials that are not wood. From metal work to unique finishes, to plastic and glass, your options are endless. Our meticulous attention to strength and quality ensures that our finishing results are resistant to chipping, making your cabinetry built to endure the test of time.
4. Design – Work with a Professional to Bring Your Vision to Life! 
Working with a trained salesperson/designer who will walk you through your kitchen and offer a fitted, finished look to your space is an added benefit of custom cabinets.  
 
Choosing Chervin for your custom cabinetry means you will be partnering with a skilled salesperson/designer from our team who will guide you through the process, ensuring a tailored and polished layout for your space. Our team will work closely with you to create a design that not only meets your functional requirements but also enhances the aesthetic appeal of your space and complements your home's overall style. From the crown moulding to base trims, all the little details matter to bring your vision to life and differentiate your home.  
 
Our showrooms in Waterloo, Port Carling, and Oakville will give you design inspiration with ideas that you may not have even considered before! Get inspired by visiting our showroom near you. Be sure to check out our website's 'Portfolio' tab for additional ideas that can spark your creativity for your next renovation project. 
5. Custom Cabinets are Here to Last for Years 
Custom cabinets are built to last. Custom cabinetry means quality, and quality means long-lasting. With Chervin Kitchen & Bath's warranty there is peace of mind, and if you ever decide to sell your home, letting prospective buyers know you have custom cabinetry would be a great selling feature. They add value to your home making custom cabinets a great investment! 
By now we are sure you can agree, custom cabinets are well worth the investment. They allow you to make the most of your space, get exactly what you want, enjoy high-quality craftsmanship and construction, create a design that suits your style, and have a product that will last for years to come. Do not settle for less when it comes to your cabinetry – invest in custom cabinets and enjoy the benefits for years to come.  
 
Custom cabinetry is perfect for your whole home. Kitchen, bathroom, mudroom, laundry room, home bar, living room, basement – you name it, and custom cabinets will replenish your space's aesthetic and function! 
Whether you are looking for custom cabinets in Waterloo, Muskoka, Oakville, or Toronto and GTA, Chervin Kitchen and Bath is ready to bring Canadian custom cabinetry and millwork to your home.  
Let us help you create your dream space!
Our team of experts can bring any vision to life.
Reach out to us today! Set up an appointment with one of our design experts to get started on turning your dream project to reality.