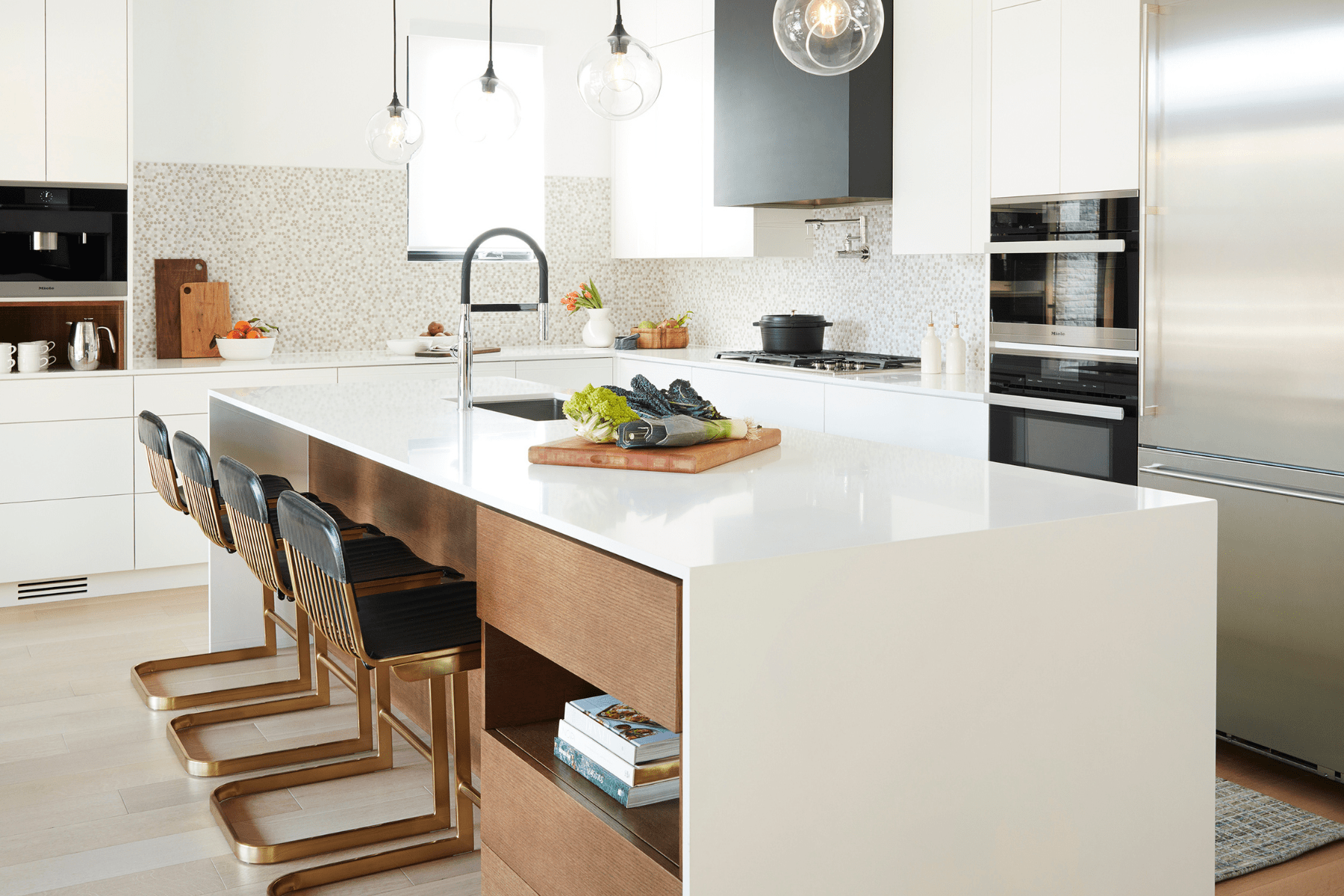 When it comes to designing your kitchen, layout is one of the most important decisions you will make.
---
As one of the most highly trafficked areas in your house, the flow of the kitchen and how you work and walk in it is crucial to plan out properly. As you dream about the appearance of your new kitchen, also consider the layout and the functionality of it.  
 
You want to create a space that is functional for your lifestyle. A space that contributes to the flow of your work, rather than restricts it. While there are many kitchen layouts to choose from, there are principles that can be applied to any kitchen layout to make sure it is designed in an efficient way. Let's learn about the 2 most common methods used in kitchen design for ensuring a functional layout! 
How to Layout a Kitchen
Two methods designers often use when planning a kitchen layout are the working triangle method and the work zone method.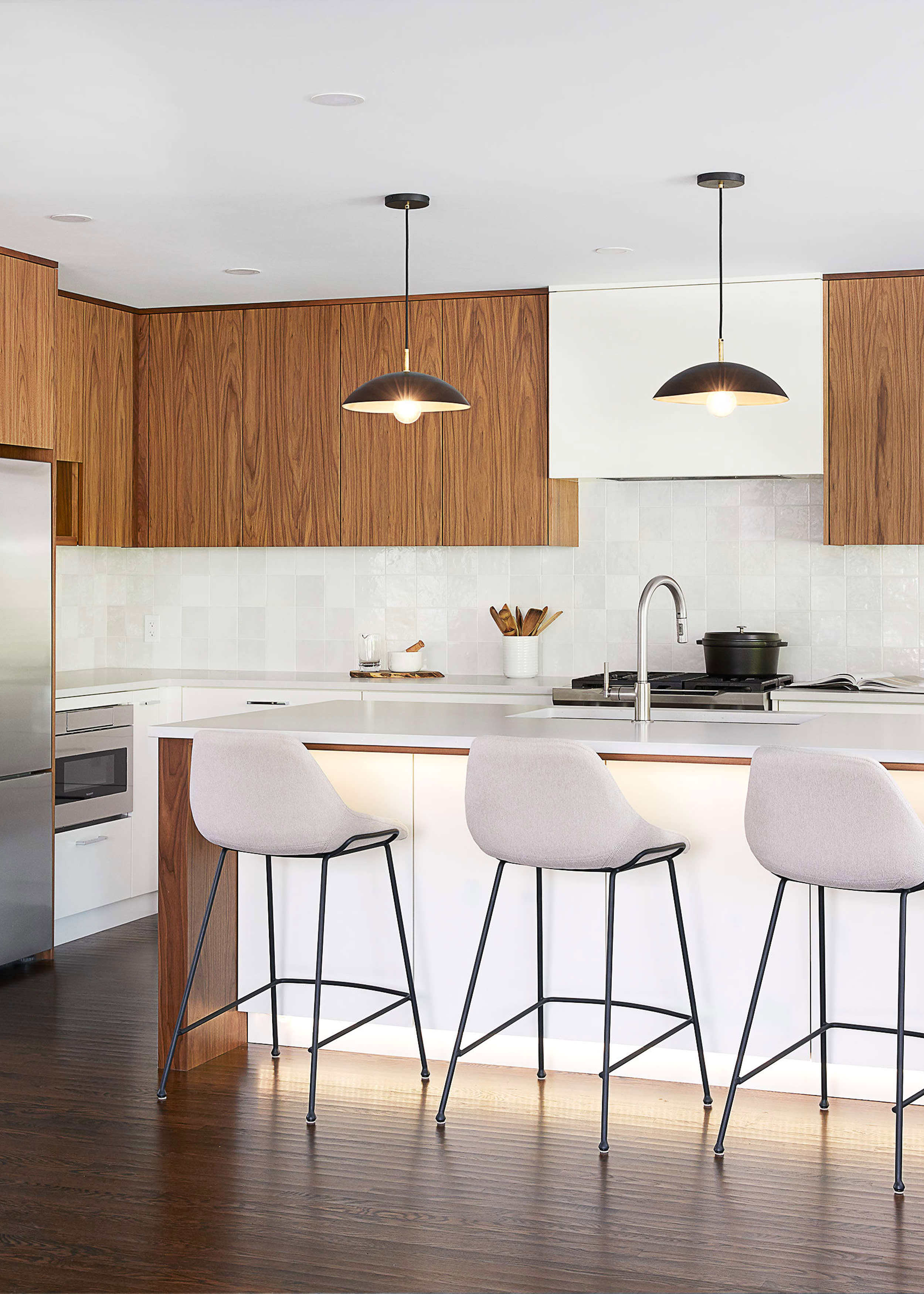 The Working Triangle
The working triangle is a design method created in the early twentieth century, when kitchens were occupied mainly by one person. The goal of this design is to increase efficiency and maximize space utilization without making the kitchen feel cramped. 
What is the Working Triangle?
This method is based on the idea that the 3 main work areas of a kitchen – refrigerator, sink, oven/stove – should form a triangle if an imaginary line were drawn from the centre of each area to the next. 
 
For this method to be most effective, each side of the triangle should be between 4 ft and 9 ft long. The total perimeter of the triangle should be no less than 13 ft and no more than 26 ft. This will create a smooth rotational movement between tasks in the kitchen without requiring you to walk too far between each workstation. 
It is important to note that there should be limited obstructions to the flow of your triangle. If partial-height obstacles, such as cabinets, islands or tables are necessary, they should impede no more than 12 inches on your triangle. 
What are the benefits of the working triangle? 
The working triangle system utilizes space appropriately, conveniently placing your three most important workspaces just a few steps away from each other. This will help with the flow of your kitchen tasks. This layout also typically ensures there is enough counter space located around the sink and major appliances in your kitchen. 
How do I create an efficient working triangle in my kitchen?
One of the biggest considerations when laying out your kitchen working triangle are keeping the points of your triangle within a good walking space. You don't want your stove to be so far from your fridge that you have to walk across the whole kitchen to get something. The other consideration is that you don't want your triangle to be impeded by an obstacle. Whether that is an island, a tall cabinet, or a major walkway, all these can inhibit the flow of your triangle, taking away it's efficiency. The sign of a well-laid out working triangle is the ease and seamlessness with which a person can use it.  
What are the drawbacks of the working triangle?
Perhaps one of the greatest drawbacks of this kitchen layout is that it was designed to be used by one cook in the kitchen – and that simply is not always the reality today. As our kitchens have become more of a gathering place than a utility room, there are often multiple people using the space at one time.
Creating a triangle in your kitchen design just for the sake of doing so is not always what is best. You may need to have more than one working triangle. Or perhaps, you may not need a triangle at all. Everyone's kitchen habits and lifestyle preferences will be different. What is most important is that you design a space that works and flows with your life. Your kitchen should be functional for you!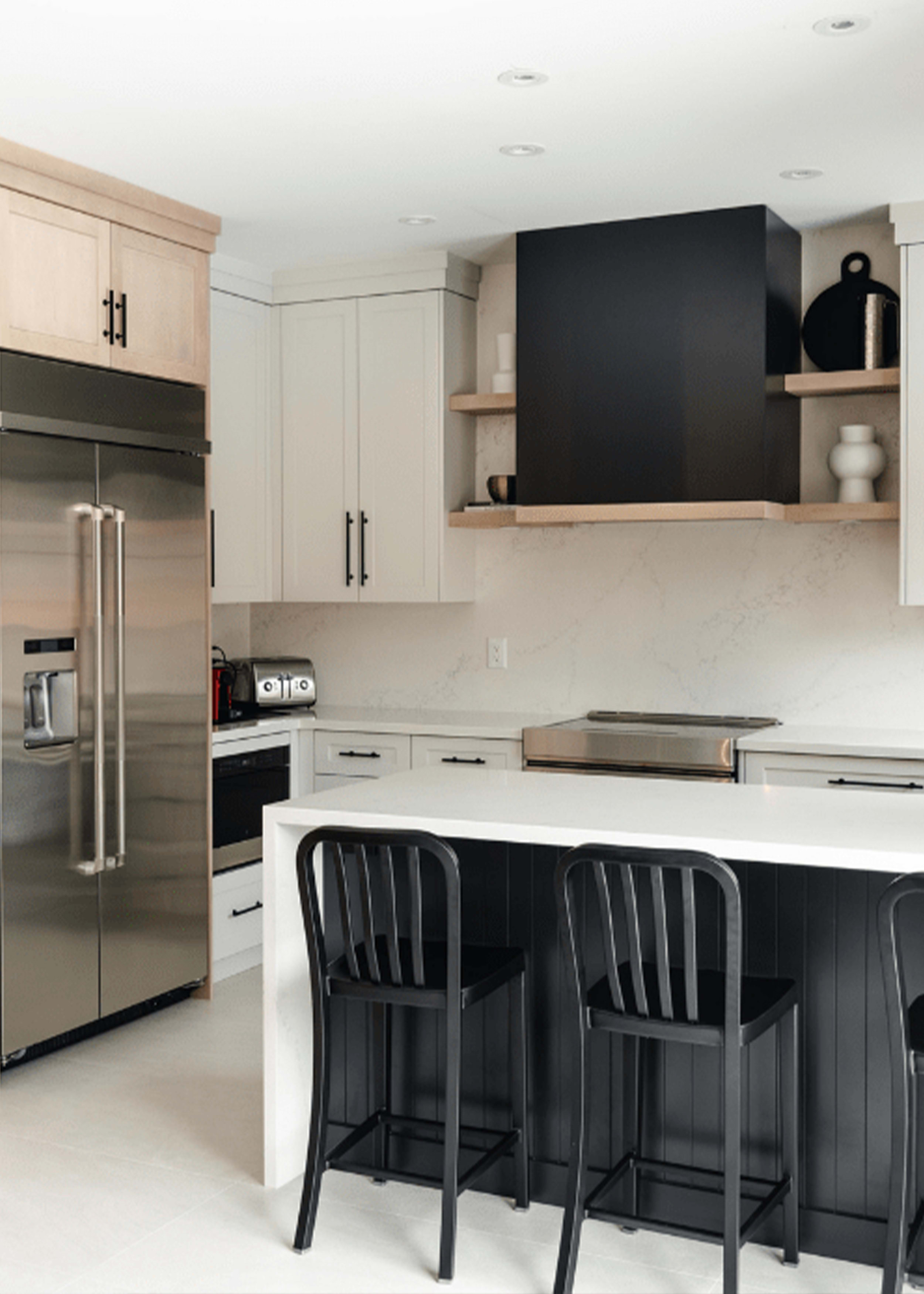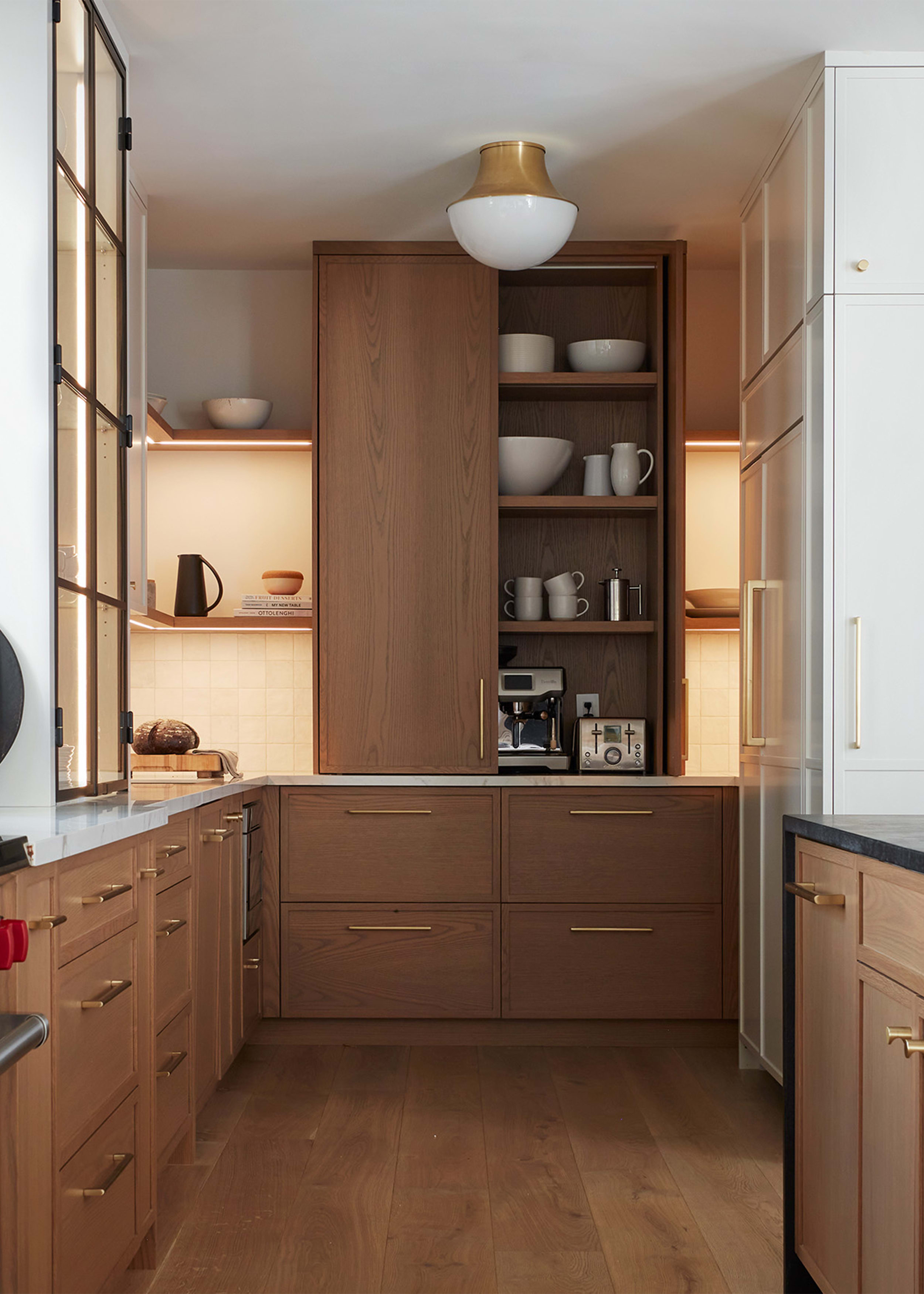 The Work Zone
A more recent, and possibly a more practical, kitchen design is based on kitchen work zones. Now that kitchens are not designed with only one cook or one use in mind, the concept of work zones has become more popular. This focuses on what our modern tasks typically are in a kitchen and how we can combine these tasks into one space or work zone to maximize efficiency and limit the need to travel around the kitchen to get a task done.  
What is the work zone method?
This design method puts emphasis on multiple work zones, rather than one work triangle. Instead of focusing on the distance between the 3 most used appliances, the zone method splits the kitchen layout up by task. Each task then has its own work area containing all the tools that may be needed to complete that task. There are considered 5 main tasks done in the kitchen and so work zones are often categorized by these.  
 
The work zone method groups similar activities or tasks that are done together so you aren't moving around the kitchen more than necessary. This also opens up the kitchen to allow multiple people to work in it at a time. In a work triangle layout, with multiple people, you might be crossing paths frequently or needing access to the same space. Work zones allow you to work with others, in a more defined area rather than across the kitchen, limiting the chance for a traffic jam. Here are the main work zones to consider when you are designing your kitchen. 
5 Popular Kitchen Layout Work Zones
1. Food Storage
(refrigerator and pantry)
2. Food Prep
(spices, oils, prep bowls, knives, cutting boards)
3. Cooking
(stove, oven, microwave, pots and pans)
4. Table Setting
(dishes, cups, cutlery, napkins, etc)
5. Cleaning
(dishwasher, sink, garbage)
Food Storage
In the food storage zone, you will group how and where you store your food, whether it's in a pantry or fridge. You want to consider what's the best flow for putting your groceries away, getting food out of the fridge, and where you are going to put the food after taking it out of the pantry or fridge. You want to make these transitions as seamless as possible. Visualize what path would be the most natural as you are laying out your kitchen.   
Food Prep 
Food prep can take a lot of time, ingredients, and tools so for this zone think about what you use, how you use it, and what would flow best for you. Whether you are chopping vegetables or seasoning a chicken, think about what you might be using in the food prep stage. Keep your food prep tools near each other so that you can seamlessly work in that space without needing to grab items from other areas of the kitchen. Food prep can also take up a lot of counter space so factor that in when deciding where this zone should go.  
Cooking 
The cooking zone is an important one that can take up surface area with larger appliances in it like the stove, oven, and/or microwave. Give yourself enough space around these items that you can easily and safely move around to get what you need. Consider the cooking zones proximity to the food prep zone to make it easy to bring over your ingredients as needed.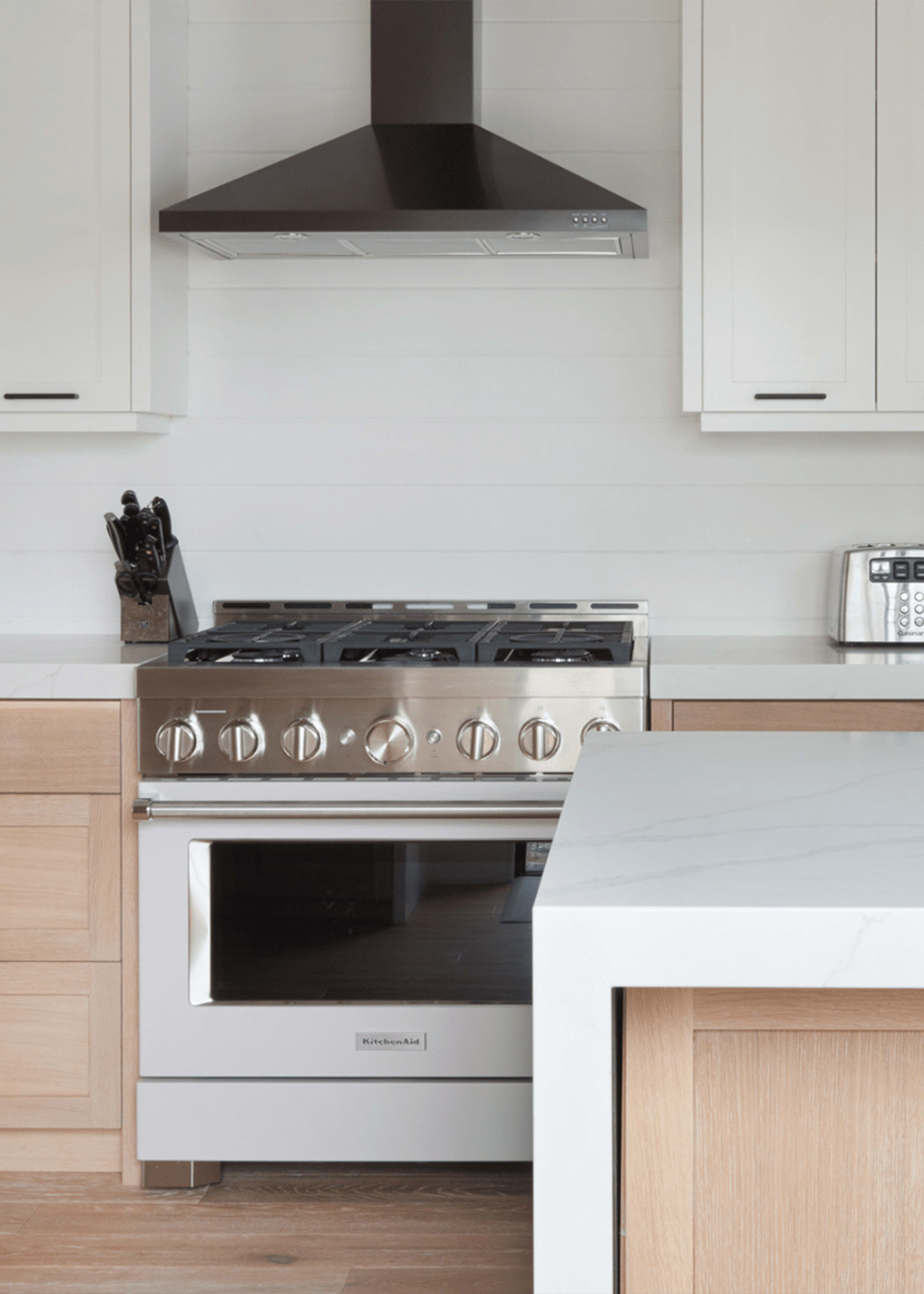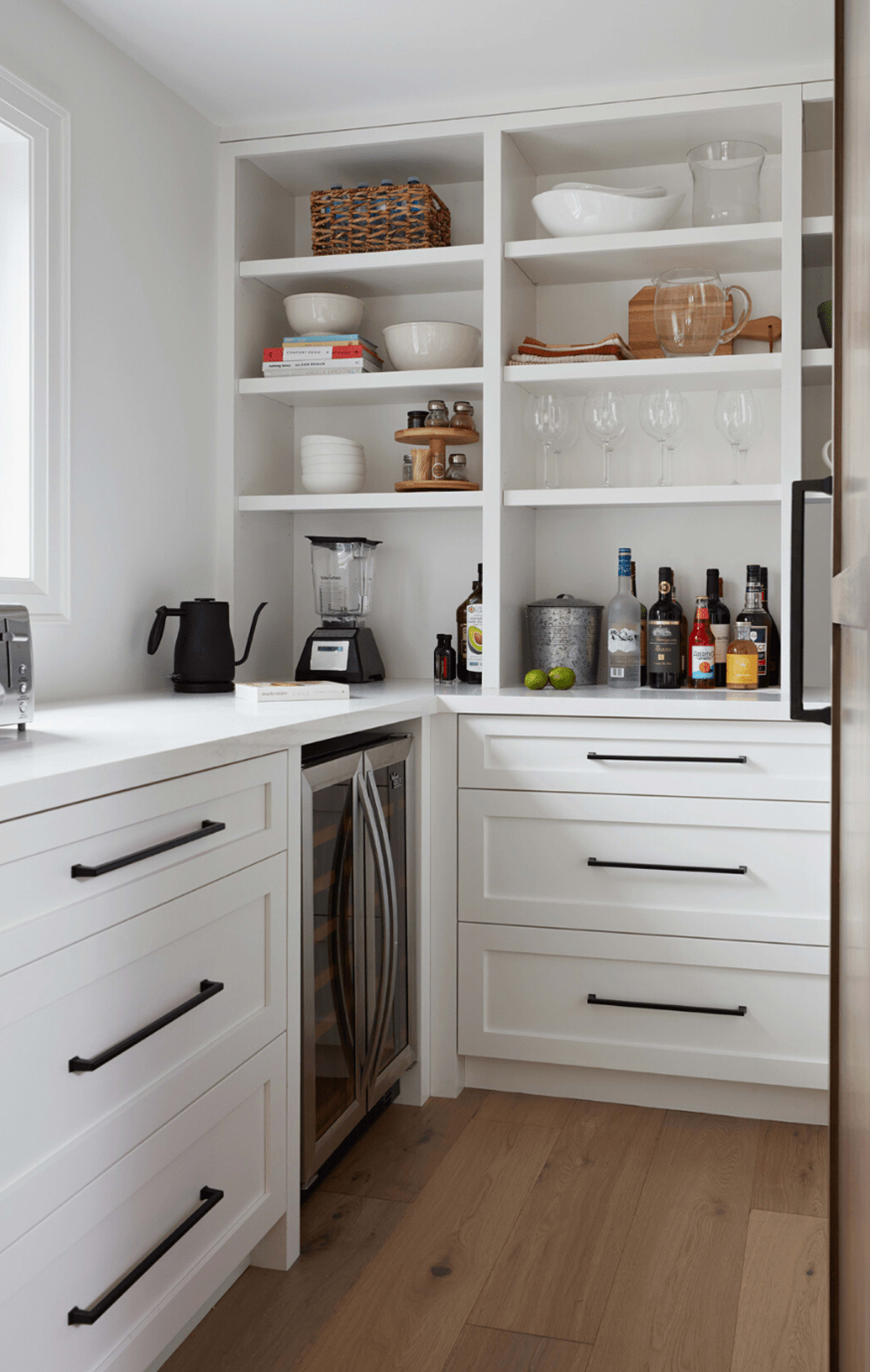 Table Setting
You can be a bit more flexible with the table setting work zone, depending on the layout of your kitchen. Some people will have a dining area in or near the kitchen. Some may have a place for table setting items in a separate dining room or may have a set of formal and casual dishes. If you have a breakfast nook or an island with stools to eat at, you may want the table setting work zone near that area. Consider what your layout will look like and then group the items you need for setting a table together. Keep your dishes, cutlery, glasses, etc. in an organized, contained space for easy access. Also consider where your table setting zone is relative to your dishwasher or sink so that it's easy to put away dishes after they are cleaned.  
Cleaning 
And finally, the cleaning stage. In this work zone, you want to plan on keeping your main cleaning tools together in one area. Have your sink, dishwasher, and garbage can close together, as well as cleaning supplies. Under the sink can be a great storage space for a garbage can and cleaning supplies so you contain most of your tools within the same space. This makes for a seamless cleaning process. Especially when you have wet hands, you don't want to be trekking across the kitchen to throw something out or grab something. 
---
These are the main work zones kitchen designers consider when laying out a kitchen. Think through how you use your kitchen and what work zones or combinations make sense for you. Not only do you want to think about what to put in each work zone, but you also want to think about how these work zones flow together. With food prep and cooking going hand-in-hand and possibly using the same tools, it's a good idea to have one zone flow into the next. Imagine what would work best for you and your dream kitchen layout.
What are the benefits of work zones?
The zone approach is excellent if you often have more than one cook in the kitchen or have a space large enough for multiple workstations. It is a great way to stay organized, knowing that everything in your kitchen has a specific home. It allows for easy access to similar items without having to cross the kitchen to get something. It allows you to work in a specific space till that task is done, eliminating getting in someone else's way or going to other areas to get what you need. This can help keep your kitchen cleaner and more organized as well, as you don't need to travel around the kitchen, possibly with dirty hands, to get what you need. 
What are the drawbacks of the work zone method?
Since the work zone method is completely customizable to your personal preferences and lifestyle, the drawbacks are limited. The key is working with the space you have to design a system that works for you. 
Do I need to choose between working triangle or work zones?
It all depends on your kitchen layout and what you are using the space for. You might find one method works better for you than the other. However, most of the time the work zone method can work simultaneously with the working triangle method so you can get the best of both worlds!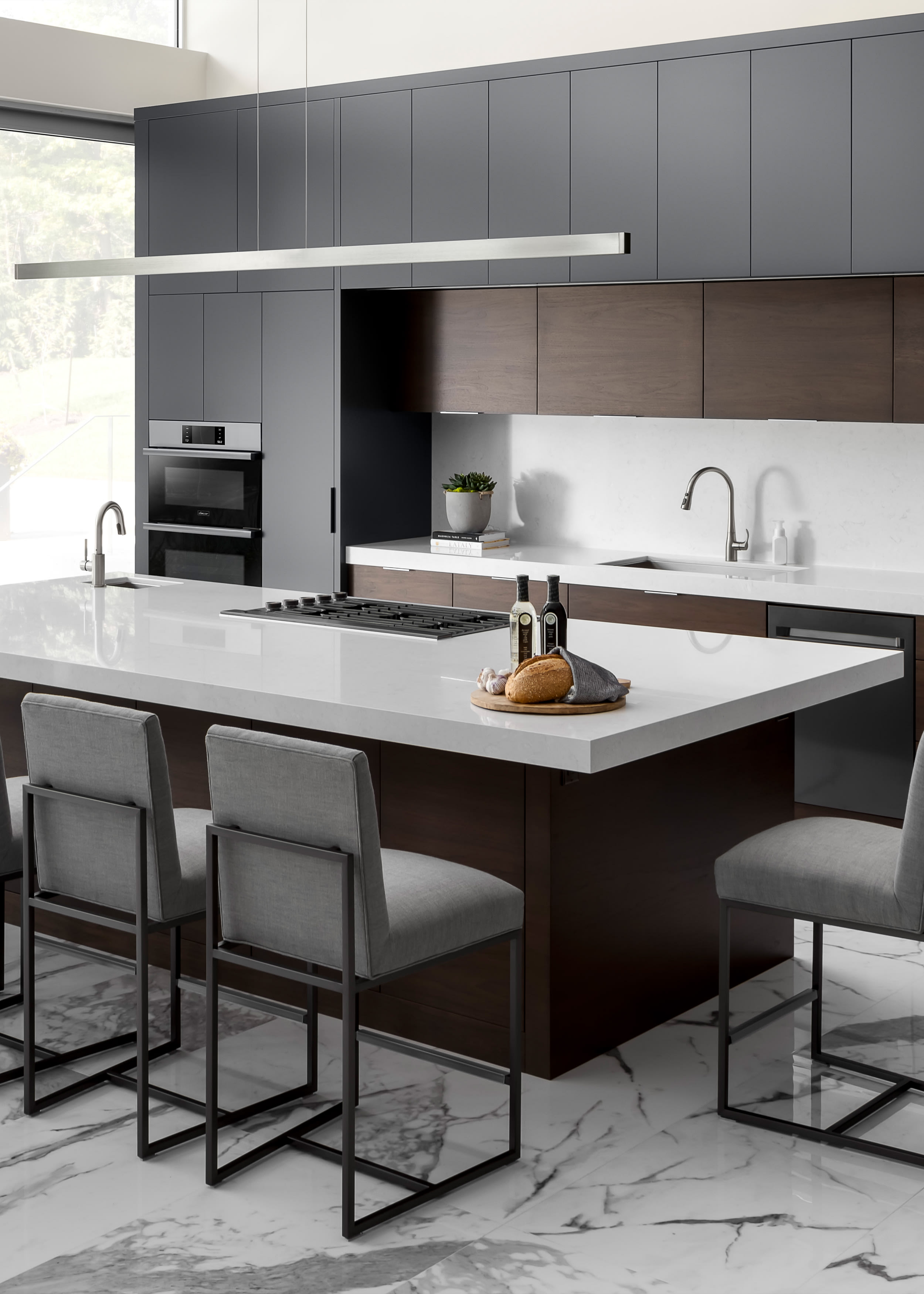 How can I improve the flow and functionality of my kitchen layout?
If you use these guiding principles of the working triangle and working zones and consider what would work best for your kitchen, you can improve the overall flow of your kitchen layout. Most of functionality of a kitchen comes down to the forethought put into the design. Our kitchen layout designers will help guide you through this process with their expert knowledge of what will work best. Knowing your habits and preferences and planning for these in your new kitchen can make a big difference in your layout.
---
As you prep for your kitchen renovation, think about the spaces you use most in your current kitchen. Ask yourself, "What do I like about my current layout? What do I want to change? How can I implement some of these guidelines into my new design?" Remember, these are merely suggestions, not hard-set rules. What is most important is that you design a space that best suits your lifestyle! 
When designing your new kitchen layout, it all comes down to what works best for you. So whether you decide to go with working triangles, work zones, or a combination of both, the choice is up to you and what works for your kitchen. Our designers are skilled in kitchen organization layouts and creating an efficient, working environment. Let our team at Chervin guide you to your best layout, custom tailored for you.  
Browse our portfolio for kitchen layout ideas! 
We are here to help!
With 30 years of experience, we are experts at what we do. Our sales and design team are here to help make your kitchen renovation less stressful. Contact us today to get started.
To see these kitchen layout ideas in person, visit our showrooms in Waterloo, Oakville, and Muskoka.