The corner kitchen cabinet or blind corner has long been a pain point for people in their kitchen layout. Often the corner cabinet is a deep, dark space that is hard to get to, hard to organize, and hard to maintain. However, a well-designed corner cabinet can make all the difference in your kitchen by giving you sufficient storage space in an organized fashion. If you are planning a kitchen remodel, here are some ways to take that corner kitchen cabinet from a dreaded space to a useful, organized cabinet.

Before the arrival of new design solutions, two of the original kitchen corner cabinet solutions were the shelf and the lazy susan. A shelf maximizes your storage space and gives you a sturdy place to store heavy appliances, however, accessibility is limited. To solve this, the lazy susan was adapted to kitchen cabinets, offering a rotating display of items in the corner cabinet. However, with a lazy susan, the corner area is not fully used and there is a limitation on what you can store on the shelves as they could fall when turning.
Newer solutions have now been developed to make the corner cabinet as accessible and useful as possible. Here are some of our favourite blind corner kitchen cabinet ideas:
Kitchen Corner Cabinet Solutions
Solutions for a lower blind corner cabinet:
1. Corner Bank of Drawers
A very popular corner cabinet solution is the corner bank of drawers. This design includes three full-height drawers angled into the corner. This offers an efficient use of space in an organized, accessible manner. The bottom two drawers store about as much as a lazy susan, with the bonus of a third top drawer. To optimize the space even more, you can add drawer organizers, like a knife block, utensil storage, or spice rack as needed. Drawers offer a secure place for items with lots of easy-to-reach, easy-to-organize space.
2. Magic Corner
Another corner kitchen cabinet storage option is a pull-out, with one type being the Magic Corner. The Magic Corner is a rectangular set of racks that as you pull one side out of the cabinet, the second set of racks slides into its place, allowing you access to all your items on both shelves. This easy-to-use, sleek design makes for a great alternative to a lazy susan. The Magic Corner displays all your items neatly in front of you with a simple pull. For those who have plenty of storage in their kitchen, the Magic Corner is a great option as it offers access to everything but does not fully maximize the space of the corner. The Magic Corner also gives you the ability to add a drawer above it, giving you more storage space.
3. LeMans
The LeMans is another pull-out solution, resembling a cross between a lazy susan and a Magic Corner. It consists of two levels of rounded shelves that pull out towards you. Instead of spinning a shelf to get what you need, you simply pull the shelf out and it seamlessly brings your items out in front of the cabinet. This gives you access to all your items, outside the cabinet where you can see and reach them better. The LeMans is also a great fit for those that want an accessible corner cabinet and have enough kitchen storage space elsewhere, as it does leave the corner of the cabinet unused. The LeMans setup also allows space for a drawer to go above it.
4. Getting rid of the corner cabinet
These are all great design solutions for utilizing a blind corner space, however, there is another possibility – getting rid of the corner cabinet entirely. If you have enough storage space elsewhere in your kitchen, you can put in two straight cabinets on either side of the corner. This eliminates the corner space, so you won't have use of that area, but you also don't have the challenge of dealing with a corner cabinet. Getting rid of the corner cabinet can be a stylistic choice as well as it creates a clean, modern look. 
Solutions for an upper corner kitchen cabinet:
1. Corner cabinet with shelving
The best quality storage solution for an upper cabinet is typically a corner cabinet with shelves. This offers lots of storage space without needing your items to look presentable. It offers deep storage, but the items are easier to reach as they are at eye level. If reaching the top shelf is difficult, reserve that space for your more seldom-used items.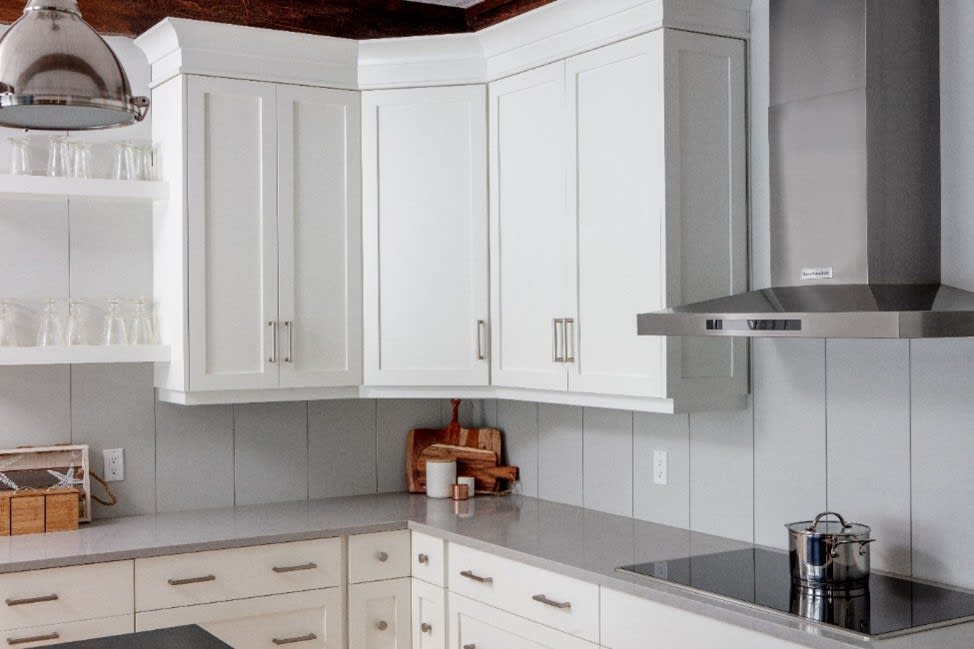 2. Open Shelving
Instead of cabinetry, open shelving is another solution for a kitchen corner. This can be a great place to display your special dishes or decorative bowls, while still getting functional storage out of it. Open shelving can add a lot of character to a kitchen without having to store your practical, and perhaps less beautiful, items. This is a fun alternative to a corner cabinet and is a good pick for those with enough storage space in other parts of the kitchen so as not to sacrifice needed space.
3. An appliance garage or pull-out drawer
Another option for the corner is to add a special feature underneath the upper corner cabinet like an appliance garage or pull-out drawer. This utilizes some of the countertop space in the corner as extra storage. An appliance garage might be a great option for you if you have enough useable counter space elsewhere and use a lot of appliances regularly. A pull-out drawer can be another fun feature to add to store items you use frequently without having to leave them visible on the counter.
4. No corner cabinets
Same as the lower cabinets, you can also opt out of having a corner cabinet and put in two straight cabinets. While you lose the space in the corner, this creates a sleek look and takes away any hassle of having to deal with a corner cabinet. You can also add special features like hydraulic doors that lift instead of a traditional cabinet door. Another option is to get rid of the upper cabinets completely and opt for a clean wall look.
When planning out your custom kitchen remodel, your kitchen layout and needs will be the driving factor in the overall design of the kitchen and the corners. Depending on what is next to the corner and what you will be storing, one solution may outrank the others. When it comes down to it, each kitchen is unique in its design and to its owner and their needs.
How to Organize a Corner Cabinet
When it comes to organizing your corner cabinets, most of the heavy lifting is done during the design process. If you put in a solution that works for you, that will make maintaining an organized kitchen simple and manageable. 
 
The best tips for keeping a cabinet organized are to have specific themes based on the area of the kitchen. Always think about what is near that space. If you have a stove nearby and a deep drawer or tray, then that might be a good place for pots and pans. If you put in drawers near a sink or dishwasher, that might be a good place for containers and lids. It depends on your space and layout.  
 
When it comes down to designing your custom kitchen, it is always up to you and your tastes. So think about how you use your kitchen, what you need to store, and what design solution you would prefer, and we will take all that into consideration when designing your kitchen.
Reclaim your Kitchen Corner!
Set up an appointment with one of our expert kitchen designers to see how you can maximize your corner space.
To see examples of these solutions in person, visit one of our showrooms in Waterloo, Muskoka, or Oakville.