Join our Team
Pride in everything we do is central to the philosophy at Chervin Kitchen & Bath. From our careers creating cabinetry to our design and installation services, when you're part of the Chervin team you become a part of a proud family whether you're in Waterloo, Muskoka or Oakville. 
---
ap·pre·ci·a·tion / əˌprēSHēˈāSH(ə)n / noun Recognition and enjoyment of the good qualities of someone or something.
---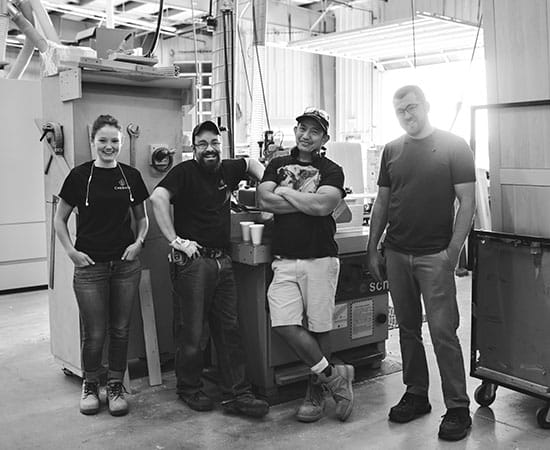 The Chervin Family
Our company is founded based on an appreciation for one another – across all roles and all branches of our corporate family, we share a mutual respect and a passion for quality. At Chervin, bureaucracy and ladder-climbing aren't our way; we're about teamwork and ambition. With ample variety in work responsibilities, a growth-oriented trajectory, and a focus on custom, hand-crafted manufacturing, you can be sure you'll never be bored!
We work as a team, with management always there to support, challenge, and equip their staff, and each team member immersed in the excitement of being part of something bigger than themselves. We invest in high-quality training, prioritize health and safety, and value our team seeing the final product that they have invested in so much along the way.
---
From the moment that we entered your showroom and saw your Purpose, Vision, and Mission, we knew that we would be working with a different kind of company, one that meshed with our own values. We have not been disappointed throughout the whole process. From your excellent and thorough assistance with planning through to the stellar work of fabrication done by your Hawkesville team, capped off by your amazing installation work, we could not have been more pleased with the process ( even with the pandemic delays!). We were particularly appreciative of the time that Rob took to complete the fine details required with precision and care. Most importantly, we are thrilled with the final product! Everything turned out even better than we had expected, and we are really enjoying every part of the renovation.
---
Location: Hawkesville | Full-Time | Department: Kitchen Assembly
Location: Waterloo, Muskoka | Full-Time | Department: Installation & Service
Location: Hawkesville, St. Clements | Full-Time | Department: Manufacturing