The Chervin Guarantee

Our team is dedicated to strategically designing, skillfully building, and meticulously installing kitchens, vanities, and wall units that will realize your dreams and surpass your expectations.
---
in·teg·ri·ty / inˈteɡrədē / noun The quality of being honest and having strong moral principles; moral uprightness.
---
At The Heart Of It All
At Chervin Kitchen & Bath, our core competency is the creation of beautiful kitchen cabinetry, and the kitchen is what we fondly acknowledge as the heart of the home, while other rooms we work in are integral for maintaining a healthy household, or facilitating a life spent with family and friends. That's why we place so much emphasis on getting you the absolute best value out of your cabinetry. With that, the finished product is always built with an eye towards our promises to you, and the core values that tie our company together.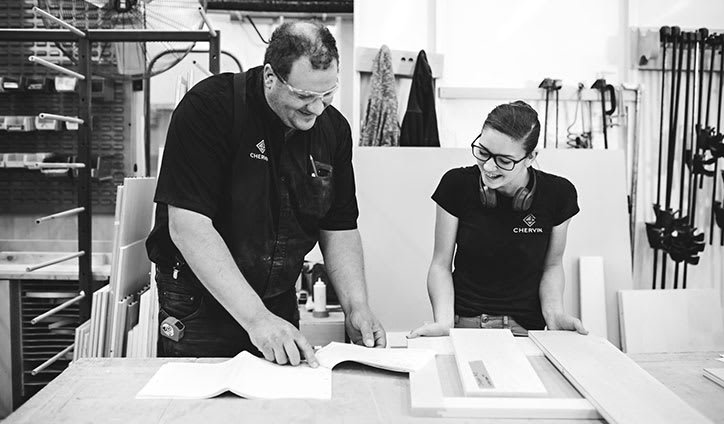 Integrity
We strive to do what is right.
Servant Leadership
We lead by serving with humility.
Trust
We are trustworthy and extend trust as we mutually practice the Golden Rule.
Passion
We have a compelling desire to go above and beyond.
Appreciation
We are grateful for all we are blessed with.
Communication
We share with all what is needed to foster trust.
Sustainability
We manage our resources with the wellbeing of the future in mind.
Innovation
We constantly improve efficiencies, quality and service.
Recovery
When we fail we make it right.


Generosity
We share with those in need.


Compassion
We care about the happiness, health and prosperity of all we meet.
Teamwork
We believe that together we can accomplish more.
Honour
We recognize the value and importance of everyone we meet.
Quality
We always strive to produce the best.