From black hole to accessible storage, it's all in the design...
No matter how big or small, what kitchen doesn't need a little more accessible storage?
---
Most L-shaped and U-shaped kitchens have at least one corner cabinet to consider and it's important to take that into account in the initial kitchen design stage. You can get the most out of every nook and cranny in your kitchen with innovative design solutions. Here are a few options to make your corner cabinet earn its keep and the pros and cons of each solution.
Lazy Susan
There are several different Lazy Susan designs that can turn your corner storage from lazy to lively. This option includes shelves that spin to allow full-circle access. Typically, the corner shelf has a bi-fold door and the Lazy Susan sits inside the cabinet and spins around a fixed centre. There are kidney-shaped, half-moon, round and D-shaped shelves. With some models, the Lazy Susan shelf has to go back to the exact right spot before the door will close and that can be annoying.
Le Mans
Designed for blind corner cabinets, the Le Mans is an affordable option allowing a full view of the contents with nesting swing-out shelves. The idea behind the swing-out shelves is that all of the contents, from front to back, can easily be accessed as needed. The shelves operate independently of one another, they're affordable and functional and don't require bi-fold doors.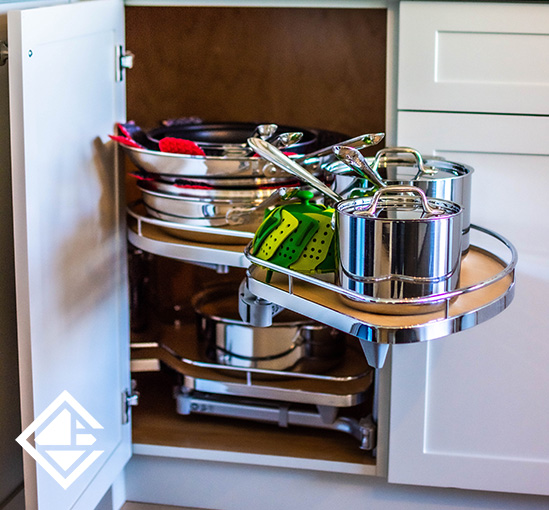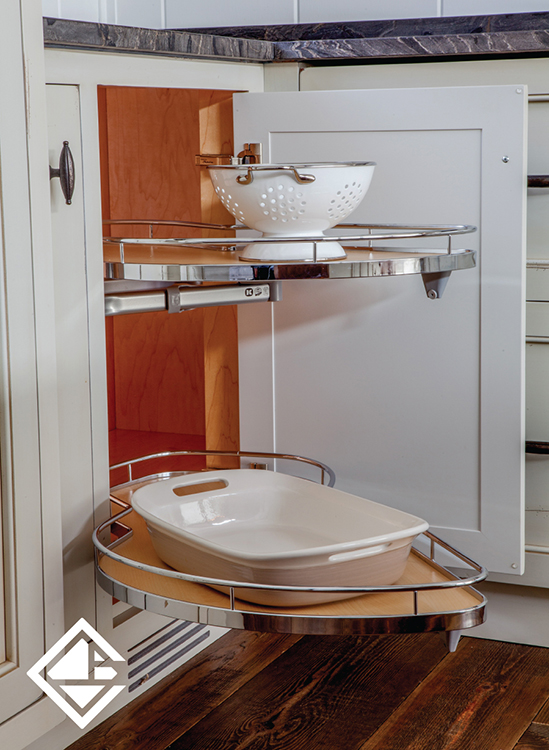 Magic Corner Storage
True to its name, when you open the cabinet door, the deepest back corner objects appear like 'magic'. The Magic corner comes in a variety of options including baskets or lower shelves, providing you with flexible storage options.
Corner Drawers
Designed with 90 degree angles, corner drawers look great and add continuity to the kitchen. They provide very accessible storage in an otherwise blind space. Corner drawers are the perfect alternative to a bi-fold door.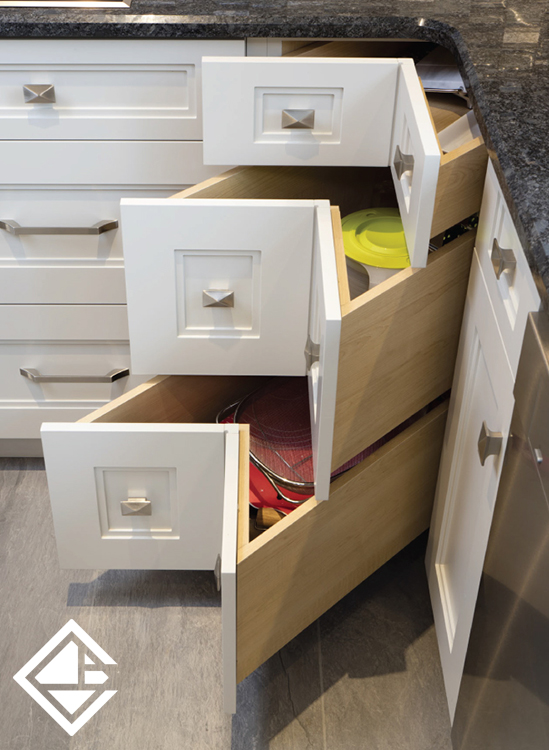 No need to relegate the seldom-used items to the dark recesses of your corner cabinet and then forget about them or ignore them because retrieval is too complicated.  When designing your kitchen, there are lots of practical solutions so your blind corners can see and be seen.

View more custom storage options on Pinterest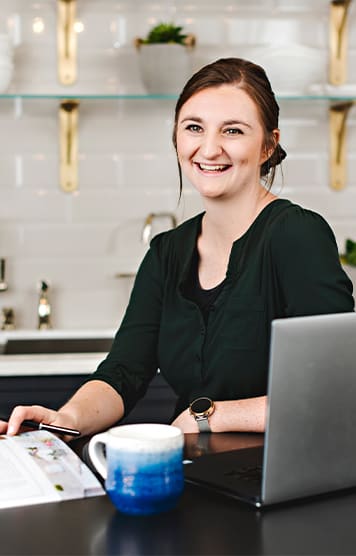 Meet The Author
Kristen Weber is Marketing Manager at the Chervin head office in Hawkesville.
Kristen is proud to work for a company that has the same values as her. Quality. Integrity. Family-oriented.
There are currently no posts available. Please check back.