Jenna joined Chervin in 2016 and is responsible for custom kitchen design.
---
Jenna, Custom Kitchen Designer
Year Started with Chervin: 2016
Jenna has a real love for seeing the big picture – which makes her perfect for her role in kitchen design! Jenna works with the sales team to turn clients' ideas and initial preferences into reality in the form of 2-D and 3-D renderings. This is a really valuable way for her to express her creativity and help bring lots of smaller elements together into one fluid design.

Developing these plans requires vision, diligence, and attention to detail – even 1″ off in a measurement can make a big difference when it comes to custom-fitting cabinetry to appliances! Most projects require, after a first draft is drawn up, 5-6 revisions to the design's details taking into account updates in the client's needs, vision, and timeline.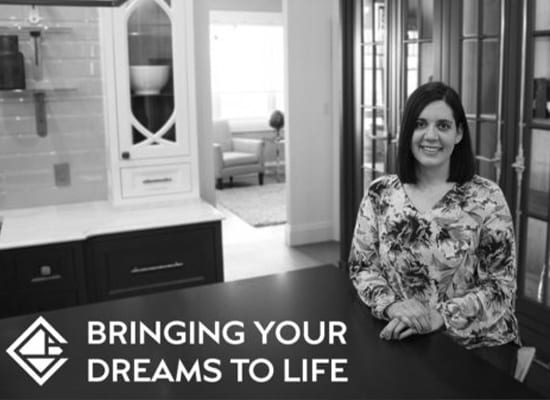 This whole process (which often takes a couple months from start to finish) is an exciting challenge for Jenna, who finds problem-solving highly rewarding (although it is an amazing feeling when the client is thrilled with the first draft!).
Before she joined the team at Chervin, Jenna was really interested in architecture, among other aspects of design, and studied Visual Merchandising Arts at Conestoga College. Here at Chervin, she loves learning with and alongside the other designers and the experienced sales team – it's a really collaborative environment, and she sees the benefits of that every day.

With such an in-depth knowledge of all the elements of kitchen design, Jenna is going to have a really hard time narrowing down what she wants in her own kitchen someday! But so far, she hopes to work in at least a taste of: reclaimed or live edge wood, gold hardware, black painted uppers, glass doors, and stunning walnut drawer interiors, all in an open-concept space with lots of base storage.

When Jenna isn't working, she loves relaxing at the cottage with her "fur baby," exploring new places, reading, and experimenting with crafty DIY projects (thank you, Pinterest).
Jenna's Tip For New Clients
Appliances make a big difference in home design - try to have your choices made early on to ensure the smoothest and most efficient design process for your and your team!