Nettie joined Artco in 2017 and is responsible for shipping and receiving.
---
Nettie, Shipping & Receiving
Year Started with Artco: 2017
Nettie joined the team after hearing from a friend at Chervin that there was a maternity leave position opening up in the Shipping department. The full-time role was appealing, and she had heard good things about Chervin from others she knew at the company, so she applied.
When the maternity leave ended, the previous team member took on a new role in the company, and Nettie continued on in this department, where she has served for two years now.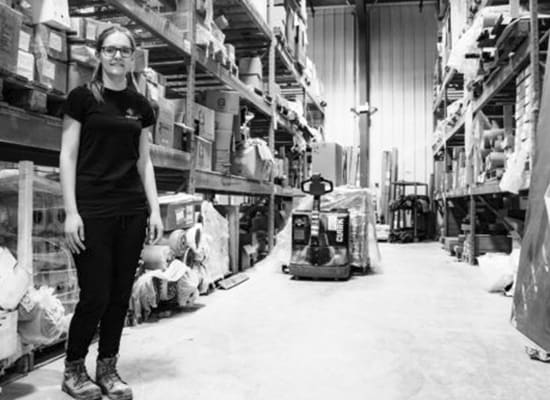 A typical day for Nettie consists of a whole lot of details – she goes through all the purchase orders and packing slips that come through the plant, cross-referencing and ensuring that all the parts that are needed have arrived in good order. She also reviews the actual drawings (primarily for Artco furniture), to confirm the colour and measure of what was ordered and received matches the engineering requirements. There are a wide variety of skids (containing everything from hardware to metal to foam and fabric) that need to be organized and moved around the plant, and if anyone is ever wondering where to find something, Nettie and her teammate, Tina, are the ones to ask!

One of the things Nettie appreciates about working with Tina is how outgoing and hardworking she is – they really enjoy their work together and communicate well with their manager, sharing a desire for efficient and rewarding work in a good environment. A great day is when the long list of skids and products to sort through is completed in time to clean up the shelves a bit and re-organize crowded spaces – that means a fresh start tomorrow, and that's always the best welcome!

Outside of work, Nettie is a huge nature lover, enjoying any kind of new outdoor adventure she can get in on – camping, watching the sunset, nature hikes…summer is just around the corner and she can't wait!

Interested in seeing a bit more behind-the-scenes in our manufacturing facilities? We'd love to give you a tour! Contact our manufacturing facility to request a tour – be sure to remind us if you're a current customer and we might be able to arrange it so you can see your own kitchen in production!