Andrew joined Chervin in 2014 and is an Edge Bander Operator, a job that requires precision, attentiveness, and efficiency.
---
Andrew, Kitchen Department
Year Started with Chervin: 2014
Andrew joined our team 5 years ago, after several years working in retail tool sales. We needed more help in our shipping department, then later in our manufacturing facility, constructing custom furniture for our larger contracts, so Andrew jumped in and became an invaluable team member in those areas.
After 3 years on the furniture side, Andrew transitioned to the kitchen department. His role there is to be our sole Edge Bander Operator, a job that requires precision, attentiveness, and efficiency.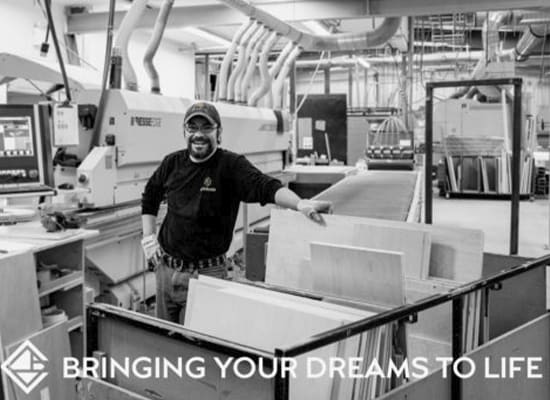 If you're not already familiar with this machine, an Edge Bander is a large machine designed to apply adhesive tape that resembles a finished wood grain. This tape is applied to the exposed edges (never the face grain) sheet stock (particle-board, MDF, and veneer-core). The end result is a more aesthetically pleasing piece of cabinetry that is sealed to withstand the test of time and consistently finished to resemble hardwood.
All the details of a job must be properly interpreted from the plans drawn up by engineering, then communicated to the Edge Bander machine, itself; after that, Andrew ensures all the right pieces of sheet stock coming off the CNC machine are run through the Edge Bander to receive their edge tape in exactly the right colour to match the final finish that will be applied.

In a typical day, Andrew can run anywhere from 600 to 850 pieces through the Edge Bander – that's 6-7 kitchens in one day! Of course, each kitchen has many more stages to go through before it is ready for installation, but efficiency in Andrew's role means more flexibility and organization further down the line – invaluable qualities in a shop as busy as ours! Andrew told us his favourite days are the ones that are highly productive – he loves to plow through, getting the work done efficiently, but accurately, so there is no backtracking later in the process.

Lately, Andrew has noticed a lot of White Oak pieces working their way through the shop, as well as a lot of kitchens with contouring throughout – as many as 5-6 contoured elements (such as pull-out drawers and shelf dividers) per kitchen! These are the details that can make all the difference in the functionality and organization of your kitchen, and there is a lot that goes into perfecting them behind the scenes. We're grateful to have Andrew "behind the wheel" of the Edge Bander – he is a diligent and trustworthy independent worker, but enjoys his opportunities to collaborate with the other machine operators in his department, as well.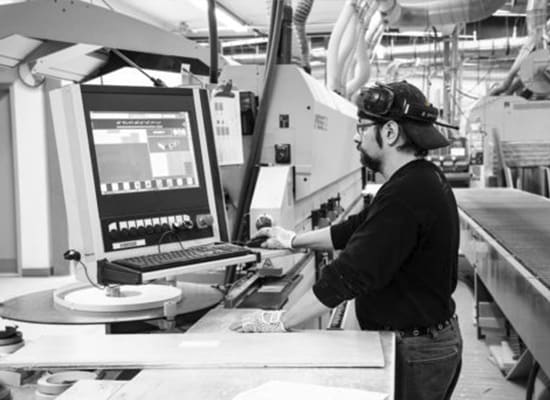 Andrew told us Chervin is one of the best companies he has worked for, and what he values most about the team here is our dedication to quality, engaging and fluid work dynamic, and commitment to never cutting corners. He strives to always put out a good product, and he loves being on a team that feels the same way.

When Andrew isn't at work, you'll likely still find him working with wood, but in his personal shop at home! He really enjoys building small-scale shelving and furniture on his own for family and friends – so you know he's really passionate about this industry!