There are so many options when it comes to countertops, and more each year as innovative new materials and styles come into play. Here's a peek into some of our favourite materials to work with...
---
The countertop has the power to make or break a kitchen. No matter how beautiful the rest of your appliances and cabinetry are, if the countertop clashes or brings a whole different style into the mix, the kitchen as a whole won't feel cohesive. More than that, if your countertop doesn't hold up to the way you cook in and use your kitchen, it has failed at its essential purpose. That's why it's important to put good thought into which material (and design) you choose for your countertops, and we've brought in a little expert Chervin help to get you started. Here is an overview of five popular countertop materials from one of our Muskoka Designers, Lisa:
Quartz
The vast majority of our kitchen projects (and even some of our vanities and entertaining spaces) utilize Quartz for the countertops. Quartz has been popular for many years now - it is much more durable than granite or marble, non-porous (so less likely to stain or retain bacteria), and comes in a wide range of colours and styles, thanks to its engineered design. It is a great option for a 4-season cottage that wants a dramatic look, in addition to environmental and health benefits. 
It is important to be aware, though, that Quartz, while a valuable option, is not the best choice in every situation. Since 7% of the material is a glue composition, there are still limitations to its use in extreme heat scenarios (for example, fireplace surrounds, or any hot pots placed directly on the surface). My top recommendation for cottage countertops tends to be Quartzite or Granite...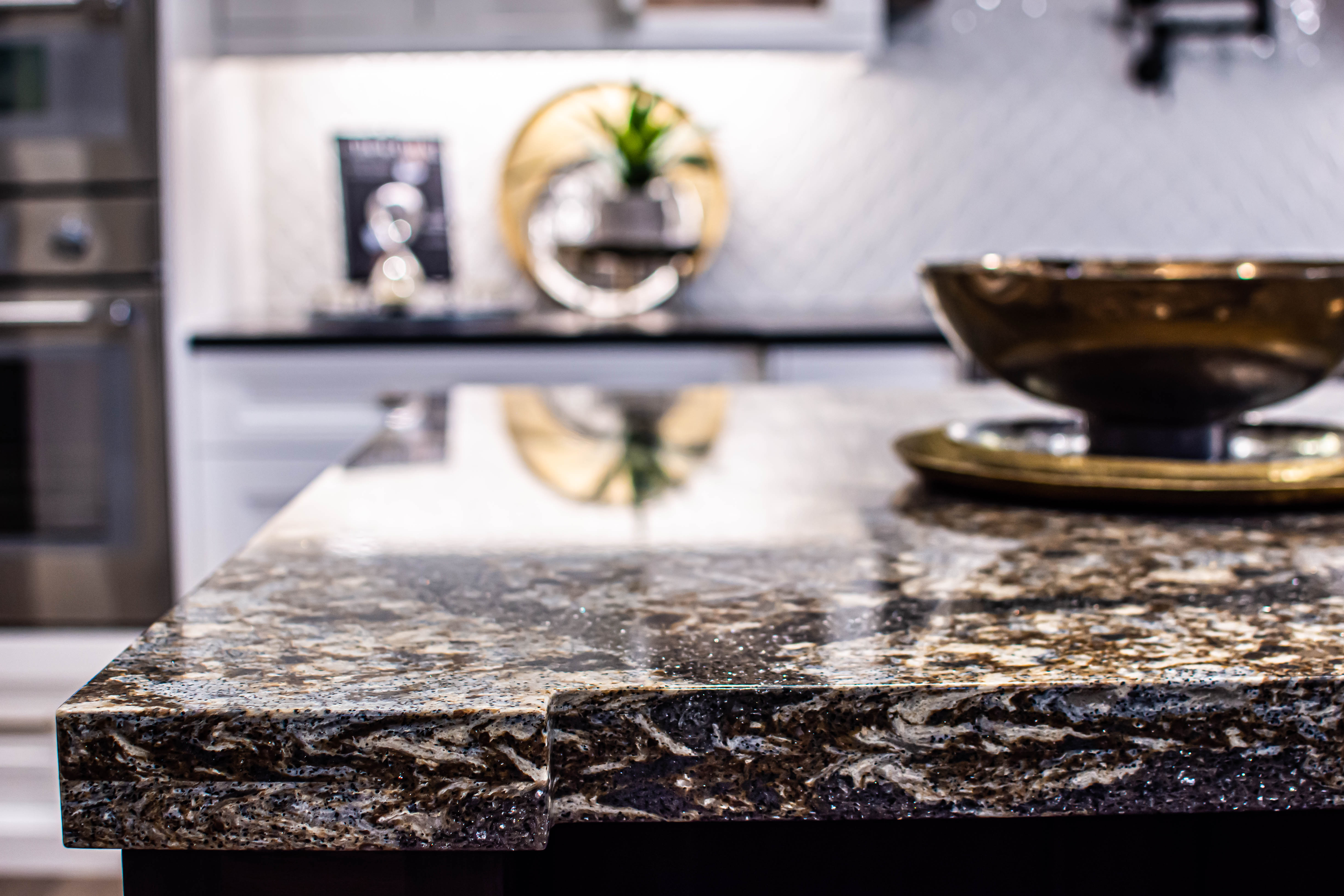 Quartzite
This is my favourite countertop material, especially for projects up here in Muskoka. Quartzite is the natural stone that is the foundation for Quartz. Although its design cannot be controlled as much as Quartz (because it is not an engineered stone), it is a stronger material (and every countertop is unique!). 
According to Stonex, one of our main providers of countertops, "Quartzite is created when sandstone is put under high pressure and temperature. It is mined and we purchase it from these mines in slabs..."
Quartzite remains durable in a wide range of temperatures, making it a great option for vacation homes. 
Granite
Granite is a more traditional choice for a durable and dramatic countertop. It is a cost-effective, high-end countertop option that, like Quartzite, is a natural stone, meaning each slab is unique in its colour and pattern.
Granite tends to carry more speckled patterns, while Quartzite tends to have more marble-like veining, though there are many looks available. Leathered granite is a beautifully rich, textured option that looks outstanding in rustic settings.
Granite is a sturdy material in a wide range of temperatures, making it a great option for vacation homes.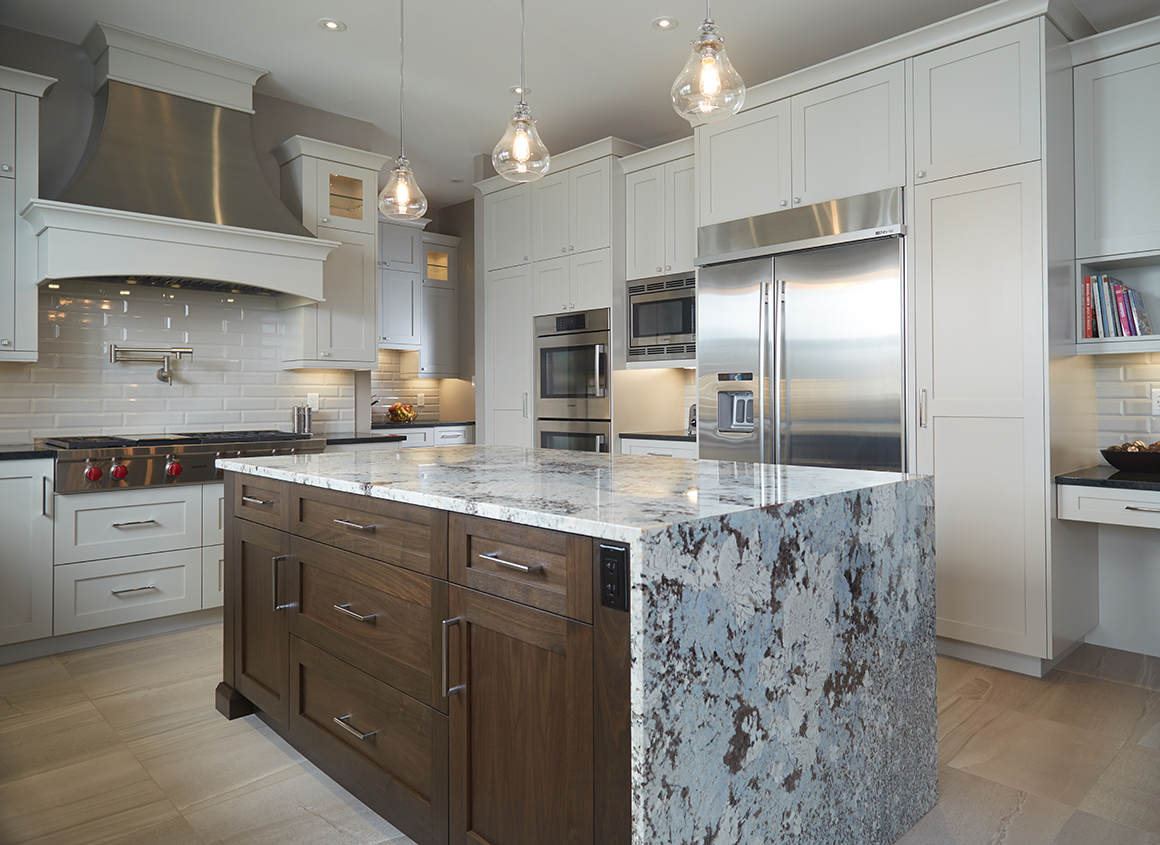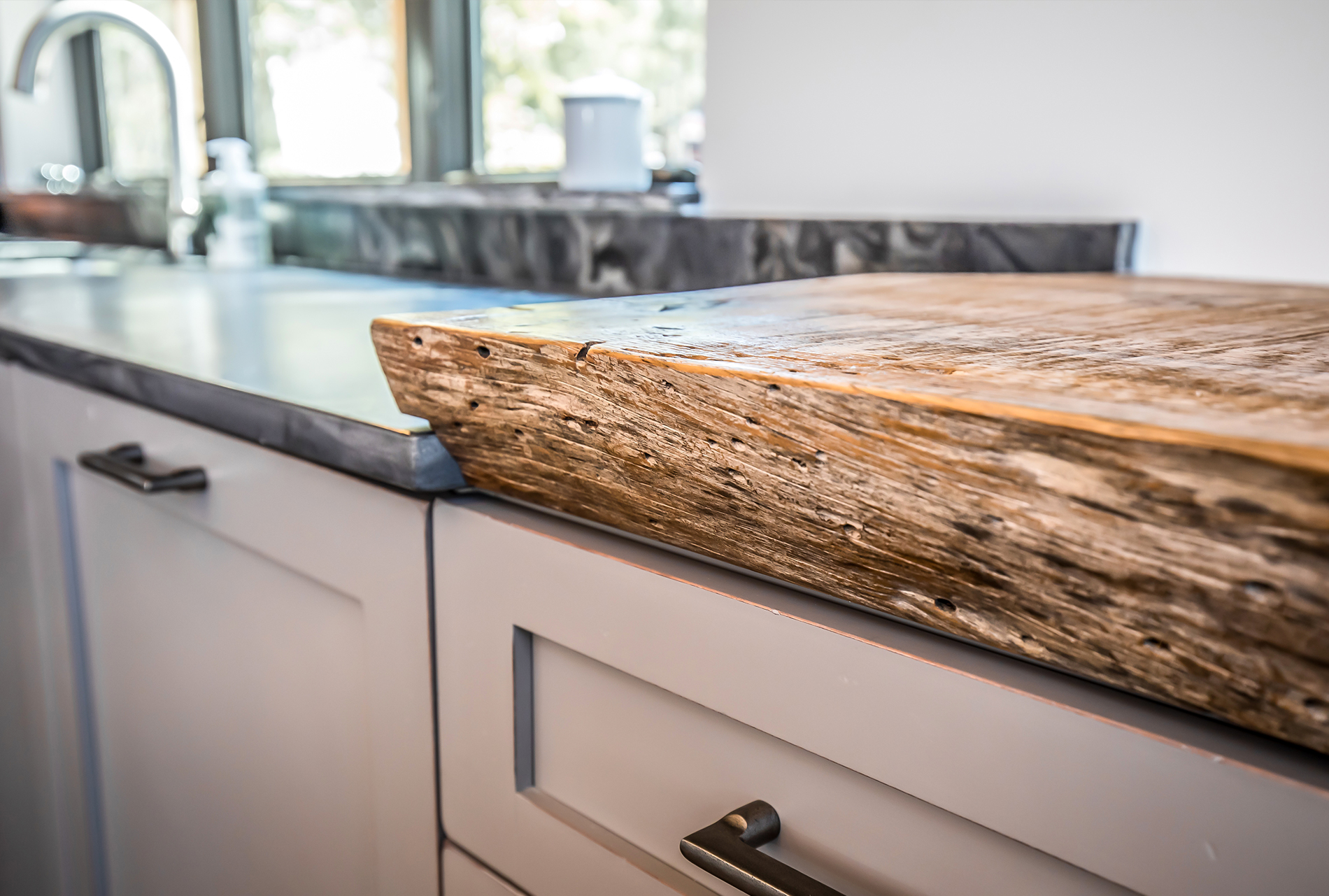 Wood
Reclaimed wood countertops are a very popular (and absolutely gorgeous) choice in rustic, industrial, or farmhouse kitchens. Butcher blocks are thick wooden slabs that must be oiled every few months, but tend to only be a portion of the countertop. Other people opt for live-edge wooden floating shelves or decorative accents, while still others want their entire countertop to be wood. We had one client recently who chose to have a specially sourced 12-foot long piece of walnut installed as her countertop - talk about beautiful and warm!
All our wooden countertops are sealed with a soy-based sealant, which is all-natural making it fully food safe, and resistant to water damage.
Wood countertops are also a beautiful choice for laundry rooms and mudrooms!
Dekton
Dekton is still a relatively new material but it is the ultimate in durability and gives a very dramatic, industrial look to any space it is installed in. Similar in make-up to tile, but installed in large slabs like any other countertop, Dekton is virtually impervious to temperature and climate changes. 
Although it comes at a premium price, Dekton is an outstanding choice for outdoor kitchens and boathouse kitchens, as well as fireplace surrounds. Nothing will get by this material or wear it out - just be sure it fits your style and budget before you commit.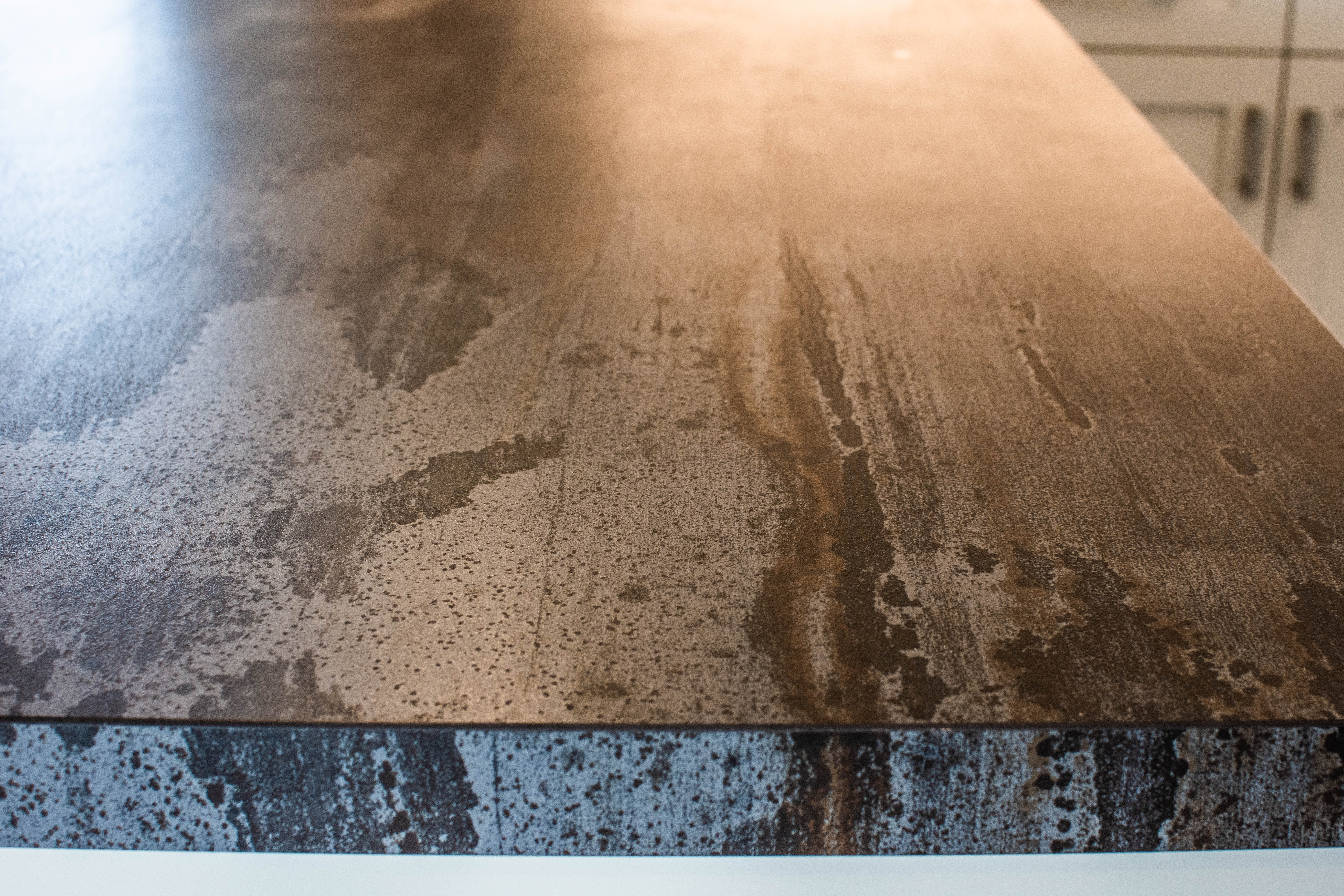 In addition to these materials, we have worked with Marble, Laminate, Soapstone, and others. When you sit down with your Chervin designer to get into cabinetry and countertop decision-making, you can feel confident that we know the range of products out there and we'll make sure you do, too! There may be lots of options out there, but we'll help you find the perfect one for your lifestyle, tastes, and space. We can't wait to explore the possibilities with you.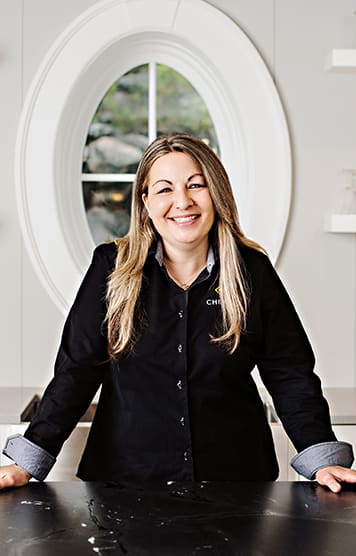 Meet The Author
Lisa Weber works as a Sales & Design Associate at the Chervin showroom in Muskoka.
Lisa is happy to work with a company that focuses on communication.
Countertop edges add a lot of character & finishing touches to a space. Choose from Straight Edge, Mitered, Chiseled, Ogee, Beveled, Bullnose, or a custom edge.
Design, according to designer Lisa Weber, shouldn't cater to industry trends; it should be customized to the owners of the property. Relationship takes top priority.
---
Want to learn more?
Visit one of our showrooms in Waterloo, Muskoka, or Oakville and our showroom consultants will be happy to answer your questions and show you our countertop options!