Easter may look different this year, but a delicious dinner can still be enjoyed with the ones you love...virtually...
---
Easter dinners may be shared with only your household, or perhaps over video chat, but they should be enjoyed all the same. Easter is a holiday celebrating hope - the greatest Hope of all, in fact - and that is something our world needs desperately. So stay "socially distanced" this Easter, but don't be emotionally isolated. Take this opportunity to connect with family and friends in a unique way and to adapt traditions and make new memories. We specialize in building beautiful kitchens, and bonding over meals is a big passion of ours - although more important than the food are, of course, the people you share it with, there is something extra special about bringing a new dish to the table, especially when you have extra time to experiment. So before you stock up on your groceries for the week (or two...or six), check out the recipes we've pulled together below, and see if there's something here your family could enjoy afresh this Easter...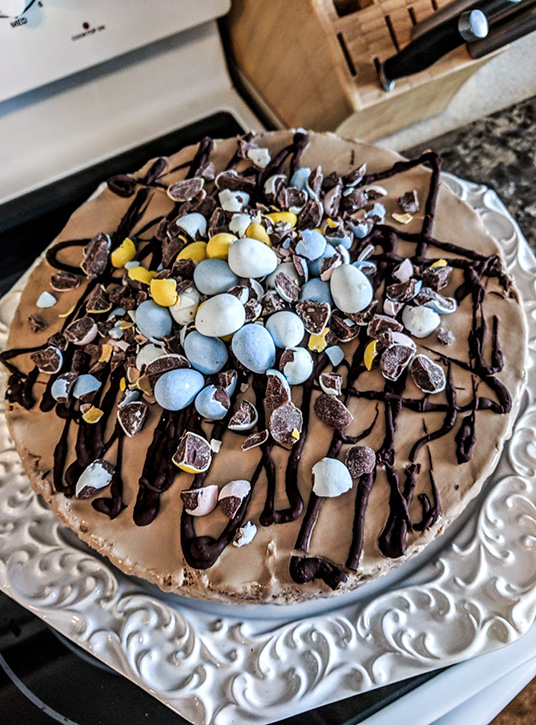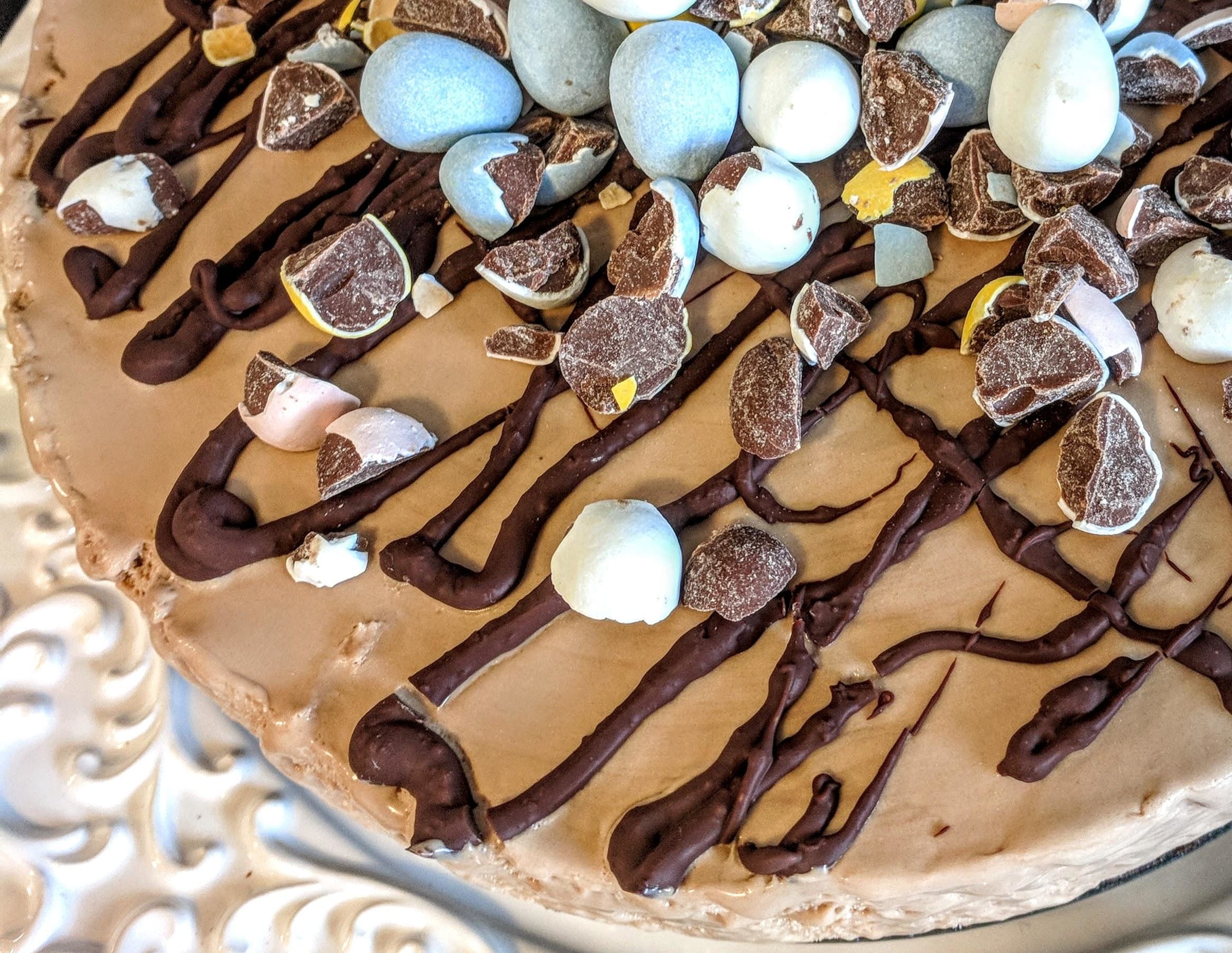 Frozen Mocha Cheesecake
Submitted by: Kristen Weber (Marketing Manager)
This one isn't an Easter tradition...it's just plain yummy! Perfect for any time of year, but extra beautiful with crushed Cadbury eggs on top for Easter, this refreshing cheesecake is decadent but light. 
Ingredients:
1 ¼ cups chocolate or vanilla wafer crumbs
¼ cup sugar
¼ cup melted butter
8 oz pkg cream cheese (soft)
14 oz condensed milk
½ cup chocolate syrup
1 Tbsp instant coffee
1 tsp hot water
1 cup whipping cream
Directions: 
Spray 9-inch springform pan with baking spray (e.g. Pam).
In small bowl combine crumbs, sugar, and butter.
Pat crumbs in pan. Chill.
In a large mixing bowl beat cream cheese until fluffy.
Add milk and chocolate syrup.
Dissolve coffee in hot water and add to milk mixture.
Mix well.
Fold whipped cream in.
Pour into pan and cover.
Freeze for 6 hours or until firm.  
For Easter, place Mini Eggs (Cadbury) on top for a festive look!
Artichoke & Homemade Dressing
Submitted by: Marilyn Hodder (Marketing)  
This is a special appetizer I was introduced to by my mother-in-law...and I'm so grateful! Whole artichokes can be difficult to find sometimes, but thankfully March-May is peak season so you may see them in  your local grocery store! Artichokes are easy to prepare - simply trim off the stem (not the actual artichoke - just enough that it can sit flat on the plate), and cut the pointed end off - this allows it to open up like a flower as it cooks! Steam or boil your artichokes for approx. 40 minutes or until the centre petals are soft when poked with a knife. Serve with a dressing of your choice, or make your own! My mother-in-law makes her own vinaigrette using olive oil, balsamic vinegar, ginger, turmeric, and a variety of fresh herbs - delicious and fresh.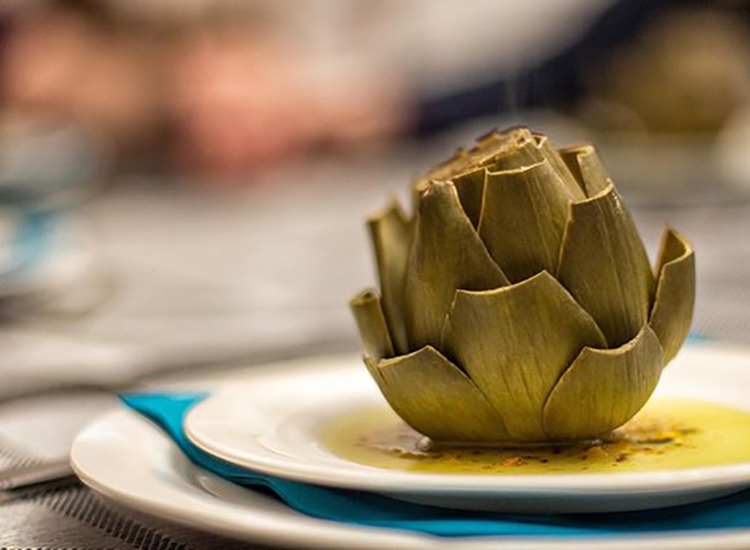 Photo taken by Etienne Hodder.
In case eating a whole artichoke is new to you (it's quite an experience), here's a cute, short how-to video.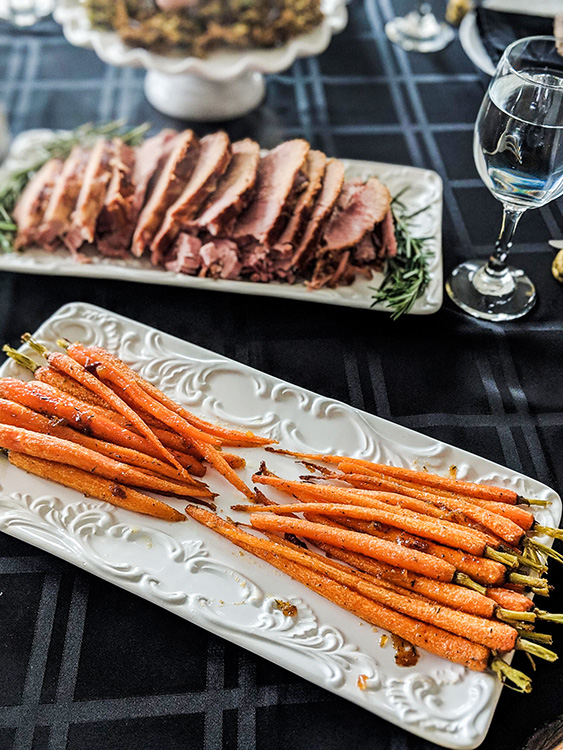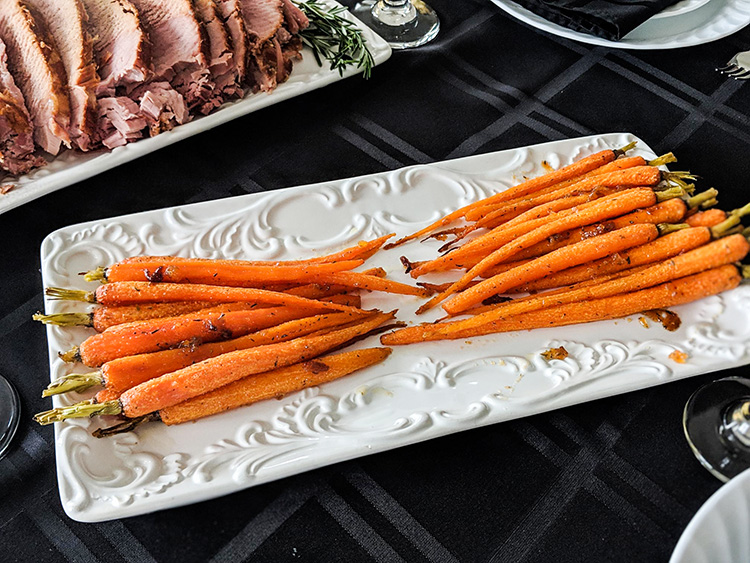 Glazed Carrots
Submitted by: Kristen
This is also a recipe from https://carlsbadcravings.com/honey-garlic-roasted-carrots/
Ingredients:
2 pounds thin/baby carrots peeled, tops chopped off or to 2 inches*
1/4 cup apricot preserves
2 tablespoons honey
2 tablespoons olive oil
1 tablespoon butter, melted
1 teaspoon balsamic vinegar
1 teaspoon Garlic Powder
1/4 teaspoon Ground Mustard
1/4 teaspoon Thyme Leaves
1/8 teaspoon Ground Cumin
3/4 teaspoon salt
1/8 teaspoon pepper
Directions: 
Preheat oven to 375 degrees F.
Either line a baking sheet with foil and lightly spray with nonstick cooking spray OR spray your baking sheet with cooking spray. 
Add carrots to the centre. Set aside.
In a medium bowl, whisk together all remaining ingredients and pour over carrots. Toss until evenly coated.
Line carrots on baking sheet in a single layer.
Bake for 30-45 minutes depending on carrot thickness, until fork tender, stirring after 20 minutes. Garnish with fresh parsley if desired.
Sweet Potato Casserole
Submitted by: Marilyn
Just about every holiday I can remember (especially Thanksgiving, but not limited to that occasion), sweet potato casserole has been a staple side dish for my family. I have a cousin once removed that is famous for it, a brother that is famous for it, and a variety of different recipes I've tried by a host of different family members...the best ones are basically dessert. Here is one version of this delicious dish from "Add A Pinch":
Ingredients:
5 cups cooked sweet potatoes, mashed (about 5-6 medium sweet potatoes)
1 cup granulated sugar
8 tablespoons butter, softened
1 1/2 teaspoons vanilla extract
1/2 cup milk
2 eggs
For the Topping:
1 cup brown sugar packed
1/2 cup all-purpose flour
1 cup chopped pecans
4 tablespoons butter, softened
1/2 cup mini marshmallows (optional)
Directions: 
Preheat oven to 350º F. Scrub sweet potatoes and boil or bake in the oven until tender.
Cool, peel and mash the sweet potatoes.
Stir in granulated sugar, butter, vanilla, milk and eggs, mix well.
Pour mixture into a 9×13 casserole dish or individual dishes for serving.
For the topping:
Mix brown sugar, flour, nuts and butter together and spread evenly over sweet potato mixture.
Cook for 30 minutes until topping has browned. If using mini marshmallows, add them the final 10 minutes of baking. Remove from oven and serve.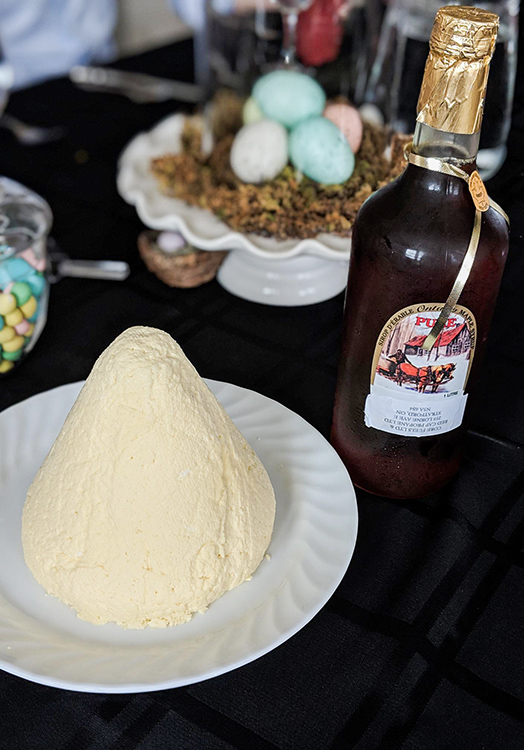 Egg Cheese
Submitted by: Kristen
If you're looking for something obscure but traditional, egg cheese may be your answer. It's an acquired taste, and is most popular with people who grew up eating it. On the positive side, our spouses say its "just an excuse to drink fresh maple syrup" ... and how can that be bad? :)
Ingredients:
2 quarts sweet milk (use whole milk)
1 pint buttermilk or sour milk
1 tsp salt
½ tsp sugar
8 eggs
Directions: 
In a large pot, bring sweet milk to boiling point.
In a separate bowl, beat eggs lightly.
Add sour milk, salt and sugar to the eggs. Beat lightly again.
Pour egg mixture slowly into hot sweet milk.
Cover with a lid and let stand several minutes. Stir slowly until separates.
Remove cheese from pot with a ladle with holes or a colander. When set, serve with syrup.
May you be blessed by hope this Easter...
We hope you will build lasting bonds, experience renewed faith, and have many meaningful conversations with those you love this Easter weekend. Consider sharing one of these recipes with a friend or family member - you can each cook it at your own homes, then maybe even share dinner over a video chat. This Easter, we get to get creative, and we hope you can find joy (and a full stomach) in starting off with these delicious dishes. Take care!