Custom Kitchen Renovation, Oakville
We are honoured to be featured by House and Home to highlight this vibrant kitchen project.  Interior decorator Tami Grace Van Dyke and Chervin Sales & Designer Marie McKinnon worked together to create this dynamic space using custom cabinetry. Discover all the details and inspiration behind this kitchen space. 
---
The Design Approach
Tami and the client, Allison, both have a love and passion for colours, fabrics, and art. This greatly influenced the design and finish selection of this kitchen space. When Tami and Allison started to talk about a plan, Tami knew Chervin was the right fit for this project and started the process with Marie early on. When you start a new project, you want a company you can trust –putting your faith in Chervin will pay off in all areas. At Chervin, our main goal and promise to our clients is to "Do unto others as you would have them do to you."
I work a lot with Chervin, just a great professional group of fun people - There was no question for me that we were going to use Chervin.
The Concept
Both Allison and Tami adore colour; This was a driving inspiration in the design of this space. We see a lot of white – it is so refreshing to see some risk and colour in millwork design. Colour brings so much life into a space. Tami describes "We chose an eggplant-aubergine-purple colour; It was a colour that brought interest but was neutral enough to tie in so many of the decorative accessories and items Allison has. Alongside the purple, we also chose this deep greyish blue with a higher gloss to add an accent and tie everything together."
A face frame style of cabinetry creates an elegant and clean look. Inset face frame kitchens feature doors and drawers that fit inside and are flush with the cabinet face frame openings. This method of construction requires time and precision, making this a more expensive style of cabinetry. The space has a very sophisticated feel when using the frame-inset style. It can be paired with any door style to create an absolutely beautiful look just like in this space.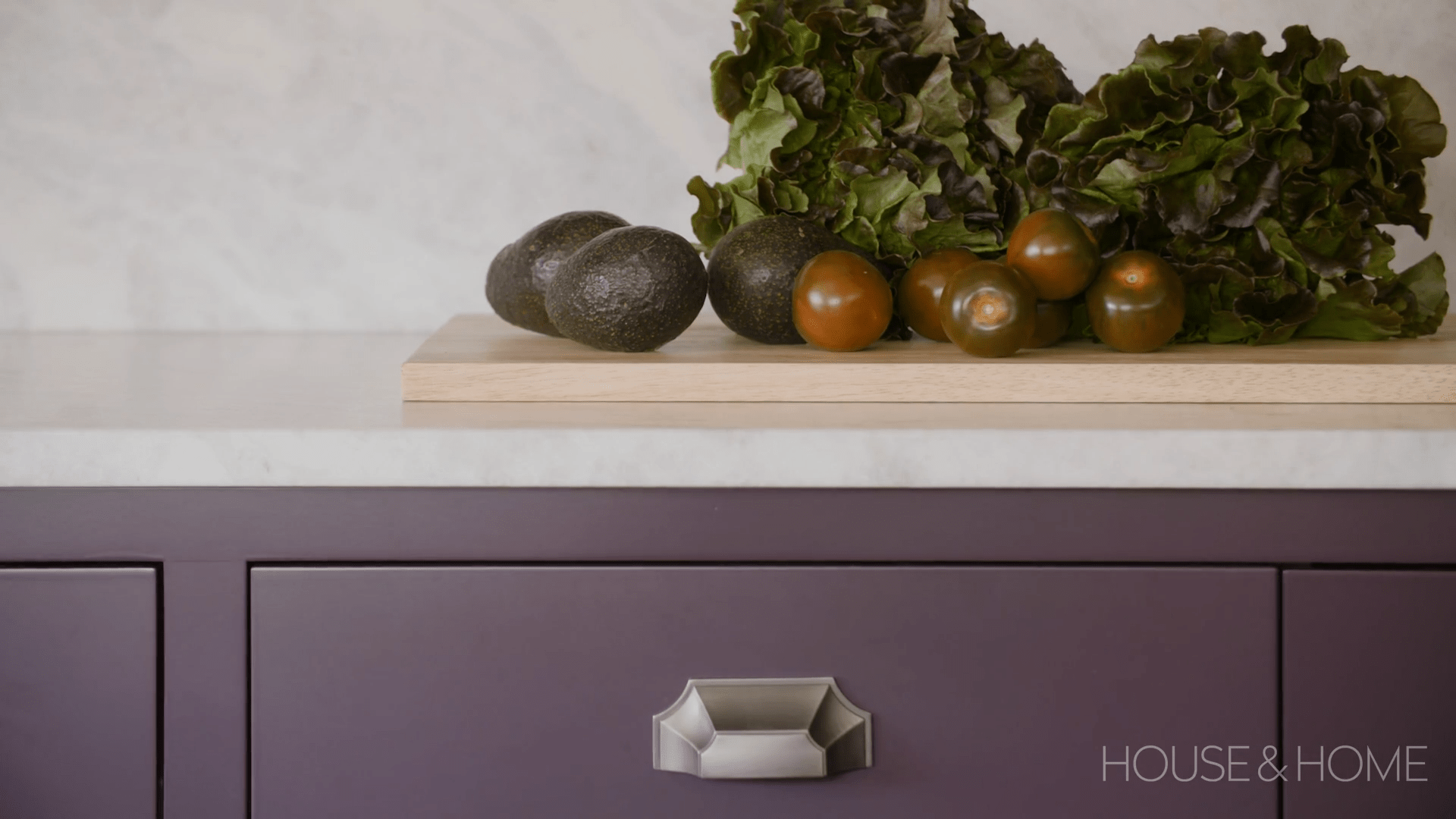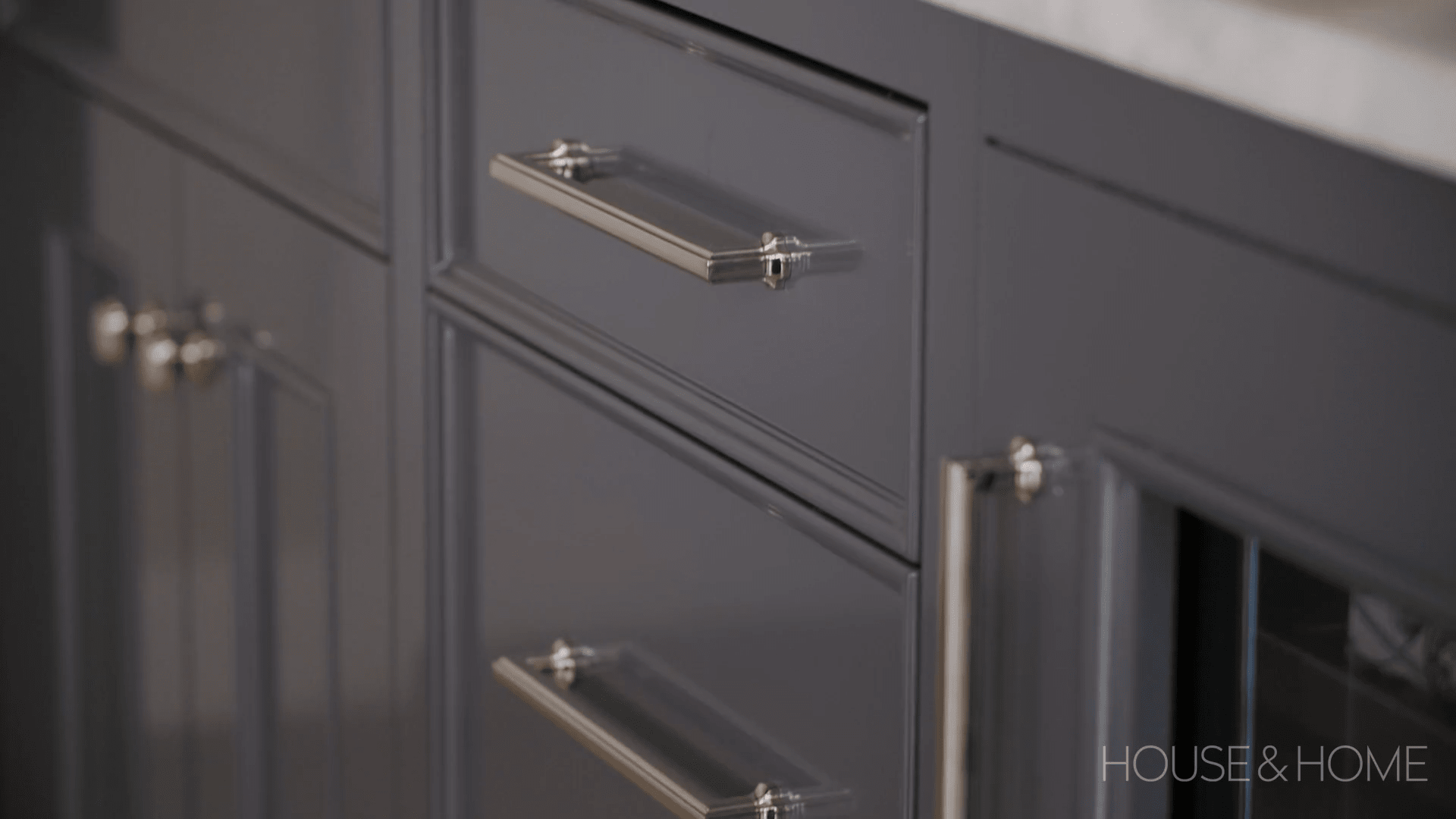 The Purpose
Marie explains, "Designing a kitchen space around a work triangle is not as common as it used to be.  Most have morphed away from using that terminology and focused more on breaking up space into sections. I focus on zones when designing a space. A few main ones are cleaning, prepping, and storage."
The sink area is the cleaning zone, with garbage and storage below the sink for cleaning supplies.
Your countertop work surface, cooktop, and stove make up the prepping zone.
Storage zones account for your refrigeration space and pantry cabinets.
Each zone will reflect your own personal preferences and day-to-day routine. When you focus on dividing up zones instead of the working triangle, you can better address those specific needs to make your space more efficient and customized to you.  When designing your cabinetry with Chervin, we discuss zones, wants, and needs to decide the perfect place for everything. It's an important part of the process. For our client's space here- inside every door and drawer there is a particular function. Life is much easier when everything is readily available where you need it.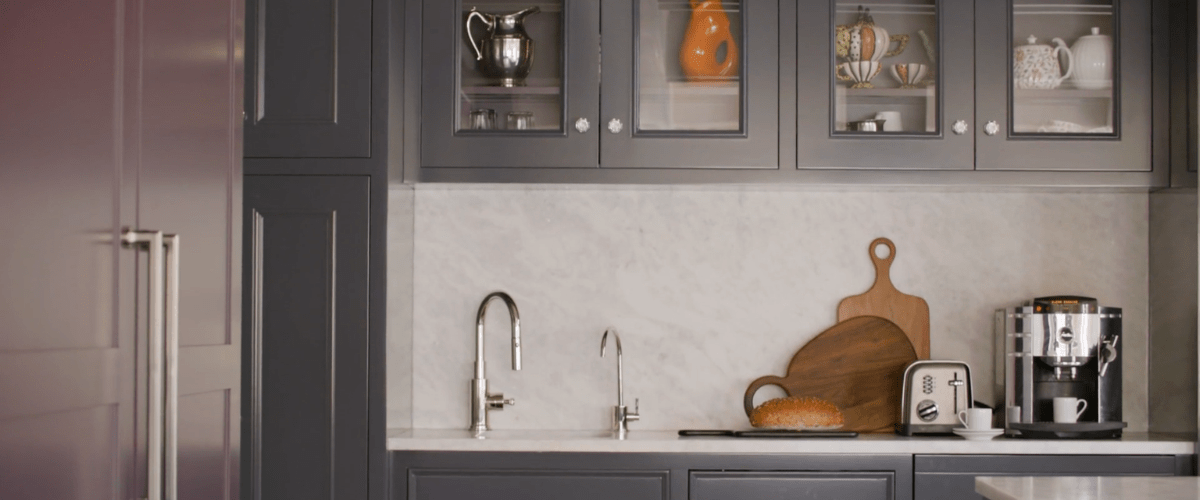 The Details
At the sink or cleaning center-we have a roll-out garbage bin, with a concealed drawer above for paper towels.  There is also an exposed built-in paper towel holder beside the range at the back of the island. All along the cooktop side and on the back wall is everything our client would need in that area to be handy. 
Each person has their own version of normal. We all have preferences or specific ways of storing or doing things- when you go custom- you can guarantee that those specific needs will be met. The greatest thing about customization is making everything a perfect fit for you. 
"I always like to try and keep my silverware and my dishes all together- and near the cooking center- spices, knives, and cutting boards. For potatoes and onions, you want to have that airflow for them so there are some lovely baskets on the backside of the island as well", Marie comments.  
This kitchen features many customizations to suit our client's style:
♦ Custom Match Paint
♦ Organizational Accessories 
♦ Glass Panel Inserts 
♦ Decorative Wire Mesh Inserts
♦ Custom Colour Match Interiors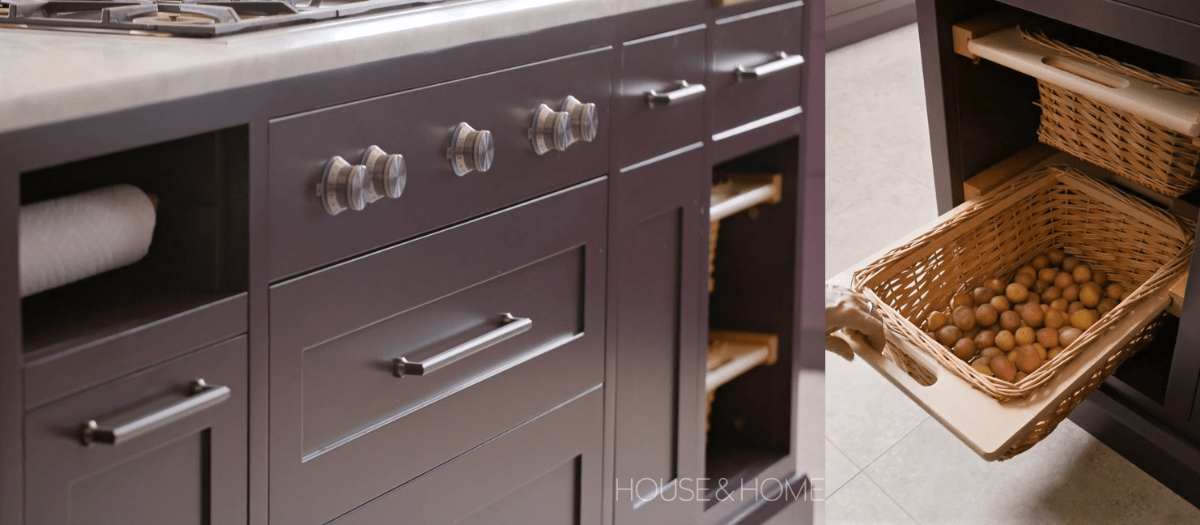 The Process 
Tami notes, "One of the practical choices with this design is that we incorporated a great pet zone- with storage for food, treats for puppies, and all the bits and pieces for the cat. It was important that this be stationed in an area that was easy to get to but also gave us the option for how we wanted to store things."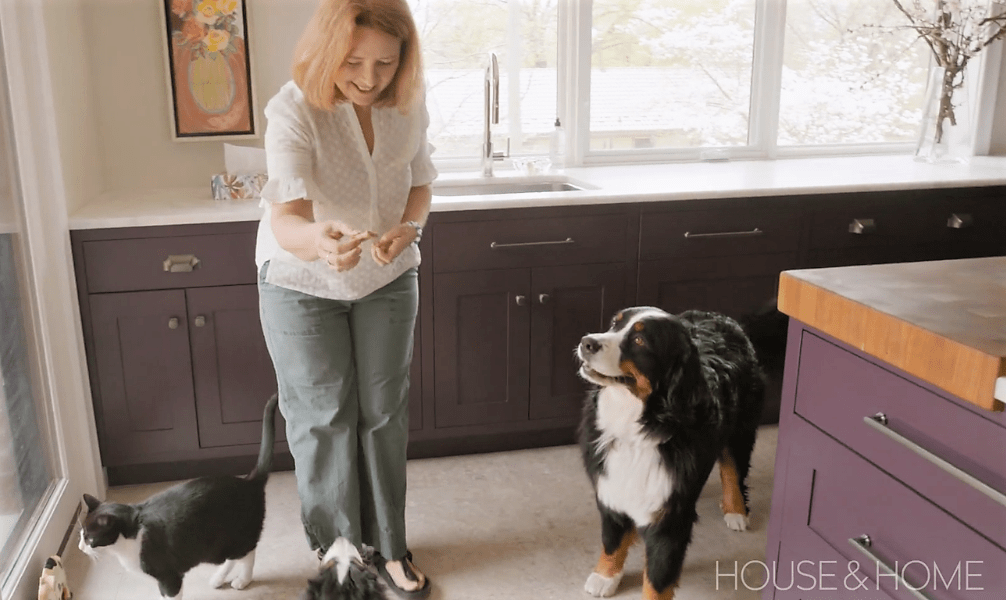 This island is over 17 feet long and topped with quartzite- not only is it a statement, but it functions as a great work surface and seating space. A rich cherry cutting block on the end - was a subtle way to incorporate cherry wood - that is also found throughout the rest of the house. The butcher block was an ideal way to include a wood element without doing wood cabinets. One end of the kitchen features a grey-blue coffee bar and pantry area with extra storage and glass cabinetry. This wall creates interest and defines the space with the rich colour and higher gloss finish.  The custom interiors of these cabinets marry the space together- the purple mesh exterior has a blue-grey interior and vice versa - A fun detail.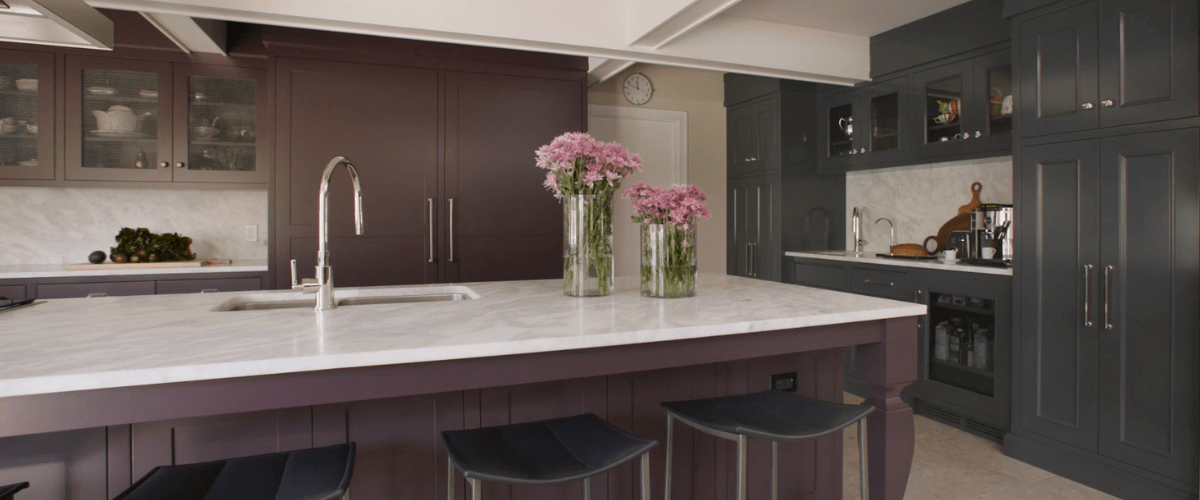 The Challenges
This space did come with some challenges – as far as working with existing ceiling heights, wall constraints, and other limitations. Collaborating with a fully custom cabinetry group like Chervin allows you to work around these limitations to make your cabinetry flow and fit perfectly into your space. Whether you are building a new home or renovating an existing one- we can work with you to design your cabinetry according to any specifics. 
---
At Chervin, teamwork is one of our core values - we believe that together we can accomplish more. 
---
The Final Results
We see the trend of coloured cabinetry on the rise and not just hidden in the powder room- but in more visible rooms like the kitchen or laundry room.  Clients are starting to take a little bit more risks and embracing colour –It is exciting to see more and more unique colour choices and combinations being selected.  This kitchen is a spectacular and fantastic presentation of taking some risks.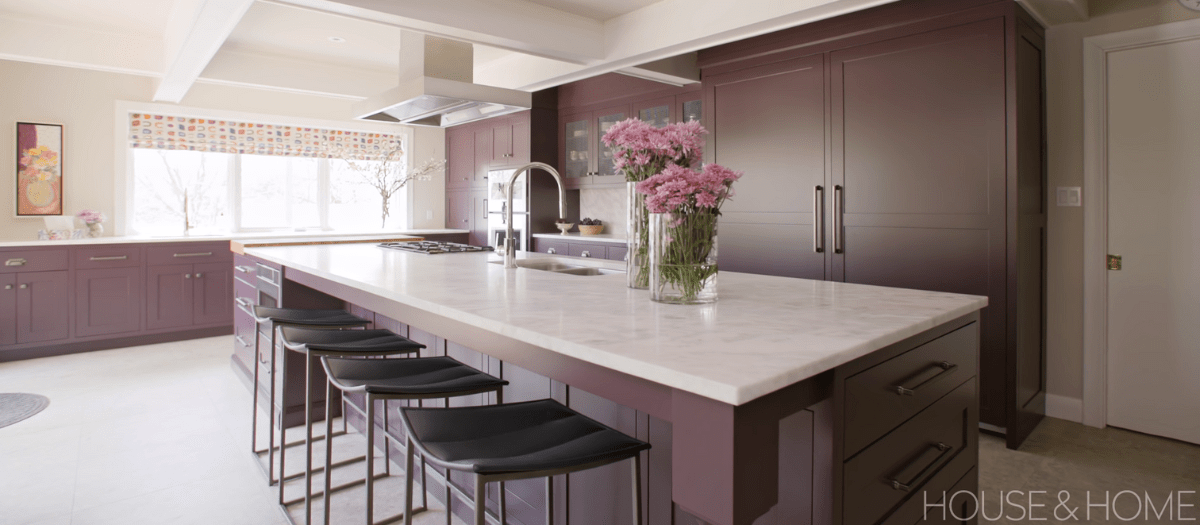 Inspired by the possibilities?
Learn more about our core values and why Chervin is the perfect fit for you!