Custom Home Renovation, Oakville. 
Unveil the captivating marriage of style and functionality in this light, bright, and airy transitional kitchen and home renovation. Discover the beautiful combination of stained white oak and white cabinetry accented with black elements that make this space come alive. 
---
 
Our clients, a family of four with two teenage daughters, initially approached Chervin with the goal of creating a family-friendly, open-concept kitchen ideal for entertaining while maintaining a bright, airy atmosphere with a focus on architectural design. The original house was outdated, dark, and had a chopped-up layout.
Through the collaborative efforts between Chervin, Dan O'Brien of Calibre Design & Build, and the interior design expertise of Baudit Interior Design, the outcome surpassed expectations, resulting in a stunning, light-filled, and functional home and kitchen space. 
With a transitional design in mind, Chervin Kitchen & Bath created custom cabinets for the whole home, including the kitchen, vanities, upstairs and basement bar, and living spaces.
| | |
| --- | --- |
|  PROJECT DETAILS | |
| City: | Oakville |
| Residence Type: | House |
| Services Provided: | Custom Cabinetry (Design, build, install) |
The Design Approach
Our goal was to create a family-friendly, open-concept kitchen that seamlessly blends architectural design with a bright and airy atmosphere, fostering an ideal space for entertaining. This vision extends beyond the kitchen, ensuring a cohesive flow of cabinetry throughout the entire living space.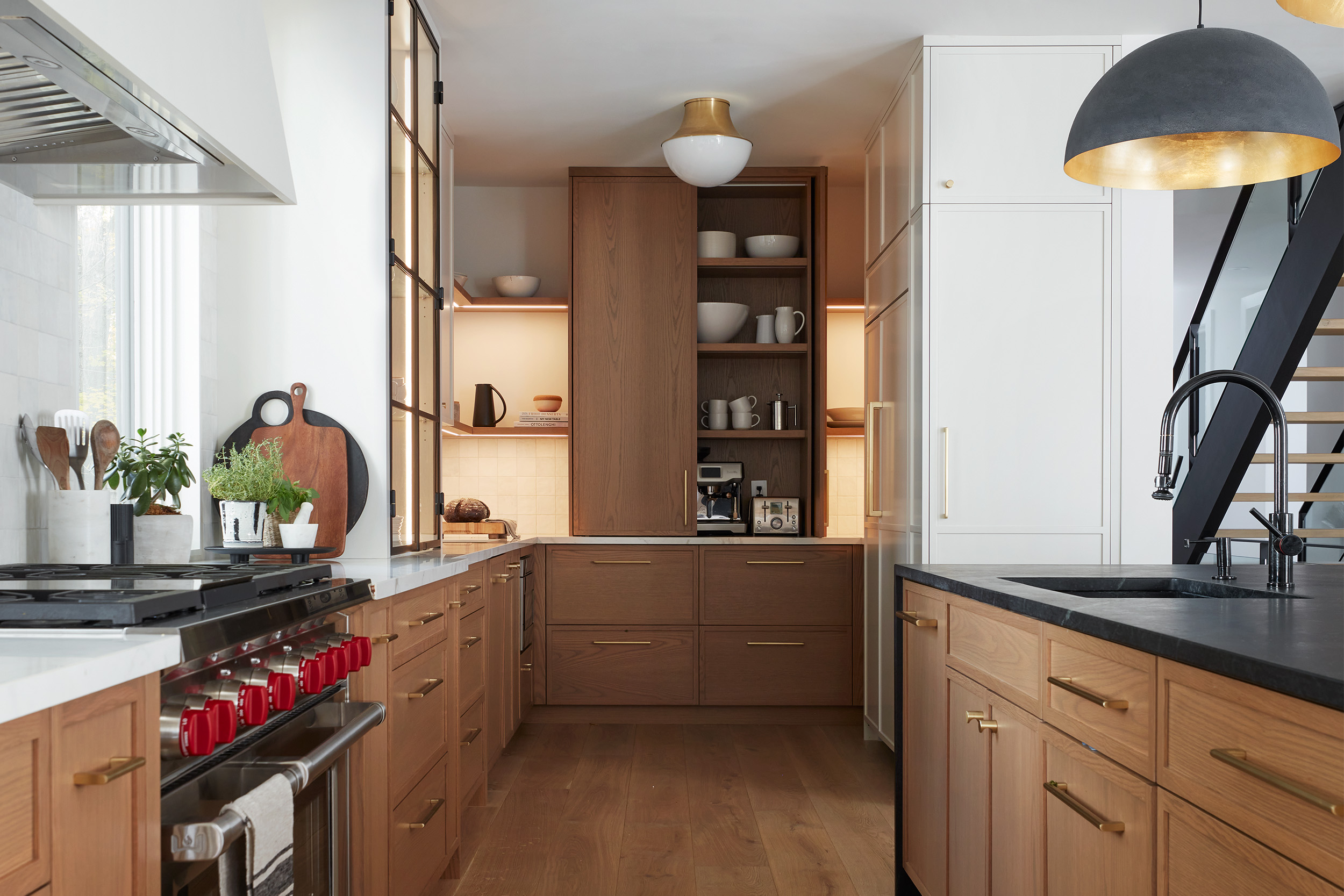 The Concept
The kitchen design was based on our client's desire to make it the main focus of their home. They desired a countertop hutch with grab-and-go storage, featuring powder-coated metal doors as the standout element, inspired by Chervin Kitchen & Bath's Oakville showroom. To create a luxurious appearance while managing costs the cabinet interiors were painted, with only the doors made of metal, resulting in a rich and luxurious aesthetic. 
The Layout
The kitchen layout is long and open, providing an uninterrupted view of the island, range, and countertop hutch wall, which serves as the main focal point. This strategic design decision ensures that potentially messy items remain hidden from sight. In addition, the side of the panelled fridge has been thoughtfully utilized for functional storage instead of a simple end panel, maximizing the kitchen's efficiency.
Sales & Designer Catherine and Baudit's Interior Designer worked together to add an open display at the end of the island. This enhanced the design and provided an opportunity for visual interest and storage. The utilitarian aspects of the kitchen were pushed into the pantry, allowing the range and island to command attention.
A pantry in the back kitchen area features a pocket-door coffee station and open shelving with integrated lighting. The coffee station has finished white oak interiors with hidden lighting, creating a focal point when the doors are open. A panelled refrigerator accompanied by a conveniently located shallow pantry around the side offers effortless access to food essentials.  The top doors above the pantry feature clear glass, adding a touch of elegance.
The Purpose
To create custom cabinets with superior craftsmanship and elevating style, improving organization and functionality with a transitional style and a focus on architectural design elements.
---
At Chervin, Quality is one of our core values – We always strive to produce the best.
---
The Materials
The countertop on the kitchen island is a natural soapstone, an unconventional choice that added a touch of uniqueness. Although soapstone requires regular maintenance, our client embraced it for its natural and distinct appearance.
The predominant material utilized is rift-cut white oak, infusing the living spaces with a warm and inviting ambiance, while tastefully incorporating black elements to create a striking contrast. The daughter's vanities showcase a stunning white corrugated fluted door style, paired with sleek tab pulls to create an elegant and tranquil feel.
The Challenges
The project experienced minimal design shifts, with slight modifications to the kitchen island, removing one waterfall side and turning it into an improved open display end. The original plan of having a plastered range hood turned into a painted shell instead.
Initially planned as a renovation, the project encountered a delay of over a year due to issues with the original house structure. However, the extensive structural work undertaken essentially transformed it into a new build home. Chervin tackled this challenge by ensuring effective project management and timely coordination with other trade professionals involved in the renovation process.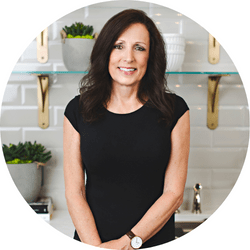 "When designing a kitchen or any living space, creating a focal point is key!"  

Establishing one or multiple focal points is crucial for attaining a harmonious and visually pleasing design. By strategically planning these focal points, one can effectively steer clear of unintended visual distractions. Purposefully creating focal points allows for greater control over the flow and overall aesthetic of the space. 
- Catherine Heasman, Chervin Kitchen & Bath (Oakville)
Designer Collaboration
The design synergy between Chervin and Baudit Interior Design was seamless, with a focus on professionalism and an exceptional eye for detail. Baudit's sophisticated style extended throughout the project, incorporating furniture, wall detailing, and everything in between. 
Why Chervin?
Our clients were referred to us by their builder, Dan O'Brien of Calibre Design Build, who had positive experiences working with us previously. Recognizing our commitment to quality construction, design flair, and excellent customer service, Dan recommended us for their kitchen project. The clients were further convinced by our strong reputation and impressive showroom displays, solidifying their decision to choose us for their custom cabinetry needs. 
---
The Final Results
The clients were thrilled with the results, as they surpassed expectations by delivering a functional and elegant space for their family's lasting enjoyment. 

The collaborative partnership between Chervin, the home builder, and the interior designer brought a remarkable transformation, turning an outdated house into a luxurious transitional haven. This achievement highlights the remarkable power of teamwork in crafting exceptional interior spaces.
Start Your Journey: Get in Touch!
Looking to bring your dream space to life? Contact us or visit our showroom today to kickstart your project!