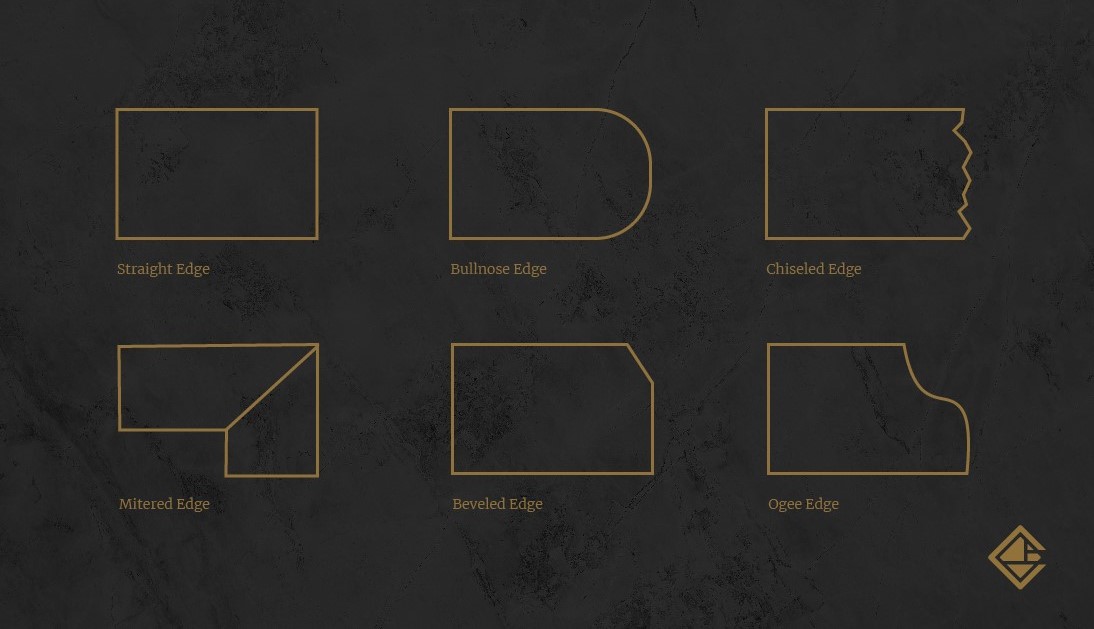 Countertop Edge Inspiration in Oakville, Muskoka, and Waterloo
---
Now that you've decided whether you're going with wood, quartzite, granite, quartz, marble, or another material for your countertops, you have the opportunity to select your favourite edge profile to finish the look.
The countertop edge profile - the design or cut of the side view of your countertop - may not take up a lot of space in your kitchen or bathroom, but it can absolutely steal the show and define the overall feel of your space. Your decision may be entirely based on style and aesthetics or you may decide based on practical factors. Whatever you choose, countertop edges have the potential to beautifully magnify the rest of your design choices and make your space truly unique. Here are some of the most popular and foundational countertop edge profiles for you to consider... 
All edge profile close-up samples below are courtesy of Cambria Quartz. Visit their countertop edge profile page for more information and brand-specific titles.
Straight Edge
The straight edge countertop is the most popular edge profile currently, and the one we recommend most often. Straight edge countertops can come in a variety of thicknesses and really work well in almost any setting. 
Straight edge countertops are easy to maintain, look clean and contemporary, and age well. They are simple enough in design to transition smoothly through different styles and eras. They also let your chosen material speak for itself with few structural details to compete with the innate beauty of the stone or wood.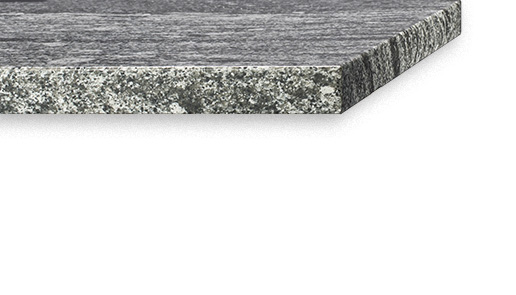 Mitered Edge
The mitered edge countertop can add a lot of drama to your space. A mitered edge is defined as two (or more) pieces of stone being joined together to achieve a much thicker profile, without adding the excessive weight (and cost) that would be associated with a solid piece of stone that thick. 
With a mitered edge countertop, you'll want the overall countertop depth to be at least 2" thick, or thicker, depending on the depth of the original stone. This allows the statement to really come through and become the star of your kitchen (without being overwhelming).
Ogee Edge
The ogee edge countertop is by far the most traditional and formal edge profile you can choose. If you want to create a space that gives off a more regal aura, you may want to consider one of the many variations on the ogee that are available. Ogee edge design features a beautiful, multi-step structure, that can come in a variety of degrees of roundness and even be inverted, depending on where you want the emphasis to be placed. 
But, beware that an ogee edge countertop is one of the least forgiving. With so many levels and edges, this countertop demands more attention when it comes to cleaning and overall maintenance. It does, by its very nature, also stick out beyond the main countertop surface, which means a little more to navigate around when you're working in your space.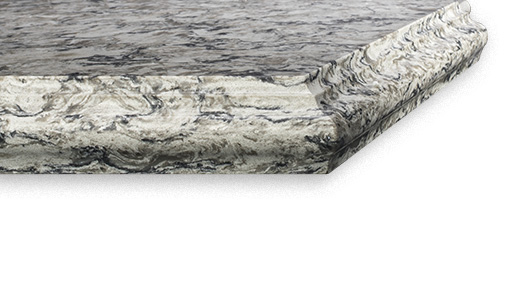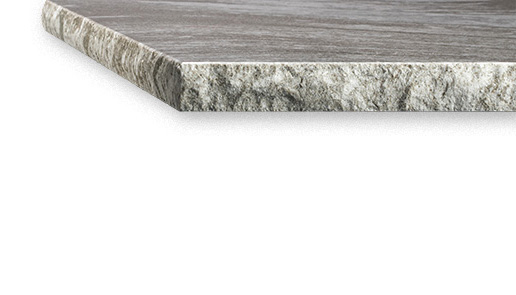 Chiseled Edge
The only edge that requires even more maintenance than the ogee is this - the chiseled edge countertop. Made to showcase the natural roots of the stone surface, chiseled edge countertops are full of bumps, cavities, and endless texture. Use caution when cooking and mixing on this type of countertop - the clean-up will be far more onerous than a straight edge will ever be. 
That being said, it is perhaps one of the most striking and beautiful countertop edge profiles available, particularly in spaces with other rustic elements or natural materials. A chiseled edge countertop brings character, stability, and presence to your kitchen like no other profile could. 
If you are choosing a wooden countertop, a Live edge provides a similar feel to the chiseled stone edge and can be particularly striking! 
Beveled Edge
A beveled edge countertop is a great option for someone looking to add a little extra detail, without increasing the budget (or formality) too much. Almost any countertop thickness can accommodate a beveled edge and add a finishing touch to a clean and simple design. 
In addition, you can choose variations on the beveled edge countertop, which includes beveling on both the top and bottom to create a balanced, slightly geometric design.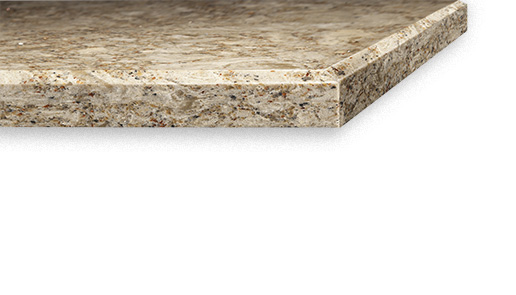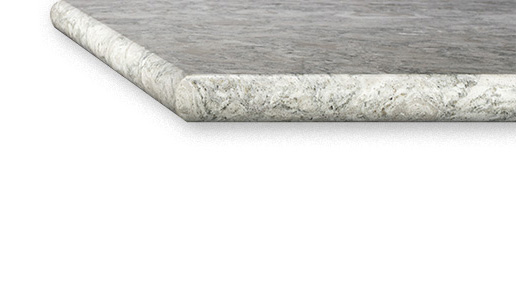 Bullnose Edge
The last basic edge profile you need to know about is the Bullnose edge countertop. This edge is characterized by its smooth, rounded design - simple, but tasteful, with a gentler look than a straight edge. While a bullnose edge countertop can be used in any part of the home, it is often a popular choice for bathroom vanities. 
Bullnose edges can be full (as shown to the left), 1/2, or 1/4 size. The latter two of which feature the curved edge near the top of the counter and finish off with a straight edge by the bottom of the countertop. These variations let you tailor the look and angles of your countertop to your personal preference. 
In addition to these traditional edge profiles, there are lots of options for making your countertop unique and stunning. Adding a waterfall edge, differing the thicknesses of your island and perimeter countertops, extending the countertop material up the wall as your backsplash, intersecting two materials like granite and a wood butcher block...There are so many options out there and we're committed to helping our clients find the perfect combination for their lifestyle, tastes, and space. We can't wait to explore the possibilities with you! 
Countertop Edge Profiles FAQs
---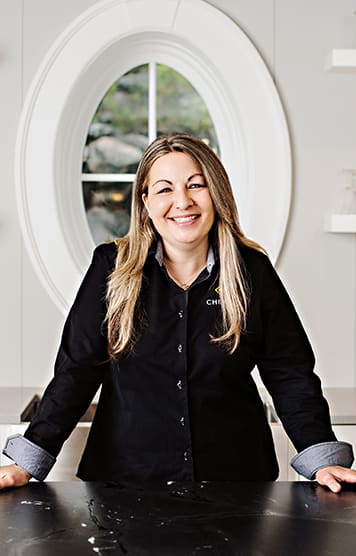 Meet The Author
Lisa Weber works as a Sales & Design Associate at the Chervin showroom in Muskoka.
Lisa is happy to work with a company that focuses on communication.
Design, according to designer Lisa Weber, shouldn't cater to industry trends; it should be customized to the owners of the property. Relationship takes top priority.