In the world of interior design, creating functional yet charming spaces to maximize your space is a constant quest. One such endeavour has led us to discover the magic of hidden nooks nestled under staircases. For those seeking under stairs ideas, an under stairs bench offers the perfect opportunity to create a cozy retreat and even a stylish focal point for a typically unused space.

Read along and discover how to create a hidden nook in your home with the under stairs bench.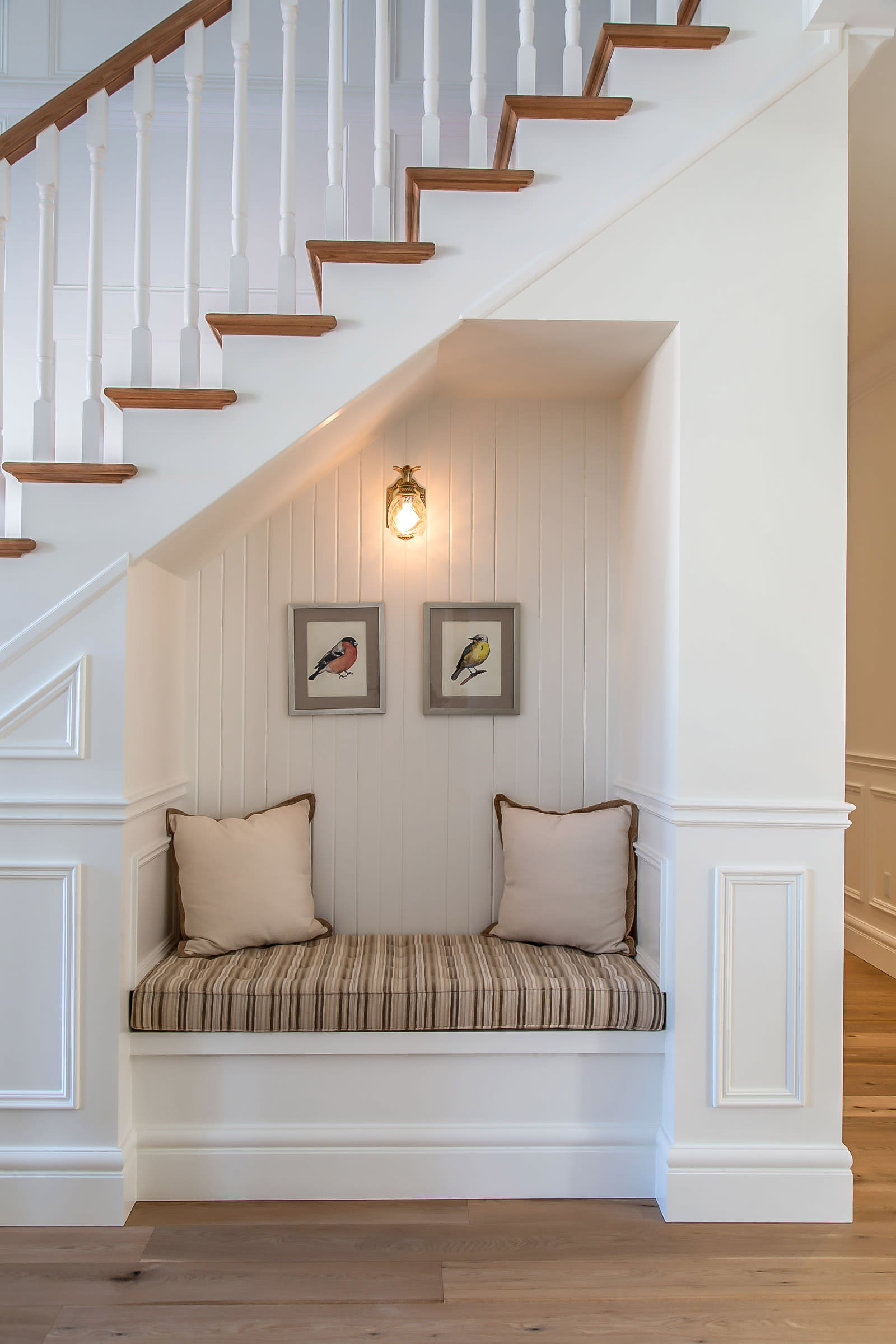 The Appeal of a Hidden Nook Using an Under Stairs Bench
One way to transform the often-neglected space under the stairs is by creating a hidden nook with an under stairs bench. This creative solution not only maximizes your home's potential but also adds a touch of charm and functionality to your living space. An under stairs bench nook provides a sense of escapism, a quiet corner where you can curl up with a good book, sip a cup of tea, or simply retreat from the hustle and bustle of everyday life.
Project Morrison B's under the stairs project is a popular project for under stairs bench inspiration – and we see why!

This cleverly designed under stairs bench adds a delightful and captivating touch to any home, turning an otherwise neglected area into a charming reading nook for a cozy afternoon escape.
 
Let us elaborate on how to create a cozy hidden hook using an under stairs bench like this one!
Creating a Hidden Nook in Your Home with the Under Stairs Bench
Assess the Space
Before embarking on your under stairs bench project, carefully assess the space under your stairs. Measure the dimensions, consider any structural constraints, and take note of potential obstacles like electrical outlets or pipes. Understanding the space is crucial for effective planning.
Our Sales & Design team will visit your home to make measurements on-site to understand the project constraints and potentials.  
Design Your Under Stairs Bench with Purpose
Start by envisioning how you want to use this hidden nook. Is it a reading corner, a mini home office, a pet's cozy spot, or a place to meditate? The design of your under stairs bench should align with its intended purpose. For instance, if you're creating a reading nook, consider adding built-in bookshelves or installing overhead lighting.
This under the stairs nook we completed with Deanna Design is a book worms dream! The shelving storage under stairs is perfect to fill with books or even small décor pieces. Plus, the cushioned under stairs bench and throw pillows makes this reading nook under the stairs the perfect retreat!
Customized Seating for Your Under Stairs Bench
Crafting a custom-built bench or seating area is essential for maximizing the space under your stairs. Customization allows you to make the most of the available dimensions and ensures a snug fit. Consider built-in seating with cushions for comfort along with adding throw pillows for extra comfort.
Our team is here to help create an aesthetic custom under stairs nook that maximizes your space and fits your lifestyle and needs.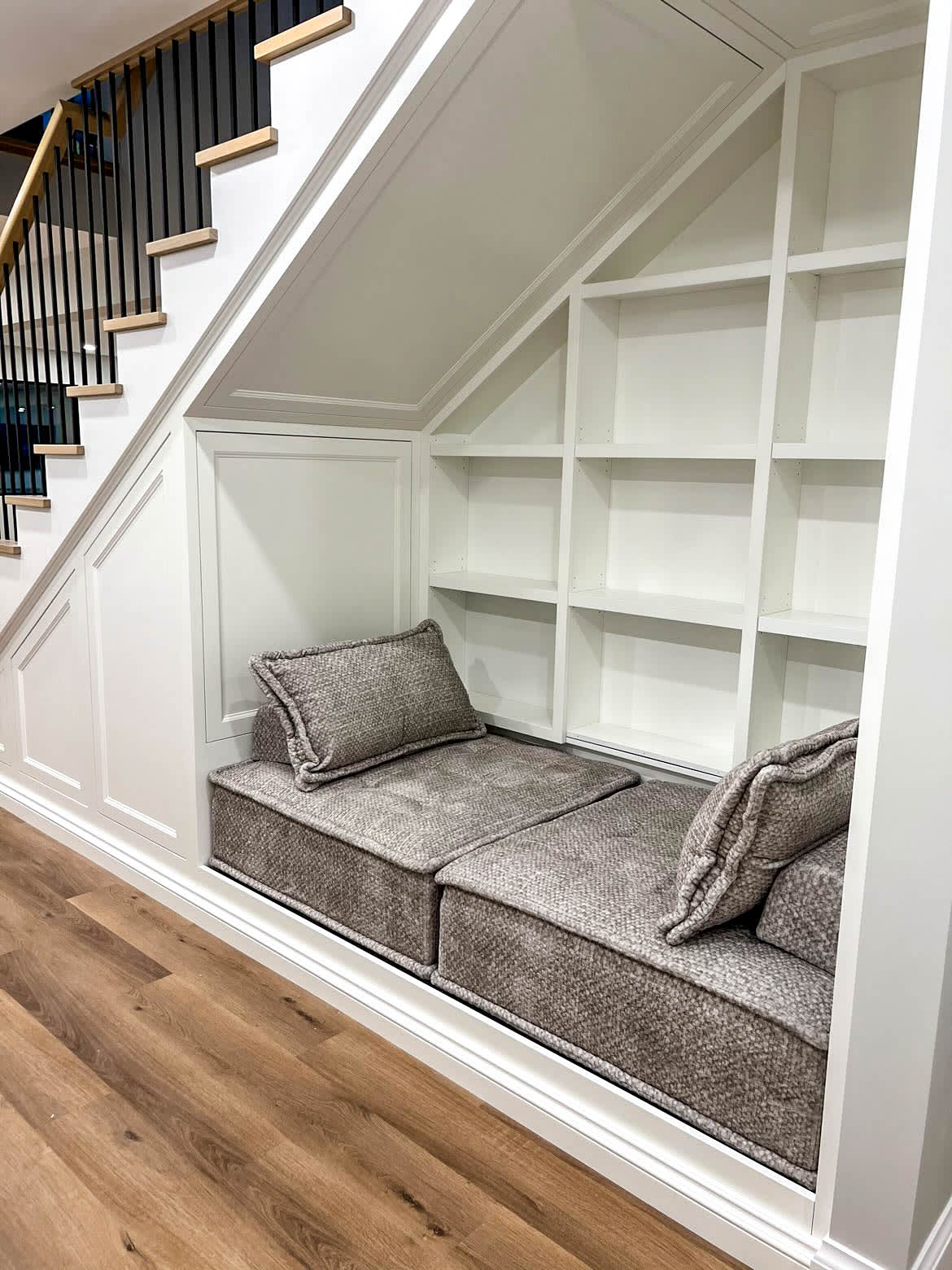 Storage Under Stairs Solutions to Incorporate Into your Under Stairs Bench
A bench under stairs is perfect even for those looking for under stairs storage ideas. Make the most of your hidden nook by incorporating smart storage solutions. Utilize the space beneath the bench for drawers or cabinets to stow away blankets, books, or any other items that would otherwise clutter your living area.
Chervin Kitchen & Bath's custom cabinetry presents an ideal solution for optimizing storage within the under stairs area, seamlessly integrated into your under stairs bench nook. Contact out to our team to get started on your under stairs nook with storage project.
Choosing the Right Materials and Colours
The materials and colours you choose for your under stairs bench will play a significant role in determining the overall look and feel of the space. When working with Chervin, we consider the existing colour palette and materials in your home to ensure a cohesive design. From wood to upholstered fabrics, the right selection of materials can enhance the under stairs bench's appeal and ensure it harmonizes with the rest of your decor.
Adding Personal Finishing Touches
Make your hidden nook truly yours by adding personal touches. Decorate with cushions, throws, artwork, or even a small side table to hold a cup of tea or your favourite plant to reflect your style and personality. These finishing touches will make the nook feel inviting and unique.
Lighting for your Under Stairs Bench Matters
Proper lighting is crucial to enhance the ambiance of your hidden nook. Consider adding a small pendant light, wall sconces, or even fairy lights to create a warm and inviting atmosphere. Adjustable lighting can also provide flexibility for various activities.
More Under Stairs Ideas to Maximize Your Under Stairs Space
While creating a hidden nook with an under stairs bench is a fantastic way to utilize this space, there are plenty of other under stairs ideas to explore.
For those who do not want to personally utilize the under stairs area, storage under stairs is a perfect use of the space that maximizes your storage potential.  
An under stairs storage idea that truly maximizes space and adds a touch of sophistication is the incorporation of custom cabinetry. By utilizing custom-built cabinets that seamlessly fit the unique contours of the space beneath the staircase, you can create a sleek and organized storage solution, like Project Bridle Path's under stairs storage closet shown above.
These cabinets can be designed to accommodate various needs, from concealing household clutter to storing books, shoes, or even a wine collection. The beauty of custom cabinetry lies in its ability to blend seamlessly with your home's overall aesthetic while offering a highly functional and tailored storage solution that makes the most of otherwise underutilized space.
An Under Stairs Bench Nook Brings Comfort AND Storage to Your Home
The under stairs bench presents a world of creative possibilities to enhance your home's functionality and aesthetics. Whether you're yearning for a cozy reading nook, additional storage, or a versatile workspace, this often-underutilized space can become a stunning and practical addition to your home.
Let's embark on this exciting journey! If you aspire to convert your under stairs space into a snug and stylish under stairs nook, efficient storage, or perhaps a delightful combination of both, don't hesitate to connect with our team. We're here to help you transform that underutilized under stairs area into something truly remarkable.
Let's start your under stairs project!
Our team of experts can bring any vision to life.
Connect with us. Set up an appointment with one of our design experts to get started on turning your dream project to reality.