Bathroom Renovation

Let Chervin Kitchen & Bath in Waterloo, Muskoka and the GTA help to create your ideal bathroom and powder room space with cabinetry that perfectly fits your space.
Unique Space, Unique Cabinets
Bathrooms and powder rooms have a unique place in the home – while they are highly utilitarian, they are increasingly a place for serenity, relaxation, and a true expression of character. Bathrooms can be luxurious, streamlined, vibrant, tranquil...virtually any experience you want can become a reality with the right flooring, lighting, and custom cabinetry!
Nothing is standard for us, so don't be afraid to bring ideas for what would best meet the needs of you, your family, and your guests. Floating or furniture-style, subtle or bold, integrated with hutch and mirror or independent, we'll make sure your vanity is the perfect fit for your practical needs and personal desires.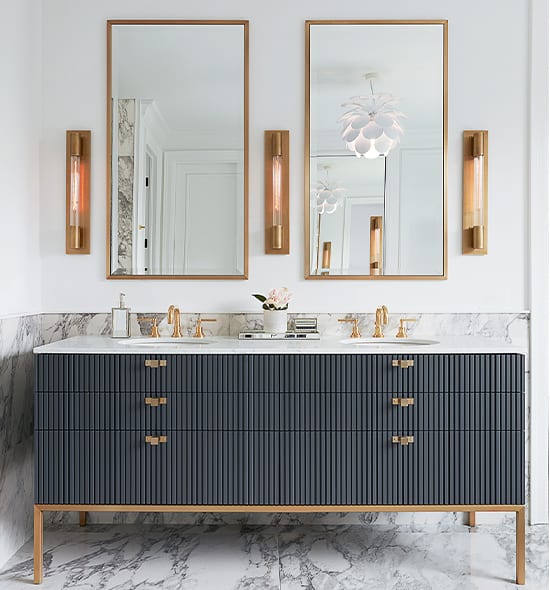 Two friends highly recommended your company. We were totally pleased with all aspects of the kitchen. Thank you.

Thank you so much. We love our new kitchen and have received many compliments on it. Everyone at Chervin was extremely helpful and accommodating with changes to design, etc. Special thanks to our designer and installer!

We heard about Chervin verbally from someone who said that they had a strong reputation for high quality installations. Excellent showroom and service.

A major kitchen renovation can be a very stressful process, both in the planning and design stages as well as during the actual construction and installation. Chervin staff, without exception, were helpful, constructive, and very pleasant to deal with at all stages in the process. Thank you so much!

I am impressed with the quality of the product and the service provided. Everyone was professional and made every effort to answer my questions. Thank you for putting the customer first.

Thanks to our designer for doing such a wonderful job on our cottage kitchen. We are very proud of it, and the kitchen suits our little cottage beautifully.

We currently have Chervin cabinets from 20 years ago in our kitchen. We shopped around and you were the most reasonably priced. Love how the cabinets turned out. Did very well in matching the old ones. Thank-you!

Your Service Technician's artistic skills made the kitchen new again. He exemplifies what Chervin represents: creativity, high integrity, great value, and unparalleled skills and workmanship.

We saw some Chervin cabinets in a friend's home, and also our son and daughter-in-law have a Chervin kitchen. We like your mission statement as it is the way we believe business should be run. May the Lord continue to bless you.

From our first encounter with Chervin, we felt confident having them design our kitchen. We are very pleased with the end result and our working relationship with our designer. He was patient, knowledgeable, and a real gentleman.
Top Bathroom Inspirations | View All ›
$0.00
Rustic Reclaimed Hemlock Wood Vanity
$0.00
Charming White Oak Furniture Style Vanity
$0.00
Angled White Oak Floating Vanity
Have questions?
If you have questions about Custom Cabinetry in Waterloo, Muskoka, and Oakville, or about the various products and services Chervin Kitchen & Bath offers, check out our FAQ page.