Bathroom Renovation

Let Chervin Kitchen & Bath in Waterloo, Muskoka and the GTA help to create your ideal bathroom and powder room space with cabinetry that perfectly fits your space.
Unique Space, Unique Cabinets
Bathrooms and powder rooms have a unique place in the home – while they are highly utilitarian, they are increasingly a place for serenity, relaxation, and a true expression of character. Bathrooms can be luxurious, streamlined, vibrant, tranquil...virtually any experience you want can become a reality with the right flooring, lighting, and custom cabinetry!
Nothing is standard for us, so don't be afraid to bring ideas for what would best meet the needs of you, your family, and your guests. Floating or furniture-style, subtle or bold, integrated with hutch and mirror or independent, we'll make sure your vanity is the perfect fit for your practical needs and personal desires.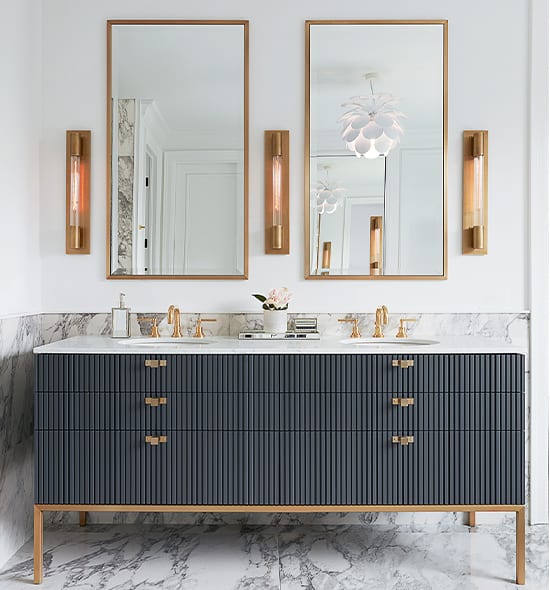 We would like to take this opportunity to thank you for everything you have done to make our cottage kitchen and bathroom so very special! We love the colours, design, quality of workmanship, etc. Your recommendations and guidance was outstanding and we could not have done it without you! We truly appreciate you meeting our timetable as well. All the best!
Top Bathroom Inspirations | View All ›
$0.00
Black + White Modern Farmhouse Master Ensuite
$0.00
White & Pink Kid's Vanity
$0.00
White cottage style main floor bathroom
Have questions?
If you have questions about Custom Cabinetry in Waterloo, Muskoka, and Oakville, or about the various products and services Chervin Kitchen & Bath offers, check out our FAQ page.