Bathroom Renovation

Let Chervin Kitchen & Bath in Waterloo, Muskoka and the GTA help to create your ideal bathroom and powder room space with cabinetry that perfectly fits your space.
Unique Space, Unique Cabinets
Bathrooms and powder rooms have a unique place in the home – while they are highly utilitarian, they are increasingly a place for serenity, relaxation, and a true expression of character. Bathrooms can be luxurious, streamlined, vibrant, tranquil...virtually any experience you want can become a reality with the right flooring, lighting, and custom cabinetry!
Nothing is standard for us, so don't be afraid to bring ideas for what would best meet the needs of you, your family, and your guests. Floating or furniture-style, subtle or bold, integrated with hutch and mirror or independent, we'll make sure your vanity is the perfect fit for your practical needs and personal desires.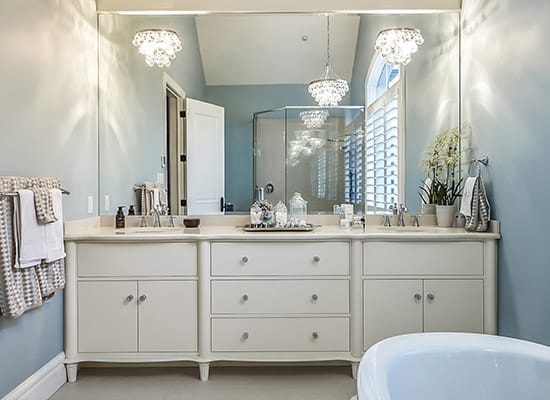 We purchased our kitchen cabinets from Chervin several years ago and continue to be very pleased with the quality, function, and beauty of our kitchen. We were very pleased with the design suggestions for our kitchen cabinets, and also for the bathroom vanity and countertop this time around. Your employees are skilled and very professional.
Top Bathroom Inspirations | View All ›
$0.00
Light and bright basement bathroom
$0.00
Earthy bathroom with caned double vanity
$0.00
Bright and white, cottage style bathroom
Have questions?
If you have questions about Custom Cabinetry in Waterloo, Muskoka, and Oakville, or about the various products and services Chervin Kitchen & Bath offers, check out our FAQ page.