Highly efficient cabinetry blends function with flair.
Article and Images Courtesy of
Dockside Magazine
---
The most important room in many homes is the kitchen. It's a working space and a gathering place to socialize with family and friends.

It's essential that everything flows smoothly and looks fantastic, says designer Kelly Stewart, who recently worked with Chervin Kitchen & Bath as part of a full renovation to her family cottage.

"It's all about family and friends," says Kelly, whose family has owned the cottage since 1982. "The feel and function needed to flow well together, and it does in my cottage kitchen."

Making that happen requires paying attention to the large elements. But sometimes it also comes down to fractions of inches.
Kelly began by creating a sketch of what she wanted. The focus was on entertaining family and friends. She envisioned an open concept kitchen with a leathered granite island, freestanding range, wine fridge and plenty of party space. Working with Chervin designer Kevin Swart, Kelly was able to accomplish her goal.

To make the most of the space and achieve the look she wanted, they decided to use frameless cabinetry. In frameless construction, cabinets do not have a face frame attached to the front of the cabinet box. After they have been installed, all you will see are the shaker door and drawer fronts, providing a sleek, simple aesthetic that can work with many design themes throughout the cottage. This also allows for ease of access and creates more storage space.

To ensure a proper flow to the room, the appliances were integrated into the room in a way that allows an almost assembly-line efficiency. From the main refrigerator to the dining room area, each step leads toward another item needed to host a party. Spices and other ingredients are followed by dishes and utensils, right through to easy-to-grab wine glasses located above the wine cooler. Raw edge wood, sourced from a supplier in Huntsville, was used for floating shelves above the wine fridge to complete the look.
Corner stove
A challenging aspect of the kitchen design for Chervin was Kelly's desire to neatly position a 30-inch stove in a corner. Usually, a stove in a corner isn't the ideal use of space, says Kevin. If it's not done well, it can lead to a great deal of lost storage and an awkward look. But with careful planning, Chervin was able to design and install cabinets tight to the stove. They maximized the space available inside and out without affecting the aesthetics. "In many cases, it can lead to wasted space and a design nightmare," says Kevin. "But, in this case, it does work nicely. It was a case of making sure everyone's on the same page and making sure to stay on top of where pieces fit and need to go."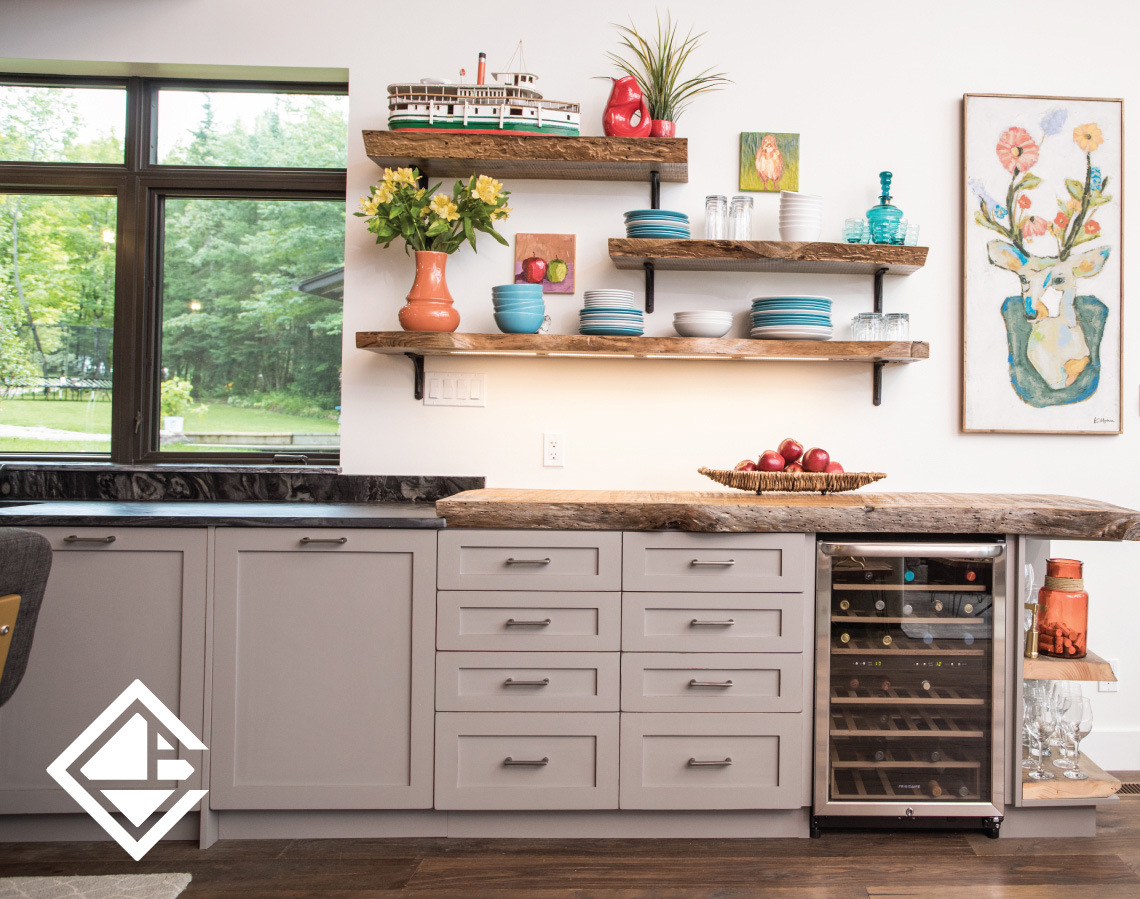 Colour is important, too
Often one can get caught up in colour trends for specific areas of your cottage. Whether it's the classic look of browns and greens or the more spartan whites and blacks which have been recently trendy, it's important to not follow the crowd. Pick a colour which is right for you and your cottage. Kelly did just that.
"I walked in and said 'grey,'" she says. "It just took me a bit to figure out the exact grey."
Narrowing it down to three shades, Kevin created a 12 x 12 sample door. The experts at Chervin know choosing colours from a small sample can be tricky: to get the full picture you need a life-sized palette. Eventually, Kelly chose Metropolis. It has almost a futuristic feel to it and goes nicely with Kelly's updated cottage style.
"Fantastic," says Kelly of the completed project. "It was exactly what I had anticipated and expected."
Plan ahead
Kevin says the kitchen should be the first thing you are thinking about when renovating or building. "Let's say you get a set of plans and they tell you these are where your windows are going," he says. "If you don't change that, then your kitchen design is very limited. You may want upper cabinets, but you can't now because you have windows in the wrong places. It's a good time to come see us at the design phase."
For example, at Kelly's cottage, the backsplash flows right into the window. If the window was set too low or too high, it wouldn't have worked. Also, if there are low beams or a lower ceiling, you may not be able to fit what you originally wanted into the space: everything needs to be in the right places.
"That's why if they come in early enough, we can start working with them to get them their drawings," says Kevin. "If they can start to see it, they can maybe determine why there's value in moving a window or changing a location of the island."
Launched near Kitchener by Kevin Bauman and Marvin Bauman in 1991, Chervin Kitchen and Bath has grown steadily ever since. The company now features two manufacturing plants with a combined 150,000 square feet, capable of producing cabinets to almost all specifications from an astounding variety of materials.
"The kitchen is a pivotal area of your home or cottage," says Kevin. "Today's kitchen cabinets are more than just a place to store food and kitchenware. It's important to design and install a kitchen which compliments the overall style of the cottage or home."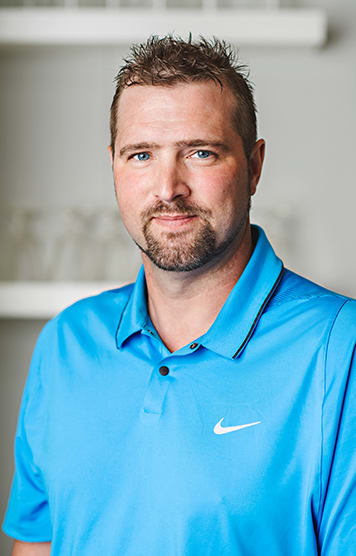 Meet The Author
Kevin Swart is the Director of Sales & Design at the Chervin showroom in Muskoka.
He has been a part of our family for 9 years, and is creative and deeply inspired by nature.
Chervin designer, Kevin Swart, is a passionate believer in cabinetry not only being durable, but designed intelligently with daily ease-of-use in mind.
From beautiful log home-away-from-homes, to glass-walled, lake-side mansions, we have our hands full up in the Muskokas and we absolutely love it! Some of the most unique spaces we work in, though, are boathouses...