Today we're delving into a few quick tips on how to create a hosting space that is entirely your own, including a little bit of inspiration from some of our most creative clients. 
---
Even with all the amazing restaurants and coffee shops out there, there is something extra special about being invited into a friend's home…or inviting them into yours! If you, like us, enjoy hosting on a regular basis, then it may well be time to consider dedicating a space in your house or cottage for entertaining. We're grateful to have worked on a wide range of entertaining spaces over the last 28 years, the most popular being home bars and home theatres. We recently met with our Director of Sales, Jon, to discuss this unique type of cabinetry. Here are his insights on what options and factors you should keep in mind as you start designing and decorating your own dream hosting space:
What style of design is best for a home bar?
I've seen every kind of style used, but modern rustic tends to be very popular, typically with warm or dark finishes contrasted by mirrors and metallic backsplashes. I recently worked on one that featured high gloss finishes, and a 1940's jeep grill that served as a light fixture on the back wall!
Remember to put good thought into the practical design choices, too – incorporating wood dividers for glassware and stemware into your drawers, a multi-tier cutlery drawer, or even a multi-bin pull-out recycling centre, can be excellent choices in an entertaining space.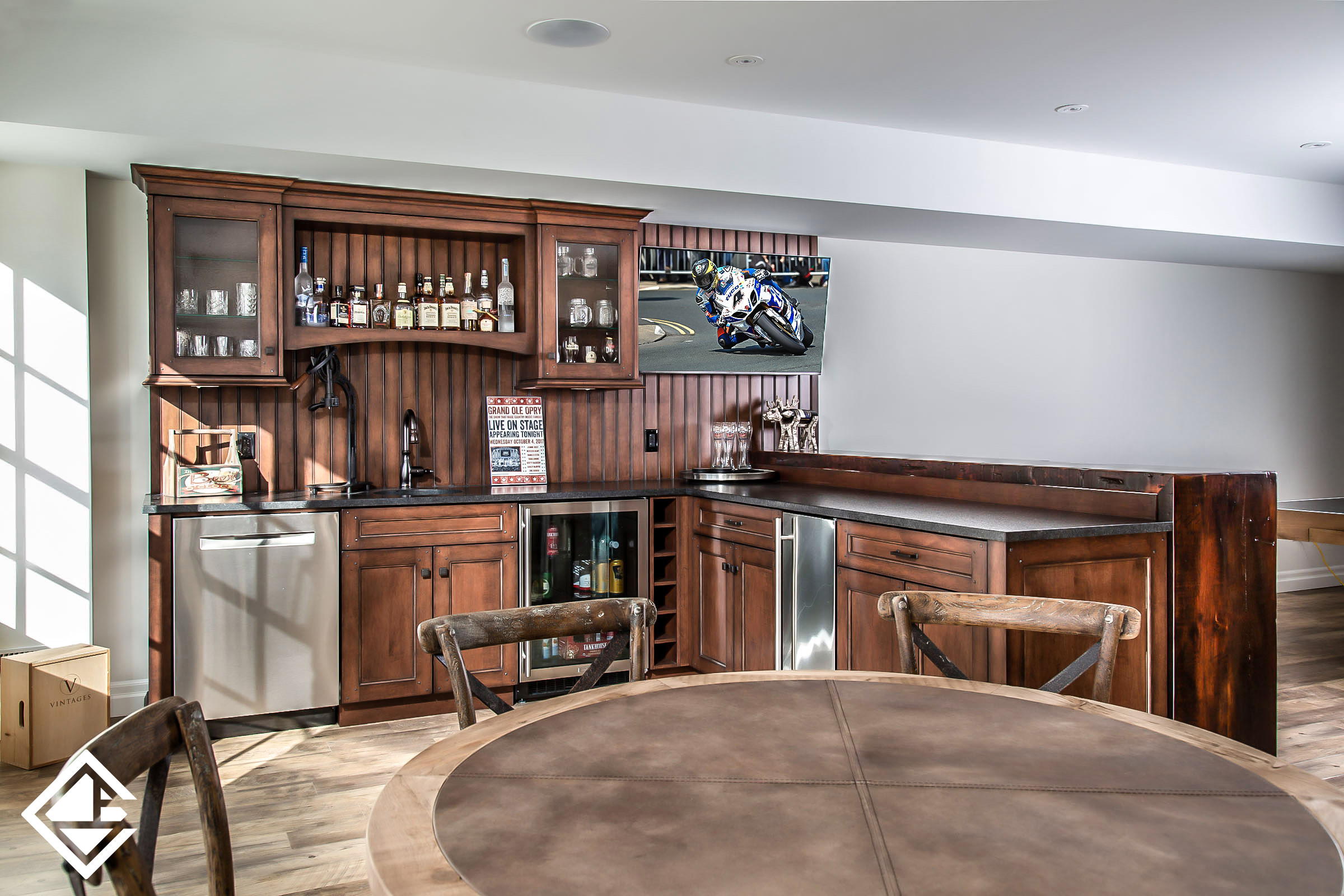 What's the most important thing for me to consider when designing the cabinetry for my entertaining space?
In your home theatre, there will be only minimal cabinetry needed, but you will want some in order to effectively and attractively hide the subwoofer speakers.
In your home bar, you'll want to estimate how much eating (as opposed to drinking or simply hanging out) will happen in the space – that will have a big impact on how much storage space you need for food, and which appliances will be most useful (for example, an apartment-sized oven or cooktop. Either way, you'll definitely want a mini dishwasher!
What are some unique design ideas you've seen that I could try in my own space?
Build an ice tray for beverages right into the countertop.
Build a vintage wine cellar right next to the bar with a real wine barrel set-up as a table.
Get creative with your lighting! Lighting tends to be where I see the personality of my clients come out the most, especially over peninsulas and under cabinets or counters. It's also a practical place to invest since most entertaining spaces are in the basement, where light is a more rare commodity.
Are there any specific suppliers that you would recommend for the tech side of my home bar or theatre?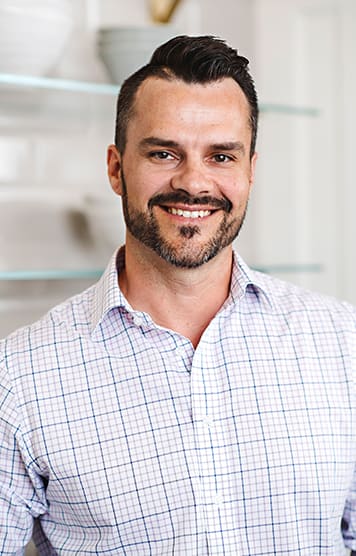 Meet The Author
Jon Staken is the Director of Sales & Design at the Chervin showroom in Waterloo.
Jon has experience in multiple roles at Chervin and his expertise shows.
Whether it's snacking during a football game or enjoying a formal dinner, there is just something special about hosting from home. Here are a few tips on creating an amazing hosting space...
---
Contact us to set up a consultation!
Meet with one of our designers and unpack the hosting possibilities in your own home!