Incorporating an island into your kitchen can unleash outstanding potential, but does require some careful planning to ensure function-first design...
---
Most people these days like to incorporate an island into their new kitchen, and for good reason! Islands provide additional storage, extended counter space, and even valuable appliance and plumbing integration, depending on design and personal preference. But is an island the right choice for your kitchen? There are plenty of factors to consider when it comes to ensuring your island is a functional choice, long before we start discussing stylistic design. Here are a few elements to consider when deciding on your kitchen island...
Overall Space
The islands we craft for our clients typically range in dimension from 4-14 feet long and 2-4 feet deep, meaning they can own their space in almost any environment and meet a wide range of household needs. But the actual dimensions of the room can play a huge role in if and how an island can fit well in, and enhance, a kitchen.
Small kitchens may find their flow interrupted or cramped if an island is added, at least if not very strategically designed. In this case, it may prove more effective to incorporate a peninsula (an island connected to other kitchen cabinetry on one side), or a furniture-style island on casters (so it can be relocated or stored in another space), or simply maximize counter space along the perimeter of your kitchen and avoid the additional cabinetry altogether.
On the other end of the spectrum, if your kitchen is an expansive space, you may want to consider installing two islands, one dedicated more so to cooking and food prep, and the other to eating, conversation, and work. This can really enhance the grandeur of your space by coordinating, and designating, the various workspaces in the room.
Room Layout
In addition to size, layout makes a huge difference in if and how an island can be incorporated into your kitchen. If you have a narrow, galley kitchen, an island may be out of the question simply due to a need for walking space between the cabinets. The same could be true of a small u-shaped kitchen - an island across the fourth side could make the space feel closed off and cramped. 
That being said, L-shaped kitchens are often perfectly set-up to host an island, and, if the space is large enough, an island can even act as a focal point in a u-shaped kitchen.
When thinking about layout, also consider if your home is an open-concept design, or divided more clearly into rooms - these walls and flooring changes can also impact how and where your island will need to be positioned to keep your spaces cohesive and logical.
Everyday Flow
An open-concept design also often increases the need for a multi-functional island - perhaps one that can be used for working, cooking, and eating simultaneously by various members of your household. The size, layout, and structure of your island can be tailored to meet each of these needs in a practical way.
An island can also substantially decrease your privacy while cooking and cleaning in the kitchen, so consider carefully which kitchen responsibilities you're most comfortable doing in front of others - these can be positioned in the island, as it is always the most accessible and central element of your kitchen. 
How many people will be going in and out of your kitchen at the same time? Do kids also need access to the island? Do you tend to cook one-pot dishes or meals that require many elements and lots of multi-tasking? These kinds of questions are important to consider as you design your island. An island works better than a peninsula in terms of creating flow for multiple people or multi-component cooking, thanks to two access points to the central kitchen space. However, two access points also means a setting that invites others to feel welcome in the space, and could lead to a busier, more free-flowing kitchen environment. Consider what works best for you and your family!
Overall Purpose
At the end of the day, what is the primary goal of having an island? Additional counter space? Dining table alternative? Central cleaning zone or cooktop? An island can serve many different purposes and meet many different needs, but it's important to make sure they are your needs, not just what is popular or what you understand to be "standard". Nothing is "standard" for us, so let us know what will work best for you and your family and we'll find a way to make it happen!
P.S. Islands don't only add value in the kitchen. We've worked on plenty of projects that featured islands in closets and mudrooms, as well, where they provided ample additional storage space, homes for the 4-legged family members, and, of course, that ever-valuable additional counter space. The possibilities are fantastic!
Stay tuned for my next post with more tips on how to design your kitchen island to be not only functionally outstanding, but aesthetically stunning. We love creating spaces that bring dreams to life, and islands are one fabulous way to make your space both unique and practical, and a beautiful representation of the life you and your loved ones share. In the meantime, reach out anytime to connect with me and explore the potential for an island in your future kitchen, or to discuss other island applications in your home!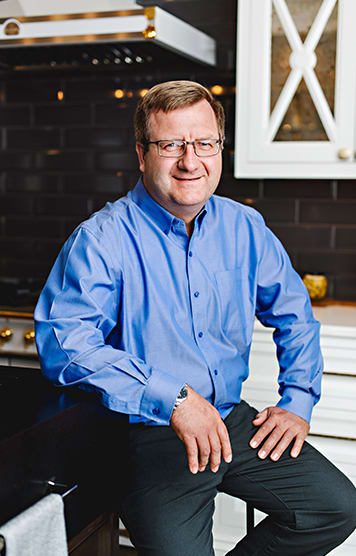 Meet The Author
Marvin Bauman is the VP of Sales at the Chervin showroom in Waterloo.
Marvin is proud to work alongside family and "extended family" (otherwise known as the Chervin staff).
Chervin islands don't come stock or standard; there is a wealth of opportunity to customize your island for the exact specs, look, and function you need...
---
Want to learn more?
Visit one of our showrooms in Waterloo, Muskoka, or Oakville and our showroom consultants will be happy to answer your questions about island variations!