Incorporating an island into your kitchen should mean increasing both the functionality and the charm of the heart of your home...
---
Once you've determined that an island is a good choice for your space, the fun can truly begin. Islands come in all varieties, including a wide range of sizes, configurations, functionalities, and finishes, so they can truly be customized to suit the needs and wants of your household. Here are just a few of the ways I recommend considering customizing...
Countertop Material
Materials like stainless steel and laminate can come in a wide range of sizes, but also have a different look than traditional stone tops. Stainless steel is highly practical and versatile, but shows streaks and fits best in a very industrial setting (like this Fire Hall pictured right). Laminate is not as durable a material and is full man-made, but is also easy on the pocket book.
If you're going with a beautiful, natural material like stone (quartz, granite, etc) or wood, keep in mind that seams may be required depending on how large the surface area of your island is. Designs and slabs with heavy veining will make seams more obvious, so be sure to work with your designer to select a material, pattern, and countertop configuration that gives the impression you want.
When it comes to wood, the type of grain selected will determine your limitations. If a true butcher block, end grain style is what you are after, size won't be an issue but any overhang (length or width-wise) will require extra support (a metal bracket, for example). Edge grain or flat grain wood tops however, have virtually no length limitations until you get past 12' (there are still width limitations to keep in mind). 
Stone countertops do have overhang limitations - connect with your designer for more details, depending on the stone you're interested in.
Built-in Appliances
With modern downdraft technology, building a cooking surface into your island no longer means having a bulky rangehood taking up space in the middle of your kitchen. "Pop-up" and "pop-open" solutions both allow you to keep the space tidy and open, letting lots of light in and leaving easy room for conversation and flow. With fast boiling times, even heat distribution, easy clean up, and added safety features, integrated induction cooktops are wooing more and more people away from beloved but bulky gas rangetops.
Bringing plumbing into the island to create a comprehensive, central cleaning zone is also becoming common practice. Catch that breathtaking sunset or watch your children play while getting all the cleaning done with plenty of space to work in. Integrate your dishwasher in the same space for convenience and perfect flow. If you're looking for a small but luxurious final touch, consider adding a mini prep sink on one end of the island. Or, for the tea drinkers and fettuccine fanatics, install an instant water-boiling tap, saving time and counter space by avoiding a kettle altogether!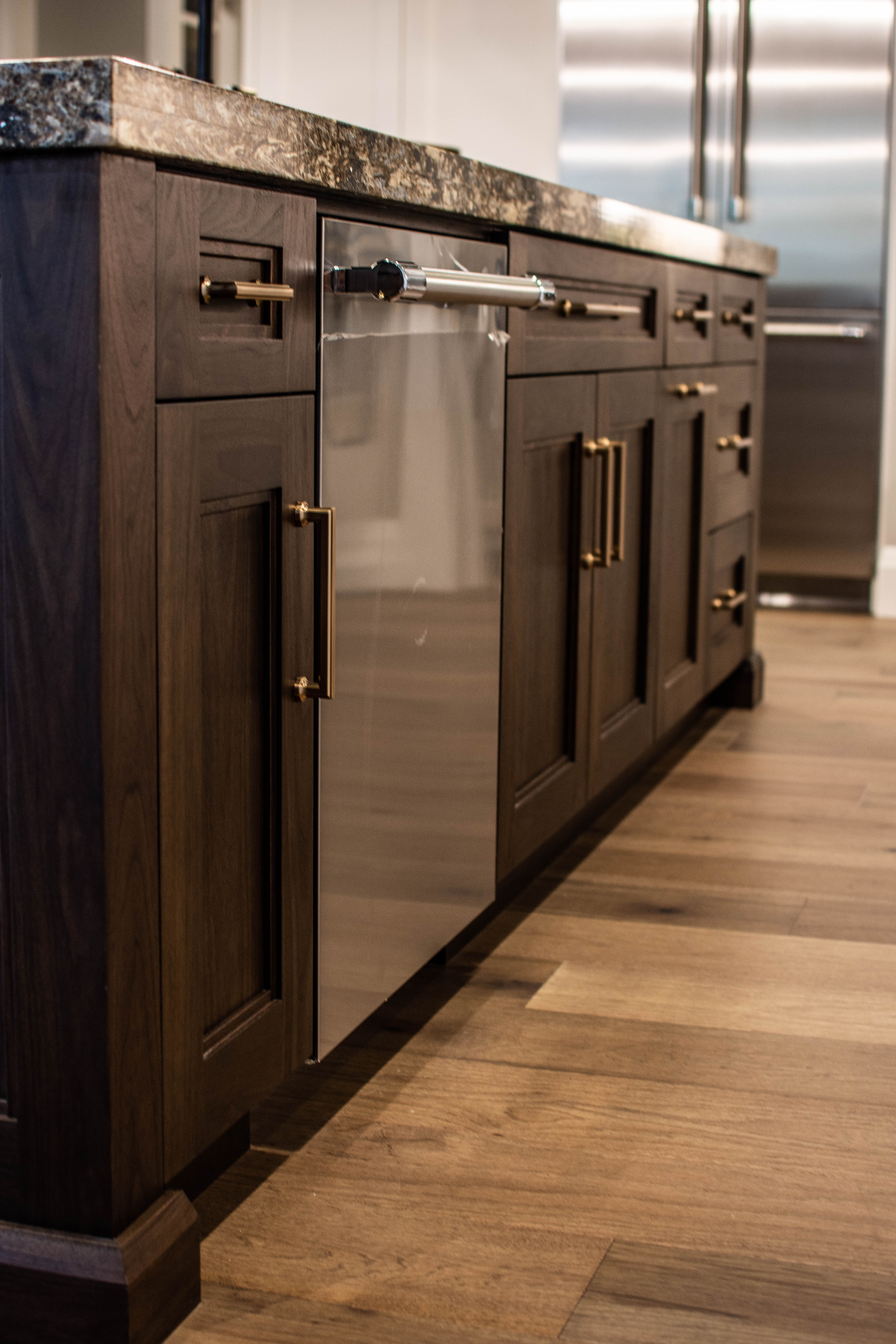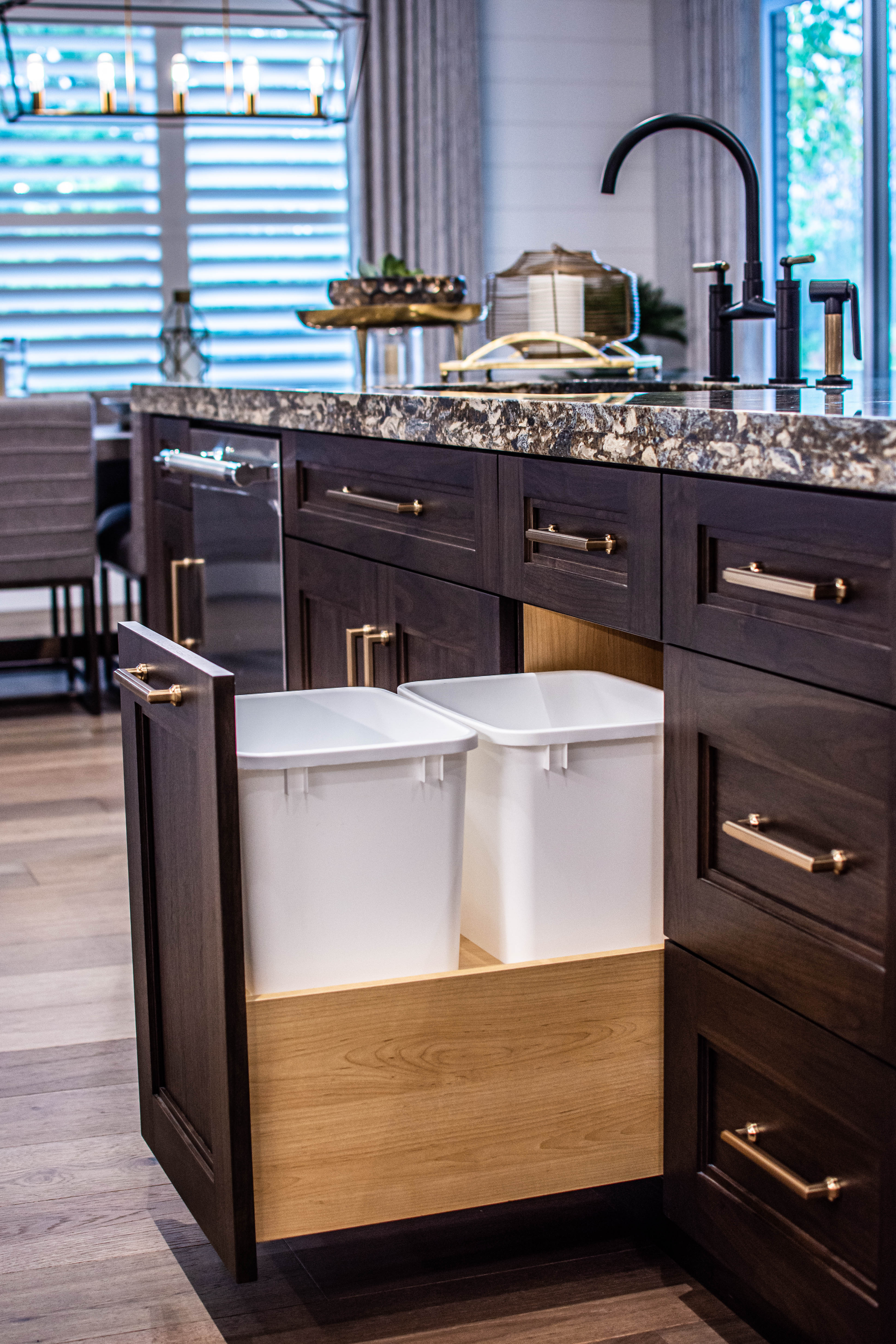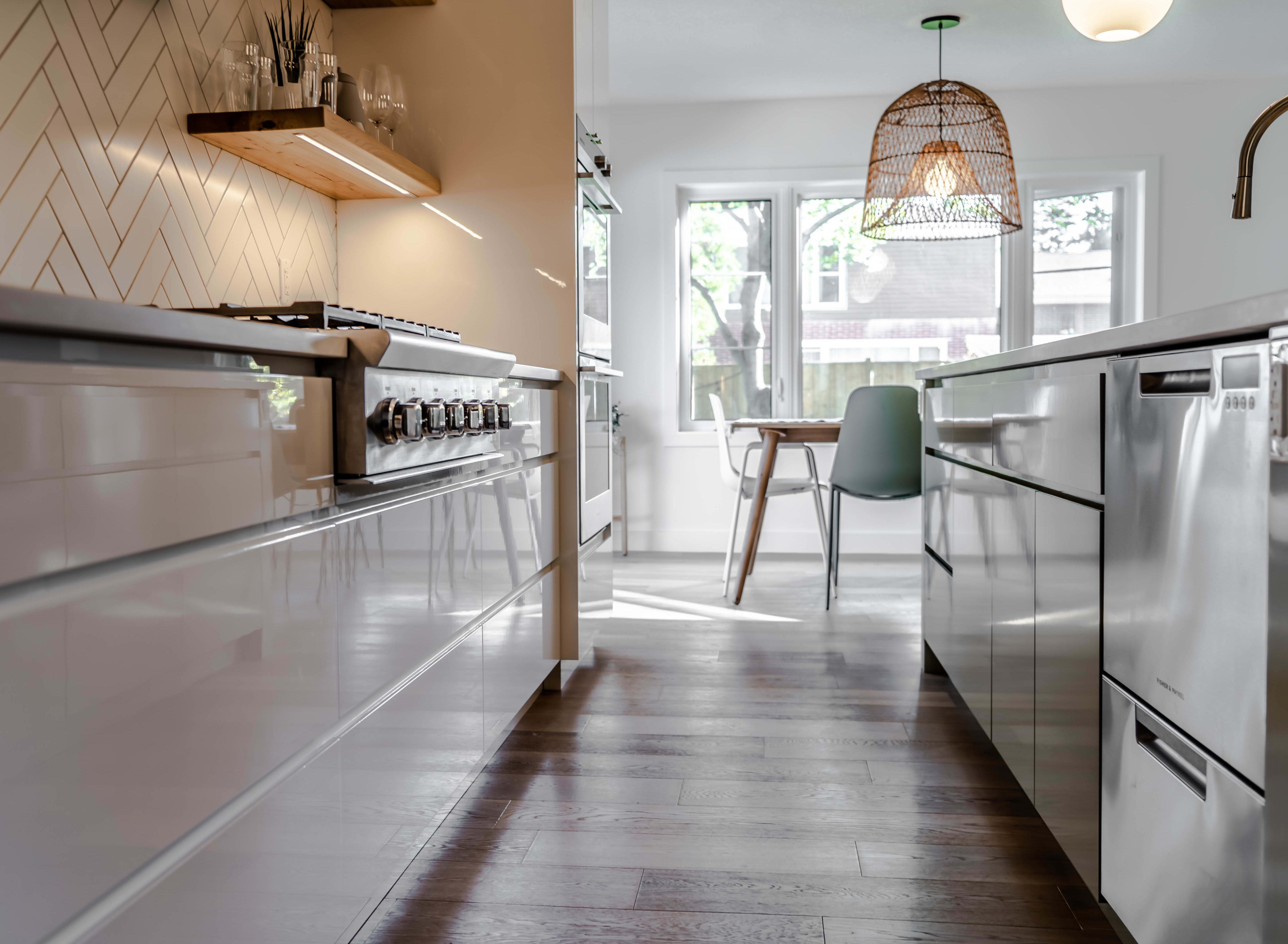 Tiered Structure
Tiers are trending! While two-tier islands have had a place in design for decades, multi-tier islands are becoming a popular choice in modern kitchen design. If you intend for your island to be truly multi-purpose (i.e. used for cooking, eating, gathering, work space, or decorative displays) this is a great way to designate different areas for different purposes (for example, the main space for food prep, a bar-height space for dining, and a lower side-tier to act as a homework station.
The visual variety of multi-tier islands can create a very appealing and dynamic space, but be careful not to over do it...breaking up the island too much can have a negative effect, creating a bunch of less functional spaces and a space that feels chaotic and disjointed overall. Save these broken up designs for where they are truly valuable, and, in most cases, where there is a lot of square footage to work with.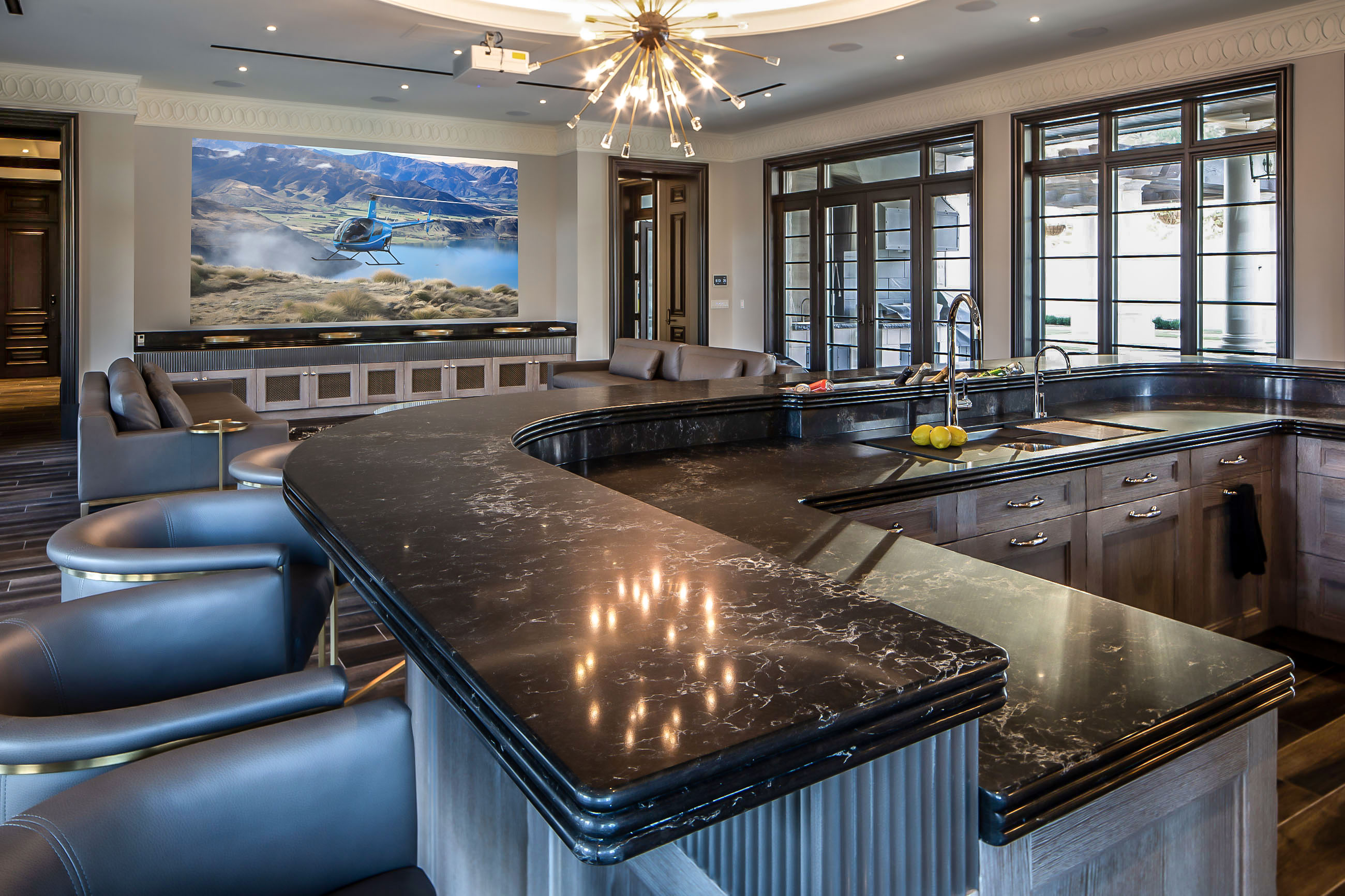 Featured Lighting
When you design your island, don't forget about lighting - that extra special finishing touch! Although lighting often isn't incorporated into the cabinetry itself (unless you have backlit or underlit areas on your island - toekick lighting adds amazing drama!), it can easily make or break the overall appeal of your space; it is a fantastic opportunity to express your unique tastes and personality (and it can be updated or changed out more frequently than the rest of your space).
When selecting your pendants (or other grouped lighting), stick to the rule of three whenever possible. That being said, scale will always trump this rule. Larger pendants on a shorter island will likely look better as an evenly spaced pair than a squished group of three. Similarly, you may need 4-5 small pendants over a long island.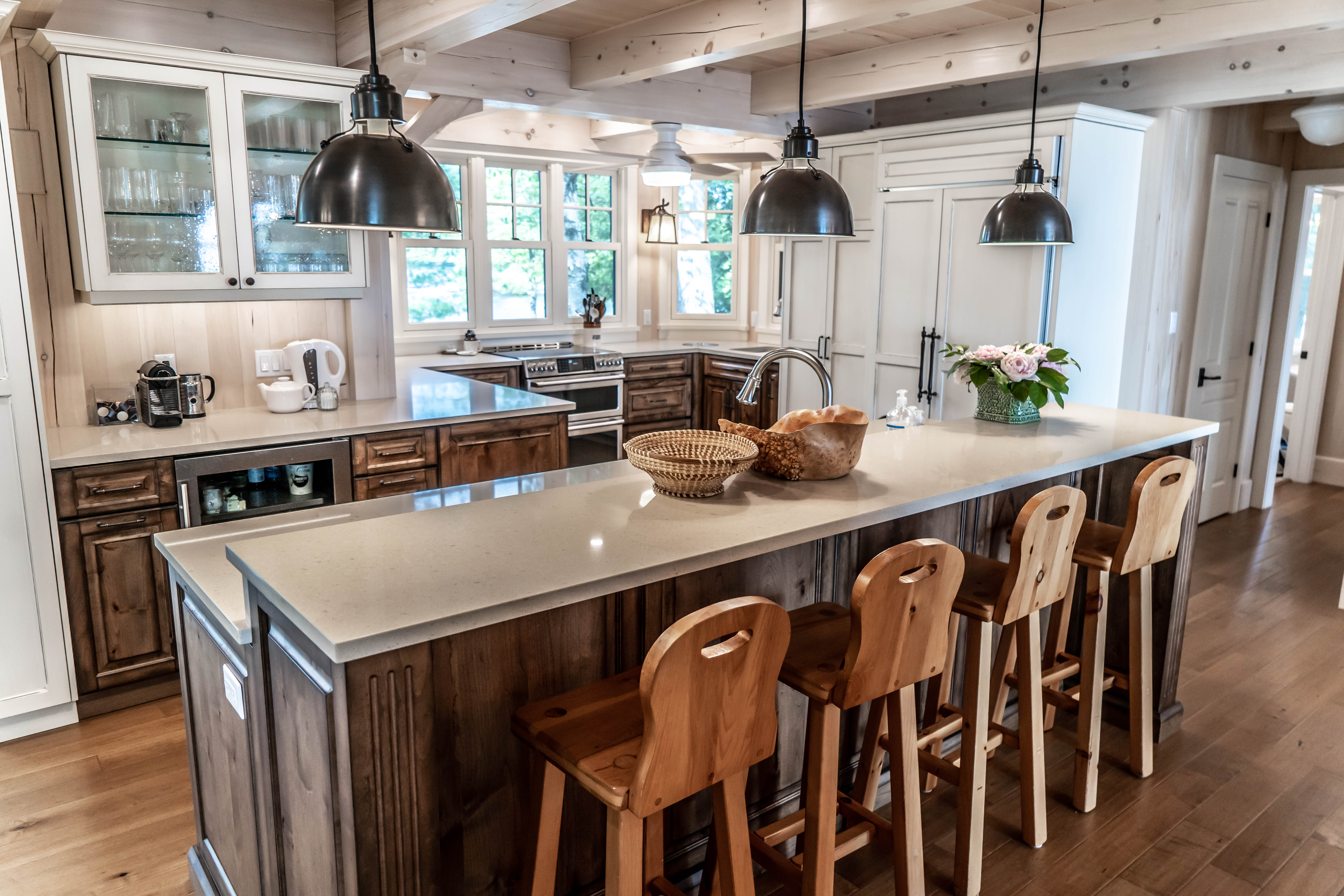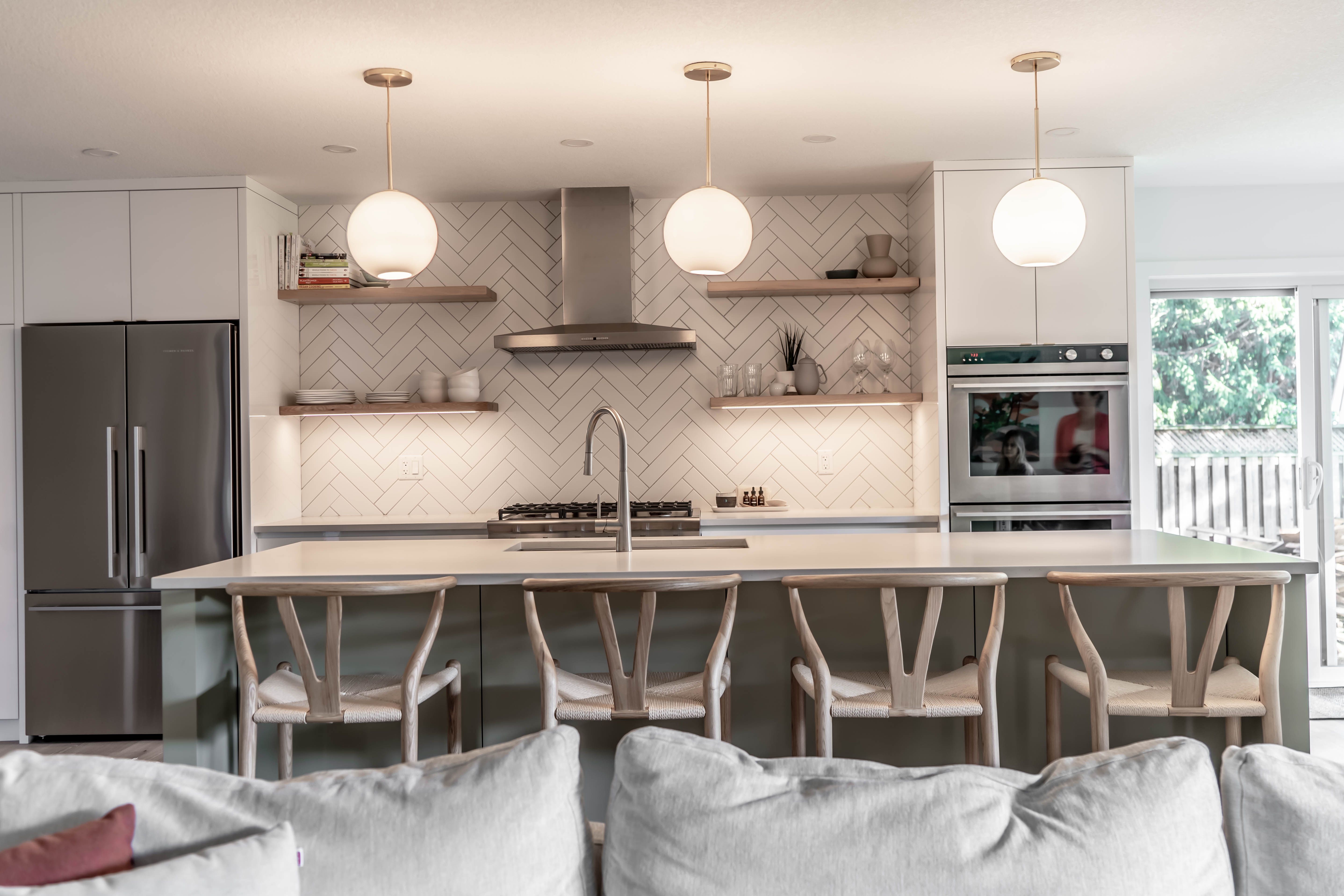 We love creating spaces that bring dreams to life, and islands are one fabulous way to make your space both unique and practical, and a beautiful representation of the life you and your loved ones share. Feel free to reach out anytime to connect with me and explore the potential for an island in your future kitchen, or to discuss other island applications in your home!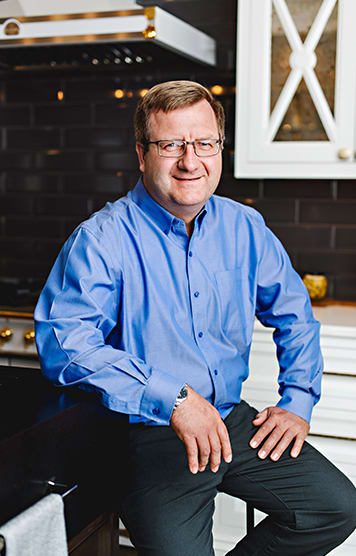 Meet The Author
Marvin Bauman is the VP of Sales at the Chervin showroom in Waterloo.
Marvin is proud to work alongside family and "extended family" (otherwise known as the Chervin staff).
Most of our clients choose to incorporate an island into their new kitchen layout - but is an island the right choice for you? With numerous potential benefits, it may become your favourite feature, but here's what you need to consider...
---
Want to learn more?
Visit one of our showrooms in Waterloo, Muskoka, or Oakville and our showroom consultants will be happy to answer your questions about island variations!