Last year, I had the privilege of working alongside a fantastic couple, and helping them make their dream retirement cottage a reality. The couple behind the Cowper kitchen were looking to create a space they could enjoy throughout the year during their retirement - a new build with rustic charm and bold drama. Inspired by ex-Toronto Maple Leaf  Wendel Clark's cottage, these clients were looking for a space with dark tones (including a lot of black), and reclaimed materials that would make the cottage feel right at home in the great outdoors of Muskoka. 
Outside those aesthetic requirements, though, this kitchen was designed primarily around functionality. With kids and grandkids also planning to come visit throughout the holidays, an open concept flow and plenty of work space and seating was integral to a successful design. To the right, you can see one of the 3D renderings we produced as a result of our many design conversations.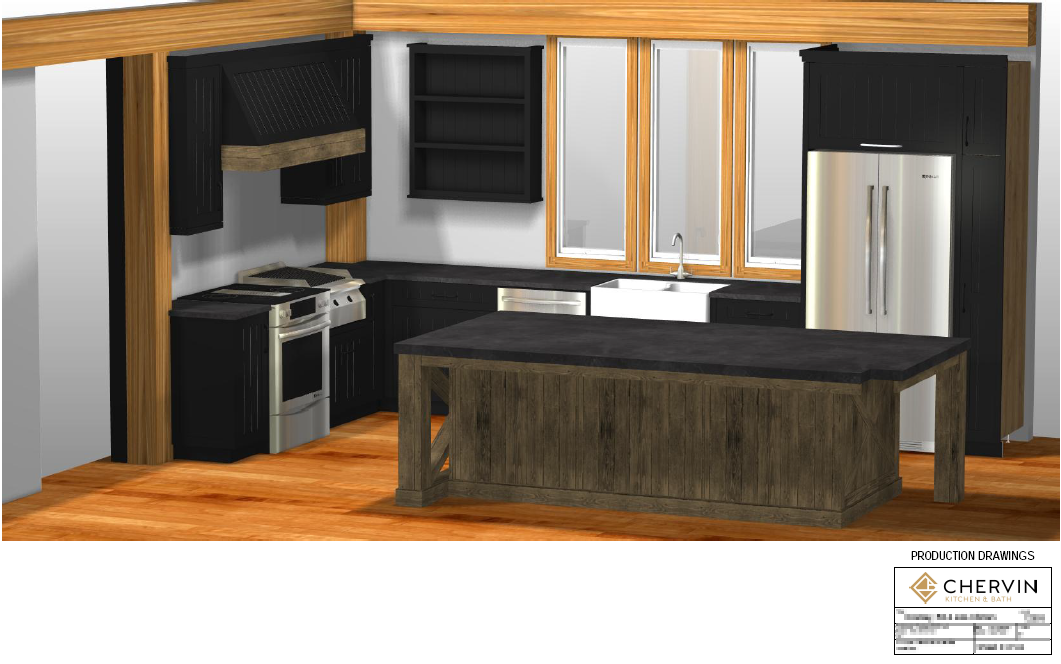 The overall journey with this project took much longer than usual because it is a cottage with only 3-season access (the back roads are not cleared through the winter, so the cottage is inaccessible through those months). The owners were not 100% certain of their design choices yet by the first winter of our discussions, so we postponed final install by a season. Finalizing decisions on a kitchen of this scale and significance (knowing it is your retirement plan), can be quite a substantial responsibility and process.
These clients were particularly detail-oriented (something we appreciate at Chervin), so we went through several rounds of samples and revisions, and many conversations before decisions were finalized. When they were, though, the result was phenomenal - truly a realization of their hopes and dreams, and a cozy but spacious and incredibly versatile space for them to retire (and enjoy family time!) in. 
We incorporated a Garland flat-top grill, a commercial-style cooktop, next to the range. The flat-top grill has been with these clients for many years, as a staple appliance in their previous cottage, so incorporating it into their new kitchen was not only practical, but sentimentally meaningful. It also meant we needed to handcraft an extra-wide rangehood to accommodate the fumes from two cooktops. I think it made for a really cool-looking cook station - unique and dramatic. 
The black cabinets around the perimeter of the kitchen were finished in a custom paint with custom detailing and distressing, adding a lot of texture and a farmhouse feel to the design (a great pairing with the gooseneck faucet and deep farmhouse sink).  The base of the almost 10-foot-long island is raw reclaimed hemlock - a richly textured and beautiful material (but with some distinct challenges to navigate on the manufacturing side). Our woodworking team did an exceptional job creating not only doors and decorative elements out of this unique material, but also two veggie crates that pull out on soft-close slides.
The island countertop was a single 2 1/4" thick slab of leathered granite, supplied by Stonex. The slab was far too heavy and large to be carried down from the driveway to the cottage, so we enlisted a crane to get it down (after which it took four guys to situate the slab in place on the island). It was a truly incredible thing to watch, and I was thrilled to see the care and collaboration of everyone involved - we don't see a crane onsite everyday!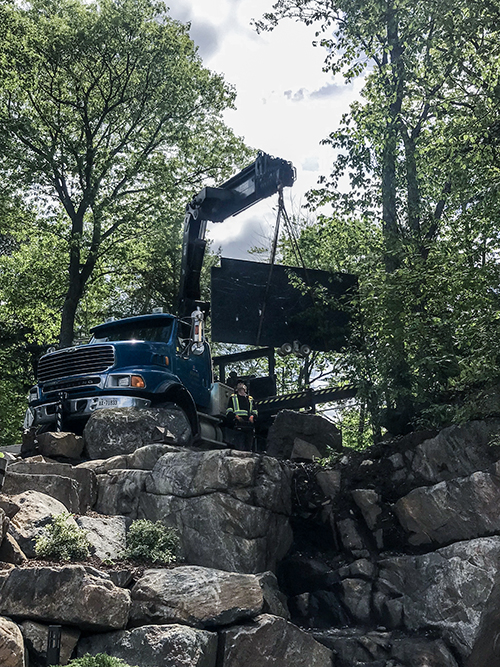 A big part of the fun of working at Chervin is how nothing is considered "too custom" - we hear some outstanding ideas from clients and mix them with our own inspirations to create stunning, one-of-a-kind spaces, and I always love seeing the final product come together. In this case, the Cowper kitchen had a lot of unique elements to coordinate that all contributed to the overall style and feel of the space...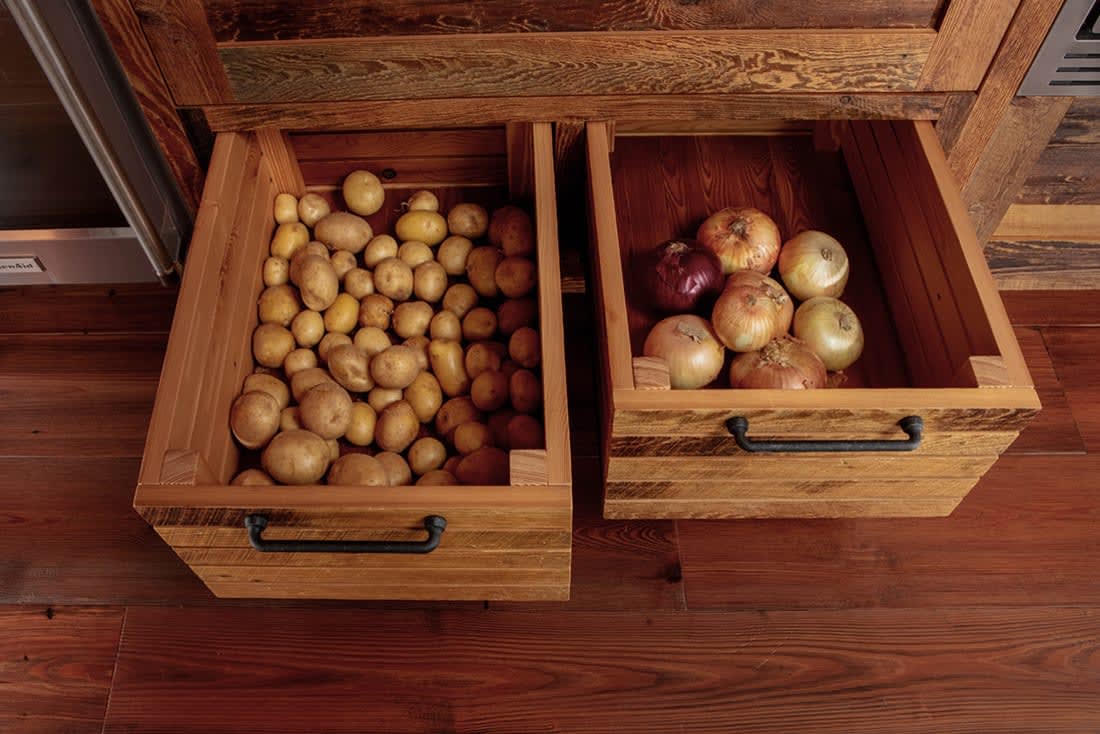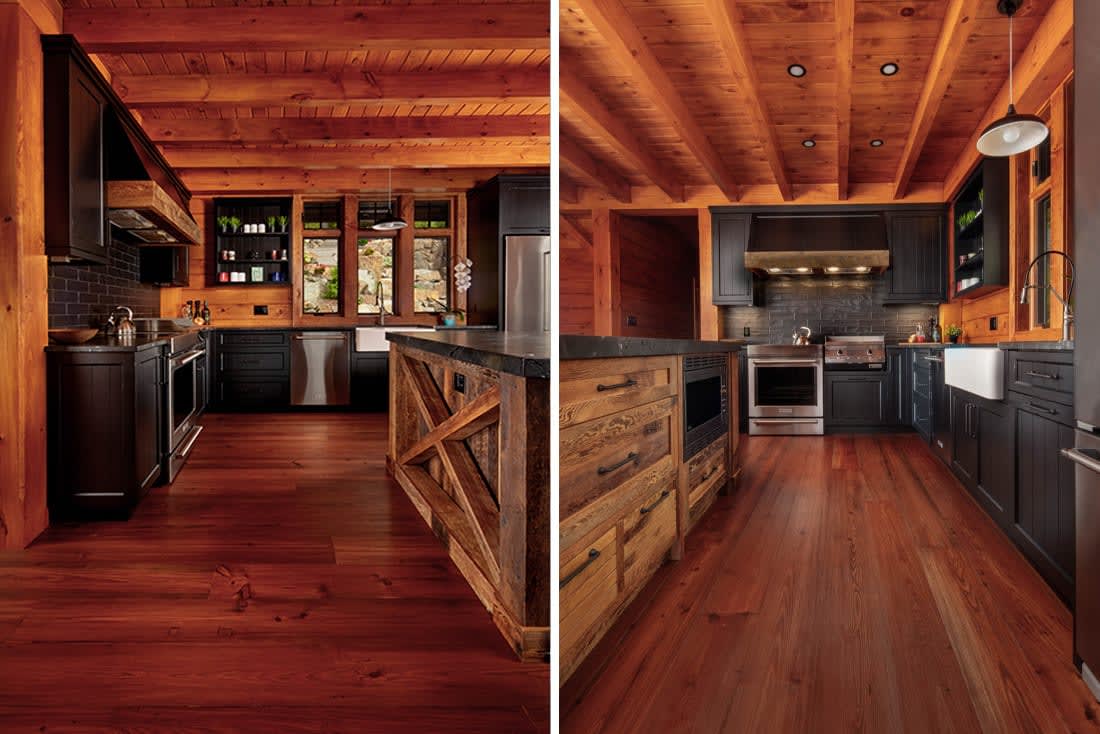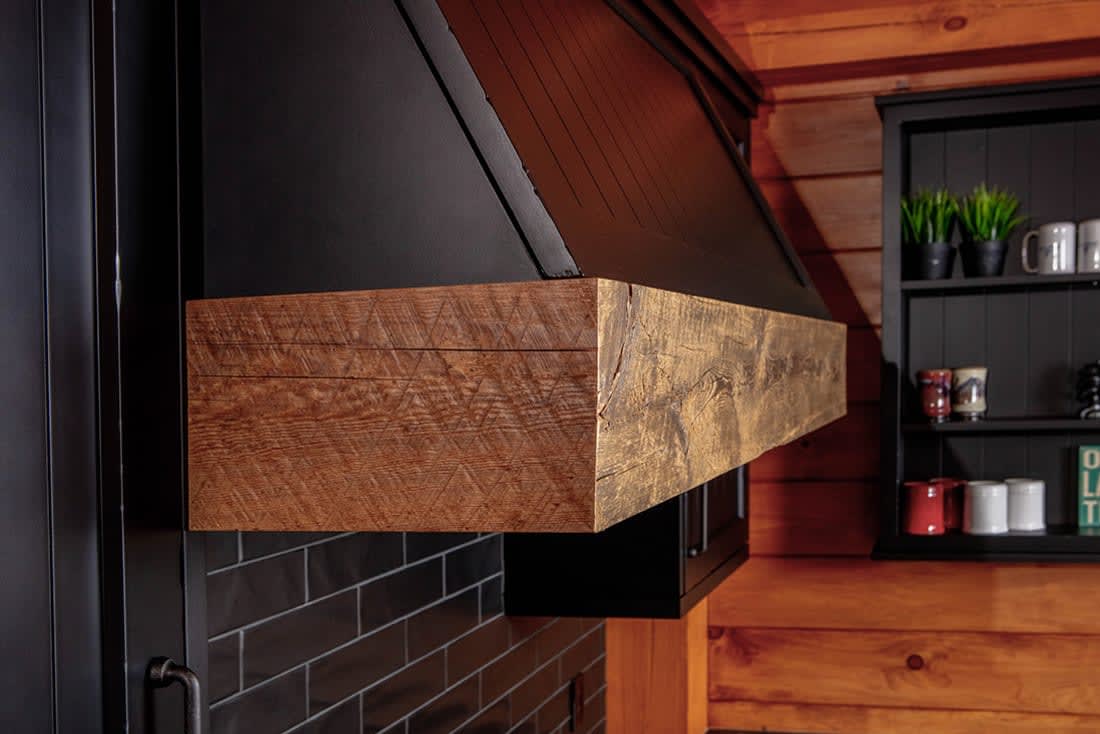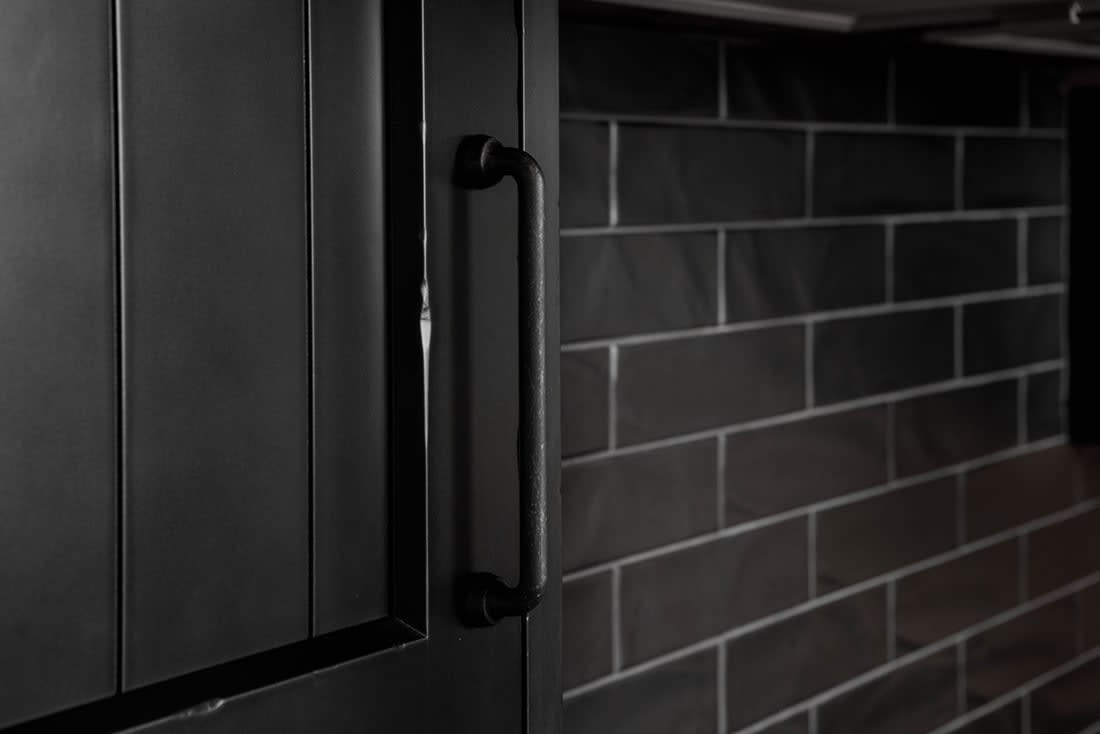 I'd have to say that the best part of this whole project for me was being able to work with and totally satisfy clients who were very particular (rightfully so) and hesitant to finalize their selections. At Chervin, we care so much about getting every detail right - it's what we mean when we talk about "The Golden Means of Perfection". We also prioritize communication, integrity, and a family-style way of connecting with our clients. The couple behind the Cowper kitchen was always pleasant to work with, they just faced a lot of complex decisions at times. But with patience, regular communication, and lots of brainstorming together, we came to a final product that this couple was ecstatic about. They truly felt like family by the end of their time together and I'm so honoured I had the opportunity to work with them - fantastic personalities and amazing people.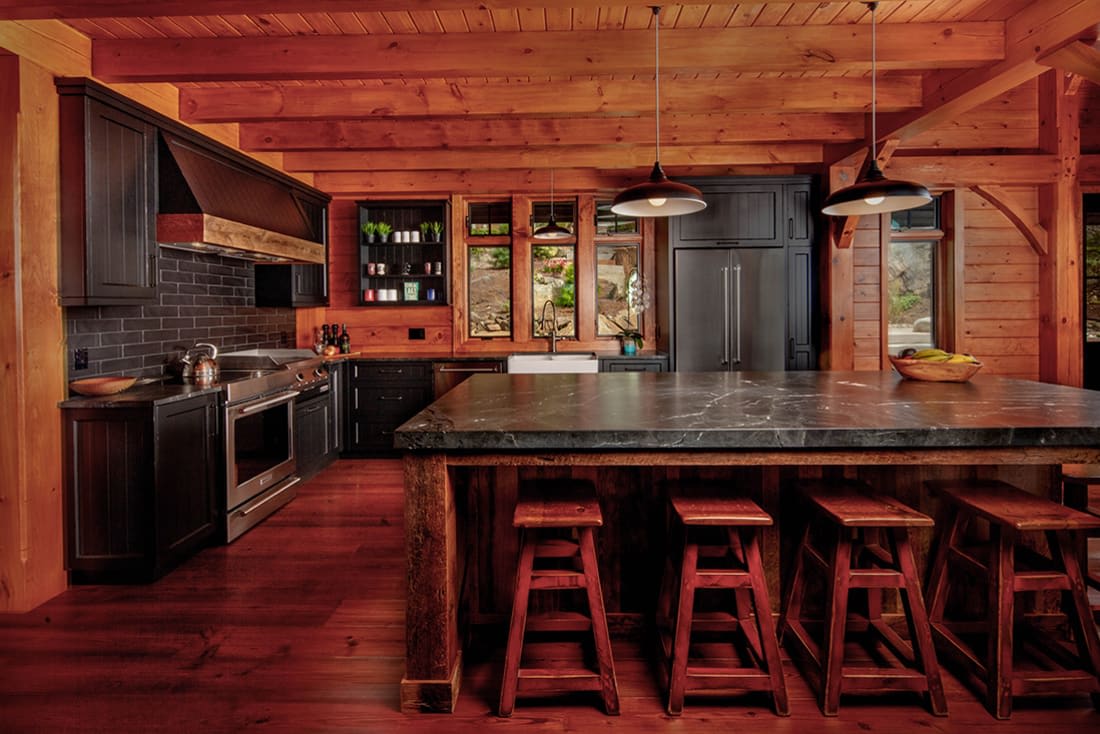 If you're interested in learning more about this project, click here. Want to meet to discuss your own cottage reno? Contact our Muskoka team! We'd love to help you bring your space to life.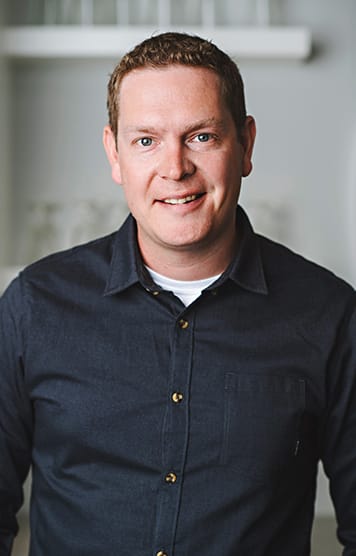 Meet The Author
Tom Chambers works as a Sales & Design Associate at the Chervin showroom in Muskoka.
Tom is a team member that loves design and forging client relationships.
It's the heart of the home and your kitchen should flow smoothly thoroughout. Quality cabinetry laid out in a streamlined design can provide excellent efficiency while looking beautiful at the same time.