Custom Home Renovation, Guelph. 
Embark with us on a journey into this home renovation with modern cabinets that features painted and natural rift-cut oak with European design elements.
---
 
Our clients are highly professional and educated parental figures with careers based in engineering and university administration. Their household is bustling with energy and busy schedules with four young children under the age of thirteen. With a work-dedicated lifestyle, they wanted to create the forever home of their dreams for their family.   

Our clients invested in an entire custom home renovation to modernize the style and functionality of their space and to better suit their needs and routines. Our clients worked alongside Unit 7 Architecture Inc. and Alair homes to renovate their home. This investment resulted in a finished space that is fresh, clean, and a modern style that aligned with their original goals and pleases their visual aesthetic and functional needs.  

Chervin Kitchen & Bath was hired to provide custom, modern cabinets throughout the entire home, from the custom kitchen cabinets to the custom master bedroom and bathroom cabinets to custom cabinets in each child's bedroom to a custom basement bar, and much more.  
| | |
| --- | --- |
|  PROJECT DETAILS | |
| City: | Guelph |
| Residence Type: | House |
| Services Provided: | Custom Kitchen Cabinetry (Design, build, install) + Countertops/Stone |
The Design Approach
Our goal aimed to create custom cabinets that coincided with the interior designer's plan while reflecting an overall modern European style. We incorporated unique materials, sleek finishes, and maximized storage and functionality into the design.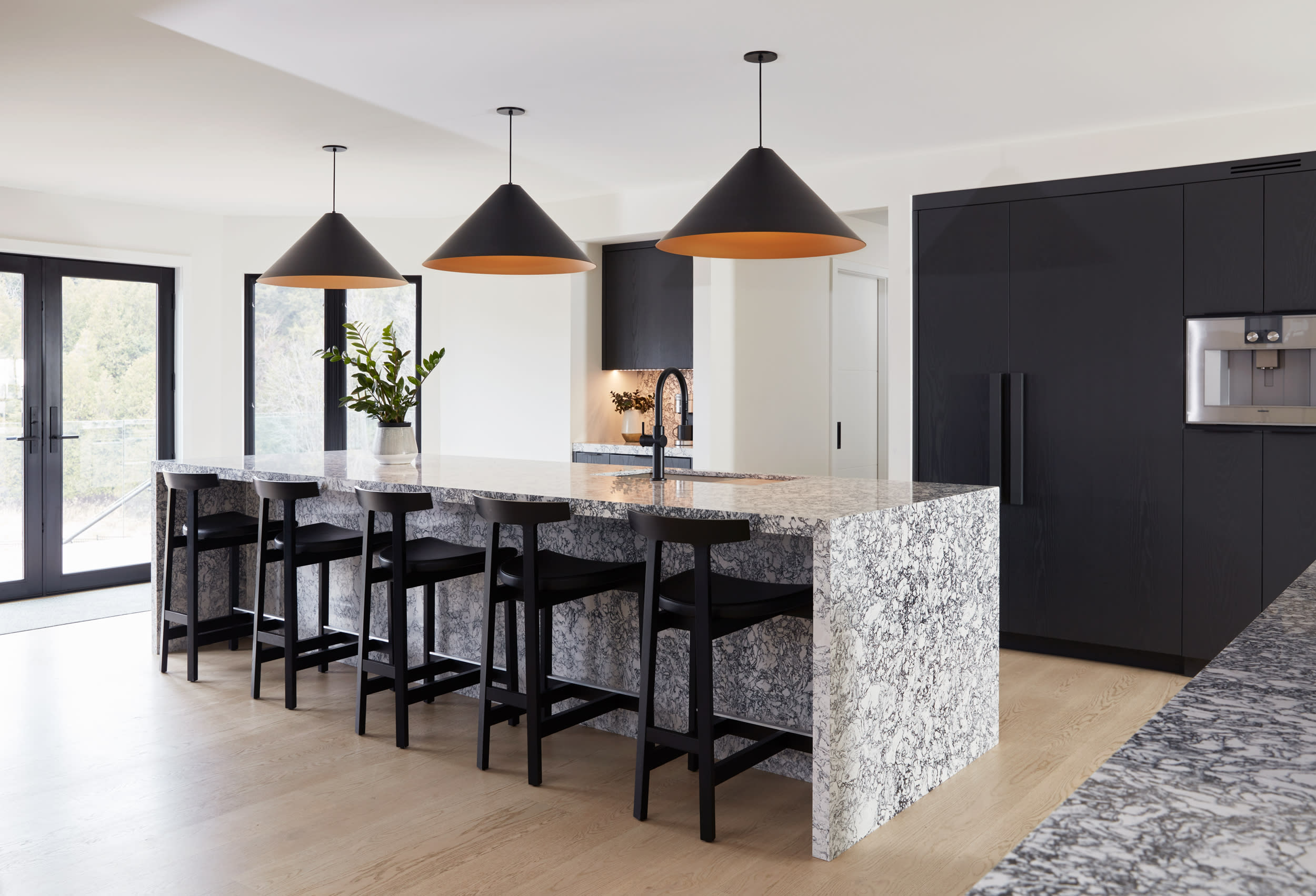 The Concept
When our Sales + Designer, Besmir, was contacted, the design plans for the custom home renovation were all conceptualized and completed by the interior designers and architects. Once the original drawings were received, Besmir began recommending wood species and cuts based on the design specifications. He ordered finish samples from our manufacturing facility to present to our client, specifically, a variety of stained and painted red and white oak. Our designer worked with our engineering team to produce new millwork drawings that kept a consistent visual design while improving organization and enhancing cabinetry applications.  
 
Using our photo-realistic design software, Vortek, we showcased and focused on different details and angles of the modern cabinet design, which worked as a virtual walk-through. This software is an essential tool in our design process that works wonders for visualizing your final cabinetry design. The 3-D renderings we presented gave our clients and industry partners insight into what their custom cabinetry would look like upon completion.   
When we presented our drawings, our clients were like 'Woah' – they were excited and expressed a great reaction to our renderings because it gave them a clear idea of the design and quality they could expect in their cabinetry.
Following the custom cabinet installation and completion, when our clients entered their home, they were extremely happy and impressed with the quality of work and attention to detail. They felt that everything looked perfect just like the renderings presented and felt confident in choosing us for their millwork.  The trust between our clients, our designer Besmir, and our entire team was very strong. Our clients expressed that Chervin would be whom they recommended to others and whom they want to work with in the future.  
The Challenges
This renovation project was completed throughout COVID-19, and, therefore required alternative regular meetings and in-person communication methods.  

The design firm, Unit 7, works out of Winnipeg – the clients and designer did not meet until the project was completed. This created some challenges due to long-distance communication; Both parties worked together to ensure the quality of drawings, details and design concepts were visualized into a reality for the clients. Even with distant communication, this did not interfere with the design process, final design, or project completion. 

Due to restrictions, Besmir had to inform and update our clients on all the cabinetry details by updating the drawings periodically so that the client could visualize each space virtually. This made it harder to maintain a personalized client-designer relationship due to physical distance. Although there were immediate inconveniences due to the pandemic, both the designers and our clients enjoyed the Chervin experience a lot. Any obstacles encountered were met with positive reactions and perseverance to ensure a smooth and seamless process. The evolution of this design and colour palette from early to final stages showcases the importance of having a visual representation through quality renderings.
The Purpose
We wanted to design and craft high-quality custom cabinetry solutions with enhanced style, functionality, and organization for our client's forever home. Our goal was to incorporate modern and timeless details into the design with superior finishes and longevity that their family can grow with.  
---
At Chervin, Passion is one of our core values – we have a compelling desire to go above and beyond.
---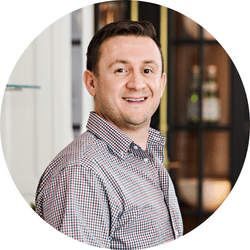 "Let's get personal with your design because, in the end, the design is yours."  
Be honest, open, and personal about your design and your specific needs, wants, and expectations. At the end of the day - the design is for you to live in and enjoy to the fullest. It is essential for your designer to be involved, authentic and knowledgeable. 
Our Client's Thoughts
A professional relationship was built with clear communication. We felt that all levels of customer service and quality were met highly with distinction, trustworthiness, and appreciation. We felt very satisfied with the smooth installation, which had minimal to no errors or setbacks, and felt delighted about the entire space.  
---
The Final Results
A modern and sleek design with European inspirations creates an immaculate, and timeless family residence.  
Contact us to Get Started

Ready to create the space of your dreams? Give us a call or visit our showroom today!