During the planning of your next project, re-evaluate the custom storage needs of your family. Keeping your lifestyle top of mind allows you to maximize your space.
---
February is Family Day month and we hope you're enjoying every opportunity to appreciate and cherish the loved ones in your life. But while it is special to have a day (or more!) set aside to celebrate family, we're confident you will agree that family is something to be celebrated and kept top of mind throughout the year - including in the way your design and decorate your home. The good news is that style and function are not enemies - in fact, the interior design world is always coming up with new ways of creating spaces that are chic and on-trend without losing their functional, practical benefits. We're finishing off with some outstanding ideas for family-friendly storage space...
When planning your entryway or mudroom, there are a multitude of storage options available that are perfect for busy families (pets and all).
These are some of our top recommendations that our clients have loved:
Install benches around the outside walls, or within the cabinetry itself. Not only are these extremely helpful for those who struggle with balance (for putting shoes on, for instance), but they leave ample storage room for baskets or shoe racks beneath them.
Have 2 levels of hooks - 1 low row of hooks, so kids can be realistically expected to put their own coats and bags away, and 1 higher row for the adults. As your children grow, they can begin to use the upper hooks for their coats and bags, but still have the lower hooks available for smaller or lesser used items.
Install drawers lower down in your wall unit, and use baskets up above. The lower drawers are easy for everyone to access and keep everything organized and out of sight (in theory), while the baskets are a great option for parents to quickly and easily access their own items, or more seasonal items, without needing to reach too far in on the top shelf, or have their items accessible to little hands.
If you have a 4-legged member of your family, why not make their own special spot that coordinates with your home? This client (below) is thrilled with their combined dog bed and island in their mudroom!
We hope these tips are helpful to you and your family! Want to come in and discuss more of how these ideas could fit in your home? Call or email our showroom and we'd love to see how we can work together to create a dream home for your family.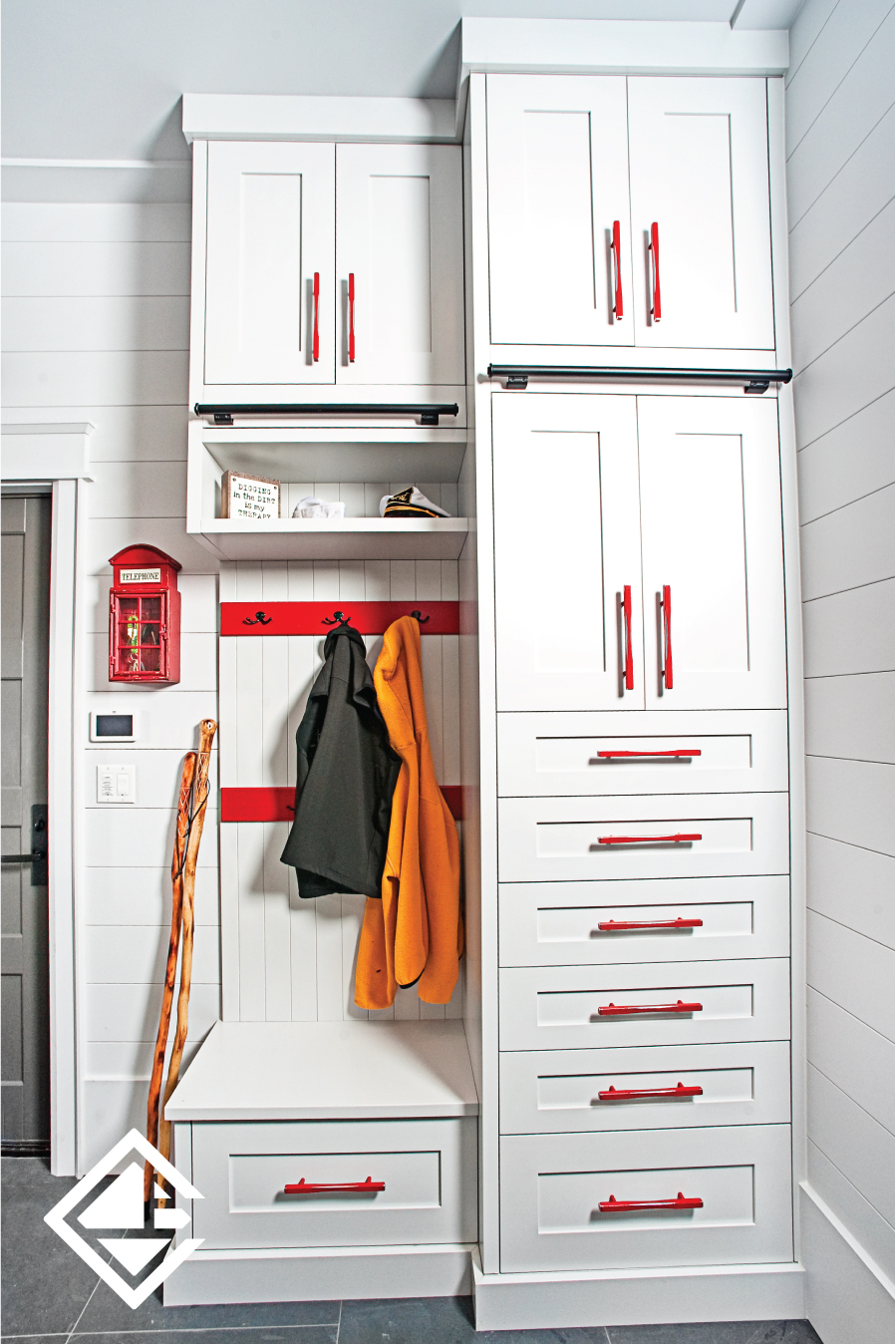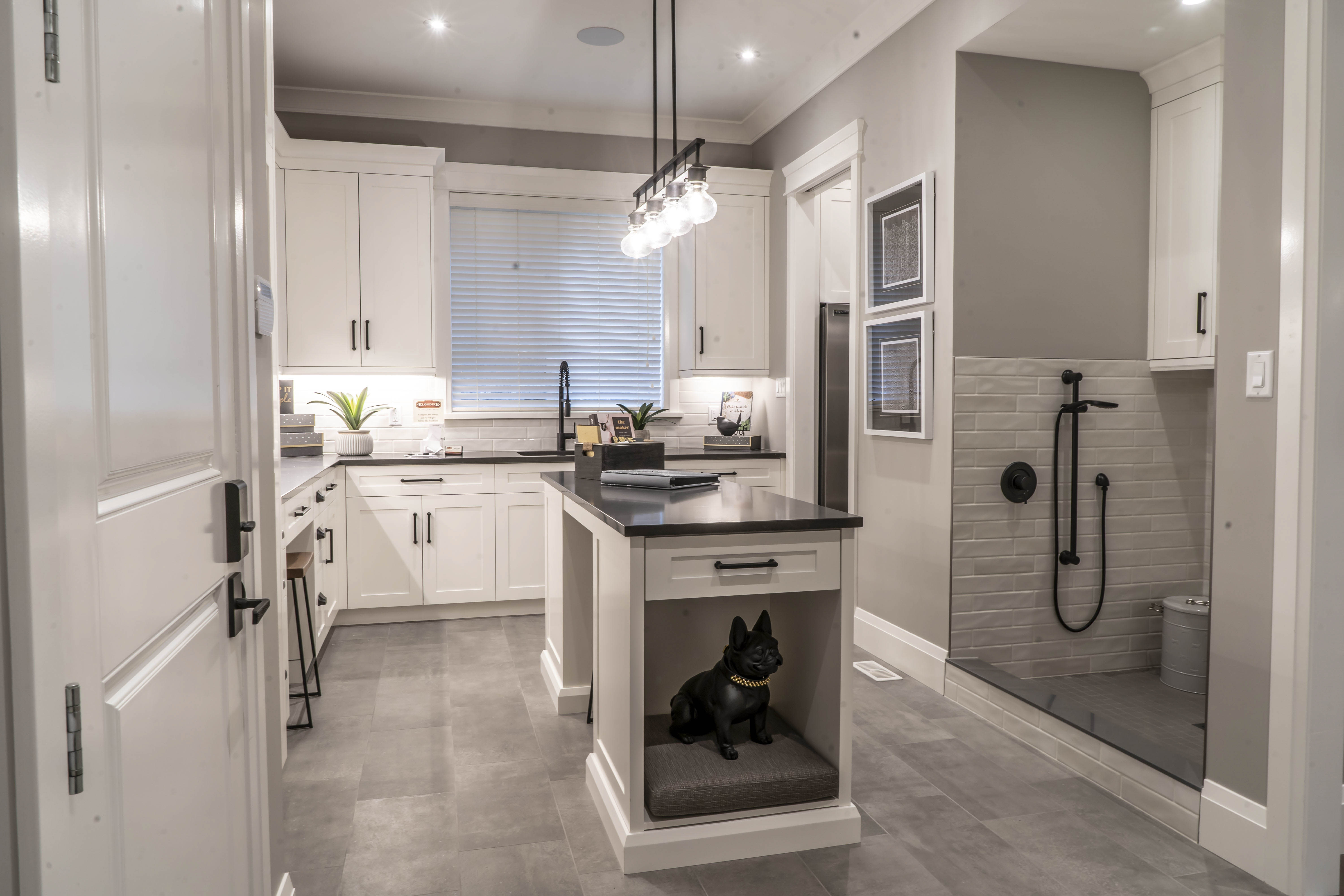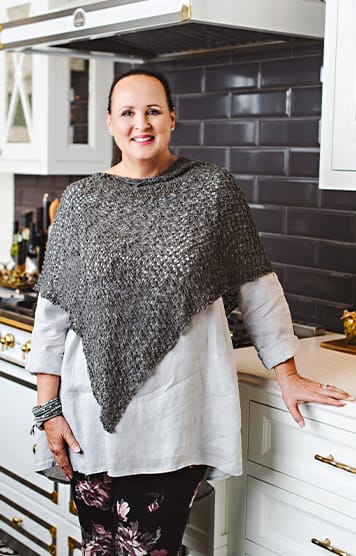 Meet The Author
Marie McKinnon works as a Sales & Design Associate at the Chervin showroom in Waterloo.
Marie loves working with clients to design their dream space.
Discover the details and inspiration behind this bold purple kitchen space featured by House and Home.
Curious to know what is trending in kitchen design? Marie will guide you through the kitchen design trends she loves to see.