Gone are the days of forgotten laundry rooms. It's time to unveil the potential of these practical and personal spaces...
---
When you're not sleeping or working, chances are pretty good that you're in the kitchen (or bathroom), but these aren't the only rooms that deserve our strategic attention! Functional spaces like the laundry room are highly practical and sought after – a nice laundry room is a great selling feature. So whether you're fixing up your home for resale or starting from scratch in your new house, here are a few of designer Paula's top recommendations for creating a fabulous laundry room…
If you're starting from scratch, a simple L-shape or galley are our favourite set-ups for a laundry room. Try to keep it away from living spaces and bedrooms - especially if you have children, you don't want the noise of a laundry machine keeping them (or you!) awake at night. If the option presents itself, position the laundry room on the main floor, connected to the mudroom – the larger, integrated environment gives a lot of opportunity for creative and practical variations.
Ensure you have enough space on one wall of your laundry room for a side-by-side washer and dryer (both for ease of use and to add dynamic variety), and an undermount, stainless steel sink.
You'll benefit from having both under-counter cabinetry (leaving a large surface for folding and spot cleaning), as well as a tall cabinet for storing items like the vacuum or your ironing board.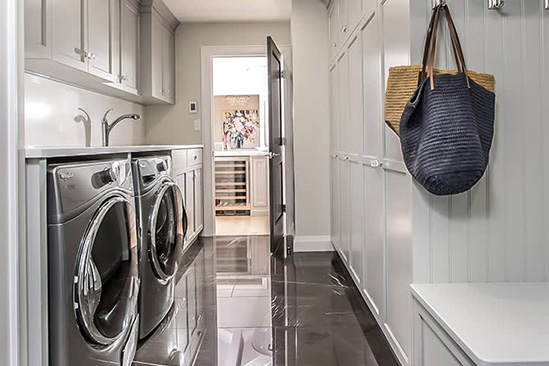 Looking for some more insight on how to model your own unique laundry room?
We'd love to help! Paula and the rest of our design team all have a lot of experience working in a variety of spaces, and we'd love to see how we can help create your ideal workspace. Book a design consultation to get started!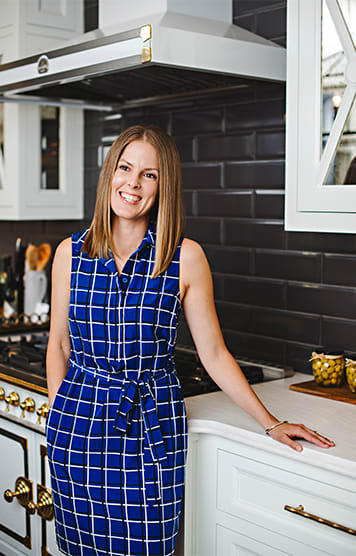 Meet The Author
Paula Lang works as a Sales & Design Associate at the Chervin showroom in Oakville.
Paula loves learning her clients' style and helping them create their dream.
Take a closer look at the elements inside this rich stained maple kitchen with white-painted upper cabinetry and a dark-painted island.
Explore this symmetrically balanced and clean modern farmhouse kitchen featuring white painted shaker and white quartz countertops accented with natural alder wood.