Gone are the days of forgotten laundry rooms. It's time to unveil the potential of these practical and personal spaces...
---
When you're not sleeping or working, chances are pretty good that you're in the kitchen (or bathroom), but these aren't the only rooms that deserve our strategic attention! Functional spaces like the laundry room are highly practical and sought after – a nice laundry room is a great selling feature. So whether you're fixing up your home for resale or starting from scratch in your new house, here are a few of designer Paula's top recommendations for creating a fabulous laundry room…
When it comes to the function and form of your cabinets there are lots of options to meet the unique needs of your family. For example, for small quantities of clothing to air dry (for example, dress shirts or pants only), a simple rod above the sink area can be sufficient for your hang drying needs. If you require more space for other items of clothing, consider implementing a wall-mounted or pull-out drying rack. These racks can be easily concealed when not in use, but are sturdy and space-maximizing when you need them.
Additionally, while drawers and cabinet interiors tend to be fairly standard in laundry rooms (large spaces for storing cleaning supplies, mending kits, and clothes hangers), pull-out shelving or even a fold-out ironing board can offer more creative and convenient options for maximum functionality.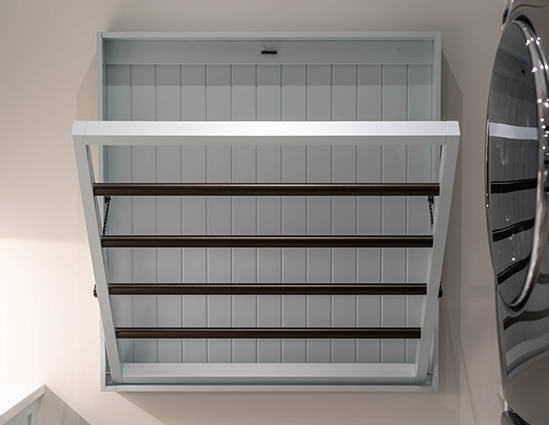 In general, don't try to overdo the cabinets in your laundry room – it is a small space in your home, and, while you want enough cabinetry to store what is needed on a daily basis, you don't want the room to feel crowded. Leave some wall space open for decorative lighting, floating shelves, or even wall art. Your laundry room can be an inviting place! Contact us to set-up a design consultation.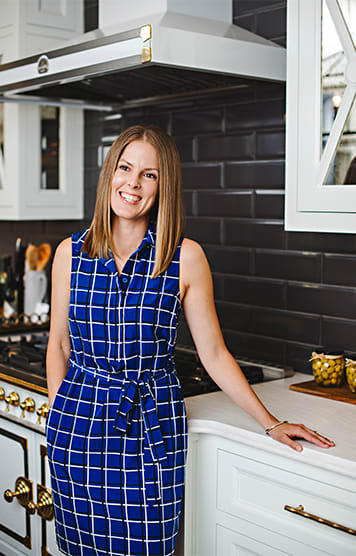 Meet The Author
Paula Lang works as a Sales & Design Associate at the Chervin showroom in Oakville.
Paula loves learning her clients' style and helping them create their dream.
Take a closer look at the elements inside this rich stained maple kitchen with white-painted upper cabinetry and a dark-painted island.
Explore this symmetrically balanced and clean modern farmhouse kitchen featuring white painted shaker and white quartz countertops accented with natural alder wood.