Cabinetry hardware is like the jewelry of your home, it can make or break your design. Our advice in today's post will offer you some valuable insights as you design your next project.
---
While it is by no means the first decision to be made when designing your cabinets, the hardware you choose can make a significant difference in the look, feel, and overall functionality of your freshly renovated space. Today, we look at the functionality between knobs, pulls, and finger pulls.
Where do you recommend using knobs vs pulls?
For the majority of your cabinets, the traditional choice is to use knobs on doors and pulls (or cup pulls) on drawers. Pantry doors are best suited to oversized vertical pulls.
However, more contemporary cabinet designs tend to use exclusively pulls (handles), on doors and drawers alike (simply with different orientations). This gives a consistent look, while making the space more functional and practical, as pulls tend to be easier to grasp, no matter how full or dirty your hands may be in the kitchen.
What are the Pros and Cons of one-touch/finger pull cabinet doors?
Touch-and-release doors are very nice but can become irritating for some people due to their sensitivity – these doors are often used for hidden cabinets under islands, but the touch of a knee can cause the cabinet to open. The flip side, however, is that if your knee does bump the door, you are hitting a flat surface, not an intrusive handle or knob…
Finger pulls are aesthetically appealing (streamlined, sleek, and modern), but beware of fingerprints and the effect of natural oils from your hand on the finish over time. Consider using finger pulls on cabinets seeing less rigorous use, such as entertainment units or laundry room cabinets (as opposed to kitchens and bathrooms).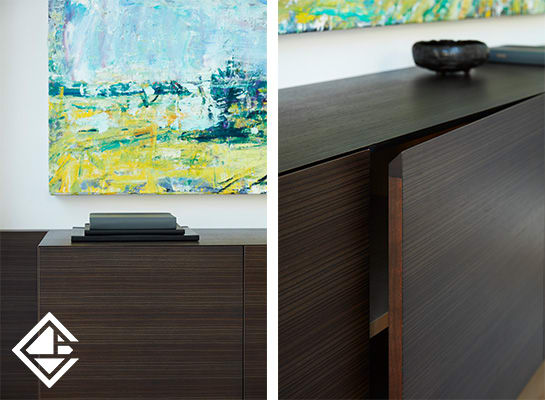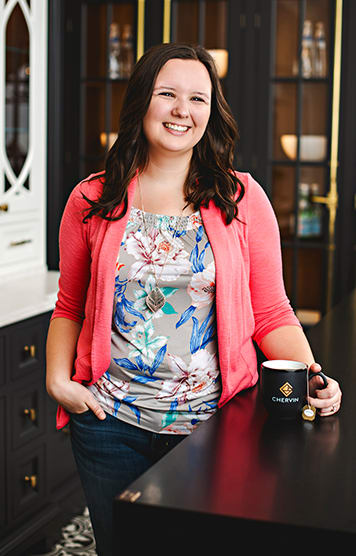 Meet The Author
Marilyn Hodder works in Marketing at the Chervin head office in Hawkesville.
Marilyn loves working as part of a team that is as committed to quality and integrity as she is.
Gone are the days of "dark and dismal." Black, dark greys, and rich walnut stains are taking over our shop as clients seek out fresh ways of creating cozy and relaxing, but statement-making, spaces in their homes.
There are plenty of range hoods out there that you can purchase through your local appliance store or even online - they serve their functional purpose and many are quite attractive, But if you're looking for a stand-out design, something built just for your space, and have a little extra budget, custom-crafting your range hood could be your answer. Here are just a few of the benefits of having your range hood - whether wood, metal, or a combination of both - handcrafted by Chervin...
Want to learn more?
Visit one of our showrooms in Waterloo, Muskoka or Oakville and our showroom consultants will be happy to answer your questions and show you our options!