We were recently invited by Carriageview Construction to partner with them on a new home build. But this wasn't just a Chervin Kitchen & Bath project; this one involved many branches of the Chervin family...
---
We undertook the cabinetry for this incredible project in two phases, focusing first on the ultra-modern kitchen, then shifting our attention to the multiple vanities and outstanding accent wall in the main living area. Beyond the cabinetry, however, our sister company, Chervin Furniture & Design, was invited to stage this project. Their team worked diligently to select and source the best furniture to fit the style and space in this beautifully crafted home, and some of that furniture came from another sister company of ours, Vogel by Chervin! Vogel is a furniture manufacturer based in North York (Toronto), Ontario, who is specialized in designing and handcrafting custom upholstered furniture for designers and furniture retailers across Canada. This project was a really special opportunity to showcase the synergistic and meaningful relationship between the different members of the Chervin family, and we hope you'll be inspired by the possibilities for Chervin (all of us) to bring your home to life in a fresh, functional, and fashionable way!
Here's a sample of what we brought to life in this home:
KITCHEN
The kitchen is composed of frameless Rift Red Oak cabinetry (with a horizontal grain), featuring slab doors with touch & release hardware, creating a smooth, minimalist look throughout the whole space. The countertops are square edged Silestone, elevated in style by the waterfall features.  Creative design leaves what feels like "cut-outs" in the "Stallion Oak" stained cabinets for cooking space and the perfect sized surface area for a coffee station or a touch of tasteful decor. What you can't see here is that in amongst the integrated appliances and quartz-surrounded cooking nooks are a recycling centre, tray organizer, pull-out spice rack, and pantry drawers, all custom built into the cabinets.
GREAT ROOM
Rift Red Oak continues into the Great Room, tying the tone of the kitchen cabinets into the richness of the floating shelves and mantel framing the gas fireplace. A large slab of dark and heavily veined Silestone surrounds the asymmetrical fireplace accent wall, adding depth and texture, in combination with silver wall applications and dark wood features, to the expansive room. Modern and Mid-Century Modern come together with contemporary metals, patterns,and neutrals intersecting with the clean lines and upholstered details of Mid-Century designs. The Vivienne Sofa by Vogel is the perfect piece to own the dark tones of the room, offset by metal legs, and softened by the hand-applied button tufting along the back. Light and dark balance one another beautifully, as do curves and edgy geometrics. 
DINING ROOM & WINE CELLAR
Continuing in the same palette but adding a new dimension, the wine cellar feature at the end of this dining room is encased in a glass wall to allow for separation and climate control, without taking away from the aesthetic of the room. More modern furniture with metal legs surround the matching dining room table, overseen by a stunning metal and glass light fixture. A mirrored server is crowned by two dramatic table lamps with somewhat abstract designs that are complemented by the mirrored wall ornaments behind them. A beautiful piece of artwork brings a new colour into the room, creating a secondary focal point without taking away from the moody neutrals of the rest of the room. Another server with an equally unique geometric design of mixed materials stands nearby, accented tastefully with gold decor and artwork in the same style.
BEDROOM
A few finishing touches, like tasteful and bright wall art, and a couple airy, modern night stands, bring this gorgeous bedroom to life. Floor-to-ceiling windows bathe the room in natural light, and warm wood floors add to the calming aesthetic of the space. 
We also completed four vanities, and a laundry room. If you're in love with this home, good news - it's also for sale! Visit it for yourself, if you're interested in more information, or contact us to discuss implementing some of these custom finishes and contemporary furniture in your own space.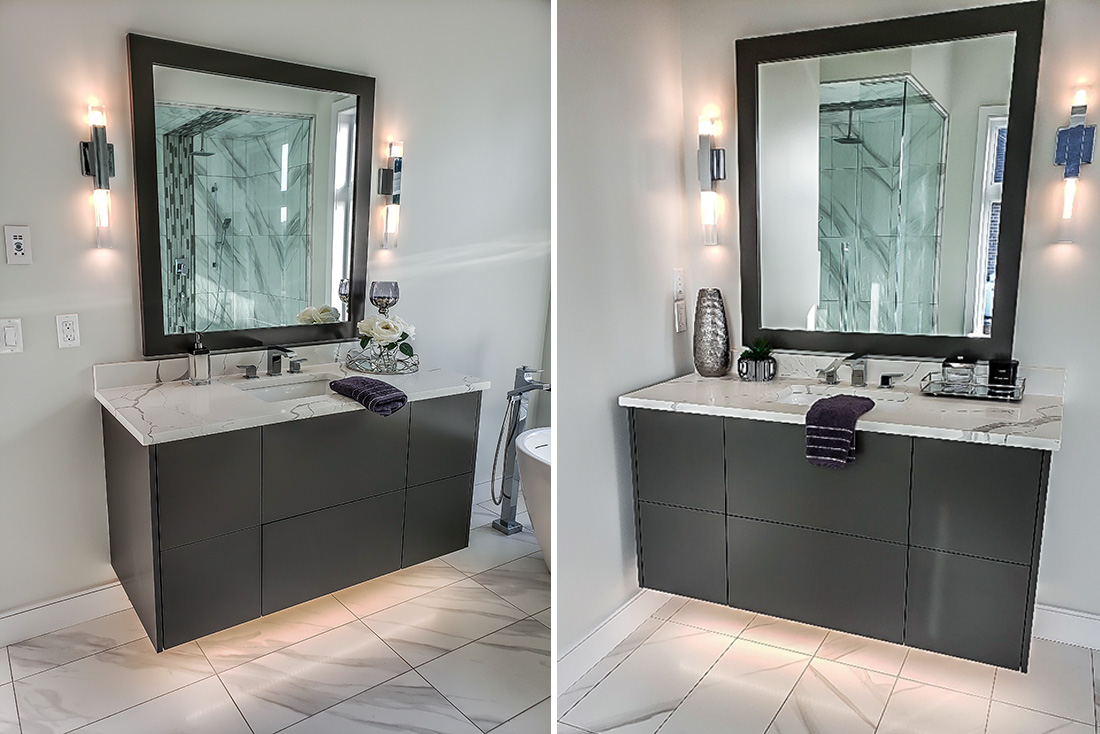 Looking for a few ideas on where to start in redecorating your own home? Chervin Furniture & Design sourced many of the furniture & decor items from Vogel, Universal Furniture, Renwil, and Korson. Our furniture team is happy to order in anything you love from them for you, at a fantastic price - delivery and set-up included! Contact Chervin Furniture & Design for more info.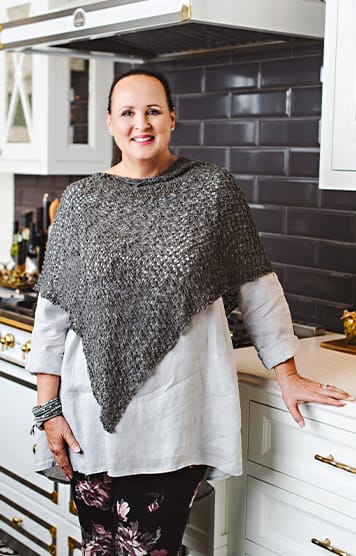 Meet The Author
Marie McKinnon works as a Sales & Design Associate at the Chervin showroom in Waterloo.
Marie loves working with clients to design their dream space.
Discover the details and inspiration behind this bold purple kitchen space featured by House and Home.
Curious to know what is trending in kitchen design? Marie will guide you through the kitchen design trends she loves to see.