There are plenty of fresh ways to make backsplash sleek and stylish...and practical as ever... 
---
Backsplash is one of the last things to be installed in a new kitchen - but it can make a huge difference in the finished look and feel of the whole space! Backsplash is a big decision but it's also a fantastic opportunity for a final pop of personality or element of elegance to complement your new, custom cabinetry.  If you're in the early stages of exploring backsplash options and wanting something just a little bit fresh and different, keep reading - today's post offers 3 simple ways to re-imagine backsplash. Looking for more ideas? Connect with one of our designers and we'd be more than happy to help you create (and craft) a cohesive new kitchen design.
1. Try a New Angle
Even something as tried-and-true as subway tile can feel fresh and current with a bit of creativity. The simple shape of traditional subway tile makes it cost-effective and not distracting or over-powering when it comes to the overall feel of your kitchen. The simplicity of these rectangular tiles also makes them easy to angle, intersect, and explore new patterns with - we've seen subway tile successfully applied vertically, on a 45-degree angle, in herringbone and chevron patterns, and more! Find a finish you love and then think outside the box when it comes to tile orientation and application.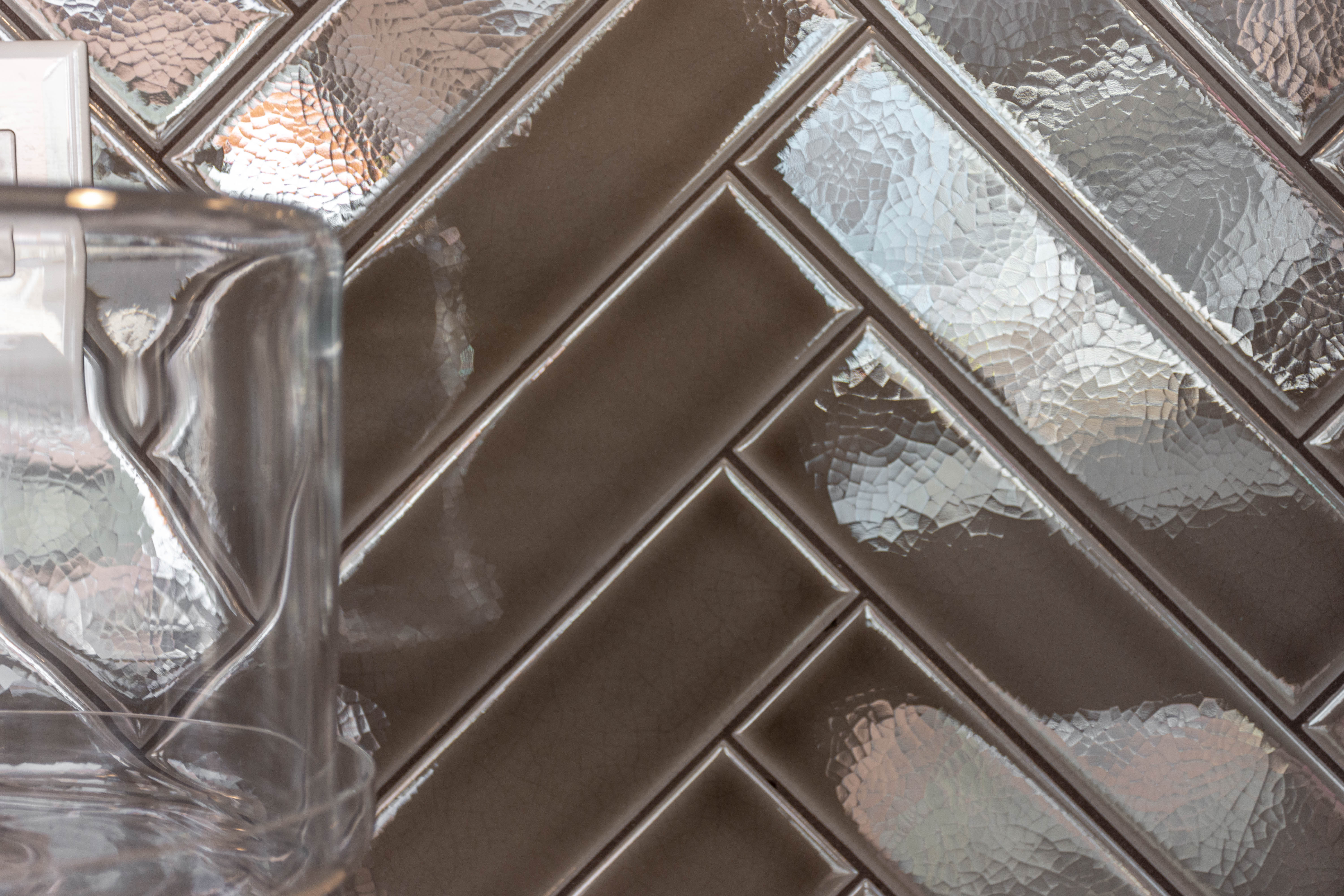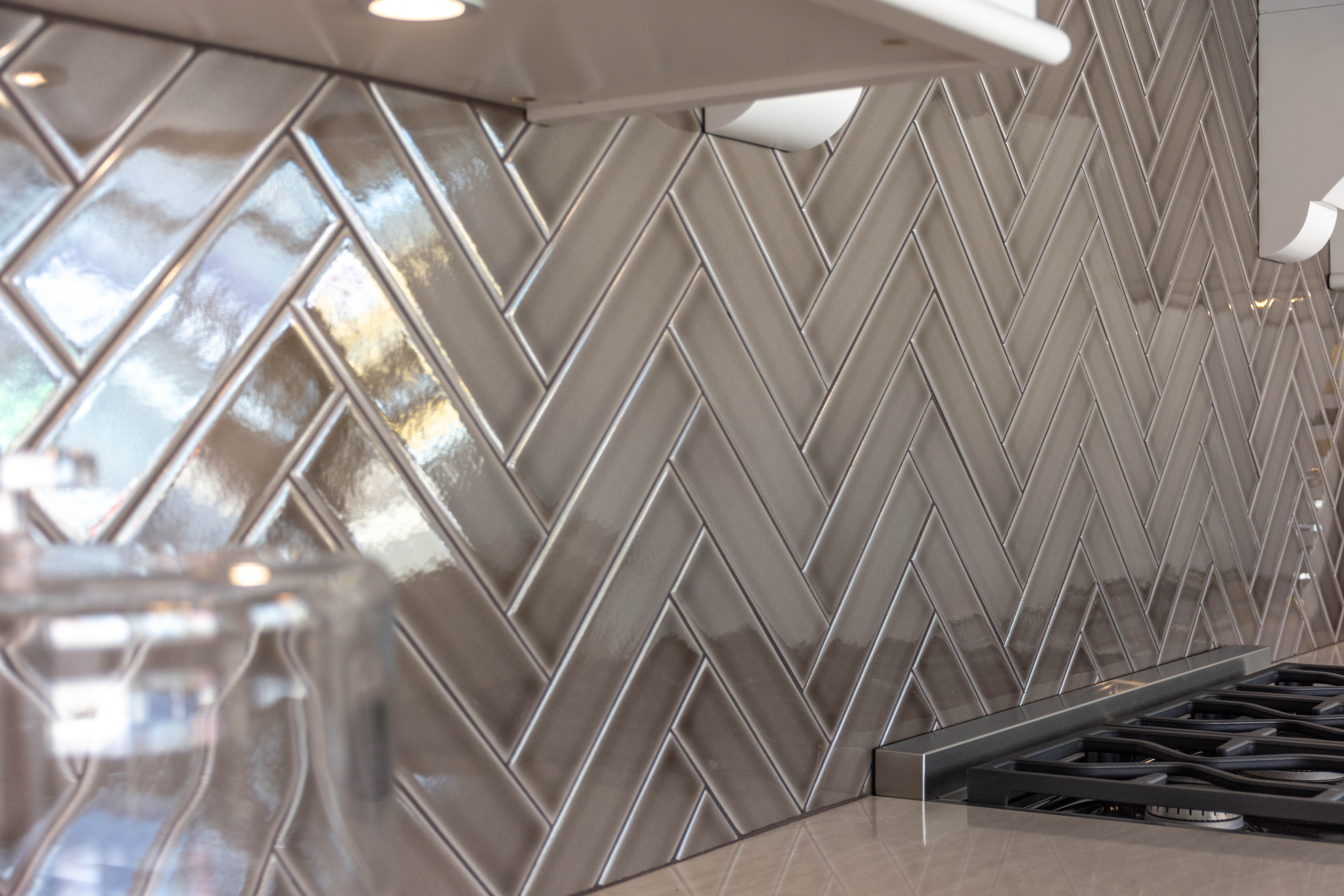 2. Carry On With Your Countertop
If cohesive and fluid are design concepts you love, consider continuing the stone used for your countertop up your walls. Choosing a material like quartz for your backsplash not only gives the whole space an elegant, streamlined look, but also makes cleaning and maintaining your kitchen incredibly easy, since slabs like this one are simple to wipe down with a damp cloth - no grout to clean! If you pick a light stone for your countertop and backsplash, it can expand the apparent size of your space, while a dark one can make a large room feel cozier - consult with one of our designers if you're not sure which tone will best complement the size and style of your kitchen.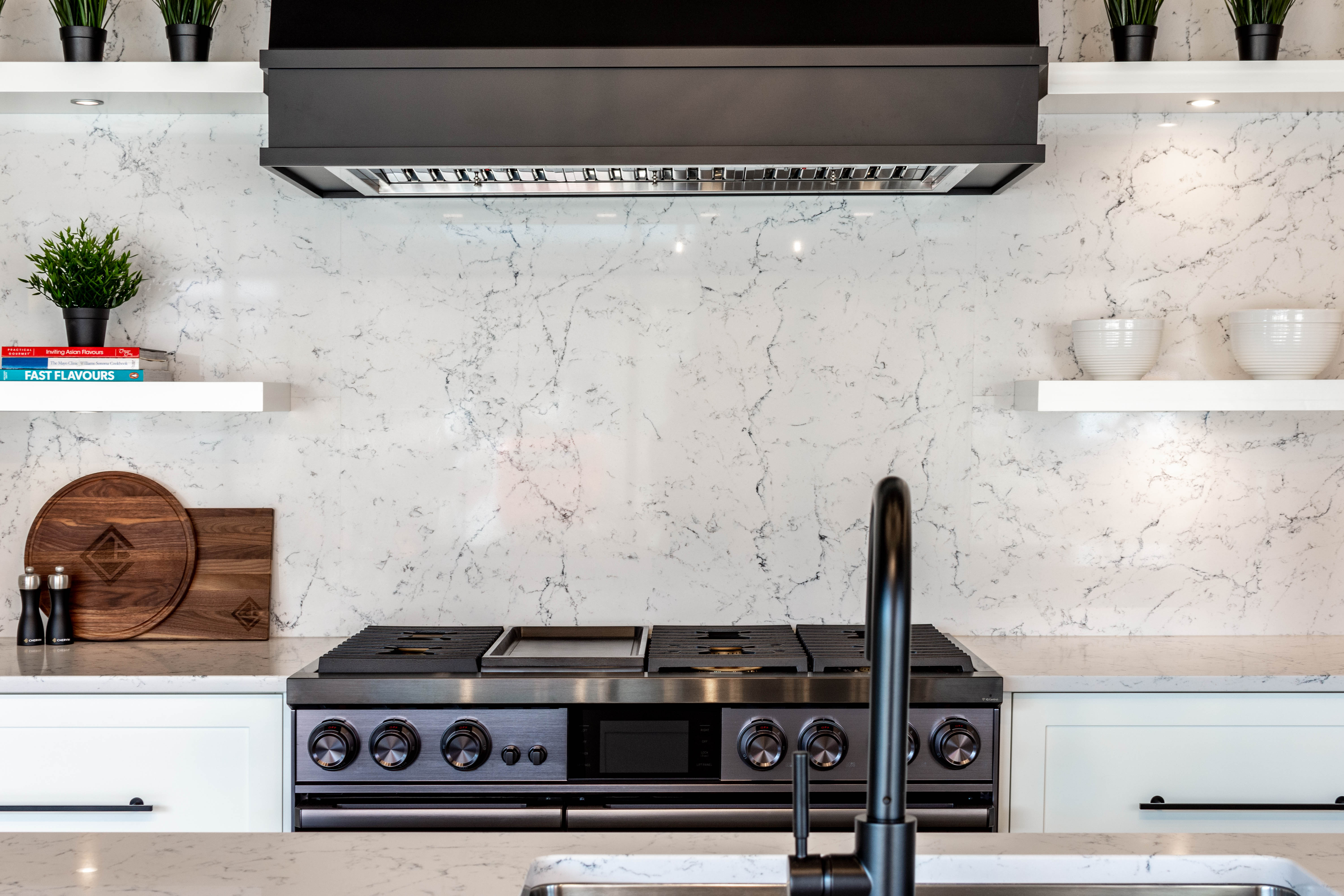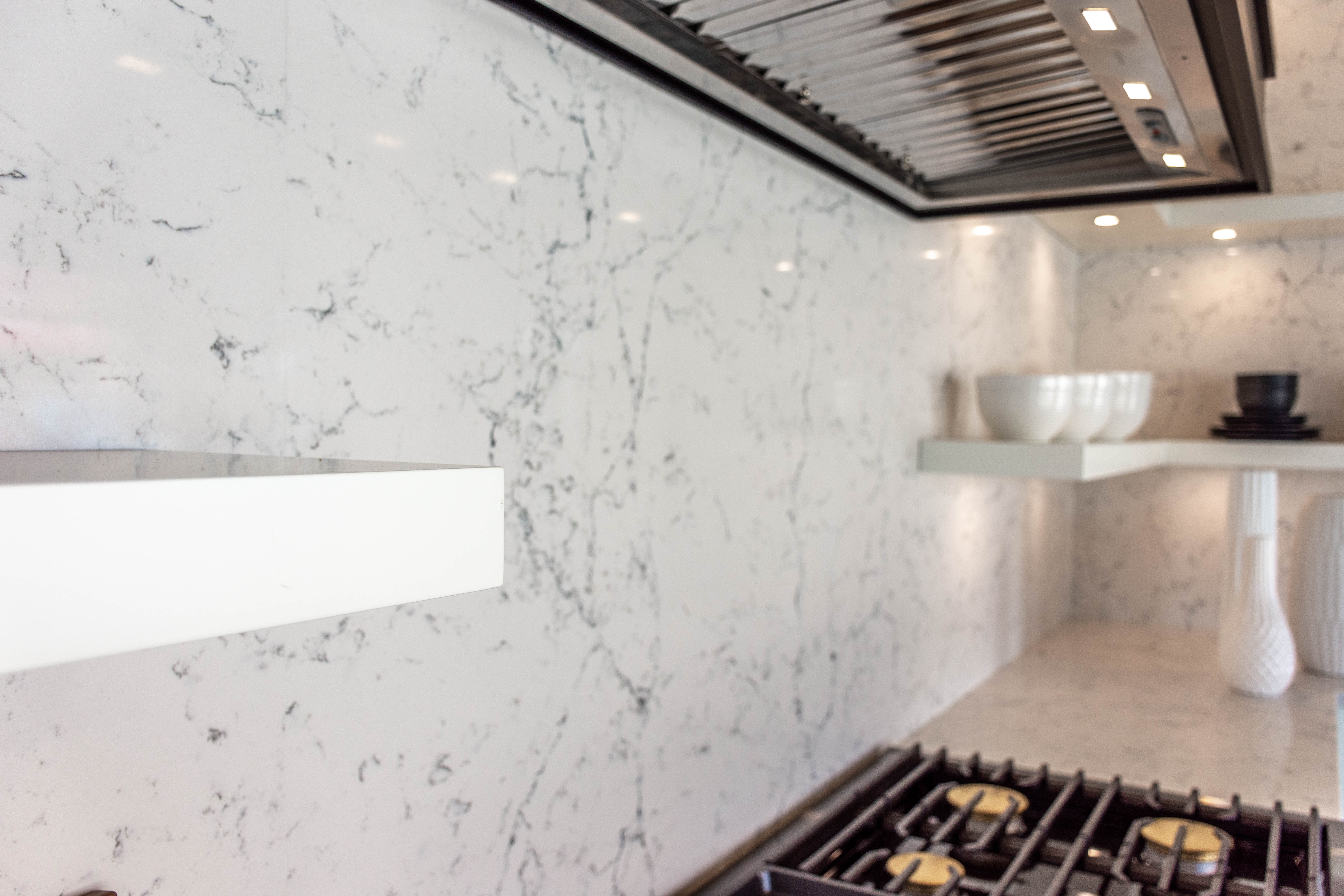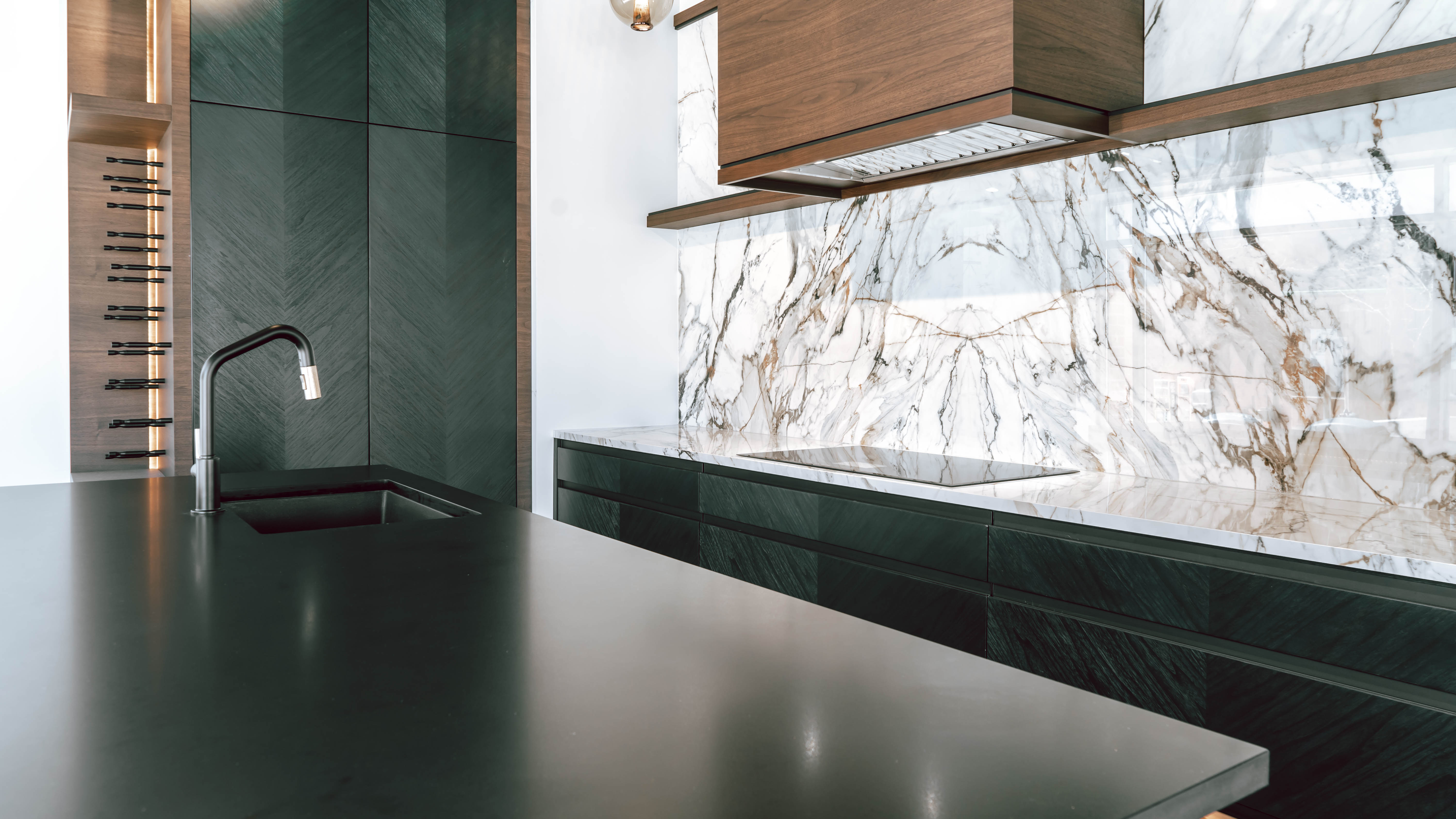 3. Establish a Focal Point
In most cases, backsplash is a subtle necessity or a tasteful accent element. But some people choose to let their backsplash be the main event! Choosing a heavily veined slab of stone or a vibrantly coloured ceramic or porcelain tile can draw eyes in right away, and ensure your kitchen has a unique, noteworthy feature - that, unlike a single fixture or cabinet, has lots of room to shine all around your space!
As you begin (or continue!) brainstorming on this fantastic finishing touch in your new space, don't be afraid to take your time and do some research. There are so many materials, styles, textures, and colours of backsplash available, and so many ways to apply each one. We recommend exploring Pinterest, Houzz, Instagram, and our website to get a wide variety of ideas on what might work well in your home. Each of the kitchens featured above are on display in our Oakville showroom - drop by during walk-in hours to see and touch them in-person, and to meet our Oakville design team. We would love to help you bring to life the kitchen of your dreams.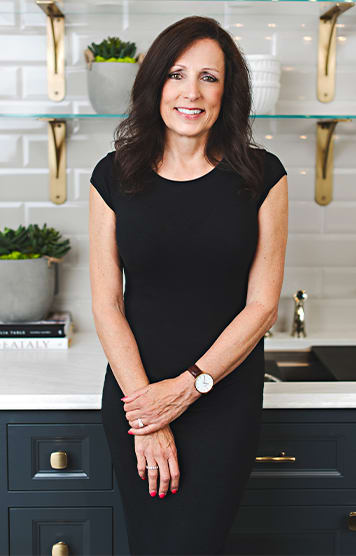 Meet The Author
Catherine Heasman works as a Sales & Design Associate at the Chervin showroom in Oakville.
Catherine is an experienced designer and is excited to meet your vision.
More From Catherine | View All ›
This modern, airy cottage embraces simplicity with white oak cabinetry and millwork to create a warm, inviting atmosphere.
Unveil the captivating marriage of style and functionality in this light, bright, and airy transitional kitchen and home renovation. Discover the beautiful combination of stained white oak and white cabinetry accented with black elements that make this space come alive.